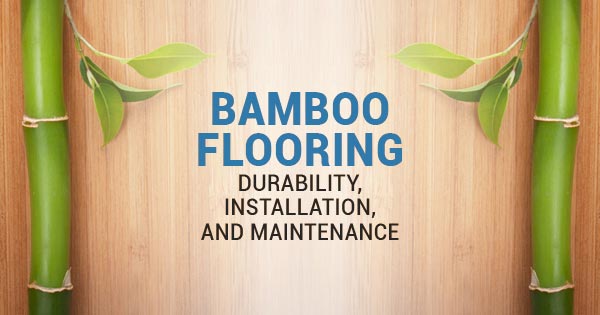 Laminate floors often resemble wood. The planks used for residential and commercial flooring actually look like photographs of wood, rather than wood itself. Laminate floors can look nice and even offer some quality advantages. But this material pales in comparison to bamboo flooring.
Here are some of the ways that this unique product stands above its competitors, especially when compared to laminate.
The Hardness of Bamboo
The Janka hardness test is used to deduce bamboo and other flooring materials' hardness. This test measures the force required to embed an 11.28 millimeter (0.444 inches) steel ball into wood to half its diameter (0.222 inches). This method results in an indention of 100 square milliliters in size. Bamboo has an outstanding Janka rating. Oak is quite hard as well, but solid strand bamboo flooring is as much as three times harder than oak flooring! In fact, when it comes to Janka hardness ratings, no flooring material even comes close to bamboo!
Cleaning and Maintenance
These floors are easily cleaned and maintained and typically require little long-term maintenance. If you want to ensure your bamboo floors are looking nice, simply sweep or vacuum regularly. Additionally, even though bamboo floors typically last around 25 years, refinishing is still an option. Refinishing can help give them a brand-new look. Not only will refinishing improve the aesthetics of your bamboo floors, but it will also upgrade their durability, as well.
Bamboo Flooring Installation
Installing these floors might not be as simple as laminate, but it is still quite doable, especially when done by professional installers. Bamboo floors can be installed in a few ways: engineered planks are installed through an interlocking system and solid strand bamboo can be either glued down or nailed down. Though this material's natural hardness can make the installation process a little difficult, if you're working with experienced installers, your floor will end up looking great in a short amount of time.
These floors are extremely hard, durable, and can look amazing in any style of home or business. If you want to learn more about the benefits of this material or work with quality manufacturers, give Ambient a call right away.
If you want to see a detailed comparison of bamboo vs. laminate flooring, check out our other post!