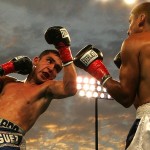 If you're in the market for sustainable floors and have been doing any amount of homework, you've no doubt seen two types of flooring come up again and again: bamboo and cork.  These materials are both very "green" because they are made from renewable resources. They are also uniquely attractive in a home or commercial setting, very durable, easy to maintain, and cost-effective.
To see a more thorough examination and comparison of the two products, we highly recommend checking out our in-depth article titled Bamboo Flooring VS Cork Flooring | A Side by Side Comparison.
Cork and bamboo have even more in common. And, if you're trying for a LEED-certified home renovation, bamboo and cork may qualify for credits.  In terms of which rooms are best to install them in, both are very flexible. They hold up to moisture like no other material, so they make for great flooring choices in your kitchen and powder rooms. But they also have a warm and elegant feel and look, marvelous for your main living space or bedrooms. Both bamboo and cork also offer much variety, coming in a wide range of colors to suit all styles and décor. As for cost, they're about neck and neck, averaging anywhere from $3 to $6 per square foot for good quality. Now that you know what they have in common, let's break them down and stack them up against each other in a good ol' pros and cons challenge:
Bamboo
As mentioned earlier, bamboo is a very renewable resource; it can even be harvested after only five years. Compare that to traditional hardwoods which can take up to 30 years to regenerate. Bamboo can grow so quickly because it is actually grass, not wood. When harvested, the bamboo stalks are split and reformed into planks. It is the natural striations of the bamboo stalks that create unique and beautiful patterns associated with bamboo flooring. It should be noted here that not all are created equally. Many manufacturers harvest stalks before they are fully mature, resulting in a weaker product. Also, to cut costs, some will use a filler in between the bamboo strips and even use binders that can emit toxic chemicals over time. In other words, do your homework and make sure you buy from a reputable bamboo flooring dealer or your "green" floor may not be so green.
PROS:
Very Durable
Moisture-resistant
Easy to maintain
Easy installation (floating floor can be a DIY project)
Widely available
Versatile
Sustainable
Affordable
CONS:
Manufacturer's standards can vary widely.
Certain brands experience shrinkage issues – just do your homework via web searches before purchasing, and you'll be A-OK.
Cork Flooring
When people think of cork, they usually think of the thing that keeps the wine in a bottle, or the board that you stick coupons onto with thumbtacks. But cork makes an attractive flooring material. It is made from bark that has been stripped from the Mediterranean Cork Oak tree, but none of these trees need to be cut down for harvesting. The bark can regenerate within a few years, and the harvesting process won't damage the trees at all. One very green thing about the manufacturing process is that it is a very low-waste process. In fact, cork flooring is actually made from the scraps of cork from bottle stopper production. Cork flooring is available in tile form (the most common) and panels, and it comes in a wide variety of colors, textures, and surface patterns. And, when homeowners select the tiles instead of panels, they can be configured into almost-endless configurations.
PROS:
Durable
Mildew-resistant
Comfortable underfoot
Fire-resistant
Good thermal properties
CONS:
Must be sealed correctly to protect it from moisture and other damage
Some binder chemicals may not be eco-friendly.
Challenging to install
Difficult to repair
Easily scratched
As you can see, these two sustainable flooring options have a lot going for them, and they also have some drawbacks to consider. In the end, it all comes down to personal taste and lifestyle. If you're someone whose priority is comfort underfoot, you can't beat cork. However, if you're someone who has always loved the look and feel of hardwood floors and wants the option of DIY installation to cut costs even further, then bamboo is definitely the way to go. If you already know you're a bamboo-type of person, why not check out our Bamboo Flooring Pictures & Photo Gallery. And feel free to give us a call about any questions you may have about installing bamboo floors in your home.

---
---
Categories: Flooring, Green Living, Interior Decorating