If you're looking for a beautiful, durable, and eco-friendly flooring option, you can't go wrong with bamboo floors. But even if you've already decided to install bamboo flooring, you may still have numerous options to choose from. If you're not familiar with carbonized bamboo flooring, you might be a bit confused about what to expect.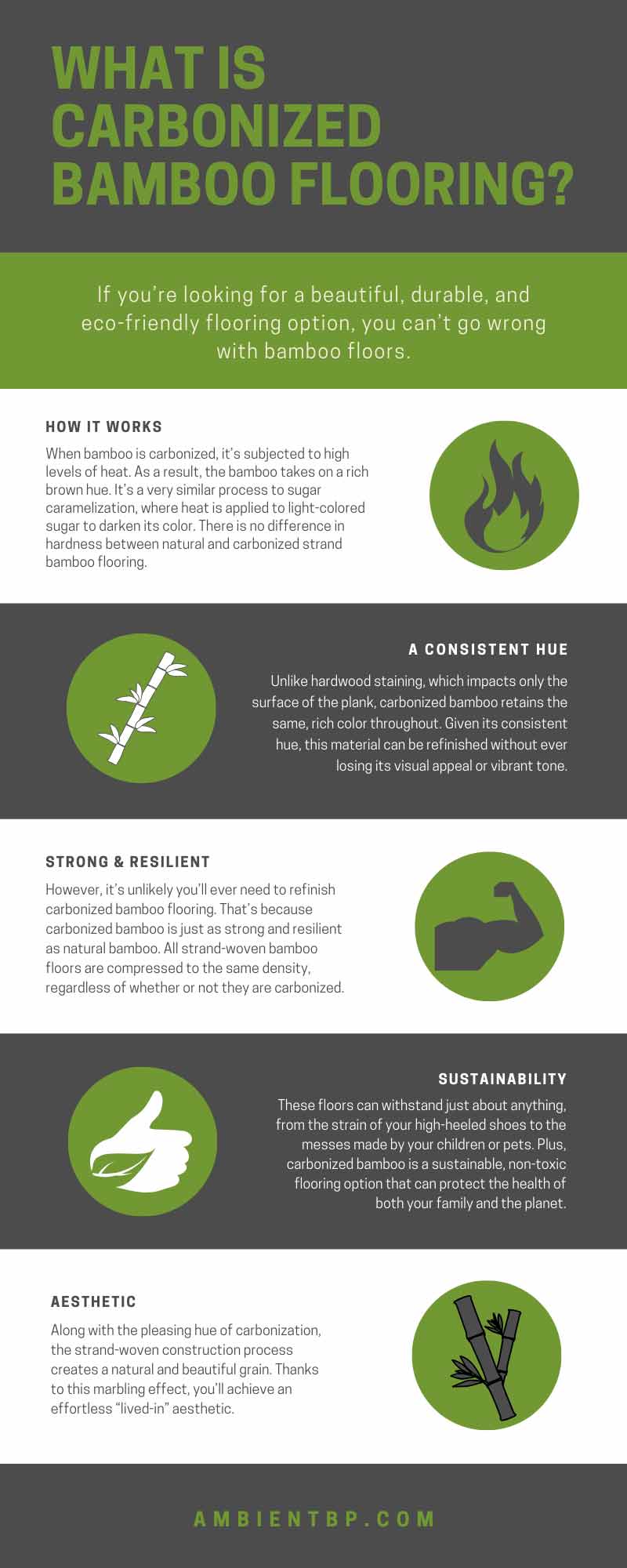 What is carbonized bamboo?
Carbonization is a process this material undergoes to darken its color. When bamboo is carbonized, it's subjected to high levels of heat. As a result, the bamboo goes from being naturally blonde to being a rich brown hue. It's a very similar process to sugar caramelization where heat is applied to light-colored sugar to darken its color.
If you prefer the look of stained hardwood, you'll probably be drawn to the appeal of carbonized bamboo. Unlike hardwood staining where the color stain is applied only to the surface of the plank, carbonized bamboo retains the same, rich color throughout the plank itself. Given its consistent hue, this material can be refinished without ever losing its visual appeal or vibrant tone (Check out how to refinish bamboo flooring).
However, it's unlikely you'll ever need to refinish carbonized bamboo flooring. That's because carbonized bamboo is just as strong and resilient as natural bamboo. All strand woven bamboo flooring is compressed to the same density, regardless of whether or not they are carbonized. That makes carbonized bamboo floors a viable option for homeowners with children, pets, and active lifestyles, and it's perfectly suited for kitchens. These floors can withstand just about anything, from the strain of your high-heeled shoes to the messes made by your children or pets. Plus, carbonized bamboo is a sustainable, non-toxic flooring option that can protect the health of both your family and the planet.
Feel More At-Home with Carbonized Bamboo Flooring
The look of carbonized bamboo floors has widespread appeal, especially for those who are after a vintage feel. Along with the pleasing hue of carbonization, the strand-woven construction process creates a natural and beautiful grain. Thanks to this marbling effect, you'll achieve an effortless "lived-in" aesthetic. This desirable effect can make any house feel instantly like home.
When evaluating your flooring options, consider carbonized bamboo. It's an attractive, long-lasting option that can instantly transform any space and improve the look of your property for years to come.
To receive a free sample of Ambient's beautiful carbonized flooring, click on the box below. Or you can call one of our flooring experts at (866) 710-7070, today!

Last update of the article: 12/11/2020.