Someone once said no family is complete without a dog. And though we would tend to agree, we would also assume that person did not have carpeting or pine floors. You see, as much as we love our canine pals, we can't help but notice they can cause some damage around the house, particularly to our floors.
1. Vinyl – This surface is easy to clean and holds up to most pet accidents, as well as pet claws.
2. Linoleum – Another good option from a clean-up perspective.
3. Strand Woven Bamboo – If you prefer a more warm and natural hardwood look that will stand up to your pet's claws (and kids too), strand woven bamboo flooring should be high on your list.
4. Cork – These floors are eco-friendly just like bamboo, warm, and stand up great to pets.
5. Tile/Stone – Durable and stain resistant but cold underfoot.
6. Laminate – Stain resistant, but can be scratched by pet claws.
If you want to love your dog, and want to love your floor, then choosing the appropriate material for said floor should be a priority. Doing so will not only save you money, it will also save your sanity.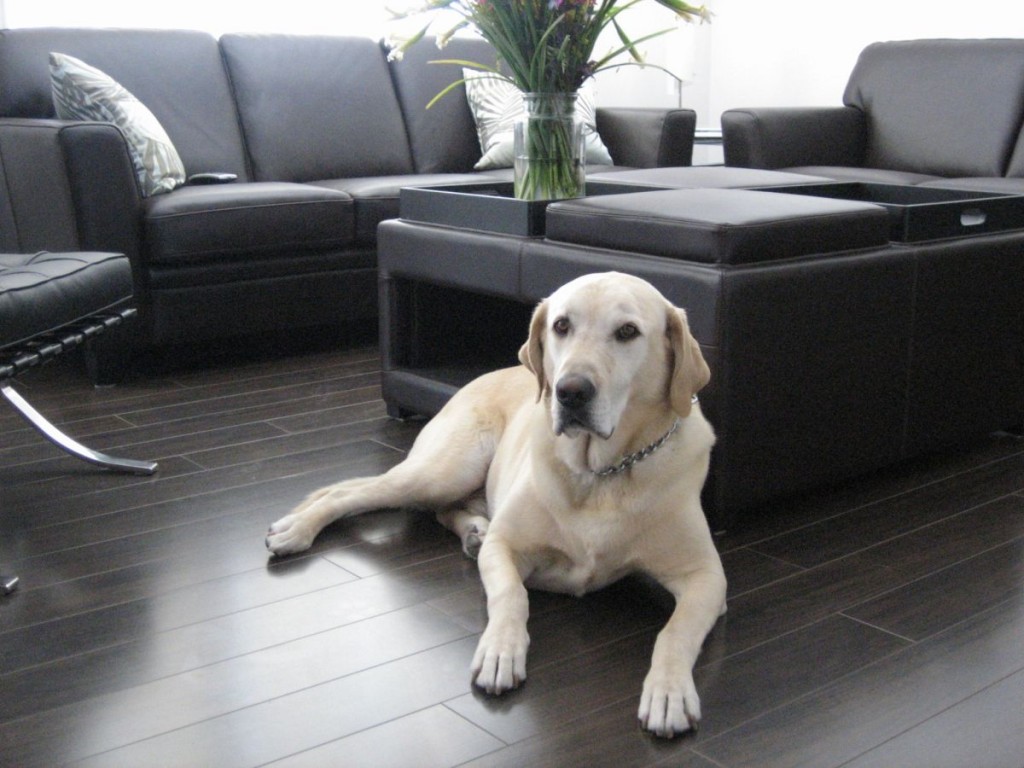 Here are the best flooring options for dogs:
Vinyl
Vinyl is a great flooring option for homes with dogs. It's very durable and takes scratching well. If you tend to get behind on trimming your pooches' nails, vinyl can be your friend.
Vinyl is also moisture resistant, so wet paw prints or accidents from a puppy that hasn't been house trained won't pose a threat. And because accidents are unavoidable, you want to select a flooring material that is easy to not only maintain but also repair. It' far easier to replace the problem area rather than tear up and replace your whole floor. Vinyl comes in planks or tiles and both can be easily replaced.
Laminate and Engineered Flooring
You may assume they are the same thing but laminate and engineered floors are different. Though both are great in houses with dogs because they are very durable and can stand up to dings and scratches, the similarities end there.
Laminate floors are made of compressed pieces of veneer with a photo-image of a particular species of wood on top. Though durable, laminate floors tend to be really slippery and that sometimes causes small kids and dogs to have a tough time keeping their balance on it.
Engineered floors, on the other hand, are made of several layers of hardwood or soft plywood and then topped with a hardwood veneer wear layer. These floors have a different feel under feet AND paws.
Ceramic Tile
Tile is a go-to choice for many people who want beautiful and durable floors in their kitchens, bathrooms and foyers. Ceramic tile is water resistant, and glazed tiles resist stains, odor and dirt. In other words, these tiles are a great choice for homes with dogs. Yes, ceramic tiles can be susceptible to larger scratches, but they hold up very nicely to dog nails.
Cork
Cork is a nice flooring choice for dogs because it is antimicrobial, and that means it minimizes mold growth. Cork also has awesome acoustic qualities so it has the capability to minimize sounds in your house as well. Don't want to hear your dog padding around on the floors early Saturday morning? Cork may be a good idea for you. There are soft varieties of cork flooring on the market that many people put in their bathrooms. These are too soft for homes with dogs. But the more durable cork floors won't be scratched and are resistant to water.
Hardwood Flooring
Some people just can't resist the look and feel of traditional hardwood floors, but what can you do if you love hardwood and love having a dog? Well first, avoid soft wood floors like pine, and second, if bringing in a puppy, be sure to really watch them during potty training to avoid messes. Moisture can absolutely ruin hardwood floors if left to sit. And dog urine is particularly damaging to wood stains and finishes.
Also be sure to keep your pooches' nails trimmed and filed smooth. Most nail clippers will leave a sharp edge on the nail that can definitely scratch hardwood floors. The truth is, even if you trim dog nails regularly, your hardwood floors will eventually be scratched somehow. Just know this and expect to have to refinish your floors every 5 to 10 years.
Hardwood Flooring Tip for Dog Lovers
You can sometimes manage to get away with hiding scratches and dents by going with a lighter color of hardwood. Also, there are many hardwoods on the market that have been purposely stressed or distressed, which just means markings and imperfections have been added to give the planks a rustic and antique feel. These markings will camouflage any scratches left by your pooch.
Bamboo
If you like the look and feel of hardwood floors but want something that is more durable with pets, and friendly to the environment and wallet to boot, consider bamboo flooring. Though it often gets lumped into the "hardwood" category, bamboo is actually a grass so it is much quicker to regenerate than wood. Typically bamboo can regrow in 5 –7 years whereas hardwood trees can take up to 100 years to regrow. Strand bamboo flooring is 3X harder than oak and makes a terrific option for dog lovers who want the look and feel of hardwood floors, but without all the scratches from their puppies' claws.
Flooring to Avoid
It's true, there are some households in this country that have managed to maintain the beauty of their carpeting despite the fact they have a dog or two. How they do this is a mystery. Perhaps they carry the dogs in and out of the house and immediate wrap their paws in saran wrap.
The fact is, for most human beings, who lead very busy lives, it just won't be possible to keep carpeting clean no matter how hard they try. Accidents happen, stains happen, and worn out spots will happen in homes with pets. Best to stay away from this flooring choice. Consider bamboo flooring and use area rugs instead.
There's no reason why you can't love your dog and your floors to, you just have to put a little thought into your flooring materials and choose wisely.
---
---
Categories: Flooring