Shipping Policy | Ambient
Before We Ship - Things to Know
Unless otherwise specified, we ship all orders out within 3 business days. Once shipped, transit times are typically between 3-10 business days but can vary based on your location (see Estimated Transit Times map further down this page). Once your order reaches the freight carrier's local terminal in your area, the terminal staff will call you to schedule a delivery appointment (they will not deliver the order without an appointment).
You'll receive an email with all your order information as soon as it ships. When your order is shipped out from our warehouse we will send you an email that contains all of your shipment information such as the freight carrier name, number and BOL/PRO number (the freight carrier's reference number for your shipment). Once your order reaches the freight company's local terminal, they will call you to schedule a delivery appointment (read more about delivery appointments below), unless you have selected freight dock or business delivery.
Most medium to large orders are delivered via semi-trailer trucks due to weight. Due to the weight of our shipments most freight deliveries will arrive on a 48-53 foot tractor trailer semi-truck. Deliverability is at the discretion of the freight carrier. If the driver can't deliver the material to the delivery (shipping) address safely, it is the responsibility of the customer to pick up the material at the freight carrier terminal or intermediary location. The freight carriers do not reimburse Ambient or our customers for any time or costs related to deliverability issues. **All residential deliveries of products 6 feet in length or less are curbside delivery with liftgate included. All residential deliveries of products over 6 feet in length are curbside delivery and the purchaser must manually unload the items from the rear of the delivery truck.
If your delivery address has limited truck access, please let us know. It is the customer's responsibility to notify Ambient or the freight terminal staff before delivery if your location has potential limited access issues, such as a truck being unable to reach your location. Such issues include but are not limited to the inability of the driver to turn around in your area, low power lines or tree limbs, narrow roads and weight and size limitations. If potential problems like these are not communicated to Ambient or the freight company by the customer prior to delivery and delivery cannot be completed due to such issues, re-delivery charges will be the responsibility of the customer.
Estimated Transit Times From Purchase To Delivery
The following are estimated transit times from purchase to delivery. Please remember, the shipment will first arrive at the freight carrier's local terminal that is closest to your address, and the terminal staff at that location will call you to schedule a delivery appointment (unless you have specified freight dock or business delivery). Additionally, the time windows below are estimated transit times - some shipments may arrive later, or sooner, than expected to due a variety of factors.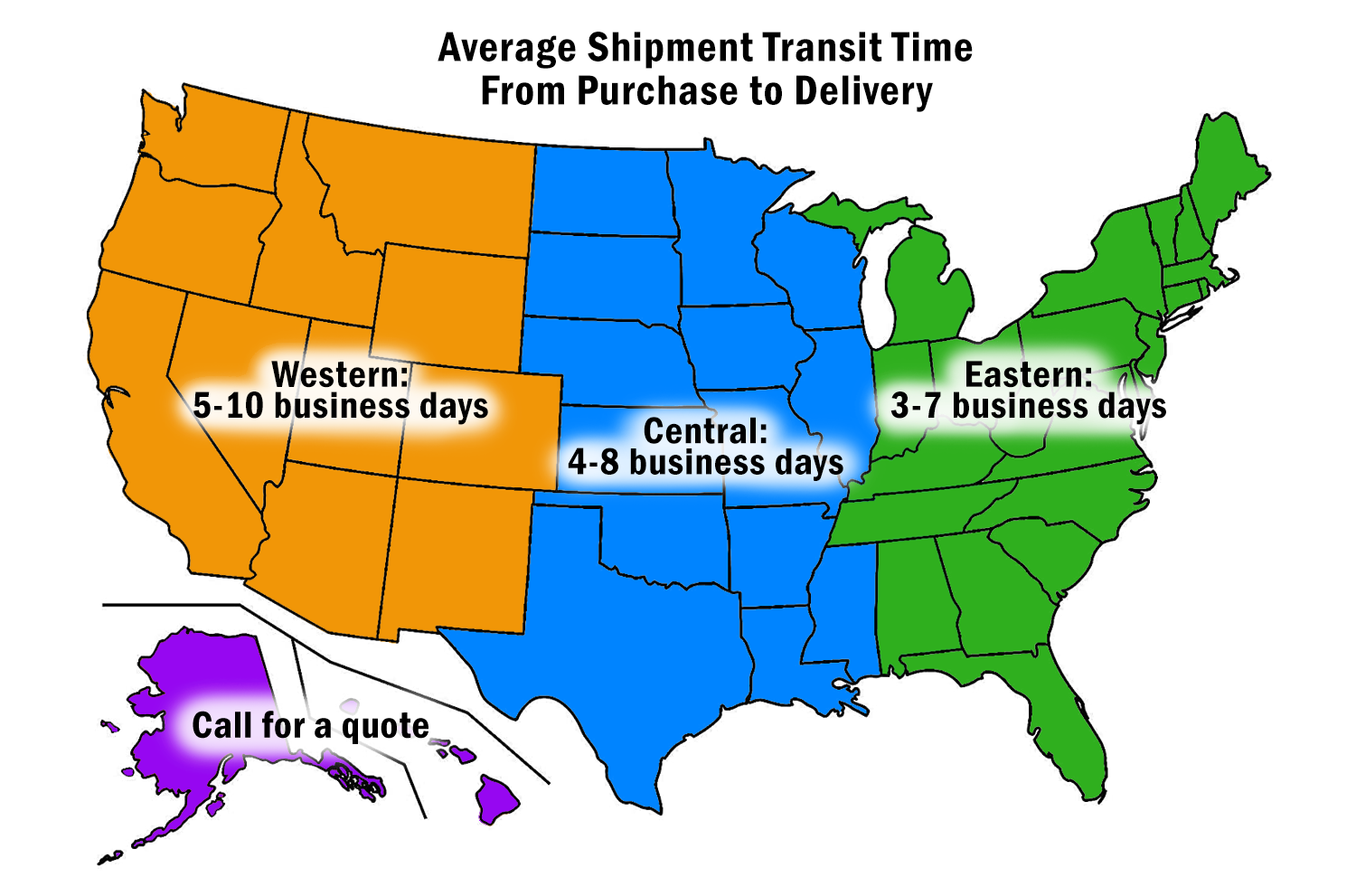 A Delivery Appointment Is Required
Unless you have requested freight dock or business delivery, the freight company won't deliver your order until a delivery appointment has been set - the local freight terminal staff will call you to make this appointment, or you can call the freight company directly once you receive your shipment information email from Ambient. The freight companies schedule delivery appointments via time windows of 2-6 hours as opposed to specific time appointments (e.g. 9:32 am).
If Your Order is Delayed or Lost by the Freight Company
Ambient is not liable for shipments that are lost or delayed due to mishandling by the freight carrier. An Ambient team member will be happy to assist you with things like locating your tracking number and coordinating a reshipment of a lost order when necessary, but other tracking, delivery, or delayed shipment questions should be directed to the freight company directly. Please note that the carrier's website tracking information is not always accurate - for accurate tracking information, please call the freight company directly at the phone number provided in your shipping confirmation email. Here are the freight companies that we commonly we ship with:
Curbside Delivery
**All residential deliveries of products 6 feet in length or less are curbside delivery with liftgate included. The driver cannot "officially" go onto your property for insurance reasons - the pallets will be lowered onto the ground via liftgate at the end of your driveway - please note that "curbside delivery" does not mean on your driveway or in your garage. If the driver is able to back up easily onto your driveway, they *may* attempt to lower the freight onto the driveway, however they are not required to do so. If you live in a high rise building it must have a curbside or freight dock available for delivery.

For residential deliveries of products over 6 feet in length the purchaser must manually unload the items from the rear of the delivery truck, and the delivery truck may or may not back into your driveway.

Delivery Into Garage or Porch - Important Details about "Inside Delivery"
Garage delivery (sometimes referred to as "inside delivery") is available for certain freight shipments for an additional fee; however please note this simply means the driver will roll the pallet(s) onto the driveway, porch or into a garage. The driver will not carry any items into your home or business. This is due to liability issues and complaints such as "the driver tracked in mud/dirt" or "the driver damaged the interior of the property while bringing boxes in". Furthermore, delivery into a porch or garage can only be achieved by rolling the pallet on a smooth, flat and firm surface using a pallet jack or hand truck. The following impediments may prohibit "inside delivery", as the truck or driver may not be able to safely access the garage or porch:
An inclined driveway
A driveway surface that is not firm (such as gravel, loose dirt, grass)
A driveway that has a step up or other impediment
A narrow or winding/twisted driveway on which the delivery vehicle cannot safely be maneuvered
A driveway with any impediment or surface that the freight carrier considers dangerous
If the freight carrier feels they cannot safely access the driveway or garage for any reason, such delivery will not be completed. In cases where a customer has paid extra for this service but upon reaching the location the driver determines they cannot perform the service, the customer can request a refund of the garage delivery charges from Ambient.
If the Freight Company, Or You, Misses the Delivery Appointment
Approximately 5% of delivery appointments are missed by the freight companies due to a variety of factors including mechanical breakdown of trucks, traffic delays, and a variety of other factors. In these instances the freight companies do not reimburse for shipping charges, your time taken off work, or labor hired to wait for the delivery, therefore we strongly recommend not to hire contractors with the sole purpose of waiting for a delivery. Unfortunately, sometimes when they miss an appointment they also do not call you to alert you that they're going to miss the appointment. Conversely, please note that if you are not on site to receive your shipment during your agreed-upon delivery time window, some freight companies will charge you a hefty re-delivery fee. We agree - it's not fair! Unfortunately it's a standard policy for freight companies (however it's also a reason why shipping costs are affordable for us all).
If the Order Arrives With Damage - DO NOT REFUSE THE SHIPMENT
If the order arrives with damage - do not refuse the shipment. Usually the damage looks worse than it is! It's best to receive the product and receive a replacement later than to turn the entire order away - just make 100% sure to note the **detailed damages** on the delivery receipt, and take pictures of the damage showing all damage within one photo and a few up close photos. For example you can write "14 boxes of flooring damaged beyond use..." or similar. We can only send replacements for the number of items you have claimed as damaged on the delivery receipt/BOL. These details must be recorded on the driver's delivery receipt and reported to Ambient within 7 days of receipt to qualify for replacement, so please call us immediately at (301) 498-0234 and email pictures to [email protected] so that we can note your account and ship you replacements as needed.
Make sure to record the exact details of the damage ("one box damaged," "two boxes damaged," etc.) on the bill of lading (delivery receipt) that the driver will have you sign. Note that you can just check the exterior of the shipment for damage - you do not need to open all of the boxes while the driver is on site. Just make sure to mark the number of boxes or items that appear to be damaged.
Once the driver is gone, open the boxes to assess the damage - it may only be on the outside of the box. Please take photos if possible because we will need evidence that the damage occurred. Do not discard damaged items as they may salvaged by the shipping company. Any discarded material will not be replaced.
** If you do not make note of damages or missing items on the driver's bill of lading at the time of receipt or if you discard the damaged items you will not be refunded for damaged or missing items . **
Please Unload Your Order in a Timely Manner
Once the freight driver arrives on site you will be provided with 60-90 minutes of unloading time aka 'free time' (these times may vary depending on the freight carrier and you can ask the driver if you think there will be an unloading delay). As the recipient of the freight order, you are responsible for additional shipping charges incurred if you exceed the allotted 'free time' while unloading your order. Please reach out to an Ambient team member before purchase if you feel you may need a longer unloading time or to discuss other options.
Returns & Defects
If you feel you have received a non-conforming or defective product, this defect must be reported to Ambient within 7 days. Returns are not accepted on items that have been out of our possession for more than 90 days, clearance items, or custom items. For detailed information please check our return policy.
Free Shipping Promotions, Freight Costs & Shipping Details
All shipping costs and shipping promotions quoted on our website (including free shipping) are valid to the contiguous 48 United States only, and these promotions may not apply if the delivery address is located on an island, or in a rural, high density urban, or low-volume freight shipping area. In these cases, you will need to contact our support team at (301) 498-0234 to get a shipping quote, or you may see a shipping surcharge on this website added by the freight carrier. Please note that it is the freight companies that determine which areas fall within these categories, and they increase their rates accordingly. While Ambient may still subsidize a large portion of the shipping costs, the remainder of the increased charges are the responsibility of the customer. These surcharges are always displayed by our website up front before you finalize your transaction so the customer can accept the charges and continue, or decide not to purchase.

Ambient reserves the right to cancel any order for any reason before shipment, which will result in a full refund to the customer within 5 business days.