Perfoming your due diligence has never been more important
What You Don't Read May Hurt You - Why Reviews Matter More With Bamboo Flooring.
Since bamboo is not a graded material like hardwood, bamboo flooring reviews can be the single most important way to determine the quality of the brand you intend to purchase, and doing your homework has never been more important. There are a wide array of bamboo floors on the market for today's consumer, but quality varies significantly between brands. Furthermore, price is no longer an indicator of quality, as even higher-priced brands can be plagued by poor customer reviews. The best way to determine the quality of a product is to seek out the feedback provided by it's past customers.
"Quality is never an accident; it is always the result of high intention, sincere effort, intelligent direction and skillful
execution; it represents the wise choice of many alternatives." -William A. Foster
"The bitterness of poor quality remains long after low pricing is forgotten." -Anonymous
Most Trustworthy Websites For Bamboo Floor Reviews
While some reviews sites are easily manipulated by companies, the sites
below are often considered the most trustworthy for product reviews.
A FEW NICE THINGS AMBIENT CUSTOMERS HAVE SAID ABOUT THEIR BAMBOO FLOORING
Leah and Scott
I just had to send a few pictures of the beautiful floor we received from your company. We ordered the Tiger Strand. We love it and our installer loved it too. The process of ordering was easy and with the option to store it in house it worked out perfect while our house was being built. We are very happy and recommend your company and this flooring to everyone we know! Thank you very much for your great service and great product!! P.S. Everyone that comes into our home loves the floor!!.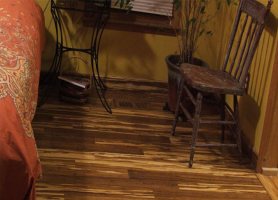 Shari G
Here are pics of our BEAUTIFUL new bamboo floor! We used 2/3 strand woven Tiger and 1/3 carbonized. We love, love, love it! It's our new favorite room. My husband, father-in-law, and I installed it ourselves and it was truly quite easy to do. We even used some extra pieces as the baseboards to give it a really finished look. Thanks for your help...I'm definitely passing along your info to others. .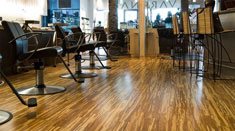 Ricardo S
We are so happy with the floors we installed at our Aveda Spa. Our clients comment on the beauty constantly! Furthermore, they hold up better than any other wood floor we have ever seen. Even our installers commented on the excellent engineering. Simply wonderful. We want to give huge thanks to everyone at Ambient for their unparalleled products, service, and knowledge..
aubrey-49874

Team Ambient:

We are currently in the process of converting a residential property into a custom office space for our real estate investment company. During the process of re-configuring our space, we decided to remove a couple of walls and found ourselves in need of a very small amount of bamboo flooring. Not only did you guys have product that matches almost perfectly, one of your Customer Care reps, Ms. Brittany Farmer, reached out and followed up in a very courteous and professional manner to proactively provide me with shipping details on my SAMPLE. (The fact that I received proactive communication like this when simply ordering a sample certainly makes me want to order my product from you all, SO GREAT JOB AND KEEP IT UP!!)

When ready to order, I reached out to Brittany but leaned from another ambient team member that she was out. Jon Livingston jumped right in and helped me with a couple of questions, provided me a direct link to order and made the entire process incredibly simple.

Great job to the entire ambient team!

A new client,

Aubrey
Lauren R.

I did a lot of research and spoke with a lot of companies in our search for new hardwoods. Lots of wood samples, too. We ended up purchasing from Ambient. We had a problem with delivery, but Ambient made it right with no hassles. We hired a private contractor for installation after letting the wood acclimate in our house (in the dining room, out of the box) for a few weeks. We have had our floors now for over 2 years. The folks at Ambient were fantastic to work with, and the quality of the wood was outstanding for the price I paid. As others mentioned, very few unusable boards. We are extremely happy.
Beth S.

We've had our Ambient bamboo floors for 10 years and love them. Great product and great company to work with.
Lisa C.

I love my Bamboo floor! The Ambient Team were great to work with. They offered me good insight and guidance for selecting the right product. The floor looks fabulous and is holding up well. I am extremely happy with it.
Biser C.

Really happy from the quality of the floor that I bought, 5 years and still going strong. The staff was very knowledgeable and it was a pleasure to work with them!
djfj

This flooring is very durable and attractive. I believe it'll last a long time, way past when I sell my home.
Loren J.

I can't say enough about how great, helpful, and knowledgeable the staff at Ambient is...were great with coordinating the delivery to my home...are open and willing to talk to your installer to explain how this flooring must be installed for those in the remodel industry who aren't used to using such a dense wood. The flooring (and step) look great. Again, thanks.
jeffanddee

Needed cleaner for my bamboo flooring we purchased years ago - I've tried other cleaners and they just don't get the flooring as clean as what I get from Ambient! Now it's easy to purchase on line! Love our flooring - looks just as beautiful as the day we installed it!
mldavi

I LOVE that you have such low emissions and all of your certifications. I feel very safe buying from your company, and I love your prices. So excited to pick from the samples and order my flooring!
Wanda J.

The quality of the flooring was EXCELLENT! Love the pattern. Customer was service was fabulous. Great company to do business with, need flooring, you won&t be disappointed!
cce9085

I was shopping for flooring, specifically vinyl flooring when I noticed a lot of it was made from PVC. Having a chemistry background who has sold a lot of plastics and polymers I know that PVC is a "dirty" plastic. So then I started thinking maybe I should look for something out of a natural material. After a few searches I found Ambient. Their products are certified to meet formaldehyde standards of far more stringent nations than the USA. That is important to me because this flooring is going to be in my family room, which gets a lot of sun. Also, my children, myself and my guests will be spending a lot of time in this room. So while I'm naturally skeptical of claims of "safety", why take unnecessary risks. When given the option between cheap Chinese manufactured PVC flooring and high quality engineered bamboo its a pretty easy decision. If everything else goes smoothly I will be back and buy here again.
Darren F.

Quality product. One year after install, still looks great, hasn&t warped. Customer service was great when I bought. There were certainly damaged boards upon delivery, but I had planned enough extra so it didn&t matter and I feel like they would have remedied the situation if necessary. I highly suggest Ambient if you are looking for bamboo floors!
Lizdan

Our bamboo floor is pushing ten years and it is still beautiful. Love it! Wonderful investment!
mccuety

I purchased and installed a wide plank Carbonized floor for my living room area. I had 2 dogs and small children in the home during that time. The floors never dented and the finish held up well only needing a little wax from time to time to cover up minor scratches. I am back to purchase again.
will-25801

I use Ambient's floors in all my rentals....no more cupping bamboo!
larryeidy

Quality and great selection. I had know idea that Bamboo could be so beautiful
jbr1-97684

EASY WEB SITE, GREAT CUSTOMER SERVICE. PRICES ARE REASONABLE. HAVE USED THEM IN THE PAST AND VERY SATISFIED.
bibg

Shopping with this company has been an outstanding experience! They website is clean and easy to navigate and the order was a breeze to complete. Of course, they also have exceptional products! I will be back!
John C.

Flooring is as good as any brand out there and the prices are fair. Highly recommended...
CAnyonkid999

Always the best quality, great customer service. I continue to come back to this site and have recommended it to several friends who have all had great experiences too.
anchorrrr

Great company, love the product, can't wait to order more, referred by friends!
Rishi A.

We chose Ambient Bamboo after researching for almost a month all the available options. There are so many ways to buy bamboo for your floors out there - it's just very fragmented. But there are only a handful of top suppliers - all the rest are just resellers, or local supply stores. We physically visited local stores, and evaluated a few other online suppliers (Dansk, Yanchi, Plyboo, Eco Timber). We opted for Ambient Bamboo, because they responded to all our concerns over email with superfast response time. We bought their Engineered Strand-woven click-lock bamboo, after discussing with them the goods and bads of the different types of bamboo available. They gave us a very honest opinion of what bamboo works for what type of environment and usage. We spoke to several other suppliers and researched online and most places would recommend one specific type or another, based on where they got the highest commissions. But Ambient offered very impartial and balanced opinions, and explained everything to us over both phone and email. They also shipped us samples for free, because they understood our schedule pressures. Their product was slightly expensive than some others - for example, ******** brand, but you get what you pay for! If you want quality hardwood and excellent service and prompt communication - go with Ambient...Ambient was able to offer us the best balance between cost and quality.
Virginia C.

I have had Ambient Strand Bamboo flooring since 2012 in CT and my daughter since 2015 in ST Thomas Virgin Islands. These floors are not only beautiful but they are so much stronger than the hardwood floors they replaced. My house in Connecticut was in hurricane Irene in late 2011 the hardwood flooring was destroyed and replaced with high grade Bamboo. So when hurricane Irma destroyed my daughter&s house in St. Thomas I went to see the bedroom that has been wet for a month and the Bamboo we still looking good, I was truly surprised because my hardwood floor was peeling and lifting day three. This is why I am purchasing the same floor for my St. Thomas house. Besides it is actually than less expensive than the same grade of hardwood.
sharieberhardt-25555

We currently have a bamboo floor but are moving and building a small country home for ourselves and our 2 dogs. Bamboo flooring is so hard and scratch resistant - there is no question that's what we want. I was able to order several samples today which is going to greatly help us make a decision. The prices are great and free shipping - we're not even going to look anywhere else.
Mark G.

I researched several bamboo flooring manufacturers and Ambient click-lock strand bamboo flooring was the best combination of price and hardness. Their phone center is very helpful and the delivery was painless. We ordered it for my daughter&s bedroom and I installed it by myself last summer. The installation does require patience and accuracy to make sure the cuts are correct but overall, it was a "snap". It has been in for about 9 months and we are still very satisfied. I just placed an order for our kitchen.
John T.

Excellent Customer service, Bamboo floor has held up well for 5 years and three dogs.
Suzy H.

We used Ambient Bamboo for three rooms in our home in southern Arizona...I laid the flooring myself while my husband was deployed. They helped answer all my questions on the installation process and their DIY installation video was a great help. For a moderately handy person working alone, it was a lot of work but totally doable if you have the time. We chose the tiger in hopes it would show less dust than a solid color as it is very dusty in the desert! After 2 years of having this flooring we have no regrets!! We get constant compliments on its unique look and beauty. I also installed bamboo baseboards from Ambient throughout the whole house. The rest of the house is tile and the baseboards look amazing in both the rooms with the bamboo flooring and in the rooms with tile. The bamboo is so solid and heavy. This floor was a glue down. It feels wonderful to walk on and there is no hollow sound or weak feel to it. This stuff is tough and although we do not have pets/kids, we make no effort to baby it...we wear shoes inside, high heels, lots of sporting equipment etc...I really don't see any wear to it. We looked around at other more local suppliers but really fell in love with this bamboo and ultimately decided the quality of the Ambient Bamboo wasworth the cost of shipping to AZ. The hardest thing about the whole project was simply moving the boxes of wood due to the solid bamboo weight, and that was only because my husband was away! Customer service is also top notch!
John Carter

The flooring offered by Ambient is the highest quality available...as good as some brands that charge much more for this quality. Highly recommended!!!
scottbdog

The floors still look brand new with heavy kid traffic (mostly socks). We installed 1,200 sf of natural 3/4 T&G bamboo floors from Ambient 3 years ago and are finally upgrading the vents.
barryvilleorganic

Eucalyptus strand is a lovely, interesting floor. Great, prompt service and an excellent product!
Vicki Tucker

I just Love the look of my new floor it was easy to install the people at Ambient Floors was also very helpful. What difference it made in my house I put it in my kitchen and hallway leading to my bathroom and bedrooms, I would highly recommend having bamboo in my house I also have it in a hallway and on stairs going up.
Lana P.

I have to praise Ambient on the excellent customer service we received when we had issues with their shipping partner, UPS Freight...Would definitely recommend to friends and family.
Gisile G.

Ambient Bamboo is so tough and beautiful. Our floors are easy to clean and look great.
david_chiasson

Last delivery was prompt and exactly as expected. Thank you!!
John Klepacz

My wife and I had spent several months looking and researching hardwood flooring for our Victorian style colonial house.

I read bad things about bamboo flooring so bamboo flooring was not a consideration until we stopped at the "Ambient Bamboo Floors" display at a home show...Ambient provided a lot of information about bamboo flooring and encouraged us to take a sample home and beat on it with hammer and then compare the results with the hardwood samples we already had. We dropped cans of soup, butter knives and other kitchen items on all of our flooring samples. We also banged on them with aluminum gutter nails. The bamboo was not completely resistant to our abuse but all of the hardwood looked really bad!! The small dents in the bamboo were hard to see unless we turned it to just the right angle. The bamboo we purchased was half the price of the hardwood we were looking at. I believe the bamboo flooring is tougher and more durable than hardwood. We did not know anyone that had experience installing bamboo flooring so we relied on Ambient...the staff at "Ambient Bamboo Floors" are friendly, knowledgeable and helpful.
Kathleen C.

My husband and I remodeled our first floor to make a great room. We installed the Ambient carbonized strand woven bamboo flooring in the entire space. The room is amazing and the floor adds a unique look. We love the floor and always receive compliments on it. It is also durable, beautiful and easy to maintain.
tcemeade

Ambient is Great to work with! They helped us with our upstairs project 5 years ago with our Java Handscraped Bamboo Flooring, and now we will be working on our Kitchen project. We Love our Bamboo Flooring. It's Beautiful, Durable & very Economically Priced.
P.L. Concord

the wood is beautiful. Very uniform and consistent. Not like some reviews of other products I had read about...Extremely high quality. Out of 36 boxes I had 2 boards that I could not use all of (had to cut around a blemish on each board). The stuff installed very fast and once we got the nail gun settings correct, everything went pretty quickly.
peverett5

In 2010, I purchased and laid Ambient Bamboo flooring in 3 rooms, a closet and a good sized hallway. We have been very satisfied with the product. We currently have a leak in the roof and it ruined a section of flooring in our dining room. I want to replace the flooring with a new look.
Jenelle M.

I too looked at several bamboo suppliers. I was impressed by the response time from Ambient as to the questions I had. Every step in the consideration, purchase, and deliver process was handled professionally and cheerfully. Some of the other suppliers did not have distributors in our area so that would have increased the final costs to us. Ambient, of course, can be delivered directly to the consumer. We did not intend to install it ourselves. An architect friend recommended an installer from our area, and the bamboo was delivered directly to him. The product was super and looks great on the floor. Though we only have had it for a few months, it seems incredibly durable. We installed about 2500 square feet.
lorenehutchinson

We have most of our 1st floor in natural bamboo and it is great so far. We are also doing our dining room. Fast service. Responds to all my questions quickly. Great company!
Jenelle M.

The folks at Ambient were easy to work with. We found some of the other bamboo flooring companies to be pushy. We&ve had our floors 7 years now and we are very pleased.
Beverley Alexander

We've been buying Bamboo flooring since 2015, and wouldn't get it anywhere else! High quality flooring that stands up to traffic and pets!!
Positron X.

Out of all the things for my home renovation, purchasing bamboo floors from Ambient was by far the most painless. These guys actually care for their customers and it's evident right from your first call as they patiently answer all your questions about bamboo flooring, its types, and what is right for your home's conditions. I did an extensive research for my purposes - I customer support line is extremely efficient...the quality of the floor is excellent, as is the look. I ordered the Malaga Sawn to go with the beachy decor I was planning for, and it fit like a dream. Plus, being hand stripped and with a Janka rating of over 3000, this is perfect for my pup to run around on. Couldn't have found a better bamboo company or floor. Highly recommend!
4664535464747

Great choice of flooring. Huge collection and cheap prices.
fafds

Awesome experience shopping with you guys, thanks for everything!
Mirdza F.

Our Ambient floors are still great after 5 years.
hennapascua

I love the high quality flooring I get from this company.
ayylmao-92352

I use to think oak was the only acceptable material that can be used for flooring, but after trying bamboo floors I can't be more impressed.
DesertZorilla

came out beautifully and is wearing well. Will get it again.
Camille H.

Their website is excellent. I was able to order free samples of various flooring I was considering making it very easy to decide at home which product I wanted to go with. They were very responsive in answering all of my questions via email and phone. I went to the store and ordered my flooring choice and picked it up a few days later. They have a great selection, are very knowledgeable about their products, have reasonable prices, and great customer service too. I am a very satisfied customer.
Guillaume O.

We looked at several Bamboo suppliers for hardwood floors including ***** (great but over priced through their distribution network), ***** (good but did not have floor cover vents), ***** (best options including unfinished bamboo, but slightly more expensive than Ambient). We liked the quality of [Ambient's] product, enjoyed destructive testing on multiple brands, direct communication with them, effective and always available for help, compared to reseller who often are not knowledgeable about Bamboo. They also kept the floor until we needed it which was nice. The floors are super nice and we love them.
ayy

Excellent quality material. The wood is sturdy and the item received were the same as pictured.

When we installed laminate, I suffered from recurring sinusitis and asthma; when we replaced our flooring with Ambient bamboo, I could breathe again. We looked locally first, but when comparing bamboo samples, Ambient's was by far the finest quality. Our only concern with having a floating floor in Hawaii was heat expansion and humidity. Not a problem if the installer follows Ambient's installation instructions!
Elaine B.

Phenomenal flooring and even more phenomenal customer service! I would recommend this flooring and company to anyone!
abcd-24352

Ambient was perfect in both selection and customer service. All my flooring needs were taken care of on this one site. Highly recommended.
strickdk-44390

Beautiful sustainable flooring at reasonable prices
cycleloon

Installed 15mm click-lock bamboo many years ago; just placed order to complete my upstairs

Excellent consistent quality carbonized flooring and trim. Outstanding customer service.
Bob K.

We are so happy with our bamboo floors and the interactions with the Ambient staff. We have always had carpet and after doing some research, we decided to try out bamboo flooring. The Ambient staff were very helpful in answering our questions and guiding us through the process. We love the color and the look of the carbonized bamboo. It has been 8 months and a few dropped heavy items on the bamboo with no dings or scratches. The bamboo is very hard and durable. That was my main concern in the beginning, how hard is the bamboo and, in fact, it has proven to be very tough. The installers that Ambient recommended were real craftsmen and took pride in their work. They paid attention to the little details and the overall job and produced a floor that is the highlight of our condo. We are pleased to show it off to our friends. We will never go back to carpet. A big plus is the environmentally-friendly use of bamboo versus hardwood. The Ambient team was so helpful from beginning to end and made it a great experience for us first-timers.
trs-5

Great Site for Bamboo Plywood!
blahblah-94876

This company provides great products and service.
ahart1324

I love the bamboo. Very durable and pet friendly and resists water.
jim_hiza

Purchased just over 700, the cutoff to receive free shipping, so I ordered trim, 18 ga nails and felt paper rolls at the same time. Samples were 9/16", but when I went to order, the product was only 1/2" - the one main complaint I have, but went ahead anyway. Have completed the installation, nailing onto a plywood sub-floor over a full basement. Thin product was a little tricky to work with when nailing - air pressure on the nailer had to be adjusted to avoid cracking the tongue - expect that to occur here and there even with 18 ga. as recommended. Tongue is not stained - I used a brown sharpie or Minwax stain pen on the tongue when seam was under a recessed ceiling light - if the wood shrinks a little, I did not want to see the lighter tongue. I selected Cafe Brown Antiqued. During installation I did ding the wood a couple of times, but after coloring that spot, it looked like any of the other antiqued spots. With dogs in the house, I expect to do this a little, but after 3 months I do not see one scratch yet from them. Very hard wood. Quality of the boards was extremely consistent - very pleased here. Out of maybe 300+ boards, I found only 3 with a slight color variation (I am picky - no one else would have noticed I don't think). Found maybe 5 boards total where the tongue or groove had a manufacturing defect and could not be used - one only after I nailed it in which had to be cut out. Just look over each tongue and groove quickly before you nail it down. Floor looks tremendous - everything we expected it to be. Customer service at Ambient - I don't think you will find any better - really good, very helpful with suggestions. Hope this helps.
Ryan Kane

Customer service and all the employees were so helpful and care about the people that walk into the showroom. They answered all questioned and are very knowledgeable and willing to help. I purchased the Savana solid and absolutely love the flooring, high quality and easy to install! I have never tackled a project like this and completed the task in a few days myself. I recommend Ambient Bamboo to anyone looking to make that next room look amazing. I would purchase again and recommend this product to anyone looking for bamboo or wood flooring.
bsingstock

Converting from carpet. This will look great and be very durable with our 2 70# dogs and their nails.
BRIANAUTOVILLAGE

ANSWERED ALL QUESTIONS PROFESSIONALLY AND NEVER PUSHED ME TO BUY THEIR PRODUCTS
pammitaro

After having looked at dozens of bamboo flooring companies, I thought this one would be too high priced because of their quality. Well they're not! I love how easy it was to navigate the website, find options for my needs, and read & compare the details of the different types of flooring. My samples came when expected and wrapped nicely with a brochure, coupon and business card. NO OTHER place has done this for my sample requests. I can't wait to get my flooring and get it installed!
Nancy S.

I am a picky person in materials and usually do a lot of research before make a decision. Especially we were expecting a new little one to our family and safety is our No. 1 consideration (with least chemical). This has been my third time to buy bamboo floors from Ambient Bamboo for our old and new houses, and to help my parents remodel their house, too. It is a as happy experience as before. Great products, a bunch of choices, great quality, great service, fast delivery, and unbeatable price! We are happy with our new house and don't plan to move in years. But I would definitely refer Ambient Bamboo to my friends!
Jim Hiza

So far, so good...Purchased just over 700 sq ft of Ambient Eucalyptus flooring, which is the cutoff for free shipping, so I ordered felt paper rolls, 18 ga flooring nails, and trim too. Free shipping saves quite a bit. The samples provided in advance were 9/16", but when I went to order, the product was manufactured at 1/2". This is my only real complaint, but it was explained before I placed the order. I have completed the installation, nailing onto a plywood subfloor which is over a full basement. Working with thin product like this was a little tricky - you will need to adjust your air nailer to avoid cracking the tongue - even with the recommended 18 ga nails this will still happen here and there. Tongue is not stained - when installing under a recessed ceiling light, I used a brown sharpie or a Minwax staining pen to darken the tongue as I was installing, in case the product should shrink from one season to the next. Quality and consistency of the boards was excellent - very pleased here - out of 300+ boards, I found only 3 with a very slight color variation (I am picky - probably no one else would have even noticed) which I used in a closet, and maybe only 4 boards where the tongue or groove were not cut correctly during manufacturing - the first was found only after I nailed it and discovered when doing the next row - had to carefully cut it out. Look over the tongue and groove on each board quickly before you nail it. Color selected was Cafe Brown Antiqued - I did ding the floor a couple of times, but with the sharpie it looks like any other antiqued spot. I have dogs, and after 3 months there is not yet even a minor scratch they have made - very hard wood. Customer Service at Ambient is very, very good - you might not find better - helpful suggestions on the installation. A couple of other useful tools were a nail punch just for the L-shaped flooring nails (you will use this on occasion), and a Trim Puller to use when removing base boards before starting and for pulling boards tight before nailing them in. Hope this helps.
Gary T.

I can&t say enough about the customer service, communication and helpfulness of the Ambient team. From my barrage of questions before purchase, to my continued barrage after purchase and during my DIY installation, they were incredibly helpful, patient and professional. Due to an overseas shipping error (not on their part), they even paid for the ground shipping (via UPS Freight) to my house and gave me a free bottle of Bam Brite floor cleaner.

As for the floor, it is a superior product. Very dense, hard and durable. Besides extremely attractive! Though the true durability will prove itself over time, we are initially very pleased and have recommended Ambient to friends and family. Sure, you might be able to get some bamboo cheaper at big box stores or liquidation flooring stores but, just remember, you get what you pay for. Watch for sales from Ambient, too! We&ll definitely be buying more!
Melvinmcnamara

Fit so easily, all the products were shipped. I didn't need any extra help. Went down in a couple hours. Cannot recommend highly enough.
black_leighann

I can't wait to install these floors in my house! Beautiful product and great prices!
Chet Taylor

After ordering samples of strand woven eucalyptus and bamboo, associates from Ambient patiently kept in touch during a long delay before I was ready to order. They are very well informed and professional as I made several inquiries regarding the product and installation. I ordered the strand woven eucalyptus which is very dense and has a janka hardness rating over 5000. Subsequently, installation is more challenging but very manageable. I recommend this flooring for its quality and appearance and Ambient Bamboo Floors for there customer service.
Dennis M.

We were installing a new kitchen floor, wanted hardwood, but were concerned about scratches, as we have a 180 lb Great Dane. We looked at many expensive hardwoods, but found even the hardest ones still scratched (some fairly easily) We looked at bamboo at local flooring stores, but they had very limited inventory. We also looked at ******, and felt they had a very "cheesy" product, plus they have a lot of bad testimonials on line. We started surfing on the internet, and found Ambient, and boy, we are glad we did!. They are over an hour away from where we live, but it was worth the drive. We worked with Will, and he was wonderful at answering questions, and his knowledge of their product was evident. It is a very hard product, and we have not had one scratch from the dog. Everyone that we talked to thru the buying process was so helpful, Thank You Will & Luiza). We are very happy with our floor, and highly recommend Ambient!
lynnski63

Whenever I have worked with the [people at Ambient I have not been disappointed. Very helpful and knowledgable!
dklfajlk

I love these bamboo floors! They are of the highest quality and are an instant upgrade to any home. Highly recommended.
Ned C.

My wife and I met Ambient Bamboo reps at a home show...our builder sent us to a local flooring specialist who's prices were awful and the sales guy was not pleasant so we found the card we had gotten from Ambient Bamboo at the home show. Wow - from the moment we called them and talked to Doug, 100% customer service in a non push, non-pretentious way. SO REFRESHING!! They sent us 6 floor samples for us to choose from and helped us work within our budget. Hopefully, we dont need any new floors for many years due to the quality of the strand woven bamboo we bought but if our friends ever needed some, we would highly recommend them. Keep up the good work guys!!
Jessica S.

The costumer service at Ambient was great! Everybody was attentive and committed to delivering good product with good service. The floors are beautiful! I get compliments all the time and enjoy admiring it! Overall excellent product and service!
Cindy B.

I bought my beautiful bamboo flooring from Ambient last spring. The staff was knowledgeable, helpful and enthusiastic. The product was superior - so much so, that the overage I ordered is still in the box. I think we culled 2 boards from over 600sf of material. My brother and I installed the floor - he had experience with oak, I had no experience. It took us a day to really get the hang, but after that we rolled right along. Asked for and received excellent assistance from Ambient technical staff. With 3 big dogs and 6 cats, the floors take a lot of abuse - but, so far, they still look fabulous. Now I'm thinking about the one remaining room in the house and those two boxes of left over bamboo.
Douglas M.

My experience with Ambient was about as perfect as it gets. From the samples I received in the mail, pictures or the floors I was considering and the friendly and responsive sales rep Tim, it made my choice easy. Knowing someone would give me honest feedback and opinions set my mind at ease. Delivery was simple and that was a fear of mine. The floors were delivered on time and my installer commented how easy the floors were to install and how they were the strongest floors he has worked with. The Eucalyptus floor has now been in my home for over a year. I live in Florida, on the water and on concrete. We glued the floor down to the concrete on the main level and have had no issues. Kids tracking water from the pool, plenty of spills and our dog always running around and no issues. A family of 4 with an active large dog and we never even worry about the floor. Couldn't be happier! Thanks Tim and Ambient!!
bbcs117

I am a previous customer, very pleased with the quality of the beautiful flooring. I had two rooms of flooring installed a few years ago, and love the durability and beauty of the floors. I plan to have even more flooring in my home installed. Thanks Ambient.
John A.

Excellent product. Ordering, delivery were just as expected. We did bamboo downstairs some 12 years ago and recent installed it upstairs in all 4 bedrooms. Super happy.
Robert M.

We spent nearly a year researching flooring for our kitchen, dining room and great-room. I tried really hard but couldn't find a negative review. Being handy with tools, I was able to install it myself. The floors came out great. So far they seem very durable. I had taken a sharp screwdriver and scrapped the sample surface. Barely a mark! Our dogs haven't been able to do any damage either. People love our floors and I highly recommend their flooring to others.
Jennifer F.

Six years since I installed my Ambien floors and they are great. I have dogs and am continually dragging things across my floors and they&ve withstood it all. Their service was awesome and they offered so much (FSC certified, high quality bamboo, low VOCs) for what was a reasonable price compared to their competitors.
Mark H.

I love what these people can do with Bamboo. Every time i have people over the first thing that comes out of their mouth is &Wow, nice floors!& i got the look of a really exotic wood, for the price of bamboo. All that with a guilt free conscience. And really great customer focus too.
Margaret S.

Love love love my bamboo floors. Kids, dogs, life and they still look beautiful. 4 years after we put them in still getting compliments.
rickbraida

In reading reviews of other flooring manufacturers, all had many negative reviews. Granted, you can't please everyone.....and poor preparation, moisture issues, or poor installation could all produce an inferior finished product. But many of those other reviews described how the flooring was so irregular that the installer couldn't even begin installation after laying out the flooring on the subfloor. Your reviews were all 5 star, including customers who were describing floors installed 4-5 years earlier. Very compelling.
Brian M.

The floors have been installed close to one year. The look great. Our fairly large dogs do not scratch the floor (old ones they did). What draw my interest to Ambient bamboo floors included the high Janka rating (very hard) and quality finish.
g1taylor

Service has been exceptional with all of my questions being addressed and answered. The pricing is unbeatable! I priced narrow width, solid oak flooring at a national flooring retailer and it was the same price as the wide width, antiqued bamboo flooring from Ambient! Just placed an order for more and requested more samples. Thanks, Ambient!
De Greenbrae

One of only two vendors that sells strand eucalyptus, that I know of. The flooring is beautiful- I installed it in a $2 million+ 3400 sq ft home and the flooring is one of the most complemented features. Small criticism: I'd love it if they offered square nose for stairs in 16 0r 12 foot lengths. The nose they do offer is round and comes only in 4 foot lengths.
Daniel F.

I was very happy with every part of my purchase! I was sent samples to pick from, which was nice so I could test the quality and pick the finish I wanted. I have had my floors down for 2 years now. I have 2 dogs and a 2 year old and my floors look brand new. I have this floor on my entire 1st level, including the kitchen. I can&t say enough good things from quality to price to customer service. Thanks Ambient.
elieggi

I found ambient because of the many outstanding reviews across the internet. Those reviews were correct. The price is excellent for the quality of the product and I received superb service and advice from John when I called in to ask questions.
Daryl Rosenbaum

After going around and around with all the big bamboo companies for a client... Ambient is now my go-to supplier. Amazing products. Outstanding service.
theforcebe

I've ordered from Ambient several times and I'm very happy with their floors and advice. I just wish the installers I've hired would trust that the manufacturer knows best cause bamboo isn't like other hardwood flooring.
kraigmentor

Best information, Best prices, Best Support. Best product. After a lot of time researching, Ambient was clearly my choice. Helpful, not pushy. Glad to spend time with me on the phone. Looking forward to the installation!
Bob

Save yourself the time and go to these kind folks. First, this company&s product holds up to all comparisons I made. I spent hours looking at big box bamboo and other options. You definitely won&t get the above at a big box retailer or at LL (I did buy the silicone underlayment from LL). Big box bamboo is too soft (really soft; dent it with a fingernail) and harder options are wood and more expensive. LL might have had a bamboo product that met most of the above needs. But reports of odor from ***** product and some questions about sustainability deterred me. In any event, the price was either very similar or better at Ambient. By all means, do your own research before buying; you&ll feel that much better for choosing them. I&m not sure if it is a family business, but it operates as one...they answered all my questions about hardness and sustainability and VOC ppm and then sent me a box with samples...Very nice and very helpful...not all bamboo (or bamboo companies) are equal.
Theresa M.

We are DIY'ers and are about to start our 2nd project using Ambient Bamboo Flooring. 3 Years ago we did our hallway and one of our bedrooms with the Strand Woven click lock bamboo flooring. We are very happy with the quality, look and how well the flooring stands up to a fair amount of foot traffic. We are now waiting on our shipment for an additional 800 sq ft of flooring. The company has been amazing to work with, Being DIY'ers we have lots of questions and they have been so helpful and patient with us. Their customer service is also outstanding. I would highly recommend this company and their products.
billassman

The floor wears like iron and cleans in a snap!