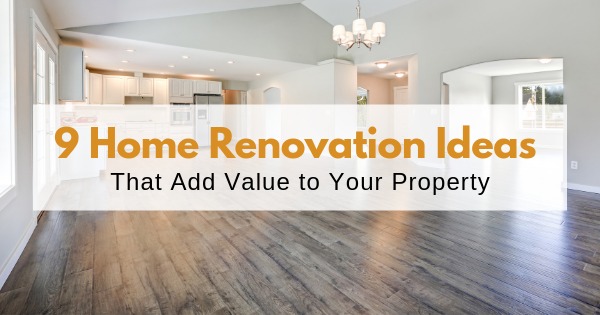 Renovation projects can exponentially increase the value of your home by making it more attractive to potential buyers. From installing new flooring to simply giving your front door a fresh coat of paint, these are some of the best home renovation ideas that add value to your property.
Install new flooring
Dented up, scratched, or faded flooring can instantly decrease the value of your home – it's often the first thing a prospective buyer sees when they walk in, and first impressions are everything. As such, you should invest in durable flooring that will look dent-free and new for years to come. Strand-woven bamboo flooring is one of the hardest wood floors on the market, providing the sleek, warm look and feel of hardwood flooring for a fraction of the cost. Plus, it's easy to clean and water-resistant—these are attractive qualities to potential home buyers. Installing bamboo flooring is a surefire way to increase your property value.
Invest in solar energy
According to a study by Lawrence Berkeley National Laboratory, homes that use solar panels sell for more money than homes that don't use renewable energy systems. A similar study published in The Appraisal Journal reinforced these results, suggesting that the presence of a solar energy system increased the average sale prices of homes in six states by 3.74 percent. One of the main benefits of these systems is their incredible energy efficiency. As a renewable energy source, solar power is in constant supply—and it's a free source of energy. As such, powering a home using solar energy can save homeowners thousands of dollars each year on their utility bills. While installing solar panels requires a sizable up-front cost, they have the potential to greatly increase your property value.
Focus on curb appeal
Curb appeal—a home's visual attractiveness when viewed from the street—is incredibly important to the value of your home. This is because the curb appeal is the first thing potential buyers will notice when they visit your home. Therefore, making a good first impression is key to securing a good selling price for your home. Factors that affect curb appeal include your home's landscaping, front door, driveway, paint job, windows, and outdoor lighting fixtures. Taking the time to keep these features updated and in good condition will help improve your home's exterior appearance. If you don't have a huge renovation budget, simply painting your front door with a stylish color such as maroon or teal is an inexpensive way to add value to your home.
Remodel your bathroom
Due to the steam produced by hot water when you're showering or bathing, bathrooms typically age faster than other rooms in the house. This is because moisture can inflict water damage on the flooring, cause the paint to peel off the walls, or—worst of all—lead to outbreaks of mold and mildew, which are a pain to get rid of. These effects can leave bathrooms looking unappealing to many homebuyers and plummet your property value. Contrarily, a bathroom that has been remodeled to look clean and updated will stand out in the real estate market. It'll likely be a huge selling point for your home.
Improve insulation
Improving the insulation in your home won't just save you money on energy costs each year—it'll also make your home more attractive to home buyers in the future. Easy ways to improve your home's insulation include sealing cracks around your house, adding sealant strips to the bottoms of doors, and covering the area under your roof with fiberglass wool. You can also purchase a thermal leak detector for under $35, which will notify you of temperature shifts throughout your home and indicate areas that aren't properly insulated. As a general guide, areas that typically don't have good insulation are attics, basements, and spaces around doors, windows, and electrical sockets.
Update your kitchen
Many home buyers consider the kitchen one of the most important rooms in the house. As such, taking the time to update your appliances and countertops could go a long way in terms of upping your property value. But kitchen renovations don't have to break the bank. Even just covering the walls or dull, outdated cabinets with fresh coats of paint can go a long way in improving your kitchen's overall appearance.
Add a deck or porch
Installing a deck or porch increases the amount of livable square footage on your property, which is highly attractive to homebuyers. This home renovation project is an especially worthy investment for homeowners who live in warmer climates where people generally want to spend more time outdoors. If you don't have a ton of yard space in which to build your deck, don't worry: these outdoor living areas don't have to be large to positively impact the resale value of your home. Even just a small platform with a nice seating area can greatly improve your home's appeal.
Open up your floor plan
Open floor plans are extremely popular in today's housing market. An open floor plan refers to a single living space that functions as multiple rooms due to the absence of separating walls. Benefits of this type of floor plan include more natural light due to shared windows, improved sociability when entertaining, and easier flow of traffic. Knocking down a few walls in your home to replicate this in-demand floor plan could greatly improve your property's real estate value.
Create a home office
Today, more and more people are pursuing freelance careers that allow them to work outside of a traditional office environment. As such, creating a space where these modern professionals can comfortably and productively work from home will increase the appeal of your property. Some important features to include when converting one of your spare rooms into a home office are multiple grounded outlets, at least one window to increase natural light, and ample data ports.
Navigating today's real estate market can be a challenge. However, by implementing these home renovation ideas that add value to your property, you will be able to decrease the amount of time your home stays on the market and secure a great deal on the sale of your home.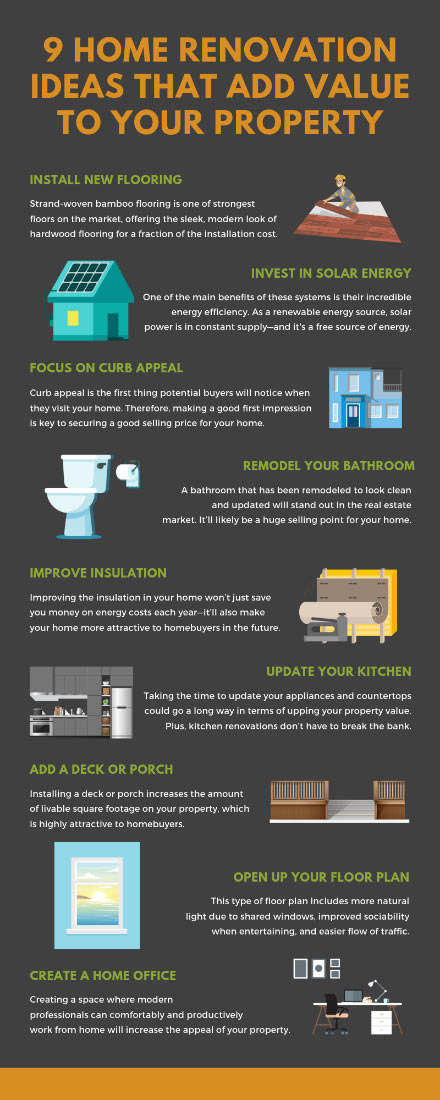 If you have to resist any questions, please contact us!