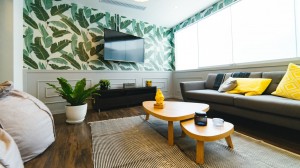 We're officially halfway through 2020, but this year has already seen some major home design trends in the last five months. From vintage inspirations to minimalist decor, 2020 isn't holding back any punches.
To give you an idea of where the year is going, here are eight trends that are picking up steam and are set to hit the stage for the rest of 2020.
Wicker furniture has been around for centuries. While it's routinely used for outdoor furniture because of its water-wicking abilities, wicker furniture is making its way indoors this year. Why? The bohemian trend. Global and bohemian designs often use natural woods and textures to make a space feel warm and airy, but too much wood can turn your space into the farmhouse style. Wicker furniture plays with texture while maintaining that free and airy aesthetic that bohemian-lovers crave.

Art Deco. Art Deco is seeing a comeback like no other trend this year. With its luxurious details such as geometric patterns, metallic accents, rich colors, and velvet textures, Art Deco appeals both to maximalist and minimal styles. It's a great way to add fun and vivaciousness to any space whether it means changing up your cabinet's hardware or hanging up a new art piece.

Unique ways of using wallpaper. Homeowners aren't using wallpaper today the way their grandmas did. Wallpaper today comes in an endless array of colors and designs from geometric shapes to palm leaves. Stores across the country are seeing an increase in homeowners shopping around for peel-and-stick wallpaper, which can be used not just on the walls but anywhere. Homeowners have placed wallpaper in their closets, office spaces, and even on the stairs for a unique pop of color.

Bamboo flooring. Hardwood floors have made a serious comeback since millennials entered the housing market. Unlike carpet, hardwood floors are easier to maintain for those with allergies and pets. Still, hardwoods can suffer their own issues such as scratches and dings from shoes and pet paws. That isn't the case with bamboo flooring. Bamboo floors have all the beauty of your favorite hardwoods, but they're way harder to damage. Bamboo floors are also more eco-friendly because the bamboo plant only takes up to five years to mature unlike hardwood trees, which can take from 30-60 years.

Desert and Southwest-inspired pieces. For those who are looking for a more tailored look for the bohemian style, desert, and Southwestern-inspired decor is becoming popular this year. This style offers burnt oranges, terracotta colors with turquoise, cactus, and lots of dark greens. It also gives a boost to the Palm Springs style if you prefer beachy, desert aesthetics in your home.

Animal-related decor and prints with mystical creatures like unicorns dominated 2019, but 2020 is seeing an influx in trends related to real-world animals. Flamingos, tigers, and animal prints made up some of the top online searches on Etsy. Whether it's in the form of decor, art, rugs, or fabrics, animals are bringing the zoo to you this year.

Color in the bathroom. Colored tiles were a big hit in the 1950s. But swaths of pale pinks, blues, and greens led many folks to tear out the tiles and replace them with white. Decades of too-much-white though have had the same effect as those pastel bathrooms and today's homeowners are changing up the title game. Modern bathrooms are taking to small patches of pastels, bold tiles in emerald green, and navy blue backsplashes behind the vanity.

Globe lighting. Globe lighting has been a major trend so far this year and it's expected to stay for the rest of 2019. This minimalist lighting works with every homeowner's style because it's sleek enough to go unnoticed while providing enough light to warm up your space.
Considering installing bamboo flooring?
Hardwood floors have been a major trend for the last few years and bamboo is picking up popularity for good reason. Solid strand bamboo flooring is up to three times harder than oak flooring, making it the ideal option for those who love hardwoods.
If you're interested in different types of bamboo flooring such as natural bamboo flooring or strand woven eucalyptus, Ambient Bamboo Flooring is the place for you. To learn more about our eco-friendly materials and flooring options, contact Ambient Building Product today.
If you have to resist any questions, please contact us!