Last Updated: 8/17/21
---
Oh, beloved hardwood flooring! How shall I install thee? Let me count the ways.
This is an ode to the amazing number of patterns you can use to install hardwood flooring.
No, we aren't talking about glue down vs. nail down vs. floating installation methods. We're talking about the incredible variety that's possible with the installation pattern of hardwood flooring.
That's important because the installation pattern you pick determines how your finished floors will look.

Quick History of Hardwood Flooring and Flooring Patterns in the US
To understand flooring patterns, you've got to understand how our relationship with hardwood flooring has evolved.
When the first colonists arrived, they discovered vast forests. Unlike the family members they left behind in Europe, these new home builders could easily enjoy wood flooring.
Those settlers had an abundance of trees, but converting trees to lumber and lumber into flooring planks wasn't easy. Good thing those colonists were tough.
They employed a technique called pit-sawing and used lots of arm muscle to turn felled trees into flooring. Here's a couple of men recreating this process.
Aren't you glad you can order the finished material for your wood floors?
Evolution of floor finishes and flooring patterns
In the beginning, those pit-sawed planks were nailed down in random lengths as is. Years of use and scrubbing would eventually create a smooth surface.
In the 1800's, people started stenciling the wood floor with borders or rug-like patterns. This was quite stylish until rugs appeared on the scene.
Like a bad toupee, patterned and floral rugs and carpets reigned over wood until the 1870s when people returned to their senses.
Taking a Hint
In 1872, Charles Eastlake published his Hints on Household Taste in Furniture, Upholstery, and Other Details, which advocated for the hardwood floor. He made the use of parquet and borders as popular flooring patterns. Wood floors got quite ornate.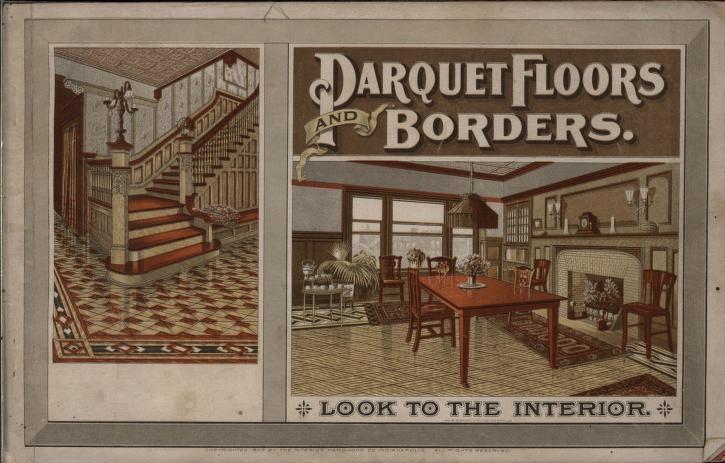 As you can see from the cover of this 1895 catalog from The Interior Hardwood Company of Indianapolis, Indiana, these upper-class flooring patterns became very ornate. They stayed that way through the beginning of the 20th century.
But for the middle and upper-middle classes, plain planks would do. Good flooring was made of oak or other hardwood. The not-so-good flooring was pine. Shellac and varnish remained the most popular finishes.
The Advent of Carpet
Through the beginning of the 21st century, wood flooring was popular and common, even though it remained pricey.
But by the end of World War II, the carpet was cheap. Wood flooring companies tried to compete on price by reducing quality. Installers rushed laying floors to cut costs even more. Between the two of them, they all but destroyed the reputation of wood as a durable, quality flooring.

Rebirth of a Classic
Then the 1980s saw the return of more authentic, classic, and clean trends to society.   This return to conservative staples like polo shirts for men and shift dresses for women spilled over into home decor.
Suddenly the rustic yet contemporary look of wood flooring was in, and prefinished wood flooring was hot. Parquet wasn't invited to the party, but plank flooring had definitely made a comeback.
In the early days of the rebirth, the finish choices were limited. So designers, homeowners, and installers got creative with the install pattern.  Patterns borrowed from fabric and tile made their way to wood flooring.
Today, the install pattern is as important as the product you select in determining the finished look.
Patterns We Recommend
There's an almost unlimited number of ways you can install your hardwood flooring. Here are some of the most popular we recommend:
Random
Diagonal
Chevron
Herringbone
Parquet
Random Plank
This is the most common hardwood floor pattern. It has its roots (pun intended) in the flooring pattern used by those early colonists, and their hand sawed planks.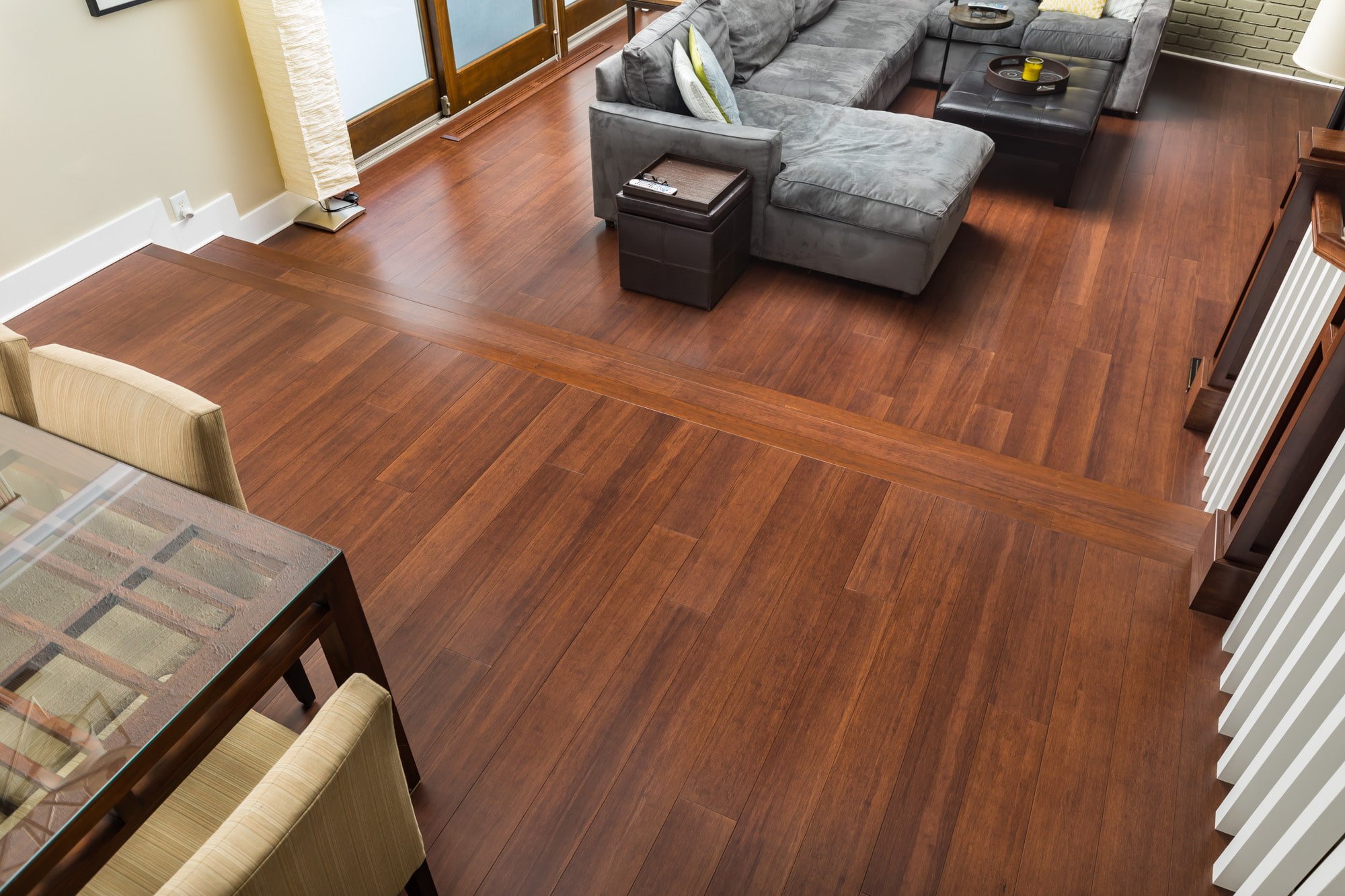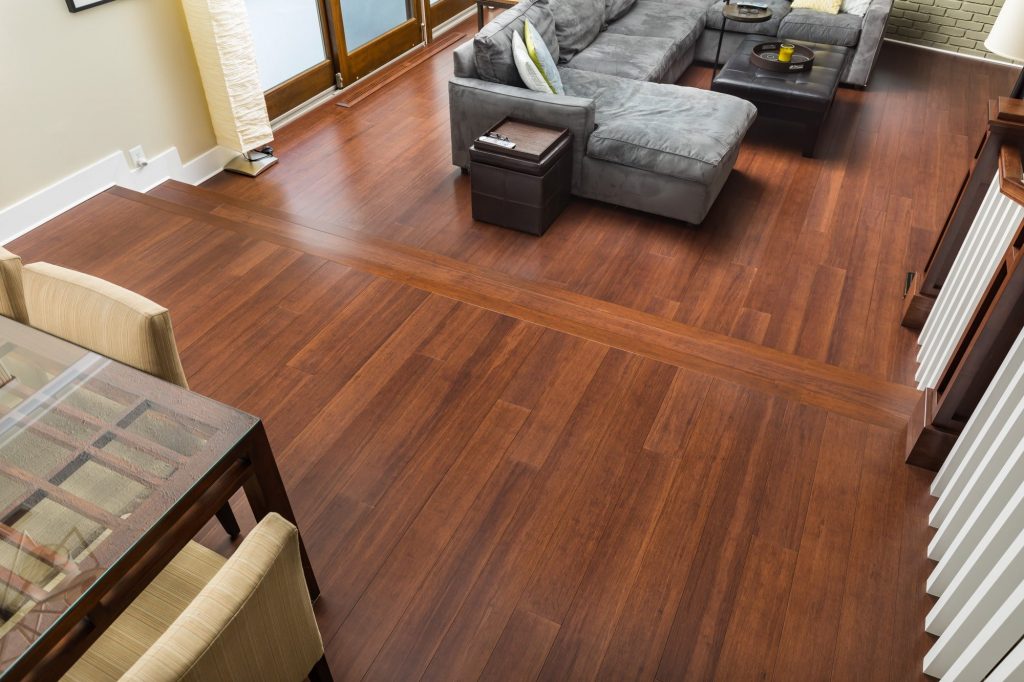 In this example, the flooring was randomly placed in a linear design on the floor. The lengths of the planks vary to randomize the joints. This is achieved by cutting the starter piece in each row to a random length.  Notice that the seems are always at least 8″ apart – this is good installation form.
You can also randomize the board width or use a combination of both board width and length to mix things up.
Diagonal Pattern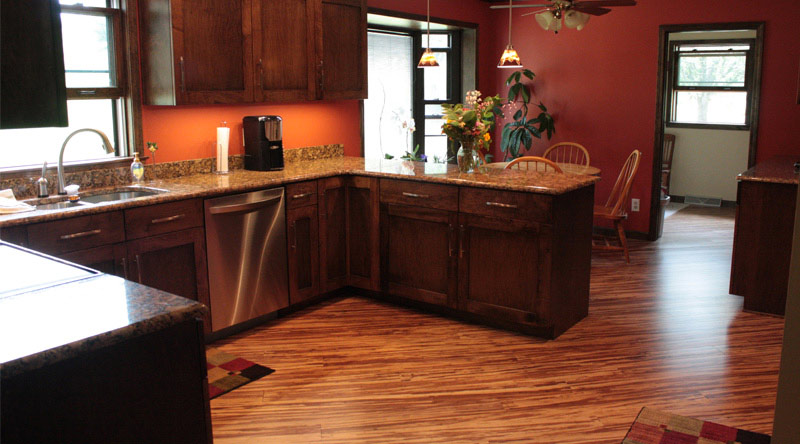 Wood flooring planks don't necessarily need to be parallel to the walls. In fact, when placed at an angle, they open a room up. Small spaces appear larger when the flooring is laid at a diagonal. This space looks larger, even with darker finishes.
Diagonal flooring is also absolutely perfect for hiding the sins of walls that aren't straight.
Chevron Pattern
The Romans were the first to discover that a walking surface lasted longer if they placed the bricks in line with the traffic. It only makes sense that the first chevron pattern wood floors would show up in wealthy Europeans' homes.
Notice how the board ends are miter cut at an angle? This angle creates a v-line and creates visual interest.
It's what adds to that elegant, luxurious European, contemporary look. But it also adds to product and installation costs. But it is a sweet look and very dramatic. What's more? It's now easier than ever to achieve this attractive flooring pattern. Flooring manufacturers are starting to mill flooring planks in the proper shape to be specifically installed in the chevron pattern, which means significantly less cutting is required!
Herringbone Pattern
The term 'herringbone' is frequently used interchangeably with 'chevron' when referencing the above flooring pattern, but mistakenly so. The herringbone pattern is similar to the chevron, so it's understandable that they're easily confused, but they aren't the same. Both patterns are popular among tile floors as well as wood floors.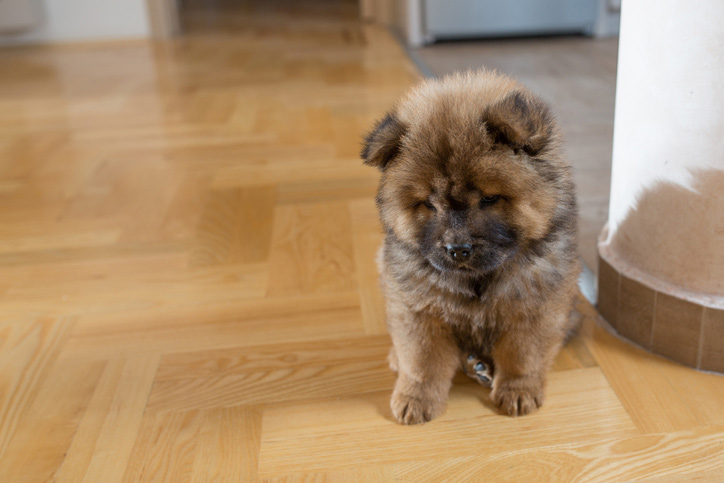 This little guy is carefully inspecting the herringbone pattern of the floor. Look closely where the board ends meet. The board ends aren't mitered; they actually overlap.
That's the difference between chevron and herringbone wood floor patterns. Now you know. It's all in the miter cut and how that v-line is created.
You still get that open and luxurious feel of the chevron pattern, without the increased cost of mitering each board. It's all the drama but with a more traditional aesthetic.
Parquet Pattern
The parquet flooring pattern started in France in the 1500s. The name comes from the French word "parquetry," which translates to 'a small compartment'. The flooring installers would take little pieces of wood and fit them together to create geometric patterns.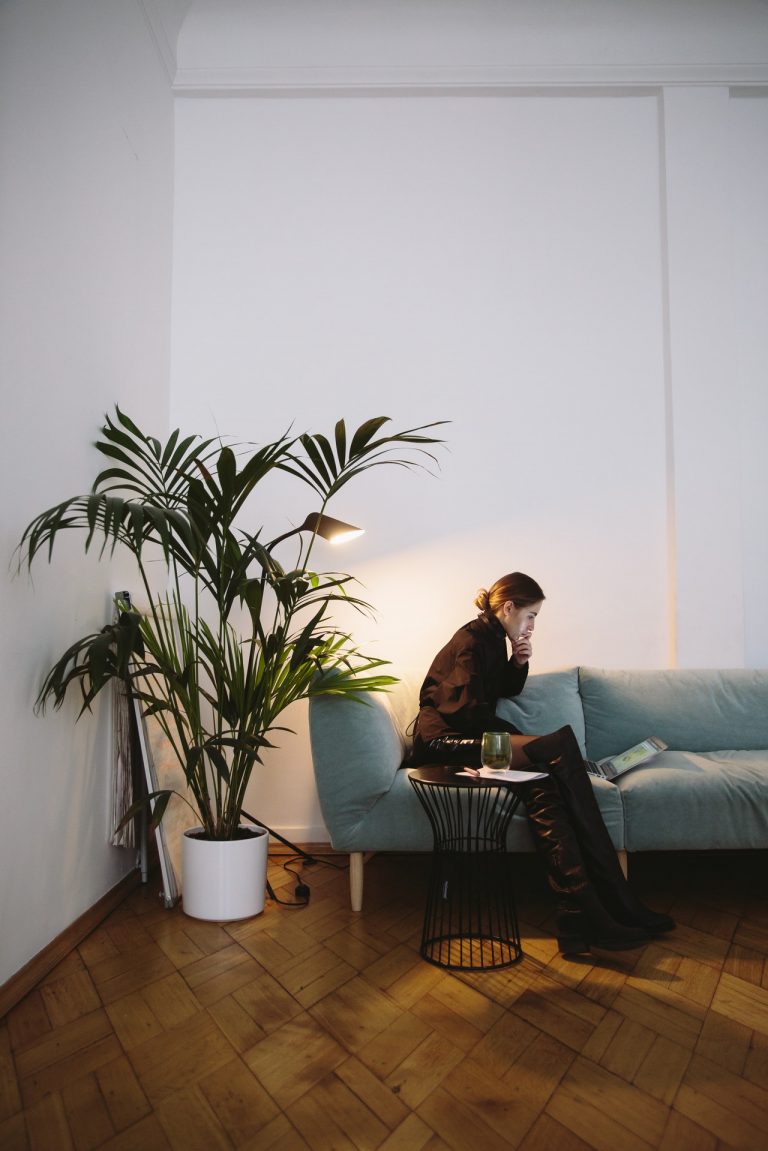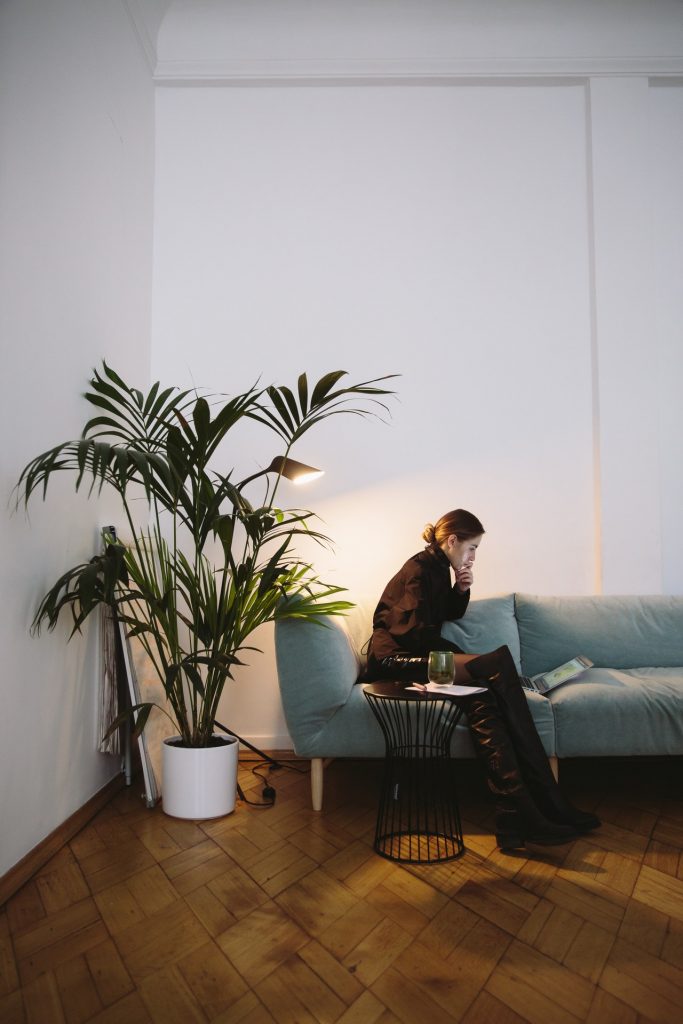 Individual "compartments" are made by piecing small pieces of wood together. Think of these like tiles.  Then, the installer lays out the tiles to create the desired pattern. It can be random or geometric, like the basket weave look created above.
Using any of the above patterns will provide you with timeless beauty and is sure to enhance your home's value.
Patterns We Don't Recommend
There are a few patterns that you may come across on a showroom floor or flipping the pages of a magazine that you didn't see listed above. These are:
Stair-Step Patten
H-Pattern
We don't recommend either of these patterns because the final visual effect doesn't showcase the random natural variation and beauty of hardwoods. But, in the interest of full disclosure, we're going to tell you about them too. It's important to recognize the not-so-good patterns as well as the good ones.
Stair Step Pattern
This pattern is also called the lightning bolt pattern. That's because the board lines are installed to create a stair or zigzag pattern.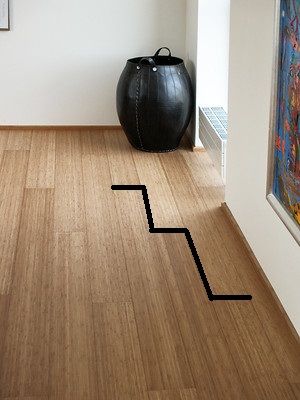 The installer creates this pattern by installing the first run end-to-end. Then, the next four runs start with boards that are cut smaller than the previous run. Some installers do this because it allows them to pre-cut stacks of planks to the same length, meaning they can rack and install them much faster. (More on racking later.)
When you use a stairstep pattern, you place seams at regular intervals, not random intervals.
H Pattern
Another pattern that we don't typically recommend is the H-pattern. However, there is no negative effect on the durability or longevity of the floor if you install your floors this way.
There's no redeeming aesthetic quality about the H-pattern. Sorry to be blunt.
Picking your Pattern
Which pattern speaks to you? The choice in flooring pattern is highly personal. The flooring pattern you ultimately pick should support the overall interior style of the rest of your home. Here are a few things to keep in mind about each pattern:
Random
Pay homage to our colonial settlers.
Lowest installation cost.
Least amount of waste.
Good for open spaces and rectangular rooms.
Most commonly lacks the element of uniqueness.
Order 10% extra for cutting and waste.
Diagonal
Take a 45° twist on the random pattern.
Makes small spaces appear larger.
Good for non-rectangular rooms.
Higher installation cost.
Non-traditional, unique pattern.
Requires ordering 15% extra for cutting and waste (The rule of thumb for most plank floors is to order 10% extra for cutting and waste.)
Chevron
Elegant European style is achievable.
Dramatic visual appeal
Higher installation cost
Not well suited for adjoining rooms.
Non-traditional, unique pattern.
Herringbone
Like chevron, but different.
Dramatic visual appeal.
Higher installation cost.
Can cost less to install than chevron pattern.
Doesn't work well in small rooms.
Parquet
The true craftsman look.
Unique and dramatic visual appeal.
Can be expensive to install depending on the pattern.
Parquet tiles may not wear well.
Certain patterns may make the home harder to sell.

Racking Up for Results
Any professional wood floor installer is familiar with racking. It's the term they use to describe the process of laying the floor out in advance of the actual installation. If you plan on installing your floors yourself, do not skip racking if you want the best results.
Because wood is a natural product, there are always variations in hardwood flooring. Racking allows you to see these variations and arrange them in a manner most pleasing to the eye.
Racking also ensures that plank sizes are distributed evenly. No one wants to get to the end of an installation only to discover they've got nothing but short pieces left!
Racking gives you a good idea of how the finished floor will appear, brings to light any possible problems with installation, and ultimately speeds up the installation process.
Strips or Planks?
Wood flooring is available in strips or planks. Strips are narrow, and planks are wider.
Generally, strips are between 1 1/2 inches wide up to 2 1/4 inches wide. They are made from smaller parts of the tree and contain less heartwood.
Planks are anywhere from 3 to 8 inches wide. They come from larger parts of the tree, are denser, and contain more heartwood.
With a random or diagonal pattern, you can mix strips with planks to further increase the "randomness." Because strips generally cost less than planks, this may save a bit of money too.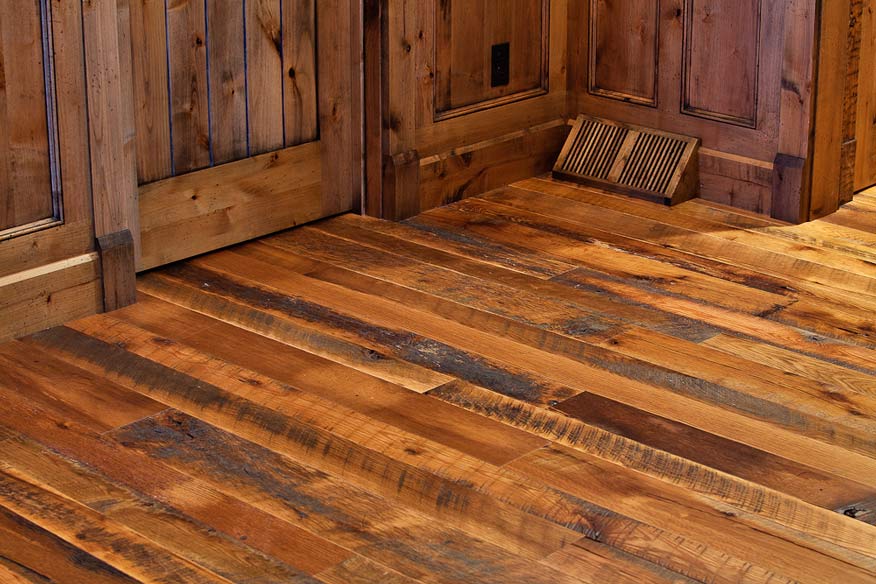 This rustic floor randomizes strips and planks.

This floor randomizes strips.
5 Things to Remember about Flooring Patterns
Wood floors are not just a flooring purchase. They are a long-lasting investment in your home. They will provide years of beauty and service.
Pick the installation pattern of your floors as carefully as you pick the flooring and the installer. Keep in mind:
If the subfloor on the joists is sagging, lay floors perpendicular to the floor joists for strength.
With open floor plans, keep the line of sight in mind when picking a pattern.
Laying floors parallel to the longest wall makes a room look larger.
Diagonal floors are not always at 45° angles.
Always acclimate the floor and read the manufacturer installation guide before installation; it will save you from making common installation errors.
---
---
Categories: Flooring, Interior Decorating