We asked talented local designers and architects: "In your opinion, what are the upcoming interior design trends for 2017, and which is your favorite?"
And from design direction to the great outdoors, our experts provided exceptional insight into the beautiful year of interior design ahead.
Materials and textures…
"We are finding that exposed wood, natural materials, (such as hardwood floors, tile and stone) and crisp, simple details are the most requested items we are seeing. We also see a trend towards smaller-space living… away from the 'formal dining room' to a concept of spaces having multiple uses. This reduces square footage, wasted space, costs for heating, cleaning, and furnishing, while still allowing all the conveniences and opportunities of modern living." – Craig Martin (AIA, NCARB, LEED AP) and Kurt Shepard – SPIRE Architecture    www.spirearch.com

"2016 was a good year for mosaic tiling, and 2017 will continue this trend in full force. Mosaic tiles are so trendy right now that they may soon replace regular bathroom tiles in overall popularity. They will certainly continue to adorn bathroom walls and showers everywhere, but it doesn't end there. Mosaic tiles will power past the bathroom and extend to virtually every other room imaginable in 2017. It's already happening." – Pavel Abaev – Basement Masters    www.basementremodeling.com
"Cut agate and natural stone accents are still popular in home décor. From gorgeous deep purple cut agate clocks to items such as; coasters, tabletops, and chandeliers. Use stone sparingly. Choose one piece as an accent.

Lacquer and acrylic are being used in home furnishings, from acrylic table legs to trays. Heavily lacquered dressers and accent tables are plentiful. You'll also see a mix of trends, such as a decorative lacquer box with a cut agate stone on top for extra detail.

My favorite trend is acrylic. I love using acrylic furnishings and accents such as trays in small spaces to keep rooms looking open, fresh and modern, plus it's durable!" – Sharon E. O'Brien, IDS 

"My personal favorite deals with fabrics & patterns. I love infusing a minimum of at least nine different fabrics and textiles into each room I design for my clients. A vibrant mix of these softer elements that 'play well' with each other is the launching point. I then add in the supporting players with pillow welting, pillow backing, drapery banding, and more to complete the look.

I can introduce a variety of fabric textures such as cotton, linen, leather, wool, silk, microfibers, and so on in an appealing combination to achieve a look that is not only visually interactive but also tangibly pleasing to each client.

This blending of fabrics and patterns adds a beautiful dimension to each room design, enhancing the ambiance of exciting colors, a timeless room design, natural woods, and bold metallics." – Karen Haggard, Owner, Grey Heron Interiors  
Design Direction and Themes…
"This year, mixing old and new design concepts is going to be way in style. This is already happening in the Washington-Bethesda area, which is deeply rooted in American history and incorporates many traditional styles into its interior designs. Retro trends and vintage looks will resurface and merge with contemporary furnishings and building materials in the ultimate cultural fusion." – Pavel Abaev – Basement Masters
"I personally love the industrial look and all the interesting accessories that can go with this style. Mixing and matching simple looks is a great thing to do as well. Eclectic has always worked when done tastefully. Interior Design has become very relaxed in its rules, making for very comfortable living spaces." – Brigitte Steinhorn, Owner, Centsable Designs. Nominated "Top Go-Getter 2017" by Bethesda Magazine    www.centsabledesigns.com
"My favorite new design trend is the free-spirited layering of patterns, styles and cultures. Combining years of travel with our design expertise brings this decorating approach right to our doorstep! We're all for featuring our client's personal styles then folding and layering it into an exciting new décor." – Deb Sagerholm – Marco Polo's Expeditions in Interior Design    www.marcopolostreasures.com
Use of Space…
"Although we continue to design large estates, we have also seen an interest in downsizing from large homes to luxury condo units or new smaller homes. In concert with that trend has been a focus on multiple-use and efficient use of space. Rooms equipped with a hidden Murphy bed transform an office or studio into a guest room, with no added space. Rooms such as dining rooms double as libraries.
A common thread is that all of our designs attempt to ameliorate the problems unique to each project and to celebrate the potential of each commission. Universal principles of design and response to context remain important influences on the final design." – Greg Wiedemann, AIA, Principal – Wiedemann Architects     wiedemannarchitects.com
Furniture, Furnishings, and Features…
"Keep furniture lines and accessories simple. Mixing more modern and transitional looks with simplicity and the mid-century/industrial trend is also fun to do." – Brigitte Steinhorn – Centsable Designs
"Mid-century modern furnishings, mixed with faux fur throws and stone topped tables is still going strong as an appealing look for the millennial generation." – Sharon E. O'Brien, IDS, Inspired Interiors

"My favorite design trend is to remove the mantle. Until now, the evolution of the fireplace was stunted. Even as wood logs were replaced with clean-burning gas inserts, they were just a fossilized version of their ancestors.
Designers began to break away from the more traditional fireplace surrounds and even log sets were replaced by streamlined gas jets sprouting from a puddle of glass or stone. But a reclaimed wood beam or sleek steel fin often remained, hearkening back to the traditional.
Finally, we have released ourselves from the required projection above the beautiful bare flame. No longer is the fire relegated to the lower third of the wall. With no mantle weighing it down, it joins us at eye level or table height, and I delight in its elevated position." – Margaret Gaughan Upton, AIA – Principal – Upton Architecture, LLC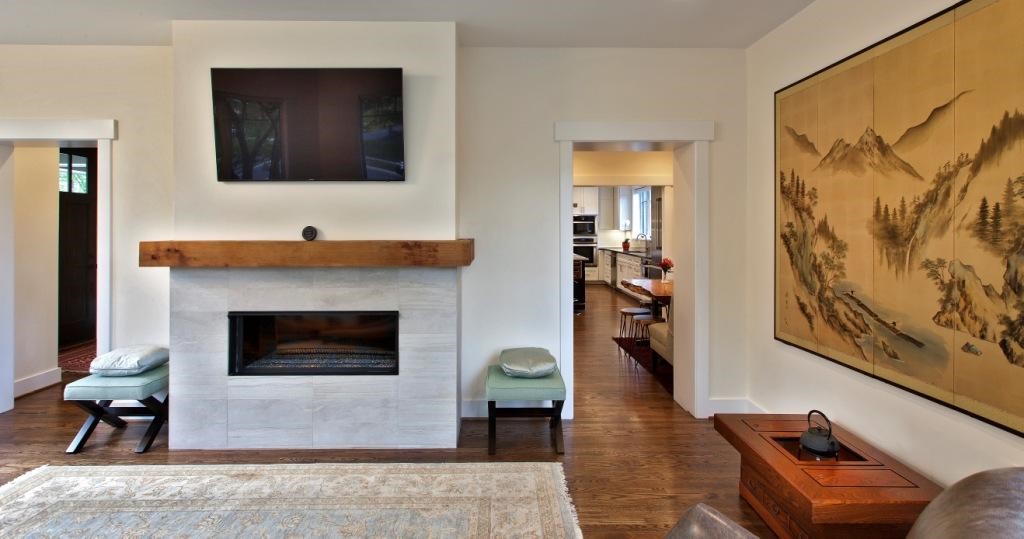 Photo credit: Ken Wyner Photography
"Some popular trends we've seen are tile floors that resemble wood in a variety of different colors, wood countertops coming back into vogue and square recessed lights in lieu of large round ones. My favorite trend has to be the tiles that look like wood floors allowing those areas that contain it to work well with wood floors within the house". – Jonathan Rivera Architecture    www.JonathanRivera.com
Colour and patterns…
"The colors for 2017 are still neutrals, your grays, beiges, white shades, soft green hues, and a pop of color. The jewel tones are moving their way back in slowly as style trends. The blue tones are bigger than ever this year. I like the muted color tones with pops of bright colors and bright artwork for walls. There are no limits in design!." – Brigitte Steinhorn – Centsable Designs
"In my opinion all shades of blues and greens will continue to be seen in the 2017 color palette. Also, my darling neutral – Grey — is still very popular." – Deb Sagerholm – Marco Polo's Expeditions in Interior Design
"This last interior design trend is my personal favorite. The standard and long-favored traditional white is being replaced by more dramatic colors, both bright and dark. Striking greens and purples are becoming the norm instead of being reserved for the occasional accent wall. We have been doing this for some time and it always creates a well-received response." – Pavel Abaev – Basement Masters
"For 2017 expect to see a lot of gold leaf accents in home décor. From cabinet hardware to mirrors, trays, tables, sculptures, and art objects. Gold has been showing up everywhere and is continuing its resurgence! With the Pantone color of the year being 'Greenery 15-0343', which is a bright happy revitalizing shade of green, you'll see this color popping up in home décor and painted on walls. Expect to see it paired with black and white accents.
Another trend that is hot and appearing everywhere is butterflies. From gorgeous hand-screened wallpaper, lamps, fabrics, and tableware. Butterflies are on the move in 2017!" – Sharon E. O'Brien, IDS, Inspired Interiors
"You'll see the jewel tone colors of Green, Blue, Purple, deep Terracotta everywhere. Designers are rethinking Beige for a go to neutral as a refreshing update to Gray. Lastly you can't go wrong with a White upholstered or slip covered stain resistant sofa. Bring in the color using plaid throws, patterned pillows, area rug, rustic accents or a tartan chair to mix things up" – Vickie Williams – House to Home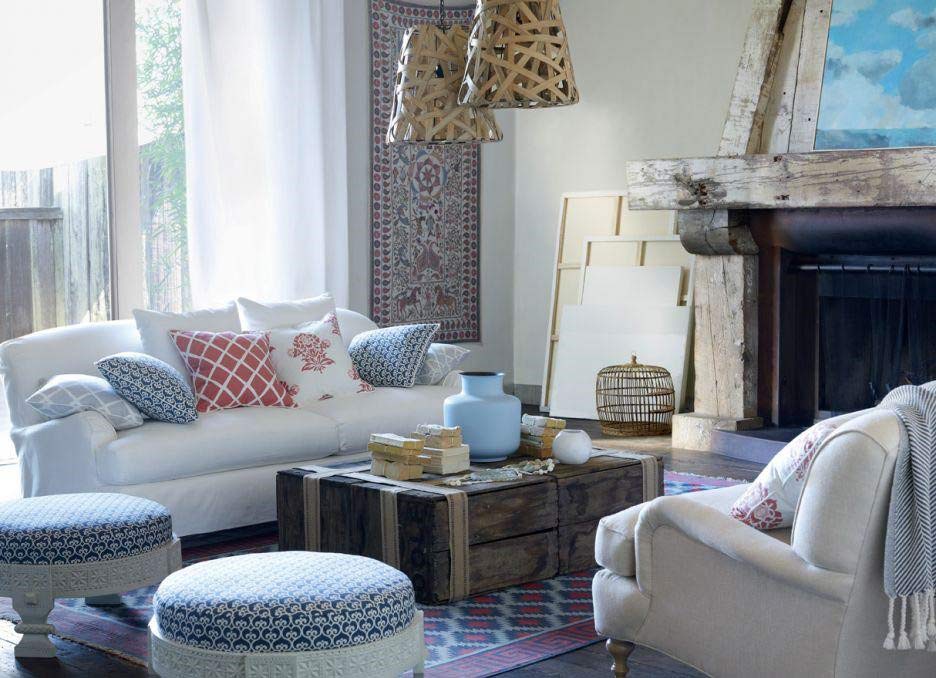 Image Credit: Vickie Williams – House to Home
Technology…
"Technology continues to evolve and clients are able to monitor and have control of the systems of their homes such as lighting, audio, and video from their smartphones. Remote access to mechanical, electrical, and security systems allows our clients of second homes to monitor their homes from a distance. Remote sensors can make homes more responsive to changes over time." – Greg Wiedemann, AIA, Principal – Wiedemann Architects
In the Kitchen…
"Design Trends that are sure to last a good 5 years. White and wood kitchens…..I love the clean, open refreshing feel of a white kitchen particularly (white cabinets with wood floors or wood counter tops.) The surfaces are easier to clean since you can actually see the grime while wood accents will add warmth contrasting the cool whites, thus making this , my top choice of design trends. Consumers are also turning to Quartz and Soapstone for the same reason." – Vickie Williams – House to Home
Image Credit: Vickie Williams – House to Home
In the Bathroom…
"A particular trend that shows no sign of slowing up is adding luxury to bathrooms. Treats like heated floors, skylights, personalized storage, make-up desks, step-in steam showers, Japanese soaking tubs, and even a chandelier have found their way into this room. We know that there's always a bit of space for a little self-indulgence no matter what the bathroom size!" – Deb Sagerholm – Marco Polo's Expeditions in Interior Design
In the Bedroom…
"You'll see Upholstered Head boards replacing the solid wood bed frames thus adding an element of elegance, softness and color to the otherwise all wood matching furnishings. Marrying soft and hard furniture pieces together makes for a cozier relaxing room. I'm also noticing modern and nomadic styles being used to create a fun colorful inviting living space. A mix of contemporary, mid century modern pieces with bold art statements brings a room to life." – Vickie Williams – House to Home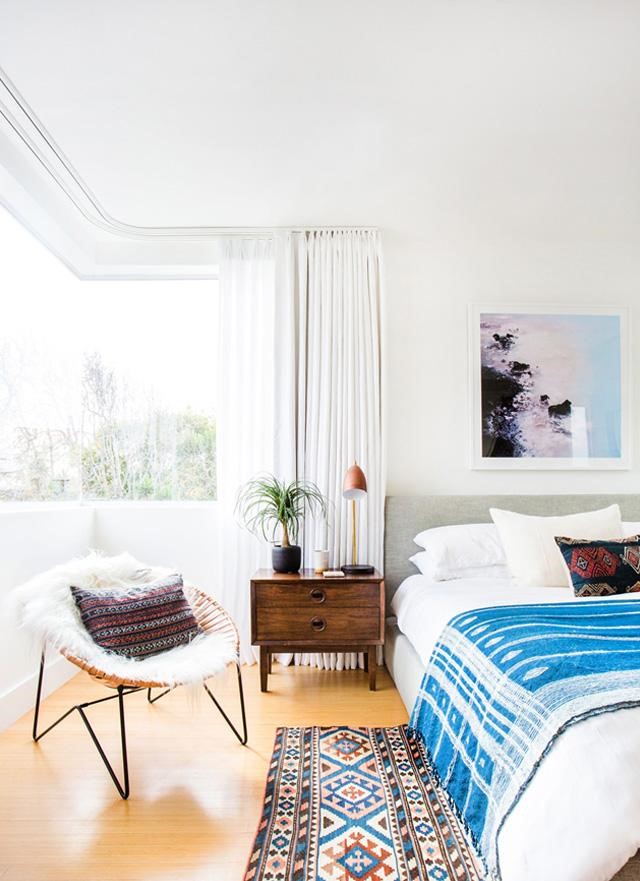 Image Credit: Vickie Williams – House to Home
Out in the Great Outdoors…
"Creating indoor/outdoor spaces with materials that flow across exterior wall planes is one of our favorite trends." – Craig Martin and Kurt Shepard – SPIRE Architecture
The Environment…
"There continues to be an interest in the use of green products, such as locally sourced materials and sustainable products such as bamboo flooring. Authenticity and the use of natural materials remain important to our clients." – Greg Wiedemann, AIA, Principal – Wiedemann Architects
Our Point of View… No two years are even remotely the same in the world of interior design – and we're excited and challenged in equal measure by this rapidly changing world. Of course, as a green-focused company, we are watching with interest as interior design becomes ever more environmentally focused – with beautiful homes, that take into account our beautiful planet. From the exposed wood and natural materials that will be seen in our flooring, tile, and stone, to the colors that will be introduced in the way of greys, greens, and blues, it appears that nature is going to play a big role in our homes this year. The Scandinavian, stripped back to basics theme is in full swing, and we feel that this industrial design direction, in all its simplicity, will work hand in glove with the 'au natural' theme, and it can only make the role of materials and colors all the more important. It will be interesting to see how these design directions play along with the focus on gold and luxurious fittings and fixtures – it may be that gold is used only in limited amounts, such as in a single statement piece per room, or restricted to the detailing on home accessories. We also think that technology will play an increasingly important role within interior design in 2017. Not only are we starting to see just what Smart tech is capable of when it comes to making our lives easier, but we're also hopeful as to what it can bring in terms of home energy efficiency.
Safe to say that 2017 will be an enthralling year for those of us who are avid interior design fans, and we'd like to say thanks to all of our design and interior experts for sharing their thoughts with us. If you fancy yourself as an armchair interior expert (and have predictions of your own), share them with us in the comments below.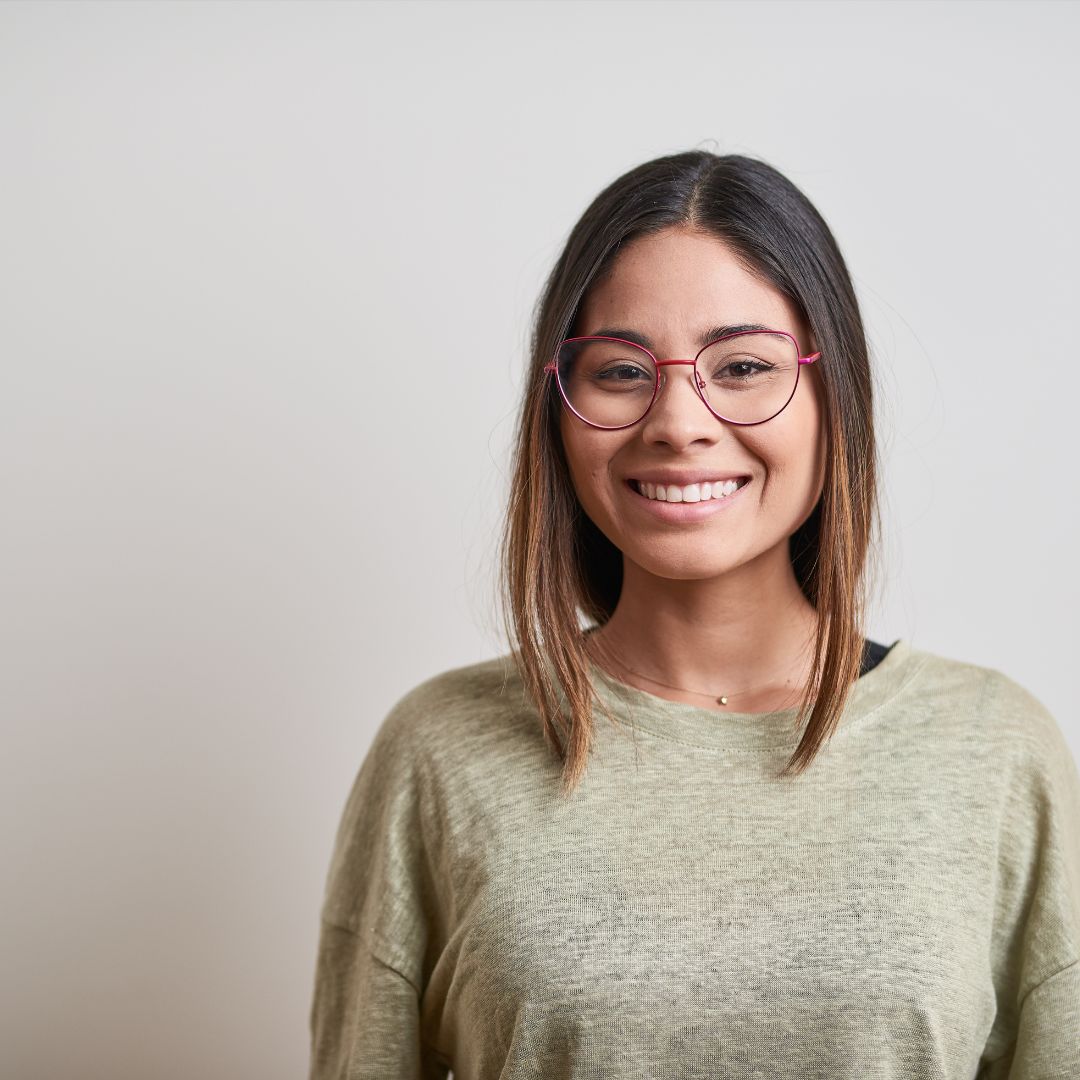 About the Author
Jen is your go-to guru for crafting a cozy, green cocoon. 🪴 Her dive into sustainable building wasn't just about saving the planet—it started as a mission to make family movie nights eco-friendly (and to ensure the popcorn was the only thing getting heated!). With a knack for breaking down the jargon, Jen turns eco-lingo into everyday language. Swing by the Green Living blog for a mix of earth-loving advice and home improvement hacks. Whether you're just dipping your toes into green waters or you've been swimming in the deep end of DIY projects, Jen's here to guide, giggle, and remind you that every eco-choice is a step towards a planet that thanks you… and maybe even sends a rainbow your way! 🌈