Most floors see normal wear and tear over time due to foot traffic and years of use, but natural light is an additional factor, not every homeowner considers. If you're in the market for eco-friendly flooring, you may be wondering if bamboo floors fade from sunlight exposure. Sunlight is a wonderfully warm and invigorating gift from nature that has many health benefits for human beings. Despite its health benefits, sunlight can also cause damage not only to our skin but also to our building materials. Constant and direct sunlight (especially on southerly facing windows in the U.S.) is an undeniable force. It will fade almost every product in your home, including furniture, carpets, paint, electronics, plastics, and it can also fade your hardwood and bamboo floors.
Do bamboo floors fade from sunlight? Like any type of wood, sure they can. Even if you're purchasing a bamboo floor with the UV protection layers included in our Accuseal Finish System, you still need to take steps to protect your beautiful new bamboo floor from the potentially damaging sunlight.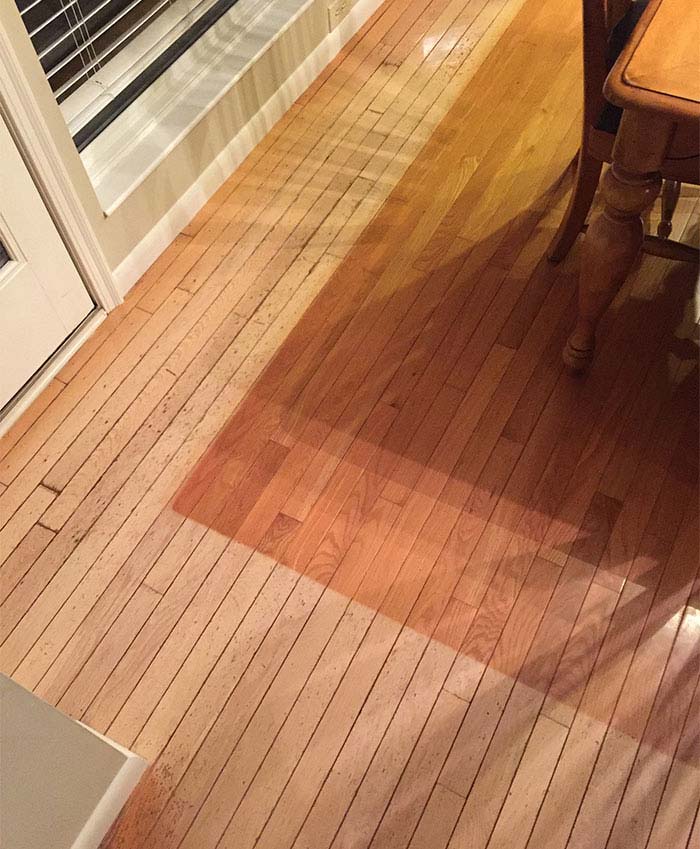 Oak Hardwood Floor After Removing Rug In Place For 10 Years
How To Prevent Fading From Sunlight On Hardwood and Bamboo Flooring
Purchase UV film protection to add to your windows. These are transparent pieces of film that you stick to the window. They won't affect your view of the outside but will help to block the sun's UV rays – similar to the effects that you might get from wearing a pair of sunglasses. You can choose from a range of film protections on Amazon. If you aren't comfortable with the idea of fitting the UV film yourself, you could hire a local home improvement company to do it for you.
If you are remodeling your house and decide to install new windows, choose laminated or Low-E coated glass. Manufacturers claim that this style of window can filter out as much as 99 percent of UV radiation. Laminated windows help to insulate your house which could, in turn, save you money on your heating bills.
Use drapes, shades, or curtains to limit the amount of direct sunlight that shines on your floors. If you are going out during the day, drawing your curtains will stop the UV light from hitting your floors and will keep your home cooler. Monitor the sun's position during the day, and partially close the curtains to block out key sunspot areas.
Occasionally move or rotate furniture and rugs/carpets so that they don't create sunspots on your flooring.
Why and How Does Sunlight Cause Changes in Wood Floors?
Direct sunlight can slightly fade or darken your floors over time due to the UV radiation in the sun's rays. The extent of damage that will appear depends on several factors. One of those is the amount of sunlight that hits the floor. In sunnier states, particularly in summer, the effects will be stronger than during the winter of cooler states. Another factor is the type of wood your floors are made of. Oak and cherry woods tend to get darker with aging as the UV light burns the wood. Other woods will lighten after extensive sunlight exposure. UV rays can also have a yellowing effect on hardwood and any protective film or finish that's been added to it.

More About UV/Sunlight Protection
Let's face it; no matter how much you love your new wood or bamboo floors and want to protect them, you aren't going to sit inside with the curtains shut all summer. However, not to worry – there are lots of different options available to help diffuse the UV rays without blocking your daylight out.
UV protection film
UV blocking film comes in large rolls that you cut to size and adhere to your windows. If installed properly, you can hardly tell it's there, while it does a great job of blocking the harmful sun radiation. If you don't like the sound of a clear film, you can get patterned, semi-opaque, and even colored products. You don't need fancy tools or skills to add a protective film to your windows – just the material, some squeegees, window cleaning spray, a tape measure, and scissors. Many different online tutorials show how to install UV protection film on your windows. Here's a great example of all the steps you should take for optimum results:
Tulle window netting
Tulle window lace netting or drapes are semi-transparent pieces of material that you hang over the window. This gives you privacy in your home since outsiders cannot easily see in, but you can still see out. This lace-style material is usually fairly low cost, and it comes in a range of different patterns and colors. You can be very creative with your tulle window decorations – check out Pinterest for some awesome inspiration. Adding curtain tiebacks to the netting allows you to pull it back to let the full daylight in. You can then just release it during peak sun exposure times and allow it to cover the window to help protect your floors.
Do you carry out any special measures to help protect your bamboo floors? Have you invested in any of the protective products listed above? Share your top tips for protecting flooring from sunlight exposure in the comments box below.
---
---
Categories: Flooring