Whether you are a first-time homebuyer or a seasoned DIY-er looking for a challenge, tackling a fixer-upper has a certain appeal.
Maybe you've spent too many COVID-19 restricted hours binging on HGTV and the DIY network or are looking for a way to buy a larger home with a smaller price tag. Whatever the reason, more and more people are opting to buy, renovate, and keep older homes. When you plan to live in the home, you'll think differently from an investor looking for a quick and easy flip. But you still need to consider the fixer-upper as one of the largest investments you will ever make.
In Part 1 of this guide, we'll discuss how to:
Find the right property
Determine your time commitment
Choose renovations based on ROI
Plan within your budget and timeline
Explore your financing options
Get necessary building permits

Finding the 'Right' Fixer-Upper
Always start with a home that is structurally sound. Problems with the foundation or load-bearing walls will be costly to repair and eat up your budget fast.
Rely on the services of a reputable home inspector. In fact, it's a good idea to find a professional before you start looking for a home.
Hiring an Inspector
Talk to your realtor, friends, family, and co-workers to get their recommendations. A home inspection may cost $400 to $600, but it will be money well spent. Make sure the inspector is licensed and or certified if required by your state. You'll want to check references and make sure this is the inspector's full-time job. Cousin Terry might be handy, but you don't want to rely on him for something as important as a home inspection.

What to Inspect
Your contract of sale should include a contingency for a professional inspection. In addition to assessing the structural components and foundation, your inspector should confirm the condition of:
Roof
Doors
Window
Plumbing
Electrical
Mechanical
Sellers should disclose prior defects and repairs, but a building inspector's report is your insurance against omissions on the disclosure statement.
What to Expect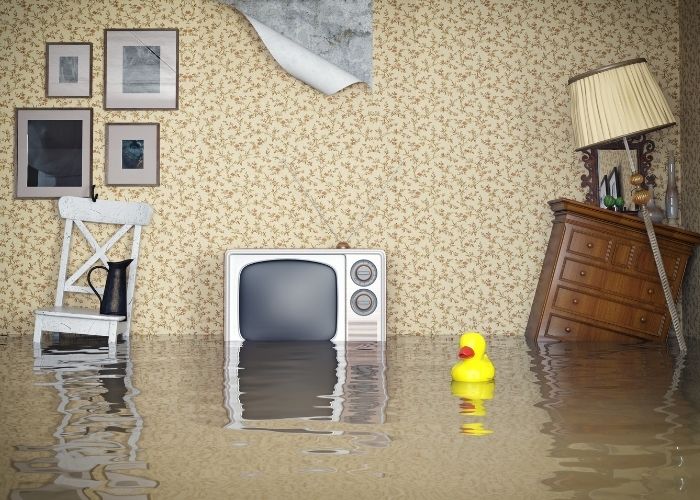 Don't let small items scare you off.
For example, an inspector may point out that the hot water heater shows signs of leaking or is reaching the end of its usable life. Replacing the hot water heater isn't an incredibly large expense.
Discovering that the grading is inadequate and that the basement floods is a much more costly problem to rectify.
Determining Your Time Commitment
Returning a fixer-upper to glory takes time. Be honest about how much time you have available to invest in the project.
How much work must be performed to make the building livable again? Can you move in right away? Are you ready to give up nights, weekends, and vacations for months or a year?
The amount of time you are willing to invest determines the amount of "fixing up" you will really be able to do. And be honest with yourself: How many months are you willing to use a microwave, hot plate, and ice chest as a kitchen if you intend on a total gut and rebuild of that room?
Fixer-uppers that need entire kitchen and bathroom renovations will take longer than a fixer-upper that just needs some updating, paint, and new flooring.
If your plans include knocking out walls or adding new walls, be sure to factor in time to tape and float the walls and prepare them for paint. It doesn't take much time to hang sheetrock, however, tape coating and skim coating both take time if you want a flawless finish.
Treat 'Starter' Homes and 'Forever' Homes Differently
You also need to determine the amount of time you plan to live in the house. You'll treat a starter home differently than a forever home.
For example, if you plan on staying in the home for five years or less, then approach your fixer-upper with an eye to mass appeal. This means more neutral tones in the kitchen and bathrooms and less unique and personalized touches. This type of fixer-upper is more along the lines of a flip than a forever home.
If this fixer-upper is your forever home, then go ahead and plan on personalizing to your heart's desire. It will cost more, but if you plan on living in the home for 15 or 20 years, it's worth it to create your dream home. So go ahead and get those semi-custom or custom cabinets and retro-inspired appliances you've always wanted.
Knowing Which Projects Provide the Highest ROI
Once again, remember real estate is an investment. And it should appreciate with time, provided you purchase wisely and renovate intelligently.  When evaluating the work a home requires, balance the cost against the potential to increase the value.
Every year, Remodeling Magazine compares the cost of average renovations against the average value they add. Their Cost vs Value tool allows you to look at national averages or drill down into different geographic areas in the US.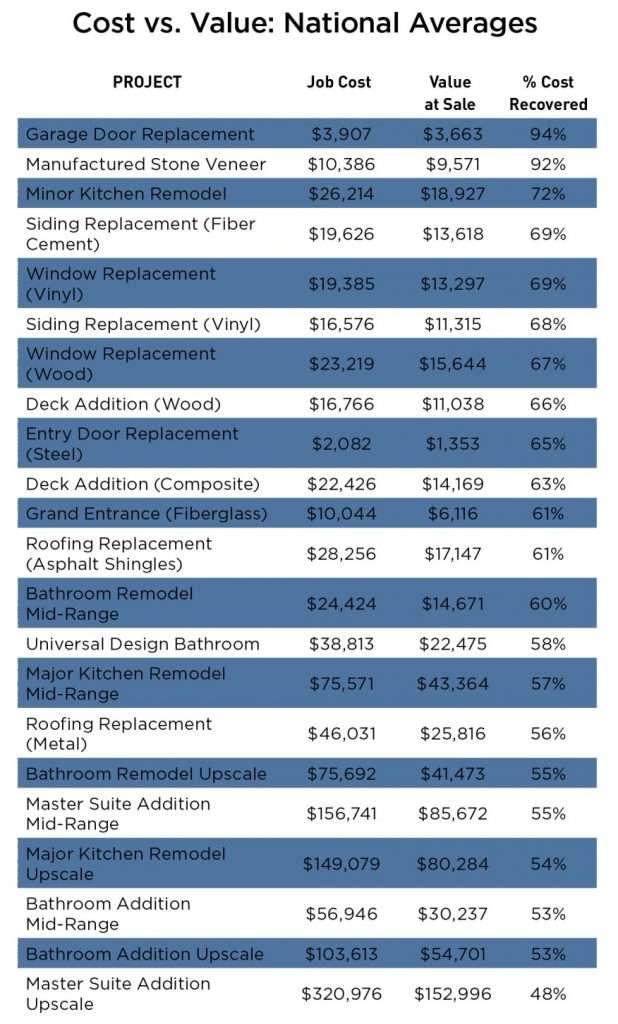 Year after year, the single renovation with the greatest return on investment is the replacement of the garage door. It's the one thing you can do that will return over 90% of the cost as added value. Plus, it's nice to have a door that looks good and operates easily. You'll appreciate it, even more, when the garage is storing your tools and work materials as you fix your home up!
If you will only be in the home for a few years, concentrate on those projects that are going to create the greatest return. So, replacing windows gets a higher priority than adding an extra bath or half bath. The return on investment is greater.  The same goes for prioritizing the kitchen remodel over adding a deck. The money you put into fixing up the kitchen will add more value than adding a new deck.
If this fixer-upper is going to be your forever home and you don't have a timeline for the completion of all projects, then balance the projects with the greatest financial return with the projects that will enhance your enjoyment of the home.

Being Realistic About Timeline and Budget
There's a reason professional contractors add contingency clauses to their contracts. Things change. Building material prices can fluctuate and jobs may turn out to be bigger than you think. You wouldn't be the first person to take out a wall only to discover a hidden plumbing leak or electrical problem.
Embrace your fixer-upper but do it with your eyes wide open. Allow a 10% contingency for additional time and money. This isn't "extra" money. If all goes well, you'll never tap into this portion of your budget.
For example, if you think it will take 2 days for demolition and then 3 weeks for renovation for a project that you have budgeted $26,000 then add 2 more days to the timeline and $2,600 to the budget. If you don't need the additional time, that's great. But when you must draw on that contingency buffer, you'll be thankful it is there.
Before you start hunting for that fixer-upper, do some research on the price and availability of building materials in your area. This will help you create more accurate estimates and also make a purchase offer that keeps you from overpaying.
Measure First
Before you go house hunting, stop at the local hardware store and buy a pocket-sized laser distance measuring device.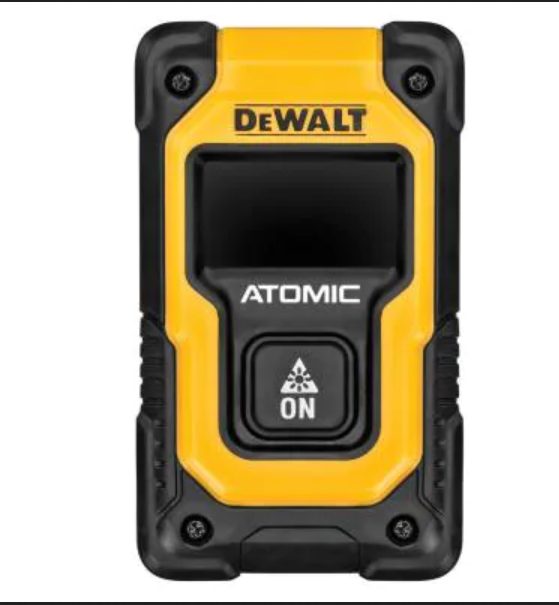 This little hand-held tool will save you money and grief. For less than $50, you'll be able to take measurements of any home before you make an offer. When you feel you might have found your home, pull out your new device and start measuring.
Think you need new kitchen floors? Measure the kitchen dimensions and you'll be able to estimate the cost. Does it look like the cabinets in the master bath need to go? Measure the space and you'll know right away if stock cabinets are available and the approximate price.
By taking measurements and knowing the average cost of building materials, you'll have a good idea of the rough cost to fix up your diamond in the rough.  Make sure to take measurements before you make an offer to buy.
Understanding Financing Options in Advance
With a fixer-upper, you have two budgets: the purchase budget and the renovation budget. Do you know how you will finance both portions?

Like any other homebuyer, you'll want to get preapproved for your mortgage before you shop. Preapproved buyers have an advantage when there are multiple offers on the table. Your preapproval shows potential buyers you are serious and have a commitment to loan in hand.  The preapproval process also lets you determine how much you can comfortably spend on the purchase price, given you'll also need to pay for the renovations.
The Credit Card Option
When it comes to renovations, if your budget is small, you may consider using a low-interest credit card with a cashback feature. They don't have appraisal fees or closing costs associated with them, but the interest may be higher than with another type of financing.
Special FHA Financing
Because this will be your primary residence, you may consider financing the purchase and repairs with an FHA 203(k) loan. This special program allows borrowers to get a loan to purchase a property as well as funds to rehabilitate the property. The repairs must be over $5,000 (not hard these days) and the value of the home still must fall within the FHA home limits for the area.
The renovation money can be used for structural or cosmetic repairs. This includes:
Structural reconstruction
Modernization to improve function
Elimination of health and safety hazards
Changes to improve appearance
Repairing or replacing plumbing including work on a well or septic system
Adding, repairing, or replacing roofing, gutters, and downspouts
Replacing or repairing floors
Major landscape work and site improvements
Improving accessibility for the disabled
Making energy conservation improvements
Home Equity Option
The home equity option is a bit tricky. Some lenders will loan up to 90% of your equity in the house. Since you just purchased the home, you are in essence borrowing against your down payment.
For example, if you purchased a $200,000 home and made a 20% down payment, you immediately have $40,000 equity in the home. A lender may lend you up to $36,000 as a home equity loan or line of credit.
The downside to this option is you will need to pay closing costs and lender fees, so it reduces the amount you have available to spend on rehab. But unlike financing with a credit card, this interest is currently deductible on your income tax.
Researching Local Permit Requirements
Now that you've closed on your loan, you're ready to get to work. It's time to research the permitting and approval process for your area.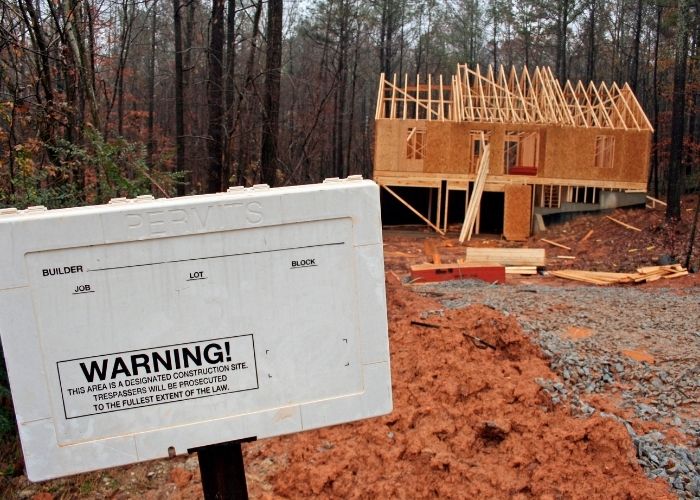 If your fixer upper is in a neighborhood with an HOA that sets architectural standards, it's time to become best friends with the HOA management office. You'll probably be in there frequently if your rehab includes any changes to the exterior of the house.  Some HOAs even require approval of exterior paint.
Building permits may be issued by the city or county. Do your research before you do the work. In general, you'll need a permit if your work involves:
Adding or removing walls
Fencing
Changes to plumbing
Rewiring the electrical system
Converting the use of a room/structure such as turning a garage into a family room
You may need a permit for adding or changing your HVAC or heating system or converting from one form of heat (such as a boiler) to another form of heat (such as forced air).
If you fail to secure a permit and inspections, you risk fines and problems when you sell the house. By planning ahead and getting any permits you'll need to fix up the property, you'll save time, feel better-prepared, and avoid headaches down the road.
---
Stay tuned for Part 2 of our guide, where we'll be sharing some fun interior remodeling tips for fixer-uppers!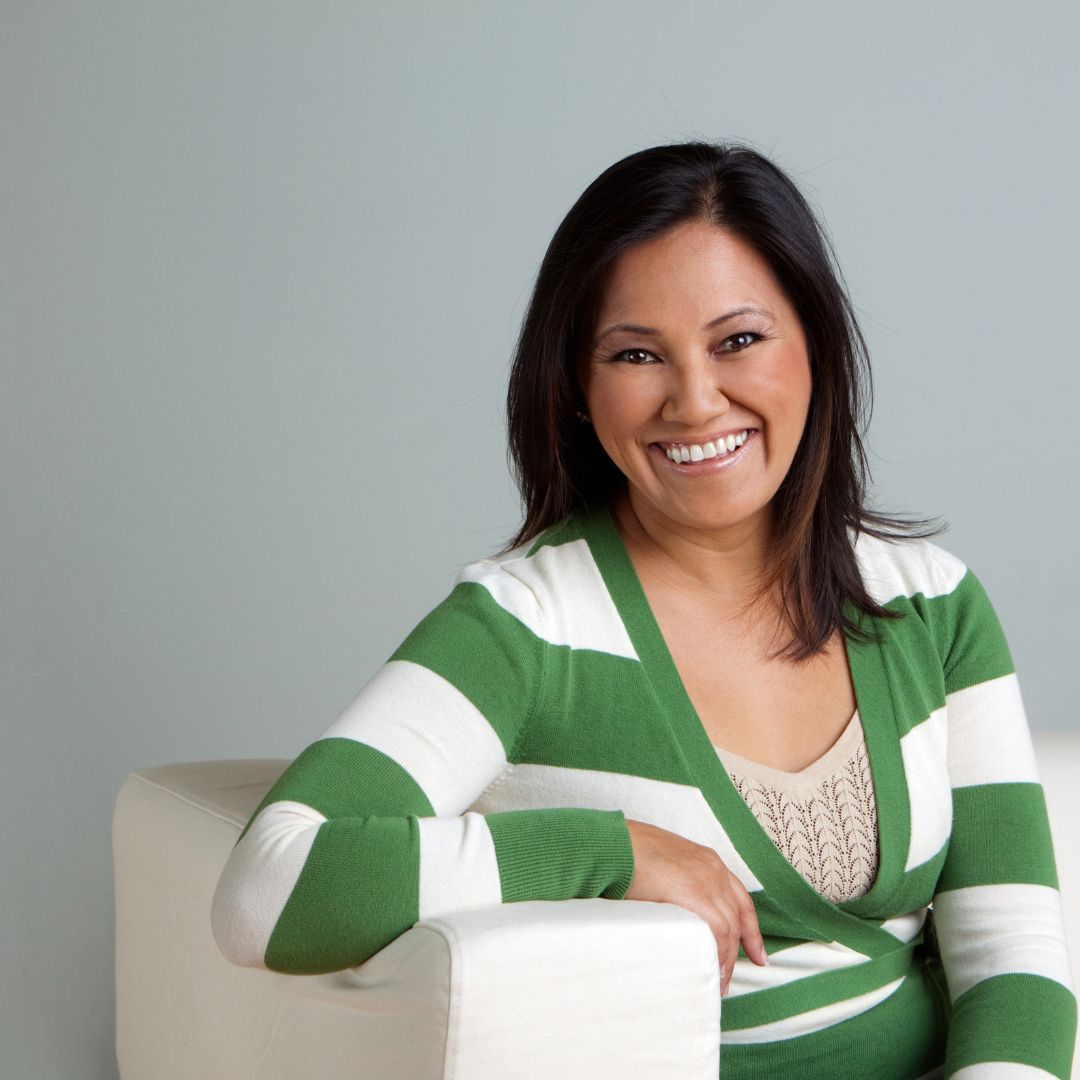 About the Author
Cheryl is our go-to guru for all things sustainable living. She's on a mission to make your family and our planet thrive! With a heart as big as her passion for sustainability, Cheryl brings you the freshest insights on eco-friendly building products and energy efficiency. 🌱💡
And hey, did you hear about the eco-friendly lightbulb that went to therapy? It finally found its inner "enlightenment"! 😄 Join Cheryl on this green journey, where she'll tackle your concerns with a smile and a sprinkle of eco-humor!