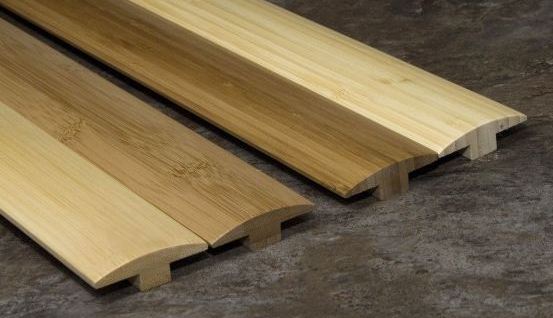 T molding, a type of transition molding, is an essential component in your home's flooring. When you want to create a streamlined, clean look in the transitional spaces of your house, rely on T molding to help your home stand out.
But, what exactly is T molding, and when should you use it?
T molding: What is it?
T molding is used when transitioning between two floors of equal height or within ⅛" in each other's height.  It is a type of floor molding that helps streamline your home's flow when two different types of floors meet. It serves as a transition space between these rooms and floors, creating a seamless flow between different textures and styles. This makes it a great option as bamboo transitions into laminate flooring or hardwood flooring between your kitchen, bathroom, and living room.
It's also great for floors that are prone to expanding and contracting due to naturally occurring humidity and temperature changes throughout the year. This expansion and contraction are common in hardwood flooring, though many other floor types can exhibit similar behavior.
T molding is available in a variety of different materials and designs. It can even take the form of a bamboo floor trim. Just be sure to follow the installation instructions to a "T" to prevent accidental trips and falls in your home.
Are there various types of T molding?
While there are multiple types of transition molding, It is a specific option within this broader category. It's unique " T " profile shape is defined by its unique "T" profile, which creates a smooth transition between floors of equal thickness where an expansion gap rests. Keep in mind that it doesn't float like other types of transition moldings; rather, it is screwed or glued onto the floor to provide the best structural integrity.
When should I choose T molding?
T-Molding is a great option if you have any equal-level flooring that needs to be connected in your home. It serves to allow some space to breathe between those two floors so that the floors can expand and contract naturally.  It is usually glued down to at least one of the floors sitting on top of, using wood glue or similar.
Do you want to transform the floors in your home? Engineered bamboo flooring can be refinished twice before a replacement is needed. Rely on the quality hardwood flooring available at Ambient Bamboo Flooring.
Last update of the article: 01/27/2021.