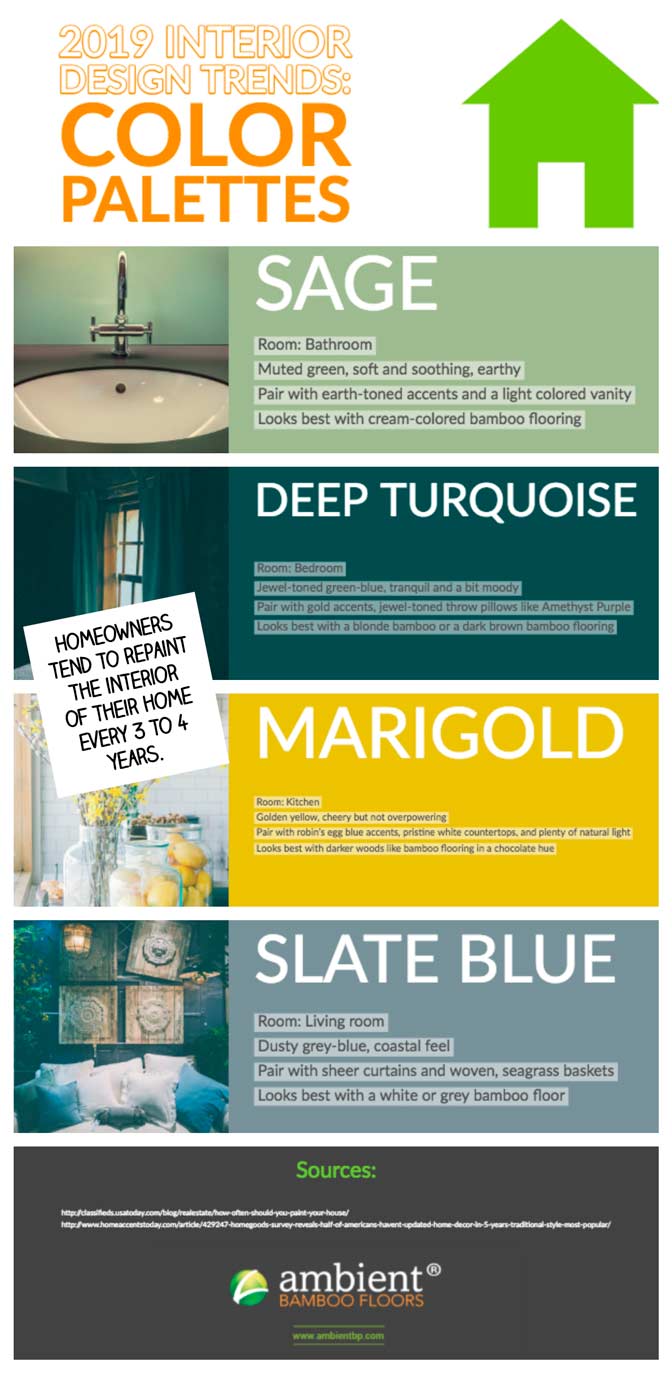 In a recent Home Goods survey, 47% of respondents said they hadn't updated their home decor in at least five years. But interior design styles go in and out of fashion just as apparel does. That may be one reason many homeowners tend to repaint their home's interior every three to four years. If your home is due for a fresh coat of paint, why not try one of 2019's most popular colors?
Sage
This soft and soothing muted green is perfect for the bathroom. It pairs well with earth-toned accents and white porcelain or light wood vanity. In terms of flooring, sage looks best with cream-colored bamboo.
Deep Turquoise
This jewel-tones richness creates a moody and creative but tranquil ambiance, making it a great color for a bedroom. When complemented by gold accents and other jewel-toned throw pillows (like Amethyst Purple), deep turquoise walls make a room feel cozy without being too dark. They also look best with either a blonde bamboo or a dark brown bamboo floor.
Marigold
A kitchen should be a bright and cheery place, so this golden yellow hue is ideal for this space. Marigold is bright without being overpowering. Add some robin's egg blue accents, pristine white countertops, and plenty of natural light. Darker woods like bamboo in a chocolate hue make this cheerful wall color really pop.
Slate Blue
Looking for a wide-open, coastal feel for your living room? Slate is a dusty grey-blue reminiscent of a cloudy New England day. Pair this with sheer curtains and a woven seagrass basket to complete the look. A white or grey bamboo floor is ideal.
It's been said that your home should bring you joy, which includes not just what's in your home but also your walls and floors. Choose an interior color palette that complements your style and personality.