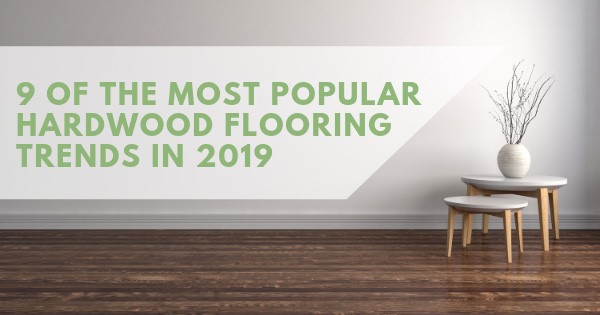 Each year brings new flooring trends, but one thing remains the same—hardwood flooring is always in style. Hardwood flooring has remained one of the most popular and fashionable flooring choices since the early 20th century. According to the Magazine of the National Wood Flooring Association, 67 percent of manufacturers, distributors, retailers, and contractors expect sales of hardwood flooring to continue to grow in 2019. While this classic flooring style may always be in fashion, you can get a fresh take on hardwood flooring by experimenting with different finishes, colors, or plank sizes. To keep your home up to date, check out these hardwood flooring trends in 2019.
Distressed wood
Distressed woods are gaining popularity in 2019. Similar to hand-scraped or wire-brushed flooring, distressed wood gives your floors a more textured and unique appearance to traditional glossy finishes. Instead of looking shiny, distressed wood surfaces will look more aged and worn. Giving your floors a more antique style, distressed hardwood may include scrapes, knots, or burns. These intentional imperfections provide the flooring with a charming textured effect that adds character to any space.
Wide planks
Say goodbye to the days of thin planks—wide plank floors are dominating the market in 2019. The wide-plank flooring trend typically features planks up to six or seven inches wide. Wide plank floors are a great option for spaces of all shapes and sizes. In larger areas, homeowners can fully display and admire the wide width of the floorboards. If your room or walkways is smaller, however, wide plank are also an aesthetically pleasing option as they give the appearance of a more spacious and open area. Based on the ever-growing expansion of plank widths over the past decade, we believe this trend is here to stay—likely becoming a classic interior design staple.
Longboards
As hardwood flooring planks become wider, they are also becoming longer in 2019. Similar to the wide plank trend, many admire hardwood flooring with longboards for its ability to make rooms look more spacious and expansive. For boards that are around six to eight inches wide, consider using planks that are 24 to 48 inches long.
Natural finished hardwoods
While many of the hardwood flooring trends in 2019 are unique and distinctive, many homeowners are opting for classic, all-natural hardwood flooring. This trend of turning back to tradition is likely due to the longevity of natural-finished floors. While natural-finished hardwood flooring may not be the boldest option, the classic style has proven its ability to stand the test of time. As such, homeowners who choose such flooring won't have to worry about having any regrets when it comes to selling their home compared to more ephemeral styles.
Gray and greige stains and finishes
When it comes to color, few are more popular than gray in today's hardwood flooring industry. Gray stains have been popular for years and it appears they are here to stay for 2019. Many homeowners favor gray hardwood as it provides a more unique take on traditional, natural-finished flooring. For a less drastic shift from natural hardwoods, consider going greige. Greige woods—a blend of gray and beige tones—are especially popular among people who want a blend of trendy and traditional.
Light-colored flooring
Light-colored flooring and even white-washed floors are a popular trend in 2019. Designers admire this flooring trend for adding a clean and fresh feel to homes while also brightening up darker or smaller rooms. Depending on how light you go, installing pale flooring is a great way to give your home a more-unique or beachy vibe. In fact, if your floors are subject to more wear and tear from sand, lighter flooring is a great option. It helps camouflage such minor damage and scratching.
Dark toned flooring
2019 appears to be a year of contradictions as both light and dark flooring are trending at the same time. Unlike pale, white-washed flooring, however, rich, dark colors aren't new to the hardwood flooring scene and have been popular for years. While dark, cooler tones require more maintenance than light floors which help disguise the look of wear and tear, individuals praise dark flooring for its desirable aesthetic appearance. For a dramatic look, consider pairing dark flooring with pale walls or go more neutral with medium-toned walls.
Eco-friendly flooring
Eco-friendly flooring options such as bamboo or eucalyptus are gaining popularity among environmentally-conscious homeowners. Bamboo flooring is one of the most environmentally-friendly hardwood flooring options on the market because it is rapidly-renewable. Technically a grass, manufacturers can harvest bamboo every five years—this is much quicker than most trees, which can take up to eight decades to reach full maturity. As such, purchasing bamboo flooring is a great option for homeowners looking to decrease the harmful effects of rapid deforestation.
What's more, it's suited for use in kitchens and basements due to its extreme hardness and high dimensional stability.  Bamboo floors tend to come in wide widths and long planks that would cost twice as much in a traditional hardwood.
Color and width variation
Variation in the color and width of hardwood flooring planks appears to be an emerging trend in 2019. For a bolder look, consider installing woods with high variations in color and hues. similar to the diversity you see in nature. For a more subtle look, you can stick with similar color palettes. Mixed-width wood is another intriguing way to add a more-unique appearance to your home. The trend of using planks of wood of varying width began as a way to decrease waste by utilizing an entire tree's cuts. This environmental movement has since blossomed into a fun and unique interior design look that blends the new trend of thick width planks with thinner planks for a stylish creation.
Ambient offers many fashionable flooring options to help you stay on top of 2019's biggest flooring trends. We have everything from extra wide planks to environmentally-friendly flooring options and a wide range of color selections. If you're interested in giving your home a fresh and stylish look this year, contact Ambient today.