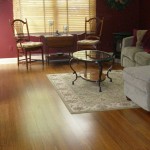 Building owners and managers of rental properties know the juggling act of providing renters with quality units and using materials that are affordable to install and maintain over many years. Flooring is one item that can be very costly and hard to choose as far as finding materials that appeal to a wide selection of people. Bamboo has become a go-to material not only for homeowners but also for rental properties. There are many advantages of bamboo flooring in rental properties that benefit the people living there as well as the managers of the building.
It's Less Expensive
Ranging in price from $2 – $8 per square foot, bamboo is one of the most affordable flooring materials on the market today. Generally, the lower cost options represent the veneered floating floor materials and the higher cost would be for the high grade imported solid bamboo planks.
It's Easy to Install
Several ways can be installed but one of the easiest and quickest is the floating floor option (How to install a floating bamboo floor: A Simple Guide). With this, no nailing or glues are necessary and the planks connect like a puzzle, each on clicking into the one before. Since this takes fewer materials and little time, building managers can save a tremendous amount of installation costs.
It's Easy to Maintain
This is a big advantage in rental units that will be home to various tenants over the years. You hope to get tenants in the apartments that are respectful of the structure itself, but you can never be too sure. Because bamboo is easy to maintain and can take a fair amount of abuse, it's a perfect flooring choice for building managers. It handles spills better than hardwoods and simply needs to be swept and an occasional lightly damp mop or Swiffer to keep them looking as beautiful as the day they were installed.
It's Extremely Durable
Certain types of bamboo are extremely strong and durable and strand woven bamboo than every other wood floor on the market. When you factor in the wear and tear of tenants and understand that these harder planks will stand up to dents and scrapes better than most hardwoods, you quickly realize paying a bit more upfront can save you a lot of money down the road.
It Never Needs To Be Refinished
Strand woven bamboo won't look beat up and dented like a normal wood floor in 10 years.  We have tons of restaurants that have used our floors for 10 years and have never once refinished them.  If something drastic happens and they are damaged beyond repair on the surface, strand bamboo floors can be refinished albeit it is more time-intensive than sanding down a regular wood floor, because of the density of the material.
It Goes with Most Décor
Although bamboo at first glance has the overall appearance of hardwood, upon closer inspection it has a very distinct and unique look to it that is very elegant and trendy. Whether natural color planks are used or deep rich colors, high gloss finish or matte finish, the floors accentuate and go with a wide variety of decors, making it a good choice for floors that have to appeal to various types of renters.
It's a Very Available Material
With its recent popularity, bamboo is no longer a difficult material to find. At this point in North America, most building supply companies and home improvement centers stock a full range of bamboo planks so you have your choice of the manufacturer as well (make sure to research the brand – there's a lot of junk out there)
It's a Green Choice
Bamboo is one of the most ecologically-friendly flooring options on the market today. Because it is grass instead of a tree, so it takes as little as five to seven years to renew itself. Compare that to the 15 to 20 years it can take a tree to do the same. As more and more consumers are demanding greener choices in their lives, having the ability to advertise your rental unit's building materials as eco-friendly will give you a leg up on the competition in your area.
As you can see, there are many advantages of using bamboo flooring in rental properties. Are you in the market for quality bamboo planks for your rental unit? Why not take a peek at to find what you're looking for.
Order your free bamboo flooring samples today to be sent to your home for some decorating inspiration. Just click on the box below or call one of our knowledgeable professionals at (866) 710-7070.