Bamboo is a great option for stairs.  It provides a stylish, elegant look, is durable against high traffic and pet claws, and is easy to maintain.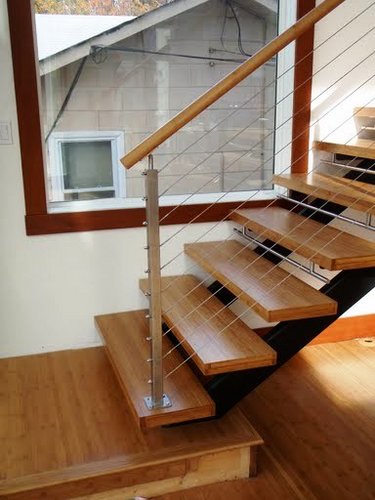 Custom bamboo stair treads made by Ambient Bamboo Floors
But you already know that because you're here to learn how to install bamboo flooring on stairs!
So, let's get to it.
Preparation
Like any DIY project, proper preparation can prevent mistakes and eliminate delays.
Before anything else, will you be installing ready-made treads or using bamboo flooring planks and stair noses to build your steps? Both will produce beautiful results.
The difference? There's less measuring, cutting, and nailing with ready-to-install treads.
In either case, you need to prep the stairs by:
Removing all existing floor covering and paint from each tread and riser
Hammer down any raised nail or screw heads
Take the opportunity to fix squeaks using wood screws.
Finally, the last step of preparation is wiping down and vacuuming the stairs. You don't want to trap excess dirt and dust under your brand new bamboo!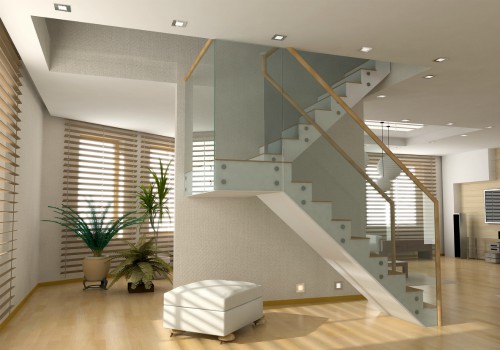 Tools and Materials
Hammer
Power screwdriver
Wood screws
Nails
Table saw
Pry bar
Sandpaper
Tape measure
Safety glasses
Wood glue
Vacuum cleaner
Bamboo treads/noses/planks
Installation
Like any other material, the most difficult part of installing bamboo flooring on stairs is measuring.
"Measure twice, cut once." (Carpenter's Rule #1)*
*This isn't an official rule. But it's still good advice.
Risers
Risers are the "back" of each step in a staircase, and how you finish risers will determine the staircase's look. Common options are painting them white or similarly covering them with the same kind of flooring used on the treads, the part you step on.
If you want painted risers, of course, you'll want to paint them that before installing the bamboo. This would also be a good time to paint the skirt (the trim plate on the wall alongside the staircase).
First, for bamboo stair risers, start the installation at the bottom of the staircase, and work your way up.
Then, using a tread tool:
First, measure the width of the first existing riser.
Then measure the height of the first existing riser.
Transfer the marks onto the bamboo plank.
First, cut the bamboo flooring to fit and then secure the new bamboo riser with the appropriate kind of glue and tackle nails.
Repeat the process for each riser.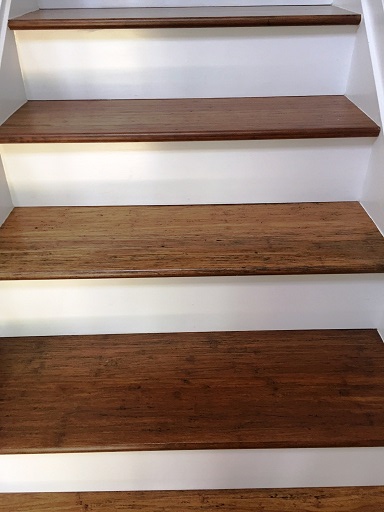 Bamboo treads with white risers
Ready-to-Install Treads
If you are installing full bamboo stair treads: after each tread has been cut to fit, there are two options for securing it to the stair frame:
If you want to glue the tread, first apply a non-water-based adhesive and set the tread in place. Also, it's advisable to lay a weight on top while the adhesive sets.
To screw the tread in place, first pre-drill holes in the tread, then use wood screws to secure the tread. Furthermore, you can then fill the holes with wood filler.
Bamboo Flooring and Nosing
A more economical way to finish your treads is to use a combination of flooring planks and stair noses (aka bullnose) like in the diagram below.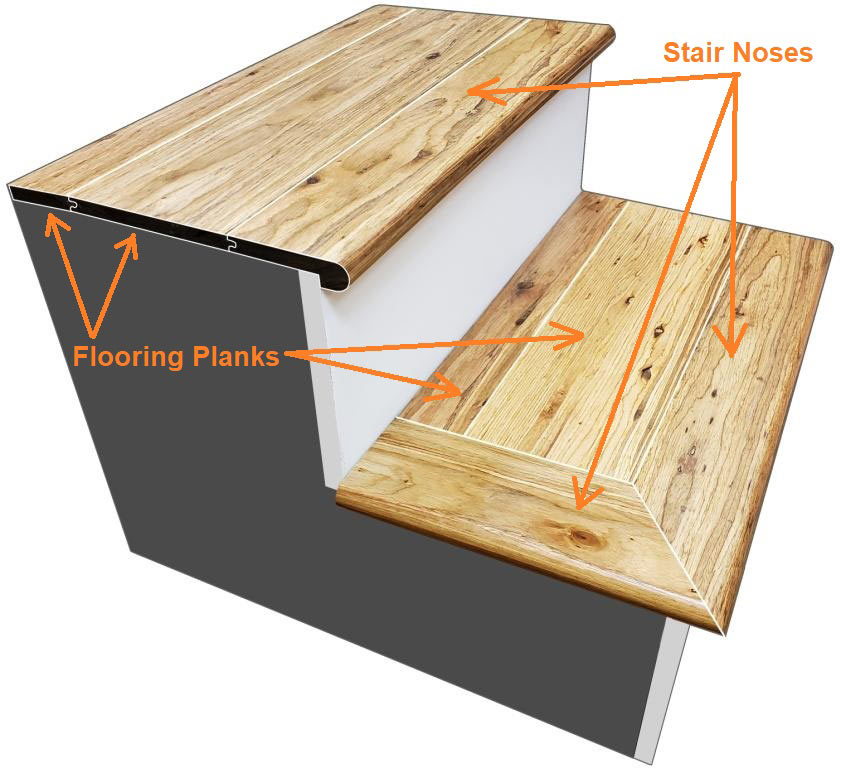 Molding
Strictly speaking, all you need are risers and treads to create a staircase (and a banister for safety).  However, adding a strip of bamboo cove molding beneath the nosing and against the riser can be an attractive finishing touch. Use finishing nails to keep it in place.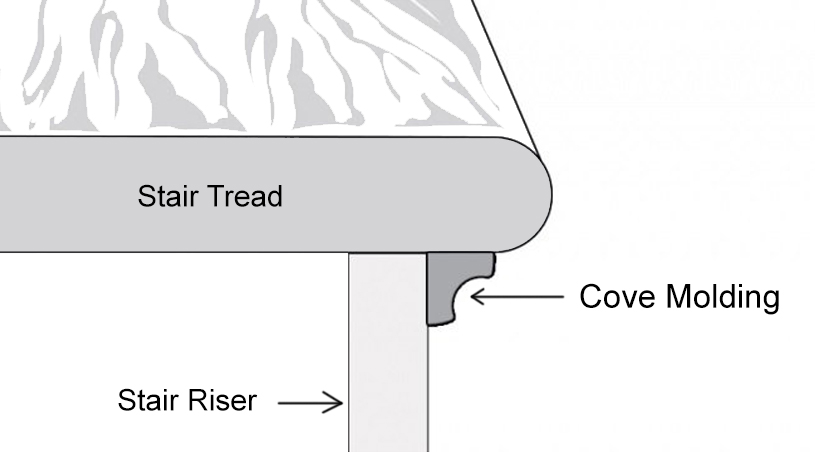 Maintaining Bamboo Flooring on Stairs
Bamboo stairs are easy to maintain if you develop a few helpful habits:
Don't use water- or latex-based adhesive to secure the tread because these types of glues can cause cracks down the road in bamboo and hardwood.
Keep room humidity constant between 35% and 55%.
If you're using tape to hold moldings or floor planks in place while the glue dries or for any other reason, make sure to use only 3M/Scotchguard #2080 tape because other tapes may peel the finish.
Only use a soft cloth or microfiber mop to remove dust and dirt.
Never use a wet sponge or mop, and similarly, Never steam clean.
Clean up spilled liquids like water as quickly as possible.
Feel free to download our full guide on how to clean bamboo flooring.
Bamboo is not only extremely dense but also very durable. Because of this, bamboo flooring staircases tend to look much better than traditional hardwood stairs after prolonged use.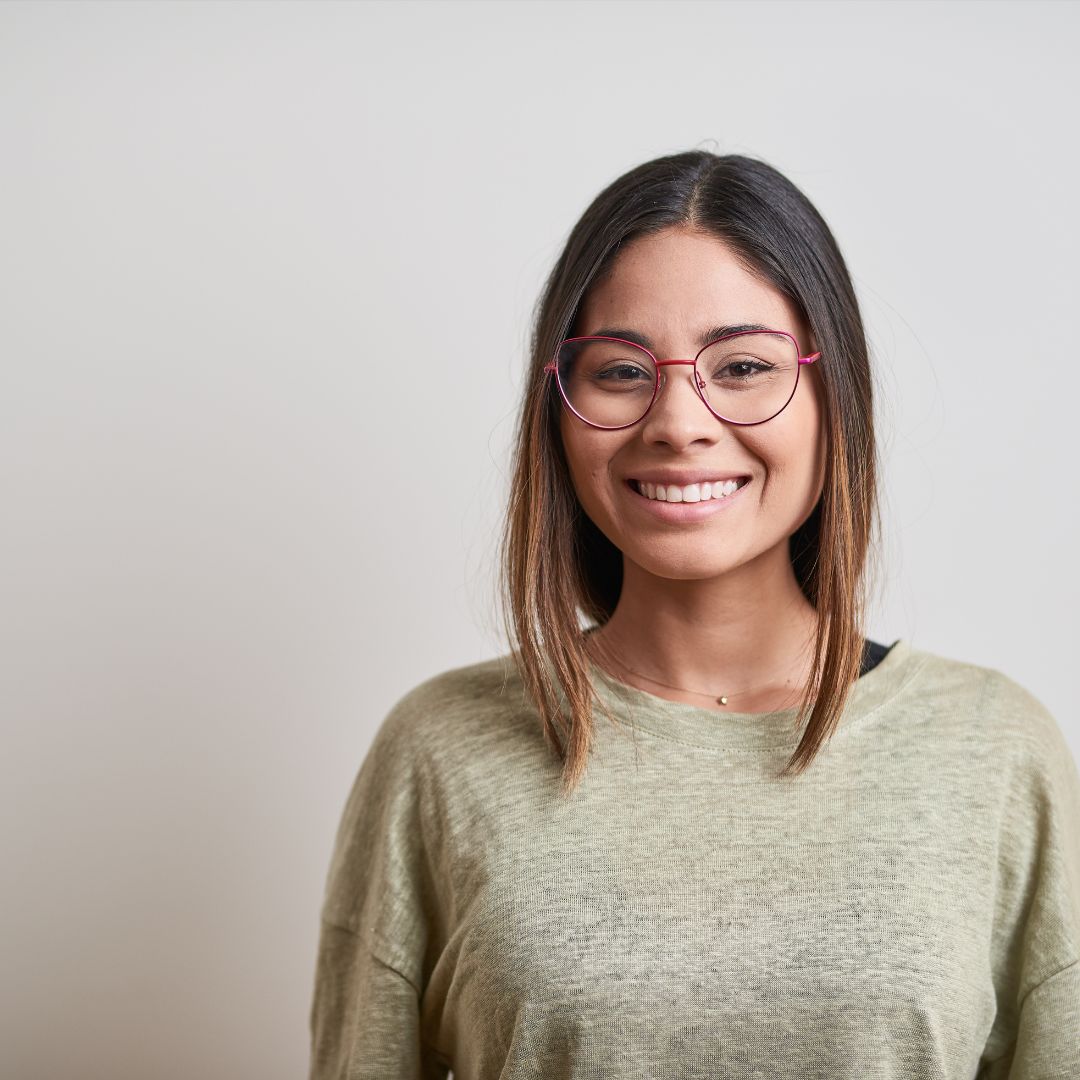 About the Author
Jen is your go-to guru for crafting a cozy, green cocoon. 🪴 Her dive into sustainable building wasn't just about saving the planet—it started as a mission to make family movie nights eco-friendly (and to ensure the popcorn was the only thing getting heated!). With a knack for breaking down the jargon, Jen turns eco-lingo into everyday language. Swing by the Green Living blog for a mix of earth-loving advice and home improvement hacks. Whether you're just dipping your toes into green waters or you've been swimming in the deep end of DIY projects, Jen's here to guide, giggle, and remind you that every eco-choice is a step towards a planet that thanks you… and maybe even sends a rainbow your way! 🌈