Mudroom floors put up with a lot of abuse. Yet, we still expect them to look gorgeous and warmly invite us back inside. Talk about a tall order. But Rigid Core Bamboo flooring is up to the task. This type of flooring provides the best bamboo flooring for the mudroom.

Mudroom Challenges
Mudrooms like foyers offer a transition space between the outside and inside. The problem lies in the fact that we bring so much of the outside into the mudroom. People and pets come in coated with whatever Mother Nature happens to be throwing down at the moment.
In winter, that means mudrooms receive a generous coating of ice, snow, and ice-melting products. When the frozen stuff melts, it creates puddles. Puddles aren't compatible with carpet or hardwood floors. And a puddle can even damage bamboo flooring if it sits too long. Mudrooms demand water-resistant flooring.
But after being out in the cold and wet, you don't want to walk inside to a cold, institutional-looking tile floor. Besides, tile is often slippery when wet. You want something that looks inviting and welcoming. That means you want the warmth of wood in a place where wood isn't practical. That's why you want engineered flooring.
Engineered bamboo flooring utilizing a rigid stone polymer core (SPC) makes the best flooring for the mudroom.
Rigid Core Bamboo Flooring Solution
Imagine real bamboo floors that laughed in the face of ice, snow, and rain. Floors that were as tough as real bamboo and as easy to install as vinyl planks.
You don't need to imagine it because Ambient makes it.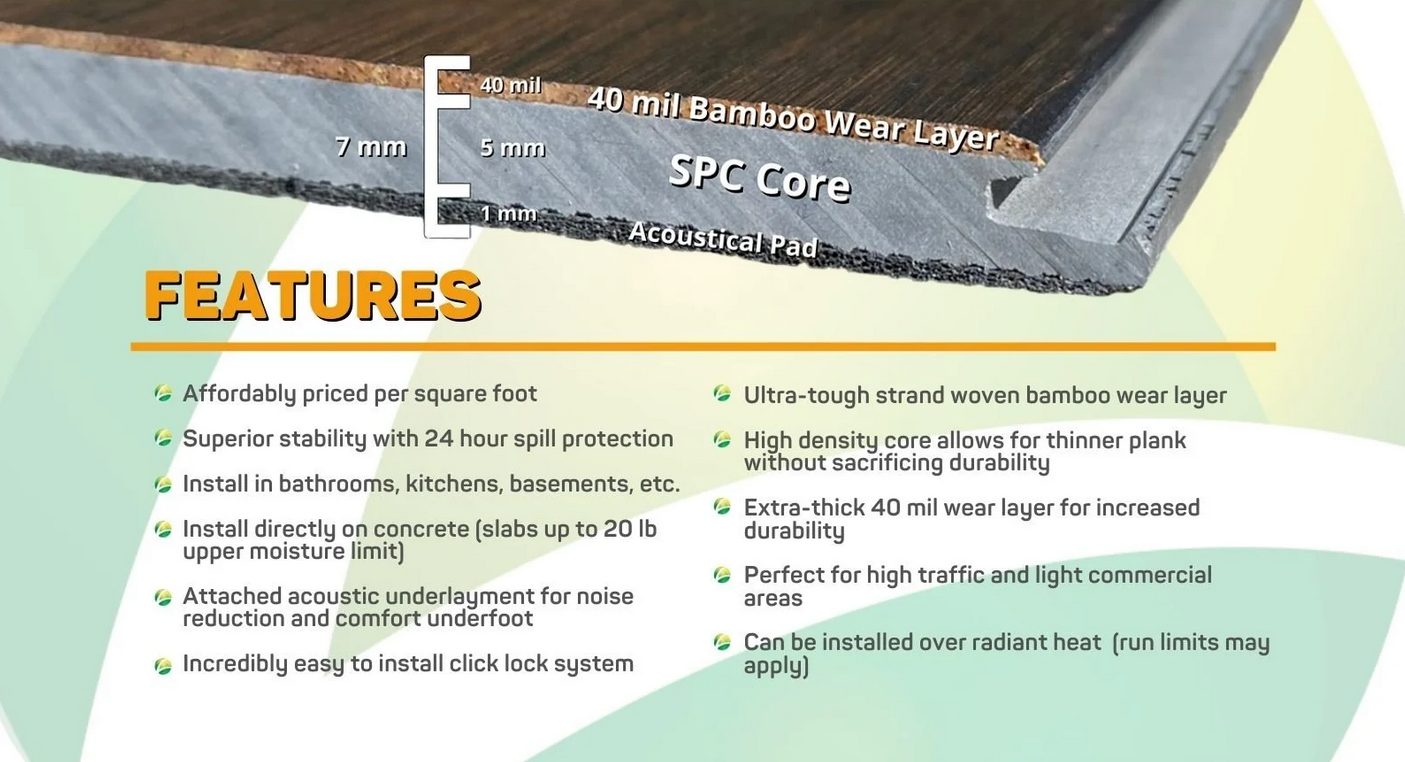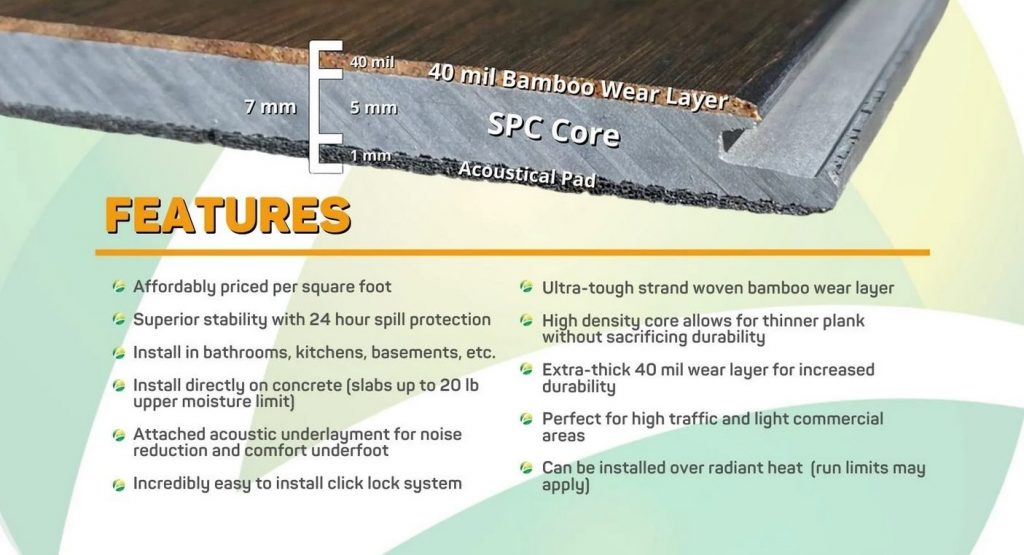 Rigid core bamboo flooring starts with an integrated acoustical underlayment to reduce sound and create a cushiony, comfy walking surface. Next, an SPC core creates a highly stable plank that's easily installed using a floating method. Top this with a gorgeous 40 mil wear layer created with ultra-hard bamboo and you've got the perfect mudroom floor.
Rigid core bamboo flooring works well in light industrial applications as well as in other rooms in the house too.
So bring on the wet dogs, umbrellas, snow-covered coats and boots, and ice-crusted parkas. Rigid core bamboo floors welcome you home and shrug off the mess you bring with you.
Creates Beautiful Foyers Too
Foyers face many of the same challenges as mudrooms. If you are lucky enough to have a large porch, visitors and residents may stomp or wipe off snow and ice before they come inside.
But if you don't have a covered porch, people are bringing the outside in with them. That means your foyer gets a coating of moisture with every rainy, icy, or snowy visit.
Rigid core bamboo flooring shines here as well. In addition to the features that make it an excellent water-resistant floor, it looks beautiful enough to create a grand entranceway.

Tips for a Tidy Mudroom
Minimize the mess in your mudroom by following these simple tips.
Start by installing water-resistant flooring like Rigid Core bamboo flooring.
Place a scraper rug at the door. This will remove snow and ice as the person enters the room.
Keep a basket of worn towels in the mudroom for wiping up puddles and wiping down pets.
Make sure you have a place to sit. Taking off boots is much easier when you can sit down.
Provide plenty of storage. If you don't have a place to store it you KNOW it will end up on the floor.
Install a bar or hooks or bring in a rolling rack to hang coats and scarves while they dry.
Invest in a boot dryer. For less than $100 you'll get a marvelous gadget that dries boots and warms them to boot (pun intended).