It's funny, most people that enter a commercial building think little, if at all, about the floors they are walking on. Yet no other surface in a building gets as much wear and tear as the floors. While the general public may not give it much thought, it's important that a building's maintenance manager think practically about in the space. Failure to choose the right flooring for a commercial space can result in unnecessary and costly damage.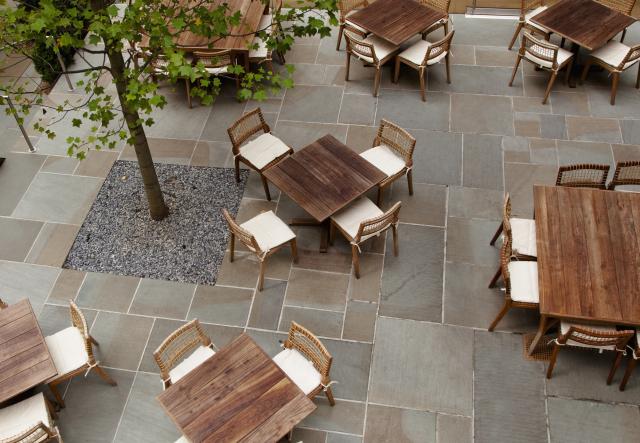 For instance, without consideration, wood floors might be installed in places with low water tables. Whenever heavy rains come, moisture will undoubtedly seep into the building and damage the wood floors. There was nothing wrong with those wood floors, they were simply the wrong choice for that particular location.
Factors to Consider
There are so many flooring options on the market today and building managers have to consider certain factors if they want long-term success and ease of maintenance with their selection. Since not all flooring options are going to be ideal for all locations, managers would be wise to team up with manufacturers, architects and interior designers to determine the right flooring for their location.
Here are some factors to consider:
What is Your Space's Function?
Are you installing flooring in the lobby of a large apartment building or in the cafeteria of a hospital? While the lobby will have a lot of foot traffic, you shouldn't have to worry about spills like you will in the cafeteria. Obviously these two spaces need durable flooring but beyond these criteria, they each have their own functional needs.
Think about the activities of the space, the people who will use that space, and the maintenance required.
How Easy Will Repairs Be?
Commercial spaces can't shut down for long periods of time. Generally, repairs need to be made quickly and on off-hours if at all possible. The flooring you choose for a particular area should be easily switched out.
For instance, if your space would benefit from the look and feel of carpeting, you may want to consider carpet tiles. These can easily be replaced with new ones when certain areas, such as the centers of hallways, became worn.
Traffic Levels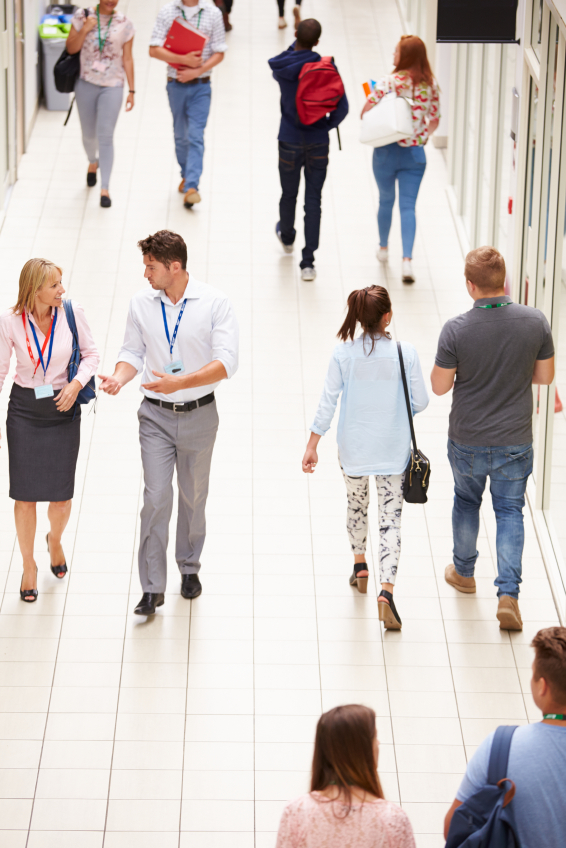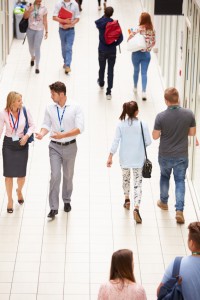 And this brings us to the topic of traffic levels. Certain commercial spaces have more traffic than others and you'll want to consider how much your floors have to handle on a daily basis. If you get a lot of foot traffic, say the kind in college campuses and public congregation areas, you'll want to consider flooring materials that will last for a very long time such as marble and granite.
Managers of apartment buildings should consider bamboo flooring for the rental units. Bamboo offers the same warmth and beauty as hardwood but it can be more durable than many hardwoods, is more affordable (what manager doesn't want to keep costs down), and is a much greener flooring option.
Are They Easy to Maintain?
Maintenance is another factor you need to consider carefully. Many flooring options will require significant upkeep. Spills on carpeting need immediate attention and terrazzo will need regular buffing; marble requires frequent polishing and VCT often needs to be stripped of the old finish and replaced with new. You must calculate in the cost of maintaining your floors over time. This cost has the potential of being many times higher than the initial installation cost per square foot.
And Speaking of Cost
Budgets for commercial interiors always seem to be tight, yet the public's expectations for a beautiful and innovative space continue to rise. Since flooring is one of the biggest ticket items in a design or renovation project, managers feel the crunch when it comes time to select the right product. They've got to choose the flooring that is visually appealing, highly durable, and affordable to install and maintain.
Consider LEED Certification
Over the last decade, sustainability has gone from a concept to a choice a few individuals made, to a responsibility of the masses. Many designers and building managers are able to integrate sustainable strategies with little additional cost or effort. has become a "smart" design.
Benefits of Certification
LEED certification can provide a number of benefits for building owners and managers. Beyond the obvious environmental benefits,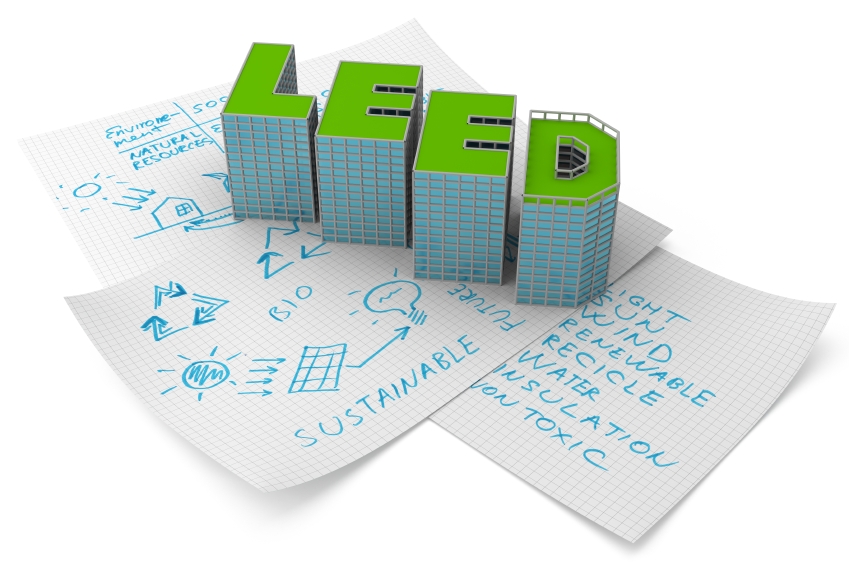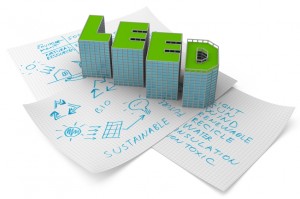 LEED-certified commercial buildings cost less to operate and are more desirable to occupants and residents who demand eco-friendly building and design choices. LEED-certified buildings may also qualify for tax rebates and incentives, making the green design choices a smart investment.
Certification for Commercial Buildings
In order to achieve LEED certification, commercial buildings must meet stringent requirements set up by the Green Building Certification Institute, an independent organization that conducts third-party inspections of commercial buildings in accordance with ISO international certification standards. Building managers can achieve various levels of LEED certification depending on how much their building complies with environmental standards.
Commercial Bamboo Flooring Options
Bamboo is a terrific flooring option for many commercial spaces.
Engineered
Engineered bamboo floors are low maintenance, which means they can save you money on upkeep costs. They are a great choice for medium to high traffic locations. When it comes to engineered hardwoods, you can't get a harder floor. They can be installed, replaced, and removed easily. Since the pieces click together, when a tile or plank is damaged it can simply be pulled out and replaced. This also makes removal at the end of the floors life cycle much easier and more cost-effective.
Strand Woven
This most durable bamboo option is great for apartment buildings and office spaces. The benefit of strand woven floors is that need refinishing much less often than traditional hardwoods.
Buy from a Reputable Dealer
Bamboo can be a beautiful, durable, affordable, and green flooring option for your commercial building, but make sure you buy from a reputable dealer.
Ambient specializes in bamboo flooring, and our products contribute to the following LEED credits:
(MR) 6: Materials & Resources credit for Rapidly Renewable Resources
(IEQ) 4.4: Indoor Environmental Quality credit for Low-Emitting Materials
LEED® credits for adhesive and membrane:
(IEQ) 4.1: Indoor Environmental Quality credit for Low-Emitting Adhesives
If you're considering installing bamboo floors in your commercial space, and we'd be more than happy to answer any of your questions.