Look around and it's easy to see that tiny houses are the next big thing. Does that mean that lovers of living large should feel guilty about the carbon footprint their more spacious homes create? Do big families have to choose between an eco-friendly lifestyle or comfort? Are claustrophobic people relegated to green living purgatory, never able to cross over into a tiny house that leaves a tiny carbon footprint?
Take heart, dear readers! There is good news! With the right building materials and luxury product choices, every home, from mini-mansions to mega-mansions, can be an eco-friendly home. Live with a clear environmental conscience regardless of square footage. Here's how to go green while living large:
Green-Up Large Surfaces: Two surfaces stretch throughout an entire home: the floor and the walls. Luxury homes often feature glossy, wood grains on both. But how green are those traditional materials? Can connoisseurs of the best things in life still enjoy the luxury, look and feel of gleaming hardwoods, yet with a carbon-neutral footprint? Of course.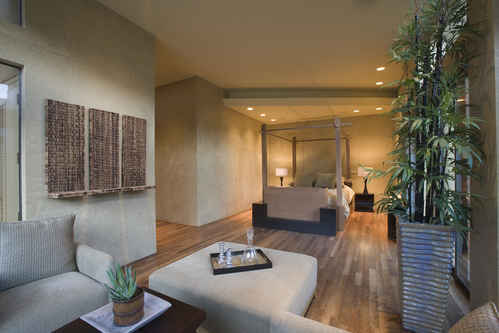 Bamboo, #1 Green Flooring Option: As an alternative to hardwoods, it is also a stronger, more durable product. With a variety of finishes, no question is not just an option for luxury. Bamboo flooring IS luxury.  ()
Bamboo, #1 Green Wall Paneling Option: Formal living areas, such as dens and dining rooms, deserve that traditional elegance of wainscoting paired with a fabulous paint job. The exotic textures and varieties of bamboo wall paneling transform a luxury home's carbon footprint from extra-large to diminutive. Bamboo sourced from forests certified by the Forest Stewardship Council (FSC®) practice cultivation methods committed to the conservation of all-natural resources within a grove's environmental community.  (image)
Sustainable Furniture: Living large often means a theater room, family room, formal den, library, and several other rooms that all have one thing in common: large furniture. Sofas and loungers are more than just fabric and fluff. Underneath it, all is a supportive framework that consists of a variety of materials like wood and metal. Can someone who's living large also live green with furnishings that are scrumptious, sumptuous yet also certified sustainable? You betcha.
If you desire custom couture for comfortable furnishings, designers are handcrafting fine furniture using materials that are certified sustainable, non-toxic, and environmentally responsible. Look for artisans that bear important seals of approval for the entire structure of a piece of large furniture:
Framework: FSC® certification of lumber.
Spring Support: Luxury furniture often bears a feature to prevent the sagging of springs and coils. Ask if inner springs are reinforced with a network of hand-knotted, natural fibers like hemp. Craftsmen using hemp have selected one of the strongest natural fibers that are 100% biodegradable as well as mold and mildew resistant.
Spring Foundation: Springs rest upon a foundation. Fine furniture designed to be green will feature a foundation crafted from natural, sustainable materials. Jute is a green alternative to textiles commonly used to create a foundation of webbing. USDA Certified Organic jute contains no residual pesticides, is hypo-allergenic and 100% biodegradable. Its high tensile strength results in a strong and sturdy foundation.
Comfort Materials, The Softness Within Atop springs, and below a layer of upholstery, lies the comfort materials. But just because a sofa is stuffed with something natural, like cotton batting, doesn't necessarily mean that it is a green product. And even if a row of theatre seating is made soft with latex foam, don't convince yourself that comfort comes with compromise, accepting a man-made material to softens a backrest.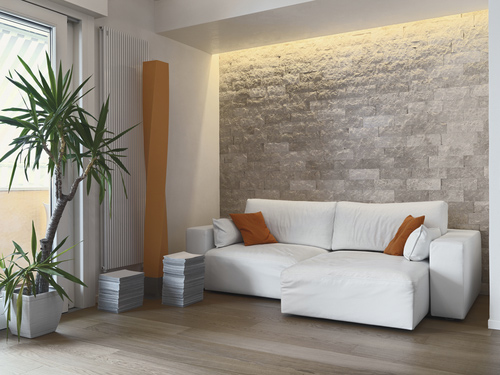 Latex Foam: A commonly used material used to stuff all of those overstuffed chairs, latex is not generally considered an eco-friendly product. Unless, that is, a green-conscious consumer of luxury products has selected a Global Organic Latex Standard (GOLS), a certified furniture manufacturer. GOLS certification means a consumer is purchasing a sofa filled with an organic raw material processed into latex foam. The result is a latex comfort material that is 95% natural and organic.
Cotton: To assure that fine furniture features the most environmentally-friendly cotton to shape and mold comfort areas, look for the USDA Natural Organic Program (NOP) seal. Your comfort will not come at the expense of Mother Earth. Softening your seating is cotton produced according to national organic crop standards. Cotton matures from non-GMO seeds and is cultivated without the use of chemical pesticides. Nor is ionizing radiation used to process harvested cotton.
Kapok: Many have probably never heard of this unique fiber. Lovers of luxury green products, however, have long been sleeping on mattresses and pillows filled with this hypo-allergenic fiber that is cultivated and processed chemical-free.
Custom Coverings: After an artisan designs and crafts the framework and layers on the soft stuff, the entire piece will need to be covered. Fine furniture aficionados almost always desire custom upholstery. An adept aesthete has a specific design scheme in mind. Seating arrangements are the crowning glory of a luxury floor, the harmonious accompaniment to tasteful wall-coverings. And a devotee of luxury goods does not have to sacrifice environmental ethics for the sake of remaining faithful to an interior design scheme.
Wool: This material is durable, comfortable, resilient, and biodegradable. Look for Oeko-Tex certification. This assures a finished textile that has met a worldwide standard from the moment it was sourced as a raw material. Consumers get a wool product that has not been processed with harsh chemicals and is produced on farms using sustainable and ethical methods.
Fabric: Certified Global Organic Textile Standard (GOTS) fabrics have achieved greatness with this seal. Textiles bearing this stamp are sourced ethically from producers using sustainable practices. Fabrics are processed without chemicals. Custom colors are created without carcinogenic dyes. No heavy metals are used to create patterns and variations in color hues.
Leather: It is even possible to have that favorite of all favorites, a lounging recliner, finished with an eco-friendly leather touch. A GOTS certification indicates a leather that has been vegetable-tanned and produced without the use of contaminants like heavy metals. The result is an environmentally friendly, non-allergenic leather that is supple and gorgeous.
Have Your Cake: In the end, luxury lovers living large, who also have a green conscience, can have their cake and eat it, too. Design your anything-but-tiny home using the greenest luxury products available. There is no reason a homeowner can't have it all. Consult and begin your home's transformation from the bottom up.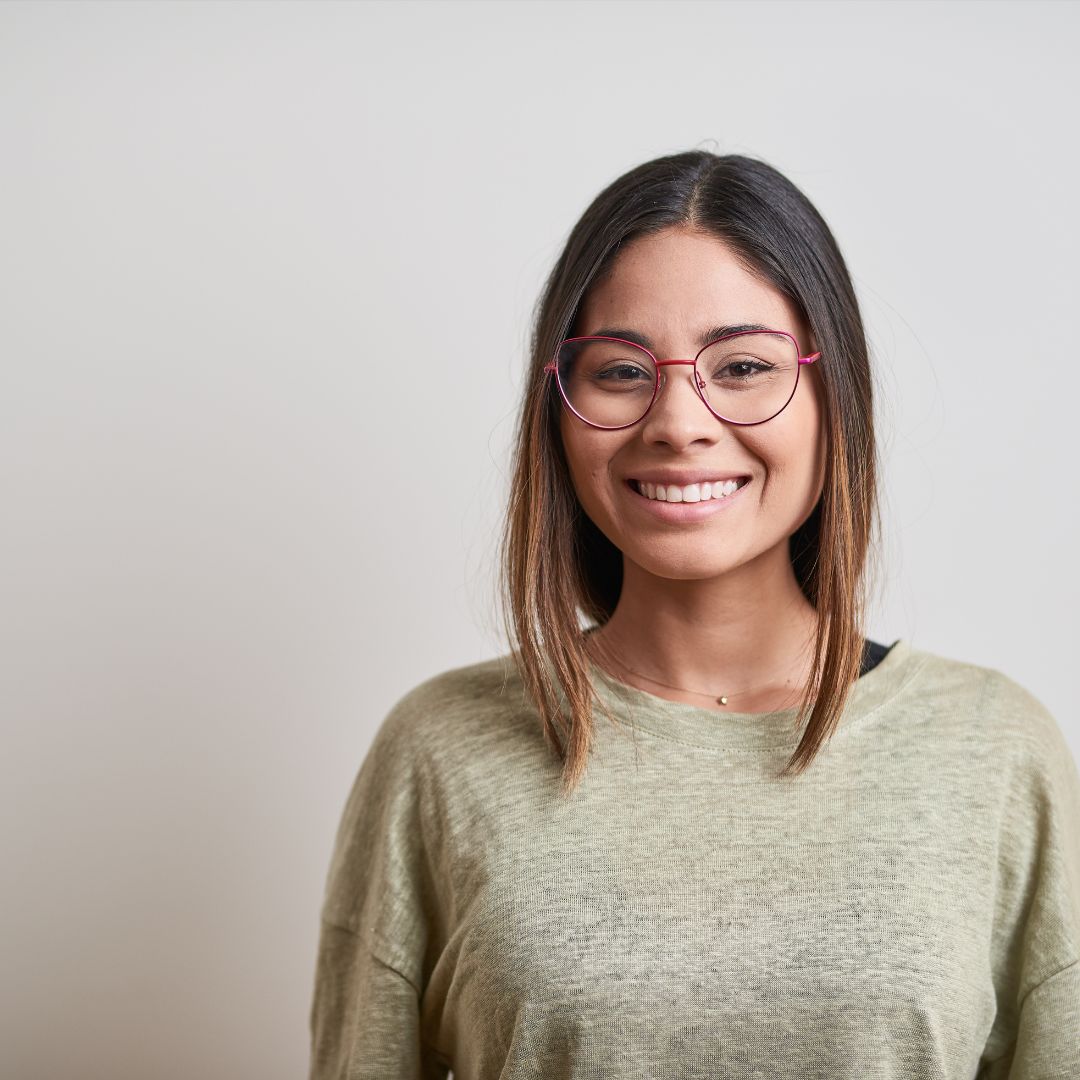 About the Author
Jen is your go-to guru for crafting a cozy, green cocoon. 🪴 Her dive into sustainable building wasn't just about saving the planet—it started as a mission to make family movie nights eco-friendly (and to ensure the popcorn was the only thing getting heated!). With a knack for breaking down the jargon, Jen turns eco-lingo into everyday language. Swing by the Green Living blog for a mix of earth-loving advice and home improvement hacks. Whether you're just dipping your toes into green waters or you've been swimming in the deep end of DIY projects, Jen's here to guide, giggle, and remind you that every eco-choice is a step towards a planet that thanks you… and maybe even sends a rainbow your way! 🌈