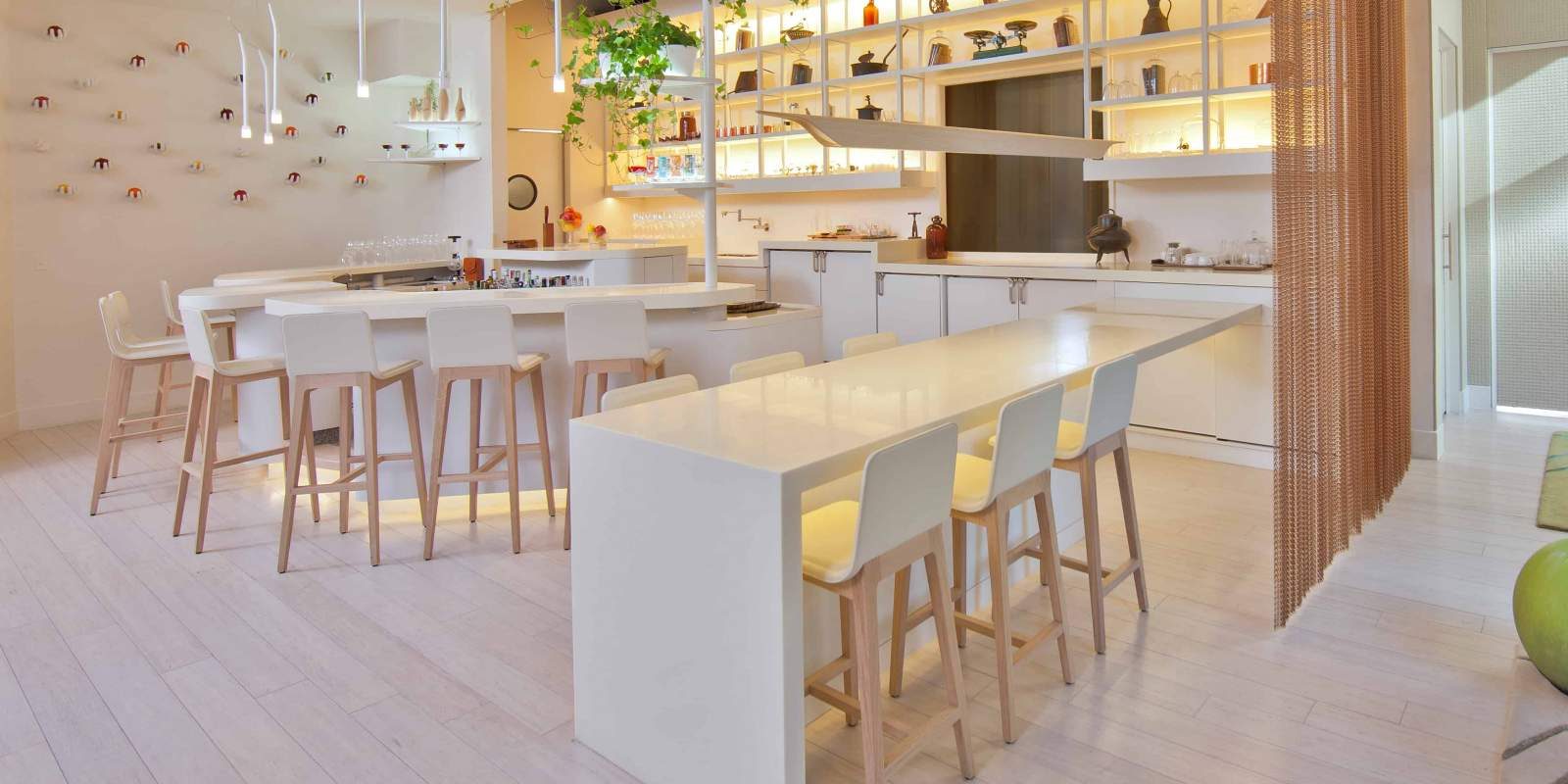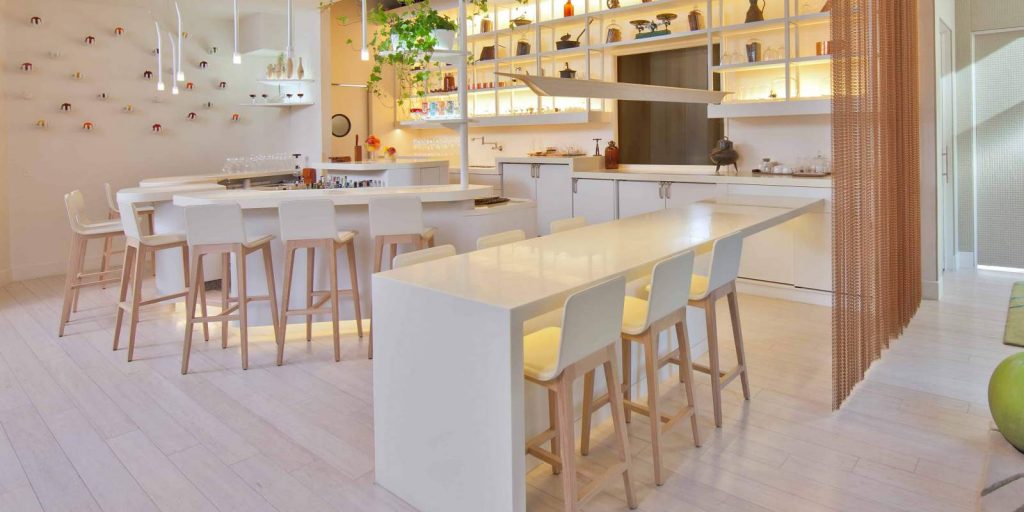 Have you ever felt like your home was outdated? Does your home still have wood paneling? What about floral wallpaper or tile countertops? Do you still have linoleum flooring? If you answered yes to any of these questions, then this article is for you! Follow these seven tips to modernize your home!
Create a Cohesive Look
First things first, understand what a cohesive home is! Creating a cohesive home isn't choosing a color and painting your entire home that color. It's ensuring your rooms flow together with no disruptions. It's choosing the right colors, décor, and furniture in a way that complements each other throughout the home. 
Enhance Your Home's IQ
I know you probably think I'm crazy for saying your home has an IQ, but hear me out: smart homes! Smart homes are a new and upcoming trend in home designs. I'm sure you've heard of Alexa, but there's much more to it! Transitioning your home into a smart home is one way to save you money on your monthly electric bill. 
The first step is to increase your internet speed. The downfall to making your home a smart home is that it heavily relies on the internet to be controlled. Another way to help with your internet connectivity is to invest in Wi-Fi extenders; these can be a great way to ensure you're able to connect in all areas of your home.
Next, you'll want to change your outlets. You can now get smart outlets and switches for your home so you can simply say "Alexa! Turn on/off the lights!" and you'll never even have to leave the comfort of your bed. How great is that?!
Another simple fix to make your home a smart home is upgrading your thermostat. With a smart thermostat, you can control your home's temperature right from your phone. You can even schedule for your heat or air conditioning to turn on at certain times automatically. This is the perfect way to create an efficient home and can save you some money month to month.
Upgrade Your Bathroom
Upgrading your bathroom is a huge way to modernize your home, and increase its value. The first step to updating your bathroom is to give it a fresh coat of paint, which also goes hand-in-hand with creating the cohesive home that we mentioned above. After painting, it's time to upgrade your bathroom fan! Many homes have older bathroom fans with no contemporary features. There are many options to choose from now, including ones with speakers in them! 
Another bathroom upgrade you can make is swapping out the old for a new modern bathroom vanity! When picking a vanity, make sure you go with one that fits all of your needs for that specific bathroom! Do you need a double sink vanity? More storage underneath? Maybe you want to elevate your bathroom and choose a floating vanity! The choice is yours, and there really is no wrong one! 
The last bathroom upgrade that could truly change the look of your space, is switching out the hardware! Replacing your old fixtures with modern bathroom hardware will not only enhance your space but also give it a fresh look and is fairly easy to do yourself. Shower fixtures, vanity knobs, and even changing your bathroom door handle could make a huge difference! 
Elevate Your Kitchen
A way to really elevate your kitchen is by adding crown molding to the top of your kitchen cabinets! Without crown molding, kitchen cabinets look unfinished and incomplete. Adding crown molding can also give the appearance of higher ceilings and taller cabinets! It can even increase the value of your home if you plan on moving in the future! 
Another kitchen design element to modernize your space is to upgrade your kitchen countertops! Two kitchen countertop trends right now are marble countertops and butcher block countertops. Butcher block countertops are extremely handy if you have a smaller kitchen, especially in tiny houses. They are lighter and you can cut directly on the countertop without worrying about damaging it! 
Lastly, getting rid of your floral wallpaper as a backsplash and adding unique tiles can make all the difference! Some trendy styles are herringbone designs, subway tiles, or colored tiles to add a pop into your kitchen!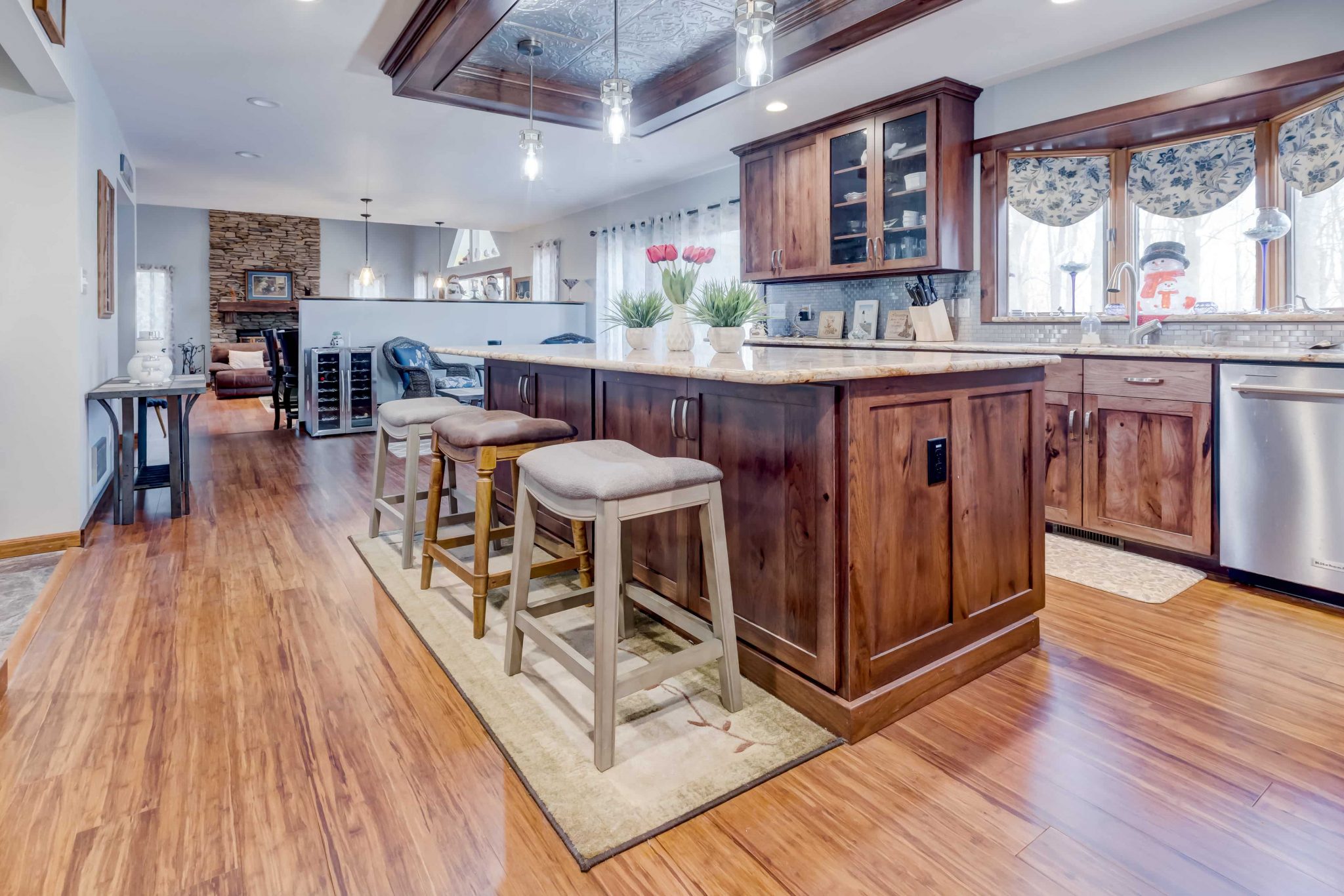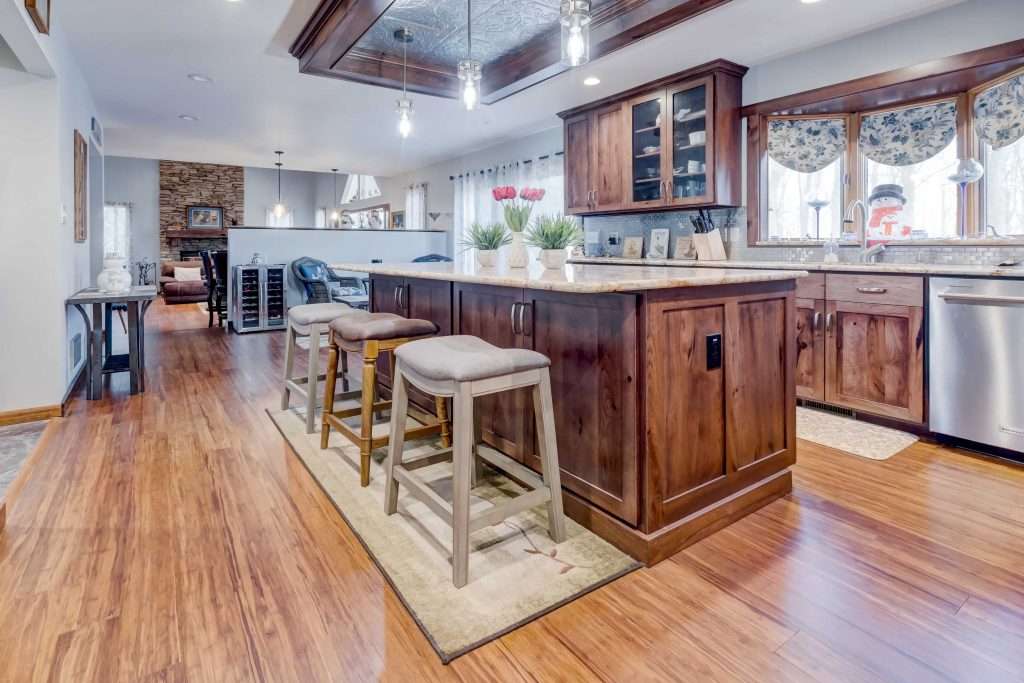 Take a Look at Your Flooring
If you still have shag carpets or even carpet all over your home, it's time for a change. Replacing your flooring with high-quality bamboo flooring, like Skipjack Mast Chevron, can not only modernize your home, but it can make it appear larger, cleaner, and just overall nicer. Not to mention, it will also greatly increase the value of your home. If you have an open floor plan, it will even help create the cohesiveness of your home that you're trying to achieve. 
Update Your Furniture
Picking sleek furniture to match your new home aesthetic is crucial. This is a way to truly pull everything together and give it that modern-esque that you're looking for. Some trending styles that people are leaning towards are caramel leather couches and chairs, cloud white sectionals, and marble coffee tables. 
Not only should you upgrade your living room furniture, but swapping out your bedroom furniture will also complete the tenacious look of your home. Adding a beautiful walnut or oak bed along with an ivory bench at the end of it could create a boho, modern look to your room. Don't forget to throw some art or photos on the walls, as well!
Conclusion
These are all great ways to modernize your home but keep in mind you don't need to do all of these things right away. Take it room-by-room and decide if your space needs a few simple changes or a more extreme update. Just remember if you're looking to sell your home in the future, these upgrades could help you out in the long run!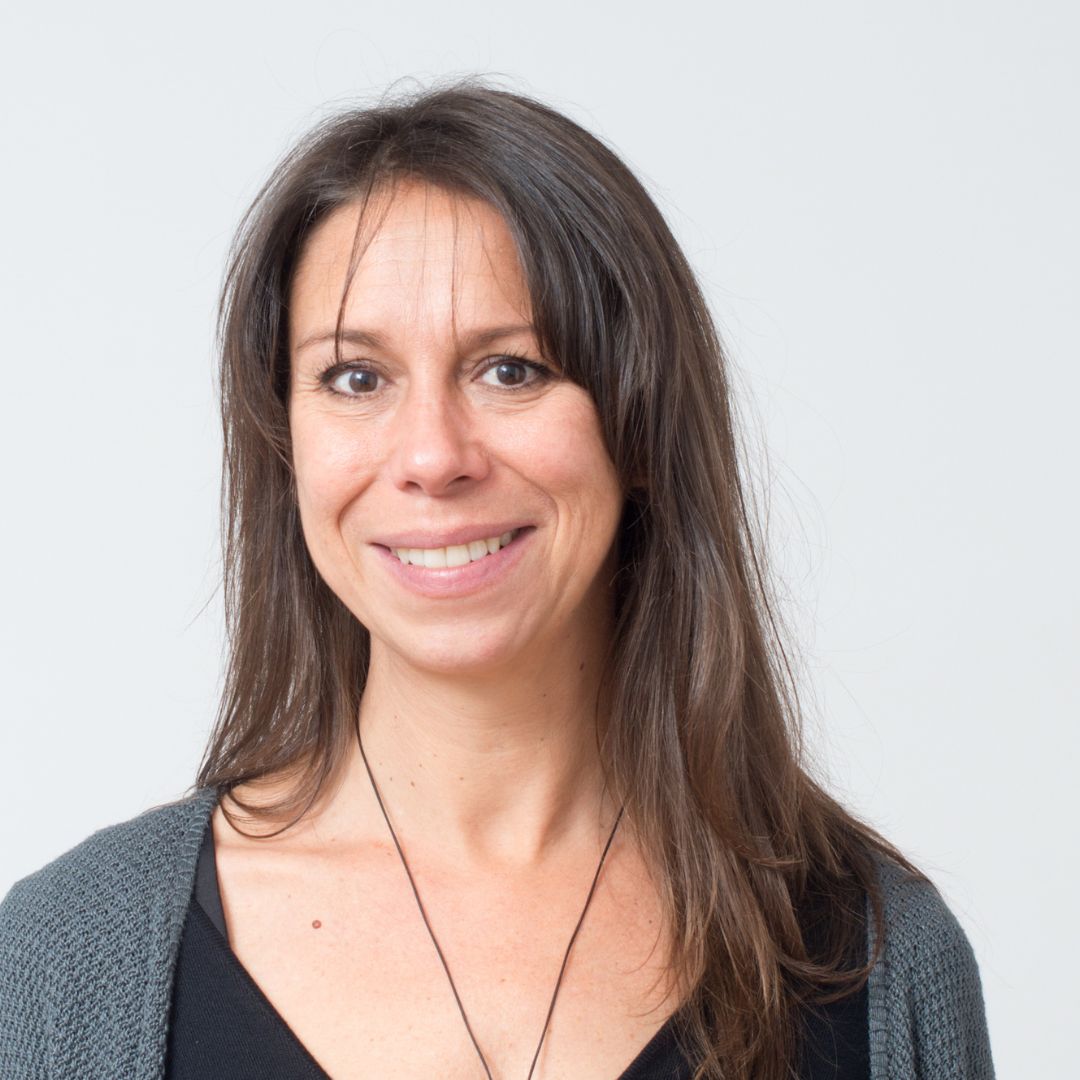 About the Author
Meet Bridgett, your friendly neighborhood green building guru! With more years of experience than she'd like to admit, Bridgett is your go-to expert for all things eco-friendly construction. She's on a mission to make your home the envy of every tree hugger in town (and maybe even the squirrels 🐿️). Let's build a greener, funnier, and all-around better world together – one enlightened eco-conscious choice at a time!