When installed with care and maintained properly, bamboo floors can easily last a lifetime – promising season after season of attractive flooring and robust durability under even the heaviest of foot traffic. If you have an active family or pets, it's definitely a top contender.
However, knowing the installation process, as with hardwood floors, is critical to ensuring the flooring lasts and performs as long as it should.
Let's start by looking at whether the nail-down method is suitable for bamboo flooring, and any further considerations for installation.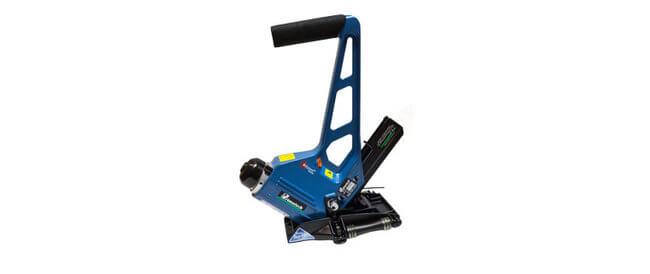 An 18 gauge pneumatic cleat nailer
Can I Nail Down Bamboo Flooring?
Absolutely. However, for strand woven bamboo you'll want to use only an 18 gauge cleat nailer, and you want to take care to ensure the PSI settings on your gun are set properly so that cleat is always set at the consistent and proper depth.  Otherwise you can end up with goose dimples/bumps along your flooring seams. It goes without saying that you should always ensure that the flooring, environment and sub-flooring are suitable for nailing down bamboo flooring, including acclimation of the wood, leveling of the sub-floor, and other important floor prep that needs to be done prior to beginning installation.
Which Underlayment Should I Use?
When nailing down bamboo flooring, you can use standard 15 lb asphalt saturated felt paper or red rosin paper as the underlayment.

15 lb felt paper
Approved Sub-Floors For Nailing Bamboo

Before beginning, you'll need to make sure that the sub-floor you have in place will hold the nails.  These following sub-floors are valid for the nail-down method:
Plywood (3/4″ thickness)
Advantech OSB (3/4″ thickness).  Regular OSB is typically not solid/stable enough to hold nails.
Existing Hardwood floors (3/4″ thickness)
Firm Linoleum – only if over 3/4″ plywood
Firm Kitchen Vinyl – only if over 3/4″ plywood
How Do I Choose The Best Installation Method?
Most bamboo flooring can be glued down, floated (i.e. not attached to the sub-floor) or nailed down. However, it's important to ensure you read the manufacturer's instructions and follow them to the letter. There are a few rules to help you decide on which method may be best:
If you have long runs (more than 30 feet across the widths of the planks or more than 50 feet down the lengths of the planks), the recommended installation method is glue-down or nail-down.
If you have particularly heavy furniture, the recommended installation method is glue-down or nail-down.
If you're installing the floors yourself, consider floating click lock bamboo flooring.
If your sub-floor is concrete, the recommended installation method is glue-down or floating.  For glue-down, make sure to use a vapor lock wood flooring adhesive (and the correct trowel – very important!)
If you have plywood or hardwood sub-floors, you can nail down or float over them. (If plywood, you can typically glue down.)
If you use a floating floor, carefully choose your underlayment (check out: what is 3 in 1 underlayment). However, it's important to note not all bamboo floor manufacturers will honor the warranty with all vapor barrier products (older vapor barriers were far from effective at vapor transmission protection and whilst times have moved on, it remains some products that aren't as effective as required).

Bamboo Flooring – Tough As Nails
Expansion Space – What is it and Why is it Important?
Expansion spaces are gaps left around the flooring next to the walls, which allow for the flooring to expand and contract as the levels of humidity vary. Even with the most advanced air con or HVAC system, the environment may change in humidity from season to season.
As humidity rises (the quantity of water in the atmosphere) bamboo expands slightly as it absorbs some of the moisture, and when humidity falls, bamboo shrinks. To the naked eye, these changes will be unnoticeable, however, if the flooring is installed without a space that allows for this contraction and expansion, the planks will otherwise rise up, distort or, in the worst-case scenario, buckle.
An expansion gap should be approximately 1/4″-1/2″, running around the entire perimeter of the floor. This gap will be hidden by the shoe molding or baseboard.
If you still have questions about the process of nailing down bamboo flooring, please get in touch with the team – we'll happily answer your questions with no obligation to purchase from us.
Head Image Credit: Rudy and Peter Skitterians
---
---
Categories: Flooring