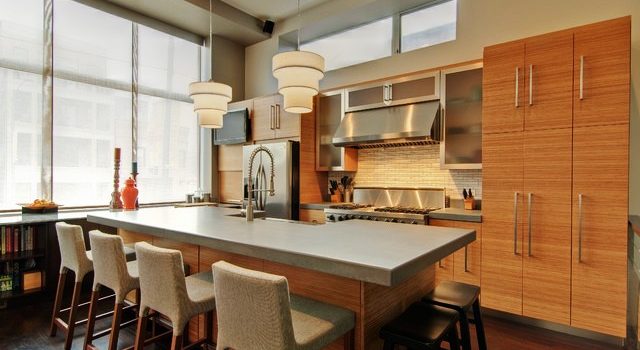 At Ambient, we are always trying to source only the highest quality materials for our customers, including products in various colors and grains. One of our favorite products is bamboo plywood – an ideal and green alternative to natural hardwood plywood that is becoming increasingly popular with homeowners, woodworking enthusiasts, and builders across America. It is used in wall paneling, furniture, cabinetry, toys, worktops, and butcher's blocks.
It's no surprise that bamboo plywood is currently considered one of the safest, most durable, and sustainable construction materials on the market. Whether you are a homeowner looking for the perfect countertop or a builder who wants a flexible new alternative to natural wood, there's plenty to choose from when it comes to this versatile material. Take a look at our selection of bamboo plywood in Natural, Carbonized, and Tiger/Zebra finishes, available in a variety of thicknesses from 1/4-inch to 1-1/4 inch panels.
What is Bamboo Plywood?
Bamboo is a grass that grows quickly, even in low-grade soil, to be planted almost anywhere. Thin, rectangular strips of bamboo are aligned in different designs and then laminated together (vertical edge grain or horizontal flat grain). They are woven and then compressed together under extreme heat and pressure (strand is woven) to create smooth unfinished milled sheets/panels.
Types of Bamboo Plywood
There are thousands of different bamboo types globally, but not all types are suitable for building materials like bamboo plywood. The most common source is from the fast-growing Moso Bamboo. Moso can make natural and carbonized plywood with vertical or horizontal grains, depending on the manufacturing process. The key to bamboo's color is in the heating – when it is first harvested and prepared, the material is a light shade. But when the heat is applied, it darkens to various degrees. Colors like Tiger, also called Zebra and Neapolitan, result from mixing natural and carbonized bamboo in a process that results in strand woven bamboo. Bamboo plywood comes in several different styles based on a combination of three main factors:
Grain.  This refers to the appearance of the surface of the plywood. The most common grains are vertical, horizontal, and strand is woven. Vertical and horizontal are used most often in modern designs, while the strand woven grain looks more like traditional wood.
Color.  Bamboo plywood is available in several colors and can also be custom-stained. The three main colors are Natural (blonde), Carbonized (brown/honey), and Tiger (Neopolitan/Zebra/Marbled), which is a combination of natural and carbonized.
Thickness.  Bamboo plywood comes in sheets that are as thin as 1/4″ and goes all the way up to 1-1/2″ in thickness. The 1-1/2″ thick panels are most often used for countertops and butcher's block type furniture.
Bamboo Products and Sustainability
One of the key factors in using bamboo as a building material is its sustainability. This fast-growing grass is self-renewing because it regrows in place using the existing root structure when it is cut down. Farming methods are also much greener than others, and hand rather than fossil fuel-hungry machines can cut down forestation areas. Factories are usually pretty close to the plantations resulting in less fuel being burned from transporting the bamboo. Various methods are used to create bamboo plywood, and different grades and thicknesses can be easily produced.
An increasing number of builders and retailers in the US are looking for more sustainable ways to operate and more sustainable materials to use. For these industries, using bamboo plywood is a way to produce eco-friendly and attractive products while simultaneously using other more expensive materials for necessities like furniture-making.
The Benefits of Bamboo Plywood
There are numerous reasons why bamboo plywood is becoming increasingly popular across America and often replacing traditional hardwood.
First of all, it is an attractive wood-like product that can be used in various ways, such as wall paneling, furniture, countertops, and even kitchen utensils.
It's durable, easy to mill, and can be cut and shaped into any design.
Its multi-layered manufacturing process provides additional stability, making it resistant to warping. This helps make it easier to mill and enhances its longevity.
Purchasing a reputable brand of bamboo plywood ensures low formaldehyde emissions and keeps the environment healthy. Many states are beginning to introduce legislation that limits the use of formaldehyde to composite woods. This is something that has worried the industry for some time.
Bamboo plywood is manufactured sustainably. This makes it one of the greenest building materials on the planet. The production of bamboo plywood provides valuable manufacturing jobs for many outlying communities dependent on those jobs for income. This is particularly true in areas where the soil is not conducive to other farming practices.
Bamboo plywood is strong, and it's suitable for a wide range of construction projects while also highly attractive once finished. There's more to bamboo than just flooring, and the different colors and thicknesses that can be produced make it a versatile material for many homes and businesses.
Bamboo Plywood Uses
Bamboo has been used in most parts of Asia for the last 4,000 years and is an integral part of Asian culture. Because of its strength, ease of growth, and cheap production costs, bamboo has been used to build bridges, make scaffolding, create homes, make furniture, in addition to a vast array of other uses. Trying to find bamboo products in places far from Asia, like the US and Europe, used to be difficult. However, bamboo is now one of the most widely available materials in the world. According to the New York Times, the difference between bamboo and hardwood is incredible:
"Cut down a hardwood tree and it's gone. It will take several decades for another to grow in its place; it can take a century for a forest to grow back after cutting. But bamboo is a grass, not a tree. Under the right conditions, it can grow a full meter a day — you can literally watch it grow."
Bamboo plywood has all the benefits of traditional oak or pine, making it ideal for shelving, cabinets, cupboards, countertops, desks, and anything else you can think of. It is just like ordinary wood when it's cut, shaved, sanded, or stained, and it looks great when finished. Also, it has less harmful emissions compared to other composite woods.
Bamboo Plywood Furniture
Bamboo plywood is perfect for furniture making! If you want gorgeous finishes that add a touch of class to any cabinet or table, switching to this sustainable material is something you won't regret. There is a wide range of bamboo plywood furniture to choose from tallboys and cabinets to chairs and tables. And they look as good, if not better, than traditional wood products. If you have the necessary cabinet-making skills or are a professional carpenter, consider switching to bamboo plywood. You get great wood products that can be handled with conventional woodworking tools. And you'll have methods to create luxurious products that look as stylish as any on the market. If you're just an enthusiastic hobbyist or a thriving furniture designer, that's fine too! There a variety of high-quality bamboo plywood products on the market that will give you plenty of options.
Countertops and Kitchen Cabinets
Bamboo plywood makes a significant impact in the kitchen, where it can be used for everything from cabinets to hard-wearing and durable countertops. Opting for bamboo plywood is the perfect solution for your kitchen if you prefer the wood effect to marble or composite stone options. It can be easily fabricated to any design, it's relatively simple to maintain, and it looks superb once finished. At Ambient, we produce beautiful bamboo plywood that helps create impressive and sturdy countertops.
When considering if you want countertops made from this material, you need to be aware that it has certain characteristics.
There are 3 different grain types: vertical, horizontal, and strand weaved, and they all offer a slightly different appearance.
The strand woven grain is composed of compressed bamboo, and it is 3 times harder than the vertical or horizontal grain types.
Typically with bamboo plywood, there is an "A/Front" side and a "B/Back" side to the panel, with the "A" or "front" side being consistent in color and the "B" or "back" side being less consistent.
As with something like marble, no two panels of bamboo plywood are the same, so you get a unique countertop that is different from any other in the world.
Darker colored woods can also be found by choosing carbonized bamboo rather than natural.
Pros and Cons
With all types of counter surfaces, there are pros and cons to consider. Both bamboo and wood plywood provides a durable and eco-friendly surface.  The surface will show character over time, getting better with age. With a fairly moderate price point, you also get something that is uniquely attractive. And it lends a certain amount of stylishness to your kitchen. There are a few cons, of course. You should be aware that the plywood requires maintenance, like resealing the surfaces every so often. Having said that, the pros far outweigh the cons. That's why more people are starting to use this bamboo plywood in their kitchens.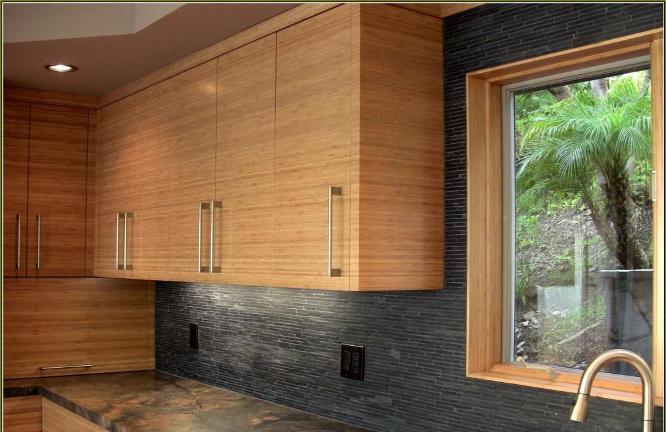 Wall Panels
You may have noticed many hotels and fine resorts using wood wall paneling in their cutting edge interior design. Many of these designers are choosing bamboo for its clean lines, minimalist appearance, and sleek beauty. Not to mention its eco-friendliness. Do you remember wood paneling used in home construction in the '70s? It's back! This look went out of fashion for a while but has started to come back. It's a great way to add a good touch of elegance to your home. Use it in the kitchen, study, or bedroom as an accent wall or a full-on wall decorating choice. The material is durable enough to last a long time! It can also withstand the busiest household rigors while still transforming a room with the beautiful colors available.
Butcher's Blocks
If you want something hard enough to cut up your Sunday slab of meat on, bamboo plywood butcher's blocks are ideal. They're also pretty impressive, available in different sizes, and last a lifetime if they receive proper maintenance. Butcher's blocks aren't the only kitchen products that are made from the world's greenest material. There are spoons and spatulas, containers, bowls, and plates, all of which could add something extra to your home. The type of bamboo plywood used makes a big difference in the durability of any product. As a general rule, vertical, end grain, and strand bamboo are harder than horizontal grain. For butcher's block countertops, the obvious choice normally ends grain bamboo plywood because it offers strength and longevity to cope with most kitchen tasks.
Formaldehyde Emissions and Bamboo Plywood
Make sure your supplier provides testing documents related to their bamboo products showing that they are safe. One of the issues currently worrying state legislators is how to reduce the level of formaldehyde emissions from composite wood products. Bamboo plywood produces much lower levels than other wood products on the market. This is another reason they are becoming more popular. According to the Wall Street Journal, this is convincing many eco-conscious retailers to produce safer products made from materials like bamboo plywood:
"California will begin limiting the formaldehyde emissions permitted from composite wood products commonly used in kitchen cabinets; the World Health Organization classifies formaldehyde as a carcinogen, and it's been linked to respiratory problems like asthma. That is fueling interest in eco-oriented cabinet lines like Neil Kelly and Breathe Easy, and sparking mainstream brands to go greener."
Bamboo Plywood from Ambient
At Ambient, we make a big deal out of choosing high-quality products that our customers can depend on. Our plywood is no exception! We provide products in various thicknesses, colors, and compositions that come with our usual guarantee of quality. Whether you are looking for carbonized or natural, thick or thin, we have the bamboo plywood product for you.

Last update of the article: 01/29/2021.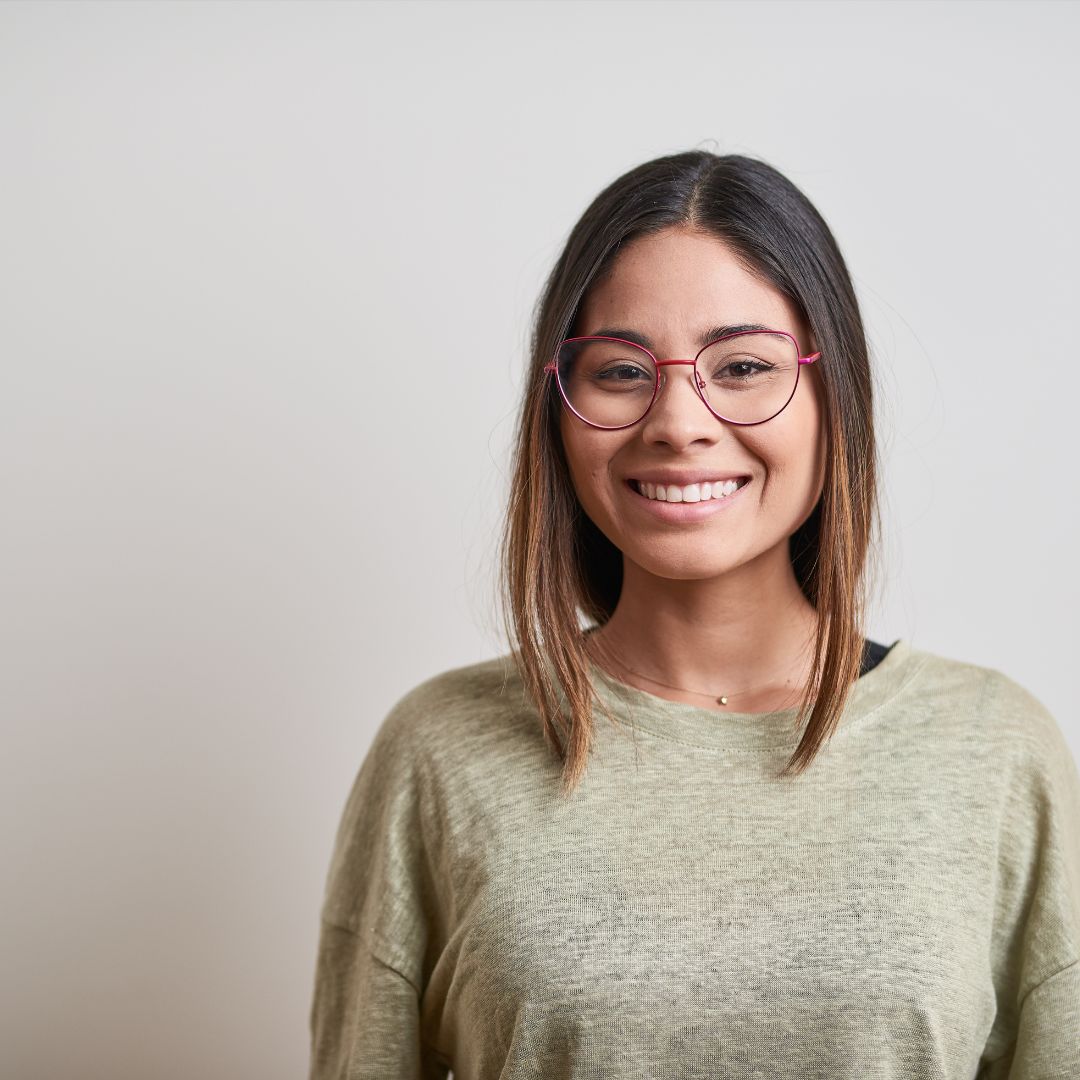 About the Author
Jen is your go-to guru for crafting a cozy, green cocoon. 🪴 Her dive into sustainable building wasn't just about saving the planet—it started as a mission to make family movie nights eco-friendly (and to ensure the popcorn was the only thing getting heated!). With a knack for breaking down the jargon, Jen turns eco-lingo into everyday language. Swing by the Green Living blog for a mix of earth-loving advice and home improvement hacks. Whether you're just dipping your toes into green waters or you've been swimming in the deep end of DIY projects, Jen's here to guide, giggle, and remind you that every eco-choice is a step towards a planet that thanks you… and maybe even sends a rainbow your way! 🌈