The popularity of bamboo continues to rise as more homeowners search for greener alternatives to traditional hardwood floors. One of the advantages of bamboo flooring is that the plant itself is able to regenerate so quickly. Another clear advantage is the extreme toughness of strand woven bamboo. Its eco-friendliness is because bamboo is grass and not hardwood. The bamboo plant can regenerate in as little as 5 years. Compare that to hardwood trees that can take over 30 years to grow before being harvested.
Is Bamboo a Good Choice for Flooring?
Yes! Bamboo is simply some of the best flooring and a logical choice for homeowners who want the warmth and beauty of hardwood but don't want to add to the destruction of the world's rainforests. If you're looking for the pros and cons of bamboo as flooring, then it's best to look elsewhere. We're here to talk about the good stuff!
Besides its eco-friendliness, there are many other advantages of bamboo over other flooring materials.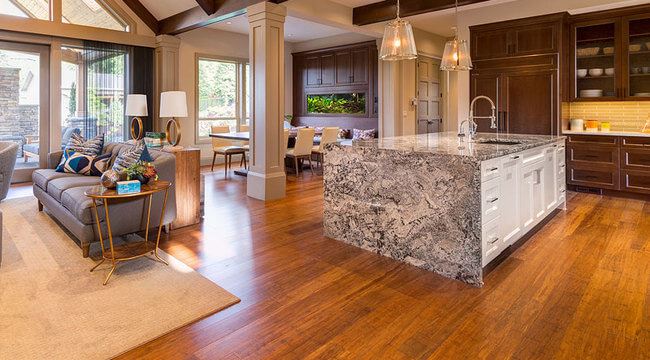 Bamboo is Widely Available
Before the green movement really took off, it was often hard to find sustainable building materials, but that has changed and bamboo is now widely available at big box stores and online.
The Unique Beauty of Bamboo
The natural striations in the bamboo stalks give the floors a unique beauty in any room. Bamboo is not a fad, it's a timeless material, so you know your floors will look just as attractive in 15 years as they do the day you install them.
Stylish and Versatile
One of the most important things to consider when picking a floor is how it will work with your décor. Bamboo comes in a wide range of colors and styles, including hand-scraped and engineered planks, all with the beautiful marbling effect typical of strand woven bamboo flooring.
Regardless of your existing room's furnishing and décor, you're bound to find a shade of bamboo that compliments it beautifully. Secondly, since there is such a large selection of bamboo planks, you can install them in your entire house and have different looks throughout.
Bamboo Floor Durability is Unmatched
As highlighted in the TedTalk above, bamboo is solid. In fact, bamboo is so durable you can feel good about installing it in any area of your home, even those areas with high traffic. Strand woven bamboo has a Janka hardness rating almost 3 times harder than oak — now that's durable!
Affordable Flooring
When you're deciding to put new floors down in your house, particularly if it's in several rooms, the costs of parts and labor can easily mount up.
Compared to traditional hardwood floors, bamboo is very affordable which makes it a great choice for those who want to live green but need to do so on a budget. Typically, you can get premium lengths (long planks) and widths (wide planks) at about half the price you would pay for traditional hardwoods in those same dimensions.
The Importance of Sustainable Flooring
More people than ever are concerned about the future of our planet. To reduce their negative impact on the world, they make greener choices in their day-to-day lives; that's why they choose bamboo flooring.
Why is bamboo the green choice? There are so many reasons, but let's look at just a few.
Natural: Bamboo is a grass, an entirely natural material.
Highly Renewable: Bamboo plants can go from planting to harvest in just five years, compared with at least 50 for a tree.
Gentle Harvest: As bamboo plants are harvested by hand, the farmers can protect the area so that it wouldn't be possible to use machines, like keeping an eye out for rare plants and animals.
Regeneration: Bamboo can regenerate itself from the root, so harvesting it won't destroy the plant, unlike cutting down trees.
Soil Stability: When harvesting bamboo, you don't need to unearth the plant. This means that the soil around it is more stable and less likely to cause soil erosion and other environmental damage.
Forest Stewardship Council Approval: Many bamboo floors carry the FSC® logo, which means that they have passed tests at every stage to ensure that they are not adding to the destruction of forests, plants, and animal life.
More Advantages of Bamboo
So what about when it comes to installing and maintaining these floors? Well, the benefits continue!
Bamboo Floors are Easy to Install
Speaking of being on a budget, you can save money by installing your floors yourself. Bamboo is so easy to install, especially using the floating floor method which most homeowners should be able to install in a single room over a weekend.
All you need to do is follow your manufacturer's recommended installation guidelines and it will be significantly cheaper than hiring a contractor. If you do choose to hire an installer, most will charge between $1.75 to $3.00 per square foot for installation, so budget accordingly.
Low Maintenance
We live busy lives and we don't always have time for things that need to be cleaned daily or strictly maintained. Thankfully, these floors are easy to clean and care for. Furthermore, strand woven bamboo doesn't need to be refinished in a residential setting because it is so hard, so it won't show nearly as much wear over time as other floors.
Bamboo is Moisture Resistant
Bamboo is an incredibly water resistant type of flooring. As long as you don't leave a puddle on your floor for more than 20 hours, spills will not harm your flooring as they would on regular hardwood floors. This makes bamboo a superior flooring choice for kitchens, powder rooms, and even laundry rooms.
Cleaning Your Floor
How long does it take you to clean your current floors? Whatever the answer is, it will take you the same or less time to clean bamboo. We promise!
Most of the time, all you have to do to keep your flooring clean and beautiful is wipe up spills as you see them and sweep or vacuum the floors regularly. That will be enough to pick up routine dirt, debris, and dust.
Occasionally, you might need more intense cleaning with a damp – not wet! – mop/cloth and specialized bamboo cleaning products. This is still a quick process and won't take too much time out of your day.
Allergen and Bug Resistant
As an added bonus to bamboo, it's resistant to bug infestations and does not trap allergens like carpet.
In the opinion of ourselves and countless others, bamboo is simply the best flooring option on the market today. But don't take our word for it; find out for yourself with a free sample!