Life can be hectic. For balance, many people seek to create an atmosphere of lightness and calm in their homes. One way to achieve this is with white floors.
White floors can bring a clean, restful foundation to a wide range of décor styles. But what material will work best in your home?
We explore 10 kinds of white floors available to help you decide.
1. White Bamboo Floors
Ideal for both traditional and modern decors, Studio White from Ambient Bamboo Floors adds an elegant and warm touch to any room. Plus, it's 3 times harder than any other hardwood, made from a rapidly renewable resource, and warm underfoot, so you'll be helping the environment and adding a gorgeous natural product to your home at the same time.
Use its "almost" white color blend with neutral interiors. Or, use it to create compelling contrast in rooms dominated by bright or dark colors.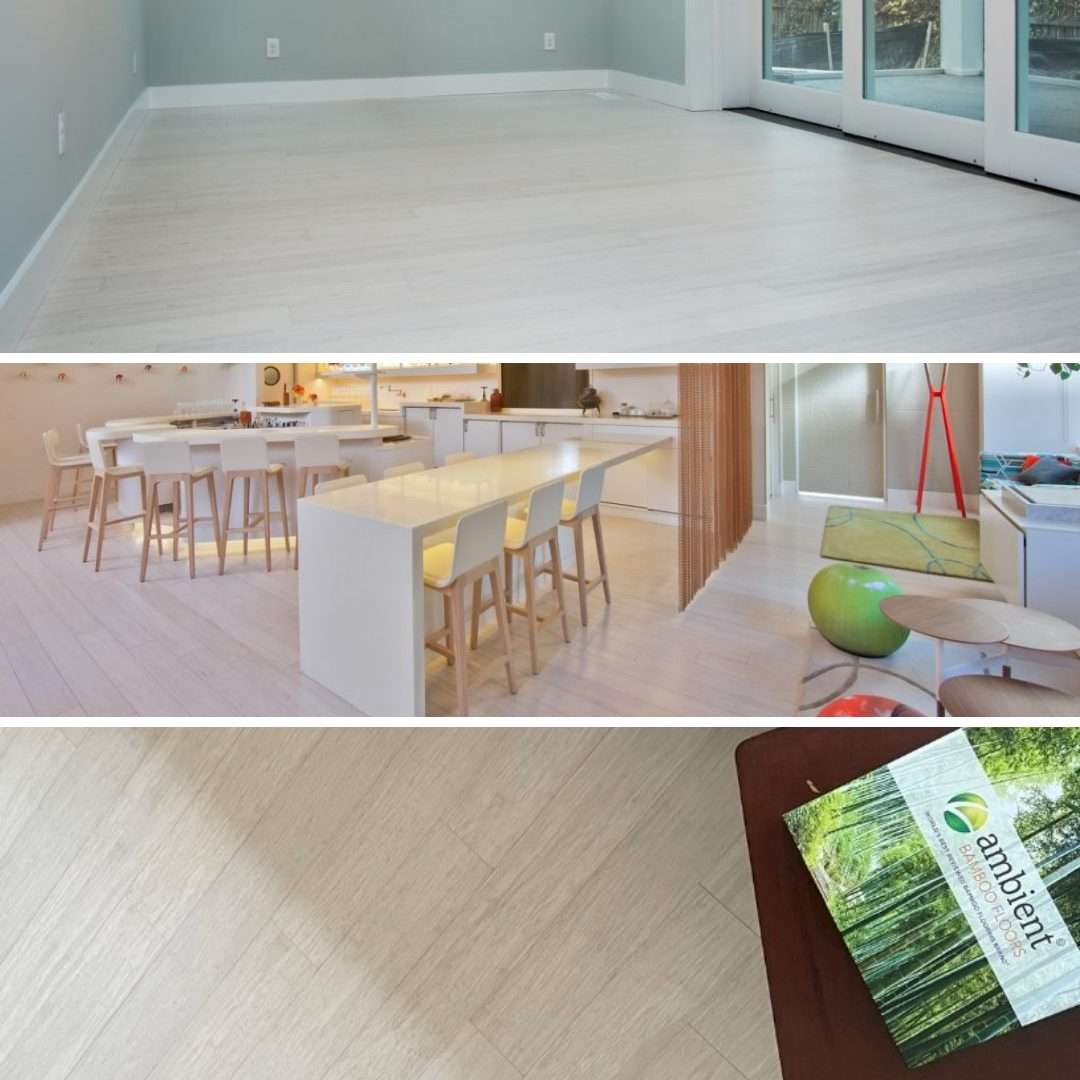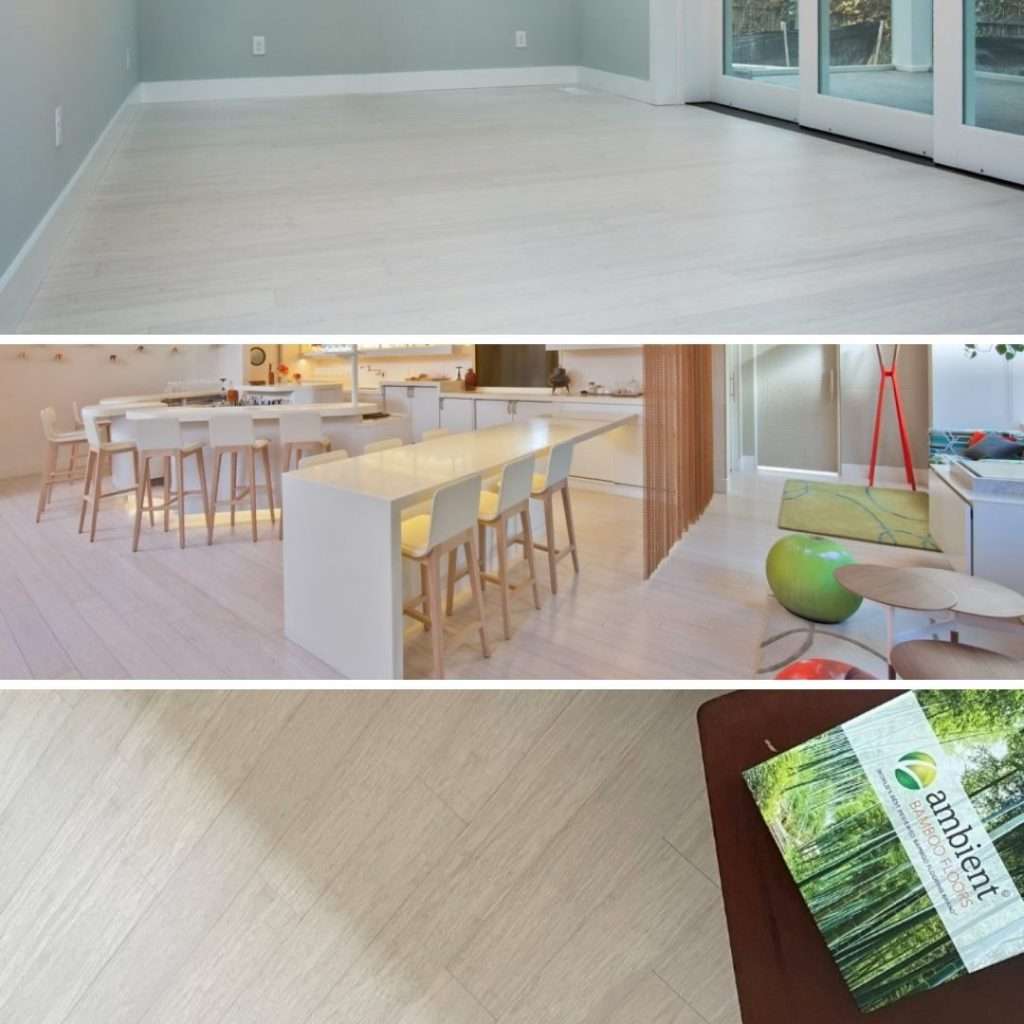 It can soften modern decor or bring a gentle edge to traditional designs, especially those in the vein of French cottages. Tongue and groove make it easy and quick to install. And, despite the light color, these woven bamboo planks are easy to keep clean.

2. Painted Wood Floors
White floors made from painted wood often can create a cottage or eclectic vibe. It's less expensive and labor-intensive compared to refinishing. It won't repair scratches, dents, and other scars, but it will hide them.
Painting wood floors can be done in a few steps: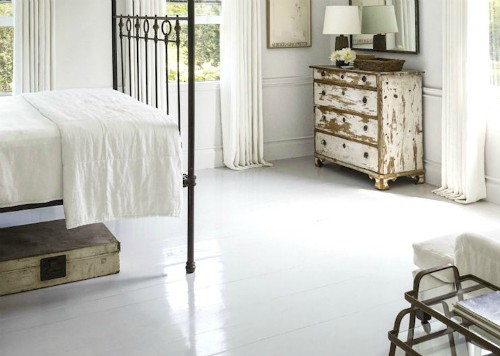 Remove any wax or gloss. Use a square of 150-grit sandpaper to rough the surface.
Clean the floor first with a vacuum, then a damp mop. Let it dry completely.
With a brush, cut in the edges.
With a roller or brush, apply a thin coat of paint over the entire floor, working your way toward a door. Let it dry for 24 hours.
For a smooth finish, lightly sand the floor with 220-grit sandpaper. This will smooth out the grain and create a sleeker finish. Vacuum, damp-mop, and let dry.
Apply a second thin coat of paint. Let it dry for at least 24 hours.
If you want, floors in high-traffic areas can be sealed with c

lear polyurethane.
Cost savings is the largest immediate advantage of painted wood floors, but the paint will wear unevenly, making high-traffic spots noticeable in as few as 3 years.
3. White Vinyl Floors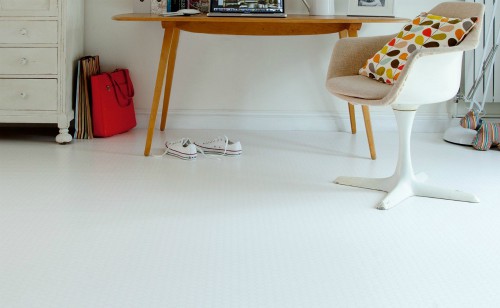 To create white floors with vinyl, you must first decide if you'll use vinyl sheets or tiles.
Both forms are an inexpensive flooring option commonly found in kitchens and bathrooms. Vinyl is easy to clean up and doesn't require special maintenance. But it's easily cut by sharp objects and dented by heavy furniture or appliances. Vinyl also fades in direct sunlight and can develop a worn-out look. This is true even with white floors.
When it comes to installing vinyl, tiles are easier to manage than sheets. But both require precision to avoid bumps. Either way, this material can help dampen sound in rooms with high ceilings, lots of windows, or any hard surfaces.
4. Ceramic Tile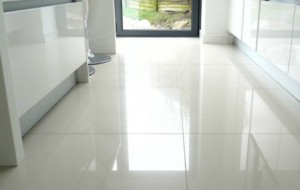 Ceramic is clay, hardened at high heat. Once glazed, it is highly resistant to water and stains, making it a popular choice in kitchens and bathrooms.
Most people opt for ceramic when they want a vibrant floor or one with intricate embedded designs. But ceramic tile can also be used to create stunning white floors.
Ceramic is durable. A well-laid floor can last up to 20 years without the need for touch-ups. Washing it is easy, but be careful using hard items like dishes and smartphones; they're likely to break if dropped on ceramic.
5. Porcelain Tile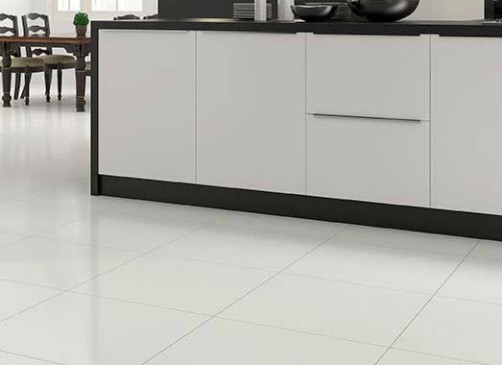 Kaolinite, a kind of clay, is the main raw material in porcelain. But unlike ceramic, the clay is blended with other raw materials such as glass, quartz, and alabaster.
Porcelain is fired in extreme heat. Afterward, it's non-porous and resistant to water without glazing. This makes it an excellent consideration for kitchen and bathroom installations.
It can be painted with rich colors or made pure white. You'll often see it in rooms with modern decor because of its sleek finish and aesthetic.
6. White Marble Floors
Marble floors have been enjoyed for centuries by people who seek classic luxury. With this material, it's impossible to get pure white floors – unless you have an unlimited budget and lots of time. The natural veins that run through the rock are part of the charm of marble interior designs.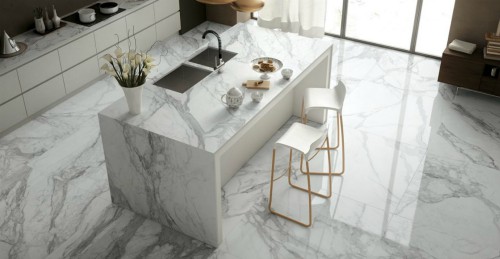 When buying marble flooring, make sure all tiles or slabs come from the same batch. Each marble quarry yields different colors from white to gray to pink. Further, vein patterns will vary, depending on the location within the quarry.
Maintaining marble floors isn't difficult, but they should be resealed every 3-5 years to remain water-resistant.
Want to see a marble quarry? Check out this short video produced by The New York Times.
7. Stone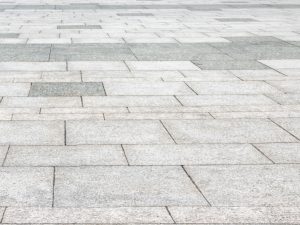 There isn't a more natural-looking floor than one made of stone. Favored in homes where indoor and outdoor spaces flow into others, the stone is a durable choice. It's ideal for people with allergies since it can't hold dust and pet hair.
There is a timeless beauty to the stone that can add to resale value and everyday enjoyment. Additionally, stone floors can be great for indoor and outdoor installations. Whether spicing up your kitchen or patio, white stone floors are great with light and dark furniture. It's up to you whether you prefer the consistency or contrast.
8. Painted Concrete
If you're creating an edgy aesthetic or looking to spruce up a basement without spending a lot of money, there's nothing like a concrete floor painted white.
To create a white concrete floor, follow these steps: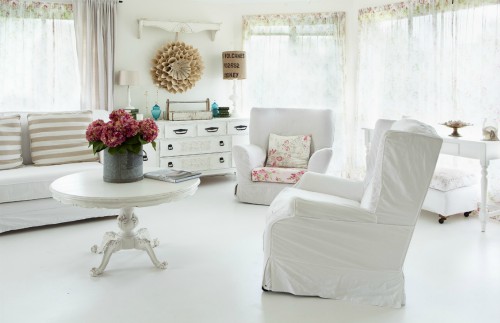 Wash the floor with a de-greasing solution, rinsing at least twice
Sand any uneven areas
Vacuum, then damp-mop the entire floor.
With a roller, apply a coat of primer. Allow to dry, then repeat.
Using a roller or paint compressor, apply a coat of epoxy paint. Allow to dry, then repeat.
For long-lasting protection, use a clean roller to apply two coats of masonry sealer.
In the end, you'll have a distinct floor that's doesn't collect dust and dander. And, if you ever decide you no longer want a white floor, repainting isn't an overwhelming project.
9. Rubber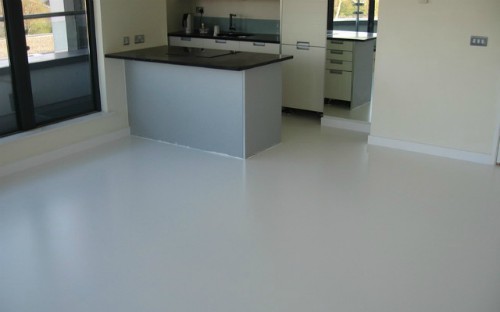 Yes, rubber. Whether you get it a sheet, tiles, or have it poured, rubber can be a practical and attractive flooring option.
It's most often found in industrial and commercial settings. Yet, some homeowners find its shock-absorbency beneficial in playrooms, kitchens, and bathrooms.
Although easy to clean after spills, rubber that is worn or not well-sealed can retain natural and artificial coloring. Think wine, tomato sauce, and spinach smoothies.
10. Carpet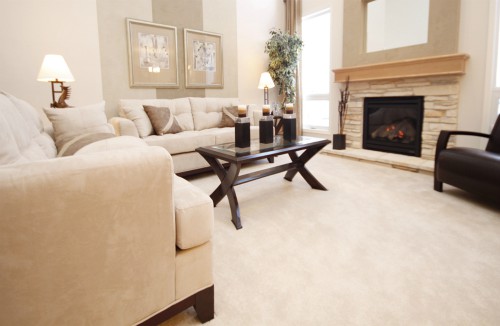 White carpeted floors can contribute to a soft, cozy, elegant style, but they generally aren't ideal for busy households or those with pets.
Carpet is without question the warmest material to have underfoot. The trick is keeping it clean and looking fresh over the years.
The best way to retain carpeted floors' value and comfort is to have them professionally cleaned once a year. Homeowners with children and/or pets often increase that to twice a year.
Are White Floors For You?
If the idea of having a white floor makes you nervous about spills and evidence of ordinary wear and tear, don't worry. With so many materials to choose from, you're bound to find one that suits your budget and lifestyle.
Plus, no rule says you have to have white flooring in every room.
At Ambient, we see people order other kinds of bamboo flooring along with our rustic ivory product. Call (866-710-7070) today to learn more.
---
Last Updated: 1/6/2022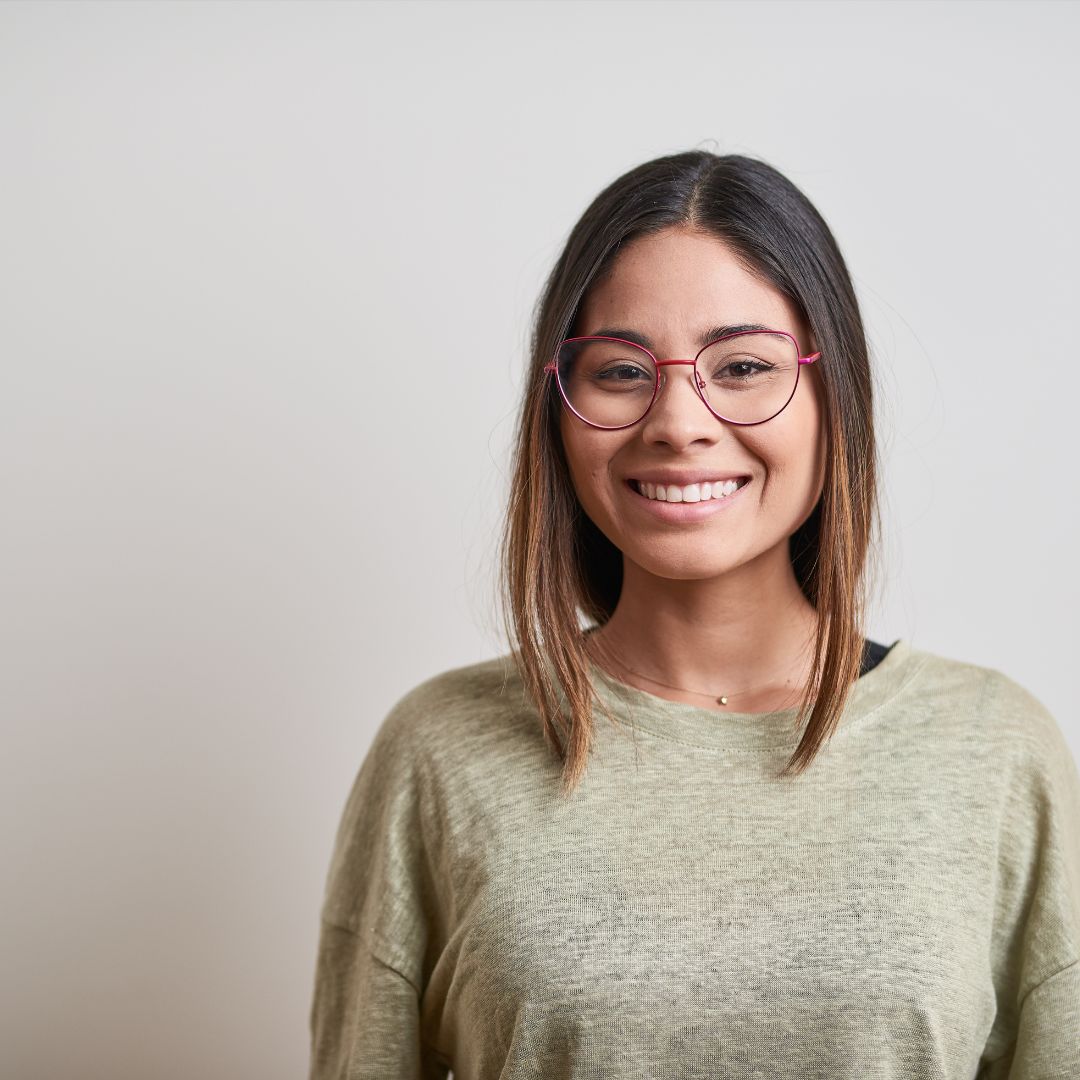 About the Author
Jen is your go-to guru for crafting a cozy, green cocoon. 🪴 Her dive into sustainable building wasn't just about saving the planet—it started as a mission to make family movie nights eco-friendly (and to ensure the popcorn was the only thing getting heated!). With a knack for breaking down the jargon, Jen turns eco-lingo into everyday language. Swing by the Green Living blog for a mix of earth-loving advice and home improvement hacks. Whether you're just dipping your toes into green waters or you've been swimming in the deep end of DIY projects, Jen's here to guide, giggle, and remind you that every eco-choice is a step towards a planet that thanks you… and maybe even sends a rainbow your way! 🌈