From a design perspective, eucalyptus strand woven flooring is a natural (pun intended) for home design in 2018. Made from compressed eucalyptus wood, this flooring lends itself to an array of design functions and adds considerable beauty to any room. It has several advantages for interior design purposes with few disadvantages. Due to its insanely high hardness ratings, this makes it an excellent choice for active families or homeowners with pets. Check out these eucalyptus flooring frequently asked questions (FAQ).
Pictured Above: by Ambient
Advantages of Designing with Eucalyptus Flooring
1. Beauty
Eucalyptus strand woven flooring has all the beauty of natural wood. It comes in multiple colors, from light golden to deep brown to fit in just about any color scheme. The wood grain in eucalyptus flooring itself is inherently fascinating and varies from plank to plank. From a design perspective, you can create a unique look starting with the flooring or use the floor as an accent to almost any style.
2. Versatility of Installation
Installing eucalyptus strand woven flooring is similar to installing many hardwood floors. The floorboards should be allowed to breathe in the client's home for 72 hours before installation. This time allows the wood to acclimate to the climate and moisture level in the home. However, this flooring has distinct advantages over other hardwood floors because you can install it in areas that traditional hardwood floors won't work. The engineered eucalyptus floor is the hardest wood flooring on the market; therefore, it works in commercial settings and over concrete basement floors.
3. Hardness
One of the biggest issues with hardwood floors is that they don't perform well in high-traffic areas, especially if you have kids or dogs in the house (Read about why bamboo is the best flooring for pets & dogs). However, the eucalyptus strand woven flooring solves this hardness problem. While this flooring's look and feel are similar to traditional hardwood, it is 3X harder and better able to stand up to hard wear-and-tear than an active family would put it through. This fact alone makes it ideal for the home spaces that get the most action, such as the kitchen and family room.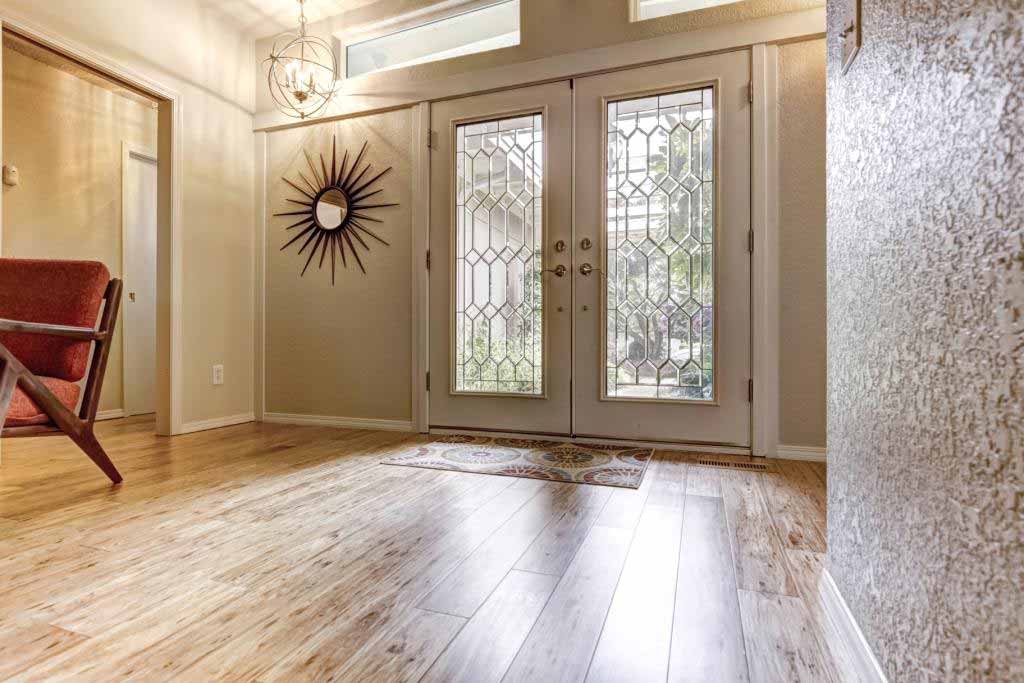 Pictured Above: by Ambient
4. Sustainability
Green construction that is eco-friendly and sustainable is the top trend in residential homes. It is cost-efficient and also helps reduce the carbon footprint for homeowners. This eucalyptus flooring is ideal for the eco-friendly trend as it is a farmed product, and it regenerates in 3-to-4 years, making it more sustainable than other hardwoods. All of Ambient's eucalyptus hardwoods comply with the Lacey Act, meaning that they are sourced legally using methods that minimize the environment's impact. Adhesives in the flooring are zero-VOC; floor finishes are also zero- or low-VOC. Therefore, homeowners can be assured that floors don't emit harsh chemicals into the air or on the floor surface. This makes it safe for children and pets. Beyond the economics of a design using sustainable materials, just knowing that your design isn't decimating global resources feels good.
5. Affordability
Affordability is one of the detriments of traditional hardwoods because it can catapult you over your budget. However, eucalyptus strand woven flooring is affordably priced at $3-to- to $5 per square foot. When you add the longevity, it provides because it doesn't need other hardwoods' delicate handling, the practical value increases.
6. Versatility
In general, Wood flooring is very versatile in that the wood typically enhances, matches, or contrasts nicely with room designs in almost any style choice. Even ultra-contemporary room design can be complemented with the right hardwood floor. The added advantage of eucalyptus strand woven flooring is the unique range of color options and grain options. With this range of options available, you can find a color and style to fit any room, including the following:
Bedroom
Kitchen
Family Room
Living Room
Formal or Informal Dining Room
Entryway
Indoor Patio
Bathroom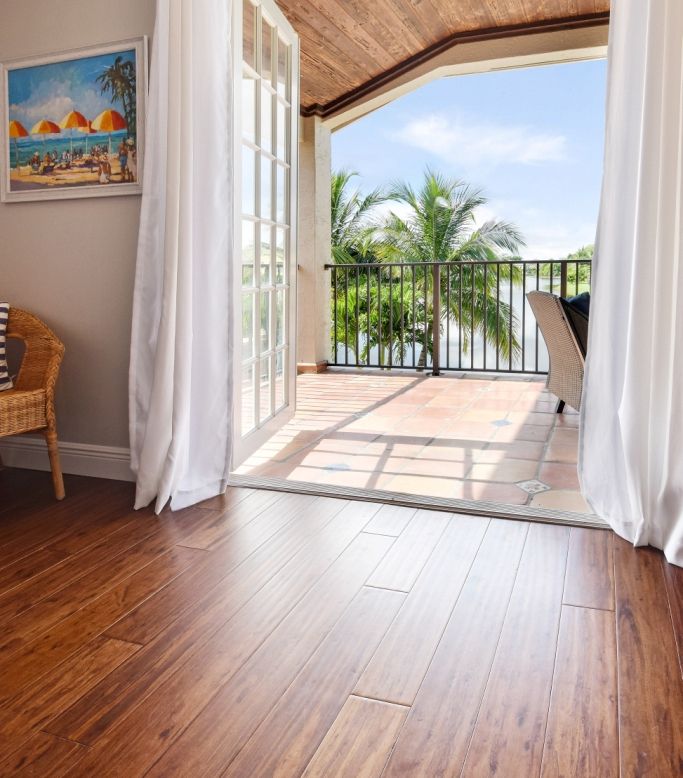 Pictured Above: by Ambient
The range of wood grains in the flooring also lends itself to matching grain to each room's atmosphere. More color and knots in the wood grain offer a casual atmosphere for country cabins or family rooms, while the smoother grains work well with formal settings such as a dining room or living room. There is certainly a lot of personalities that you can add to any room with this eucalyptus flooring.
7. Up-to-Date Design Trends
There is no question that renewable materials are on the top of everyone's list of design trends in 2018. Designers find that customers and contractors are asking for more sustainable materials for new construction and remodeling contracts. With this trend, 2018 is sure to be a boom year for eucalyptus flooring. It meets the needs of sustainable materials; yet, it is also affordable and versatile. Ideal for homes with active families and busy schedules, it doesn't need special handling. Families can be themselves and feel completely comfortable in their own homes while enjoying the warmth and natural colors that hardwood flooring brings into a home.
Care and maintenance for the eucalyptus flooring are minimal. It is difficult to dent and sold in premium widths and lengths (wide planks), making for faster installation. Additionally, it is moisture-balanced to work in every U.S. environment, including rainy Midwestern states, vacation homes on the beach, and getaway mountain cabins. Lastly, it will increase the resale value of any residential home. If you want to add hardwood floors into your next commercial or residential design, you should seriously consider eucalyptus floors.
If you would like to receive a free sample of our incredible eucalyptus flooring, click on the box below, or call one of our flooring professionals at 866-710-7070, right now!
Last update of the article: 01/30/2021.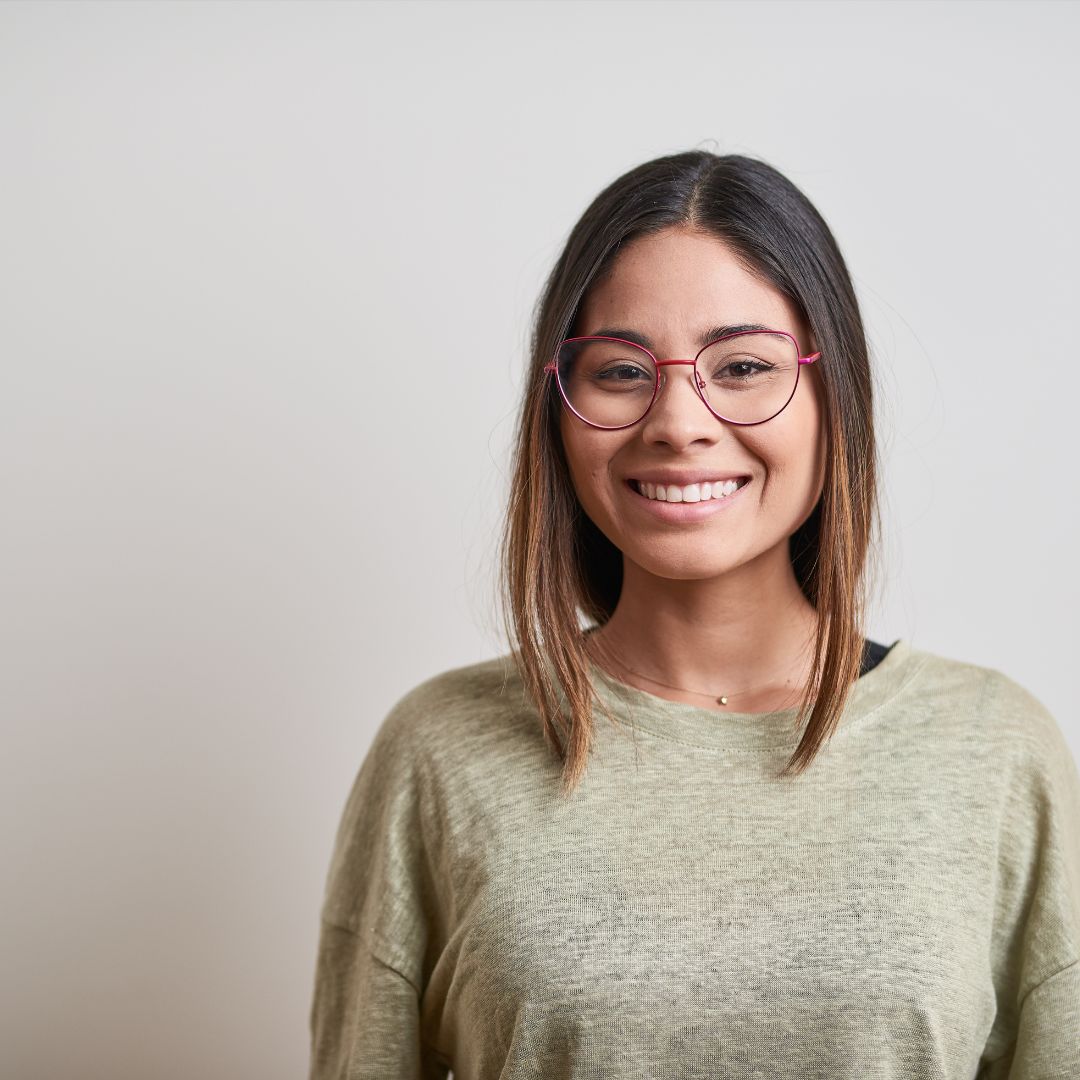 About the Author
Jen is your go-to guru for crafting a cozy, green cocoon. 🪴 Her dive into sustainable building wasn't just about saving the planet—it started as a mission to make family movie nights eco-friendly (and to ensure the popcorn was the only thing getting heated!). With a knack for breaking down the jargon, Jen turns eco-lingo into everyday language. Swing by the Green Living blog for a mix of earth-loving advice and home improvement hacks. Whether you're just dipping your toes into green waters or you've been swimming in the deep end of DIY projects, Jen's here to guide, giggle, and remind you that every eco-choice is a step towards a planet that thanks you… and maybe even sends a rainbow your way! 🌈