Green it up! If one of your resolutions for 2021 is to live a greener, more eco-friendly life and do more recycling and upcycling, here are some ways to reuse, repurpose, and recycle holiday items.  And some of them make great weekend activities with the kids or the grand-kids. Who knows, you might just start a new holiday tradition.
Finding a Good Home for Food Gifts
Were you showered with food gifts this holiday season? Sometimes the good intentions of your friends and co-workers don't exactly align with your nutritional goals or dietary restrictions. Those English muffins and scones from Wolferman's Bakery may be scrumptious but contain gut-wrenching gluten.  You can't eat it, but you don't want it to go to waste. The same goes for those gift packages of hard meats (like summer sausages and salami), cheeses, and nuts. The thoughtfulness behind the gift is as real as your food allergies.

Idea #1: Donate to Food Pantry [Upcycling]
Somewhere is a person that would love a bite of that cheese or a muffin. Get the food in their hands by donating your unopened food gifts to a local food pantry. Call in advance, not all food pantries take all items. Second Harvest and Feeding America welcome donations, large and small, of fresh and unopened food. Some pantries accept produce as well. That's good to know if you need to rehome gifted pears.
Idea #2: Compost [Recycling]
If you have an excess of opened food products, add them to your compost pile. Kitchen scraps add nitrogen (Green) to your compost pile. But remember to always add a layer of dry leaves, twigs, or other carbon (Brown) sources on top. This dry layer on top keeps the critters out of the compost and keeps the pile or bin smelling sweet. If you haven't started composting yet, it's important to understand the importance of nitrogen to carbon ratios in composting.
Turn Used Electronics into Gift Certificates or Just Do Something Good
Did you upgrade or replace your technology products this holiday season? Don't throw cell phones, tablets, laptops, or televisions. Recycle them properly and when possible, consider upcycling them by donating these items to a charity.
Idea #1: Trade for a Gift Card or Recycle at Best Buy [Recycling]
Best Buy operates one of the largest recycling operations for electronics in the US. First, check out their trade-in page to find out if you are eligible for a gift card. For certain items, Best Buy offers a gift card you can use towards the purchase of another item at their store as a trade-in. So, you may be able to turn that used iPad into ink for your printer or put it towards a new monitor. Even if the item isn't eligible for a trade-in, they will still accept your items and recycle them properly.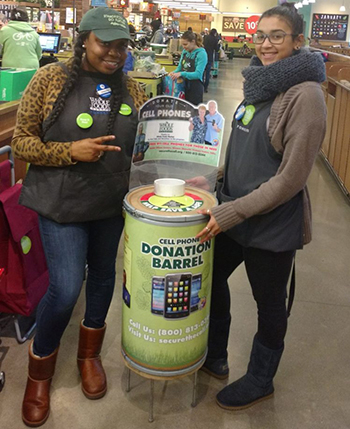 Idea #2: Donate to Charity [Upcycling]
If you are looking to turn your used electronics into acts of kindness and do a little good, upcycle them by donating to charity.
Cell phones for Soldiers collects cell phones, recycles them, and purchases prepaid phone cards for deployed soldiers.  Secure the Call started as a way to put the ability to make a 911 call in the hands of people who cannot afford a cell phone. During the COVID-19 pandemic, they have expanded their mission and now also refurbish tablets and send them to hospitals around the country. The devices are then used for video calls and chats for quarantined patients that didn't bring a device to the hospital.
Before you recycle or upcycle your electronics devices, be sure to secure your personal data. Remove all photos, contacts, email accounts, and messages. Remove all apps and data files. Then just to make sure you've got everything off, reset the device to the original factory settings. Now you can say good-bye to the device without saying goodbye to the security of your data.
Tissue and Wrapping Paper Gets a Second Life
There's no reason for tissue and wrapping paper to ever end up in the landfill. The stuff is just too useful!
That being said, you need to consider foil and glitter paper separate from other wrapping paper and tissue. Foil and glitter paper products aren't recyclable and don't compost well. Keep that in mind when buying wrapping paper next year!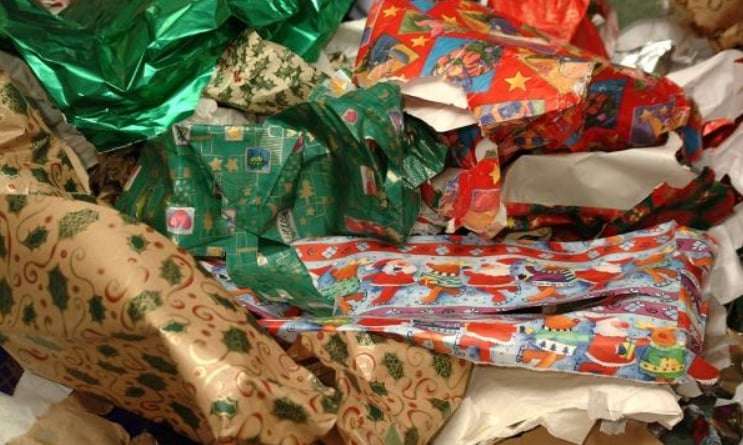 Idea #1: Use as Packing Material for Fragile Holiday Items [Reusing]
If you have glitter or foil paper, make that your first choice to recycling as padding and protection when storing fragile holiday ornaments and décor. Tissue paper works well for this too! If you have holiday serving pieces or dinnerware, wrap them in wrapping paper to protect while in storage.
Idea #2 Add to Compost Pile [Recycling]
Tear up the non-foil paper and add it as a layer of carbon (Brown) to your compost pile. If you're composting food scraps or food gifts (Green), shredded holiday wrapping paper makes the perfect top layer.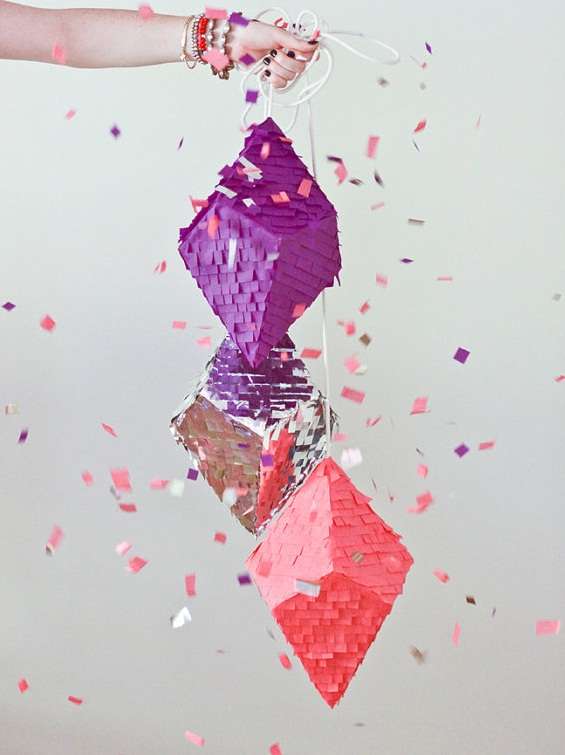 Idea #3: Make Confetti [Upcycling]
If you've got a cross-cut paper shredder, shred that stuff up and turn it into confetti. Stuff Easter eggs with confetti or pack it into a pinata for your next party. Sure, those tiny shreds are going to get everywhere, but confetti is FUN!
Idea #4: Use as Shelf Paper [Reusing]
If you are cleaning out closets, cabinets, and bookshelves, wrapping paper makes excellent shelf paper. And you've got to admit, the cute designs will have you smiling all year long. Foil wrapping paper is superbly suited for this purpose as it tends to be heavier. Don't use glitter paper unless you want to deal with the tiny bits of glitter all year long. Line trays, bathroom drawers, closet shelves, kitchen, and bathroom cabinet shelves. Anything you need to line, use leftover wrapping paper to line it.
Upcycling Christmas Cards
Christmas cards are beautiful, and you shouldn't waste that beauty on the local landfill. If you aren't crafty or aren't into reusing the cards, remove any ribbons, plastic covers, and set them in the recycling bins. You can recycle the envelopes too as long as they aren't foil lined. Foil lined envelopes will need to go in the trash. Once again, that's a factor to consider when buying next year's holiday cards.
Idea #1: Gift Tags [Upcycling]
If you've got just a bit of imagination, holiday cards make beautiful gift tags for use the next holiday season.
Evin over at The Frugal Home recommends that you start by looking at the large images that would make beautiful tags. Then you simply use a juice glass to trace a circle around the image, cut it out, punch a hole, then add a bit of ribbon or twine.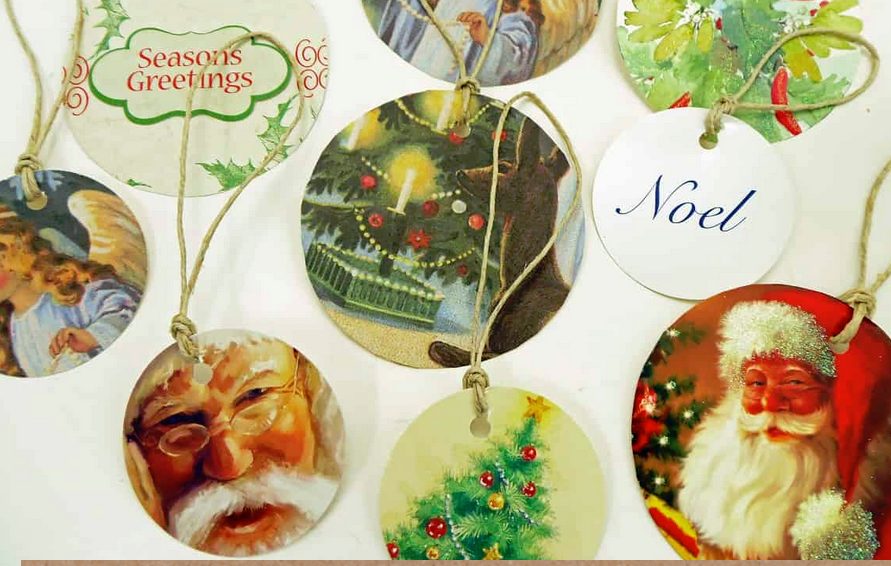 She looks inside the cards as well to see if there is any text that strikes her fancy. Texts can be round, square, or rectangular. She follows the same process: trace around the text, cut it out, punch a hole, insert twine or ribbon. Here's a little more inspiration.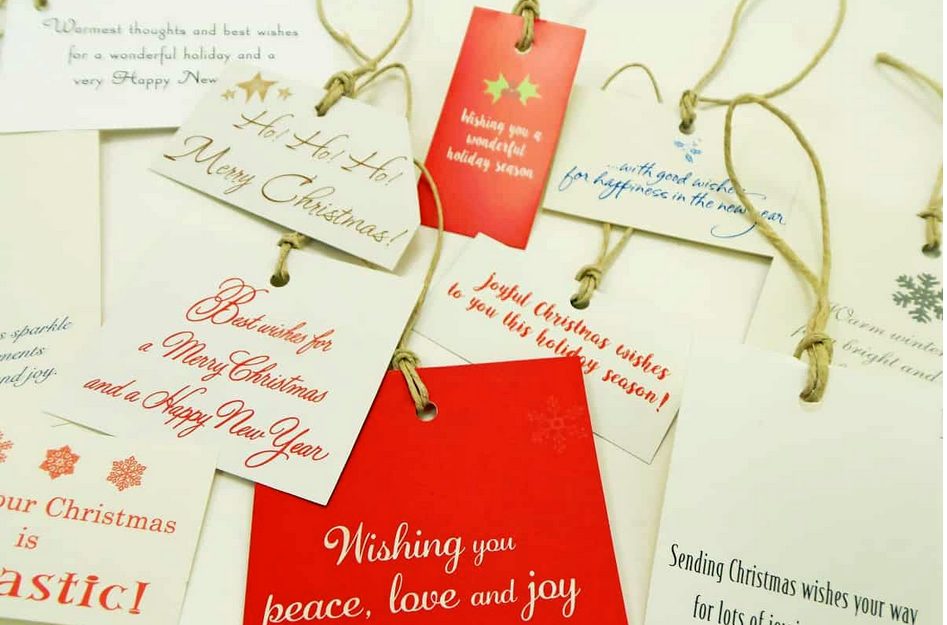 From the Frugal Home
Beautiful, right? This also makes a perfect project for those cold, wintery nights. Just gather up your cards and completed tags in a small plastic container.
Idea #2: Tree Shaped Decoration [Upcycling]
This upcycling project comes courtesy of Shutterfly. They call it a topiary, but there's no greenery! Instead, you take used holiday cards (or wrapping paper) and convert them into a lovely tree shaped item that's perfect for display or gifting. Work on it now and next holiday season, it will be ready to go.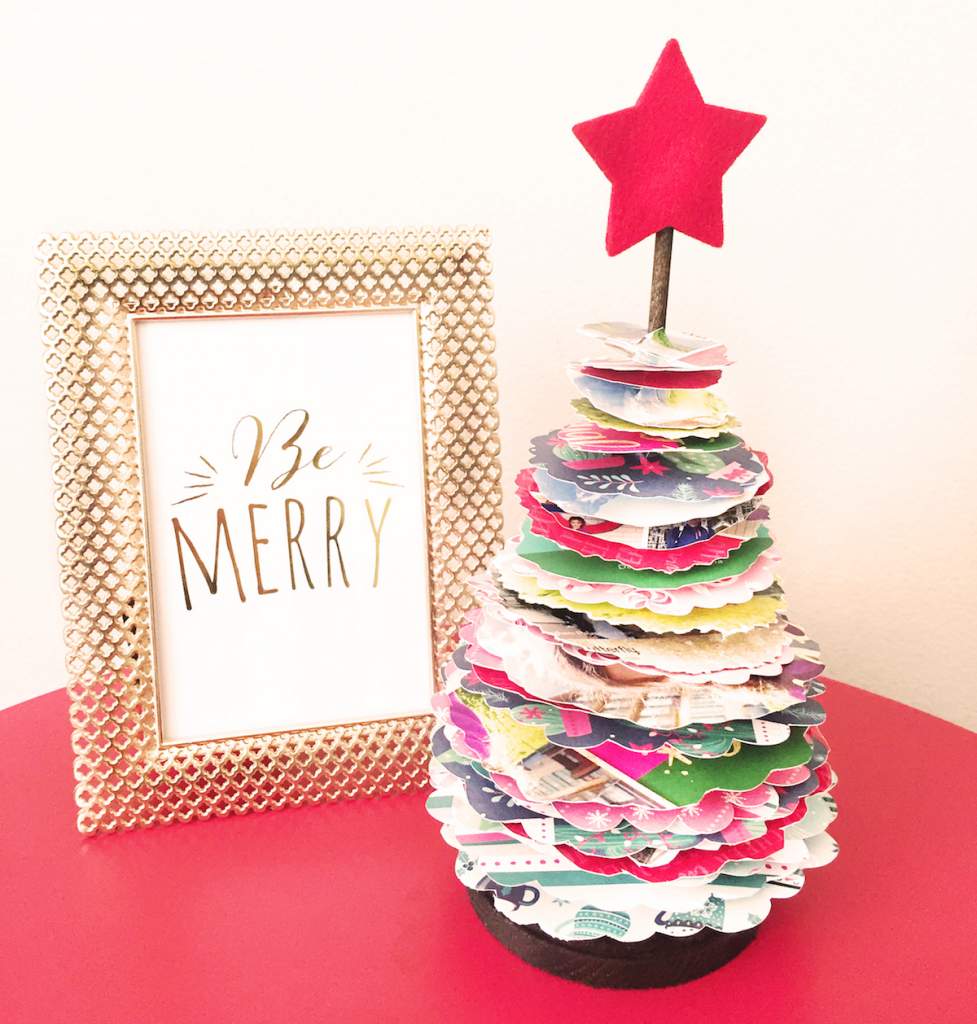 You'll need:
a base (wood or Styrofoam)
a dowel or bamboo skewer
hot glue gun
scalloped template and scissors OR Cricut Cutting machine
felt or card for tree topper
Basically, you hot glue a dowel to a wood base or run a bamboo skewer through some Styrofoam and then layer scalloped scallop-shaped pieces of greeting cards. Use large scallops for the bottom and smaller ones as you go up. Get detailed instructions about how to recycle greeting cards with an upcycled christmas card topiary . If you have a Cricut or Siloutte cutting machine, obviously this project goes much faster than cutting with scissors. But, if you're stuck inside on a cold, wet day cutting the cards by hand may be therapeutic!
Idea #3: Donate Cards [Upcycling]
The St. Jude's Ranch for Children accepts holiday greeting card donations all year long. They don't accept cards produced by Hallmark or American Greeting for copyright reasons, but will happily take your other cards.
You can also check with local churches and schools. Even in times of COVID-19, they still need art supplies for their children's programs and appreciate supplies in any form they can get them.

Fresh Holiday Decorations
Everything from pinecones, to evergreen boughs, and Christmas trees can be upcycled or recycled. Because these items are organic, they have many uses.
Idea #1: Turn Pinecones into Fire Starters [Upcycling]
If your holiday decorations include real pinecones, this is a fun and easy way to convert them into fire starters for your own use or to give as a gift to friends and family that camp. Everyone loves to sit by the fire, but getting that fire started can be tricky. That's when a fire starter comes in handy.
So gather up those pinecones, some wax or candles, a piece of jute, and a makeshift double boiler for melting the wax that's created with an empty aluminum can and a large pot.
First, create the double boiler by placing the empty can in the large pot and filling the large pot with water until it is about ½ way up the can. Put chopped pieces of wax or old candles in the can and melt. Meanwhile, wrap jute around the top of the pinecone, leaving a 3" to 4" tail. When the wax melts, carefully remove the can from the water. Holding on to the jute, dip the pinecone into the melted wax to coat the lower half of the cone with wax. Let excess wax drip into the can and then set aside to dry.
This video shows how to make the pinecone firestarters and a handy bucket for storage.
When it's time to start the fire, light the jute to light the pinecone.
Idea #2: Use Fresh Tree to provide Wildlife Sanctuary [Upcycling]
If you live in an area where most of the trees lose their leaves in winter, the touch of evergreen your used Christmas tree provides will be greatly appreciated.
Simply prop the tree against your fence or create a makeshift tree stand by nailing the trunk to two cross pieces of wood.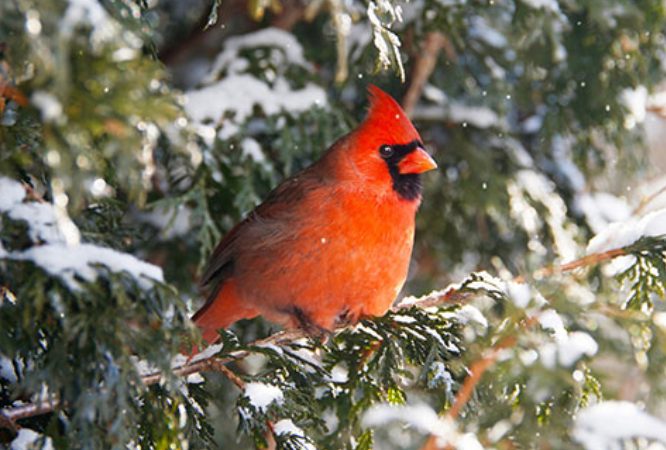 Birds will appreciate the shelter during rain, snow, or bitterly cold weather. Squirrels, rabbits, and other small animals that do not hibernate will find shelter under the lower branches. For a special treat, place your tree close to your bird feeder.
In the Spring, simply chop up the tree and add it to compost or treat it like any other yard waste.
Idea #3: Donate to Restore Sand Dunes [Donating]
If you live in a coastal state, check for programs that utilize used fresh trees to restore sand dunes. Connecticut, Texas, New Jersey, and many other coastal states have programs that collect these used fresh trees to help rebuild storm-ravaged coastal areas.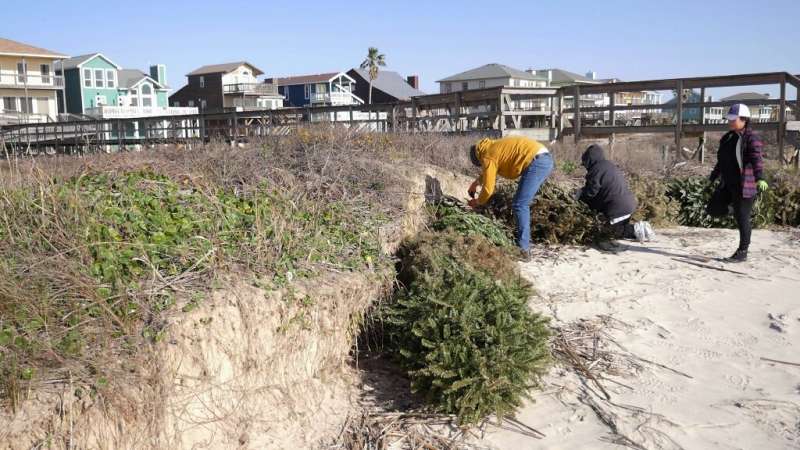 Idea #4: Protect Perennial Plants [Recycling]
Perennial plants appreciate a little shelter in the winter too. If you didn't take steps to protect the roots of perennials in the Fall, it's not too late.
Use hand clippers or pruning shears to cut branches from the trunk of the tree. Lay branches around the base of each plant to provide protection to roots from the freezing and thawing cycle. Leave to decompose and enrich the soil. You don't need to worry about the conifer branches acidifying the soil unless your soil is rich in calcium.
Idea #5: Compost at Home or Donate to Composting Program [Donating]
Of course, you can chop, chip, and snip your tree into smaller pieces and add to the compost pile. If the tree is large, you'll want to add the pieces in batches and layer them with dried material. A fresh tree is considered Green, but if you allow it to dry then it is considered Brown.
Sound too confusing? Many local parks now run programs where they recycle your fresh tree into mulch to be used throughout the park all year long. Look online for "Chip a Tree" or "Christmas Trees to Mulch Parks" and through the magic of geolocation, Google will show you the programs in your area.
Upcycling Holiday Lights into Party Lights
Hate dealing with those tangles of lights? Consider upcycling them into party lights you can use for any festive occasion throughout the year. From birthday parties to your 4th of July celebrations, these party lights will brighten up any night.
You just need strings of lights, ping pong balls, and a little patience. This idea is courtesy of an engineering student at Penn State who created an Instructable for the project. He recommends you buy your ping pong balls in bulk on Amazon to create the lights with the least amount of money.
Following his instructions, you turn this: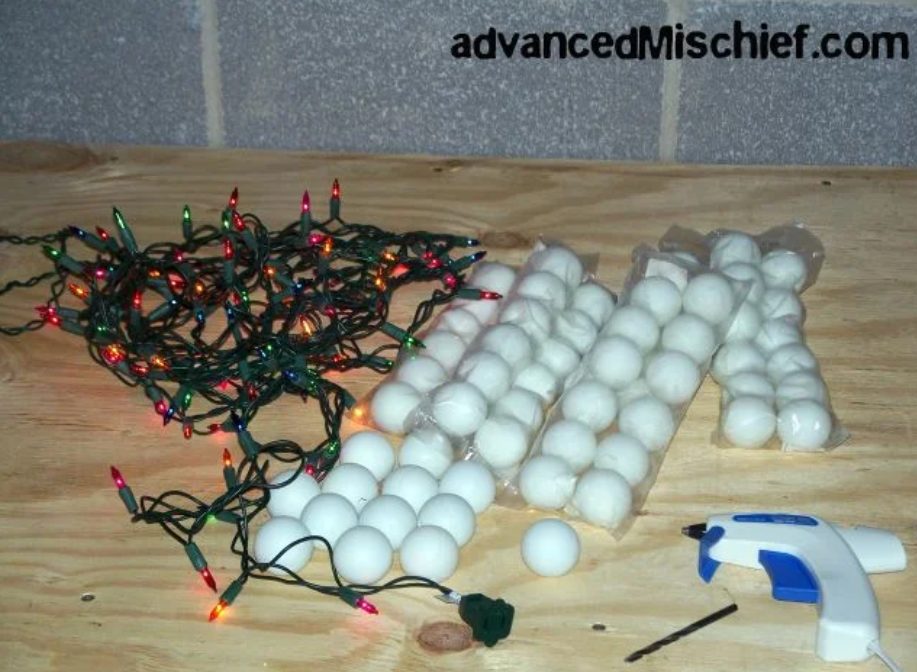 Into this:

Reusing Bags and Bows
It may be too late for this year, but for every birthday, anniversary, or gift-giving occasion in the coming year, make a practice to save any gift bag or a bow in good condition.
They can be used again. Purchase a large see-through tub to store these items. Smooth out any wrinkles in the bags and remove the tape from the bows.
Create a new tradition within a circle of friends. Use the same gift bag for gift-giving all year long. The birthday gift recipient keeps the bag and then uses it for the next birthday recipient's gift. The goal is to see how many years you can keep the bag going.

Inspired to Upcycle + Recycle This Year?
We hope these ideas help you be a little bit more eco-friendly this year, and perhaps even save a little green as well. Have fun, and don't forget to share these ideas with friends and family. They may be looking for green in 2021, too.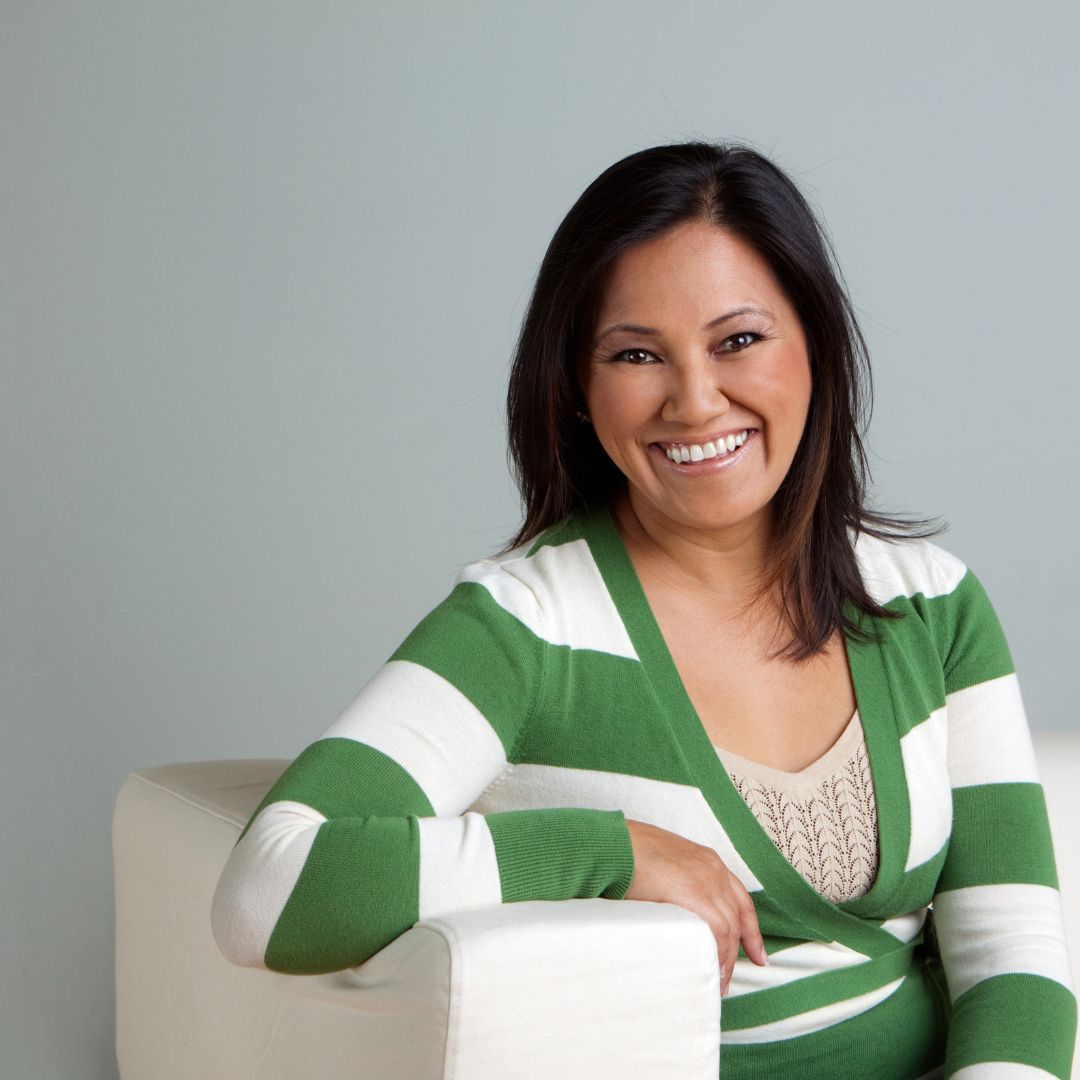 About the Author
Cheryl is our go-to guru for all things sustainable living. She's on a mission to make your family and our planet thrive! With a heart as big as her passion for sustainability, Cheryl brings you the freshest insights on eco-friendly building products and energy efficiency. 🌱💡
And hey, did you hear about the eco-friendly lightbulb that went to therapy? It finally found its inner "enlightenment"! 😄 Join Cheryl on this green journey, where she'll tackle your concerns with a smile and a sprinkle of eco-humor!