Do you worry that having a pet-friendly home means you can't use beautiful, comfortable, easy to clean flooring? If you're like most homeowners with dogs or cats, you keep your pets in mind when choosing products for your home. After all, you want them to be safe and comfortable as the rest of the family. Nevertheless, it can be equally to stressful to consider how your pets might impact those products too: is dog or cat urine going to ruin my new floor? Accidents happen, but you don't have to fear! Bamboo flooring is built for easy clean up, and it is strong and resistant enough to endure pet messes in the short-term. No pet owner wants to come home from work to a puddle of pee, but you can rest assured knowing that a few hours of exposure won't ruin the finish.
Our article examines why some people opt for synthetic materials that are marketed as more durable, while the smart money understands that those materials can often come with another whole set of issues. Bamboo is one of the best all-around floors for pets, including big dogs and cats with claws because of its resistance to permanent dents/grooves caused by pet claws – not to mention it's relatively spill-resistant up to 24 hours.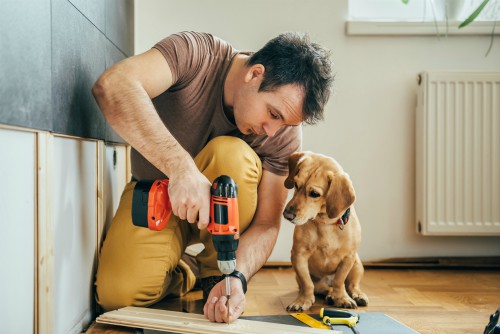 To show you why bamboo flooring is the best flooring for pets and dogs, we answer the questions we hear most often from customers — before they buy and fall in love with their bamboo floors.
Do Pets Scratch Bamboo Flooring?
Strand woven bamboo flooring is one of the strongest materials available. It outperforms just about every other floor on the market on the Janka Hardness Scale (by far), comes in premium lengths and widths, and costs less per square foot than traditional hardwoods.
Better still, bamboo flooring doesn't scratch the way hardwood can. We're not saying it's as durable as Kevlar, the key material in bulletproof vests. If you use enough force and have a sharp enough object, you'll scratch the surface of your bamboo floor just like any other.
But unless your pet is a Tyrannosaurus, pet claws don't leave permanent dents and marks in strand woven bamboo, like they do in traditional hardwood floors, laminate, and vinyl. That's what makes it the
most popular choice among dog owners
.
"…it withstands all normal abuse from walking and living. For example, it holds up to my rolling desk chair and to the eight dog paws bearing a total of 100 lbs without scratching… which the red oak floors in my old house could not do." ~ Paul O., Cincinnati
Does Pet Urine Stain Bamboo Floors?
No matter what kind of flooring you have, it's a good idea to clean up pet urine as quickly as possible.  Pet urine can even stain concrete if it's not cleaned up soon enough.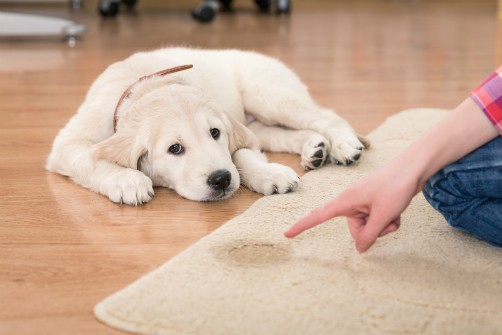 But with strand woven bamboo flooring, accidents don't have to become disasters. High-quality bamboo flooring brands use an aluminum oxide coating that makes them relatively resistant to pet urine than traditional hardwoods. That being said, urine puddles left on any floor for too long (including bamboo and eucalyptus) can result in irreparable damage if left to sit for more than 20 hours.
"….[my] Bamboo floor has held up well for 5 years and three dogs." ~ John T., Suwanee

"Love love love my bamboo floors. Kids, dogs, life, and they still look beautiful. 4 years after we put them in still getting compliments.." ~ Margaret S.

"I've had my floors down for 2 years now. I have 2 dogs and a 2-year-old and my floors look brand new. I have this floor on my entire 1st level, including the kitchen." ~ Daniel F.

Check out more bamboo flooring reviews from pet owners!
Is Bamboo Flooring Non-Toxic and Safe for Pets?
During your research into bamboo flooring, you might come across articles saying that it's toxic, especially for pets who spend most of their time close to the floor. Most often, this alleged toxicity is attributed to formaldehyde.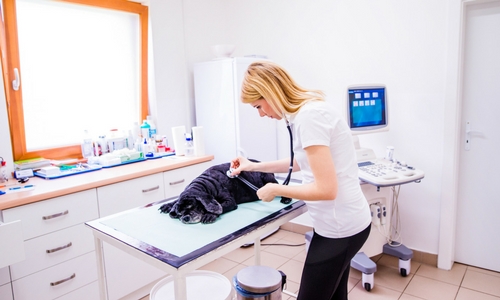 Here's the truth: Bamboo flooring is not toxic.
There are trace amounts of formaldehyde in house paints, lacquers and finishes, permanent-press fabrics, particleboard, cosmetics, medications, dishwashing soap, and laundry softeners flooring. The safest bamboo flooring brands test their products annually, have Floorscore certification, and meet the CARB Phase 2 indoor air standard.
But toxicity isn't determined by the presence of a substance. The amount is what matters.
"Having a chemistry background… I started thinking maybe I should look for something out of a natural material… I found Ambient. Their products are certified to meet formaldehyde standards of far more stringent nations than the USA. That is important to me because this flooring is going to be in my family room, which gets a lot of suns. Also, my children, I, and my guests will be spending a lot of time in this room." ~
Does Bamboo Floor Harm Pandas? Animal Lovers Want to Know
Who doesn't love pandas? They're cuddly, laid-back, and can sometimes be goofballs. (Have you seen a panda play in the snow?)
It's important to know that
pandas don't eat the kind of bamboo used to produce flooring
. They munch on smaller, more savory varieties.
So, yes, you can have bamboo flooring and not harm pandas.
Bamboo Flooring Compared to Other Materials: The Pet Perspective
When it comes time to put down floors in your new home or replace existing ones, there's no shortage of options. Wood, tile, vinyl, concrete, and carpet are among the choices.
But how do the most common choices compare to bamboo for households with dogs and other pets?
Hardwood vs. Bamboo
People with pets often think about installing hard maple (not to be confused with soft maple) or Brazilian Walnut (also known as Ipe) in their home.
Both of these hardwoods are so durable; they're often used in punishing environments. For example, hard maple is the surface of choice for basketball courts. Ipe is used to build decks and boardwalks, even in four-season and damp climates.
It stands to reason that they would hold up in homes with pets. Yet, bamboo flooring is an increasingly popular choice among people with pets, especially dogs, for a couple of reasons.
First, it's way harder than hard maple or Ipe. The way strand woven bamboo flooring is produced, plus the way it's finished and sealed, makes it more resistant to scratches and urine.
Second, high-quality bamboo flooring usually costs less per square foot than hardwoods of comparable quality.
Third, strand bamboo won't get permanent dents from pet claws like other floors.
Pine and Other Softwoods vs. Bamboo
Have you seen gorgeous shots of old restored homes, barns, or carriage houses with wide pine floorboards? Pine creates a warm, simple, rustic look that can be quite stunning.
But if you have dogs, pass on the pine and other softwoods like Douglas fir and spruce. Floors made from these woods will be scratched and dented from pet claws long before bamboo floors would.
Tile vs. Bamboo
Ceramic tile floors are obviously very hard. They won't scratch and can easily be cleaned.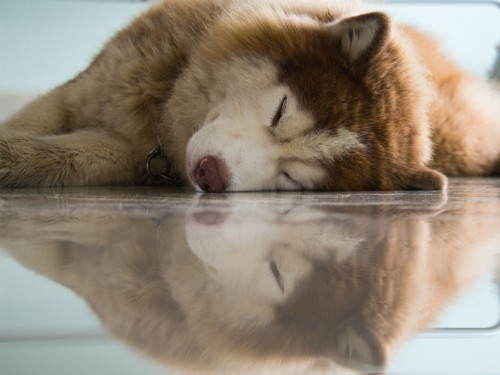 The drawbacks? They don't retain the warmth of a room, and they reflect sound, which can create a cavernous or noisy atmosphere.
Bamboo flooring is also very hard, isn't easily scratched, and is easy to clean. Plus, it's warm underfoot (and under paw), absorbs sound, and creates a calm, beautiful atmosphere.
For an extensive comparison between bamboo flooring and tile flooring, check out our blog Bamboo Flooring VS Wood-Look Ceramic Tile | Side-By-Side Comparison.
Choosing the Right Bamboo Flooring for You and Your Pets
There are hundreds of bamboo flooring products to choose from. There are tongue and groove, floating, and engineered options. Bamboo flooring can be stained to be any color, and the surfaces can be natural, hand-scraped, wire-brushed, or sawed.
We've been selling high-quality bamboo flooring direct to consumers – many of whom have dogs and other pets – since 2005. Our team of experts is always ready to help you choose the right product for your home and lifestyle.
There's no reason for pet owners to forgo beauty, comfort, and affordability to have floors that Fido and Fluffy can't ruin.
If you want the best flooring for your pets and your family, contact Ambient Bamboo Floors today. We can send free samples to most locations and offer free shipping on most orders in the contiguous U.S. states.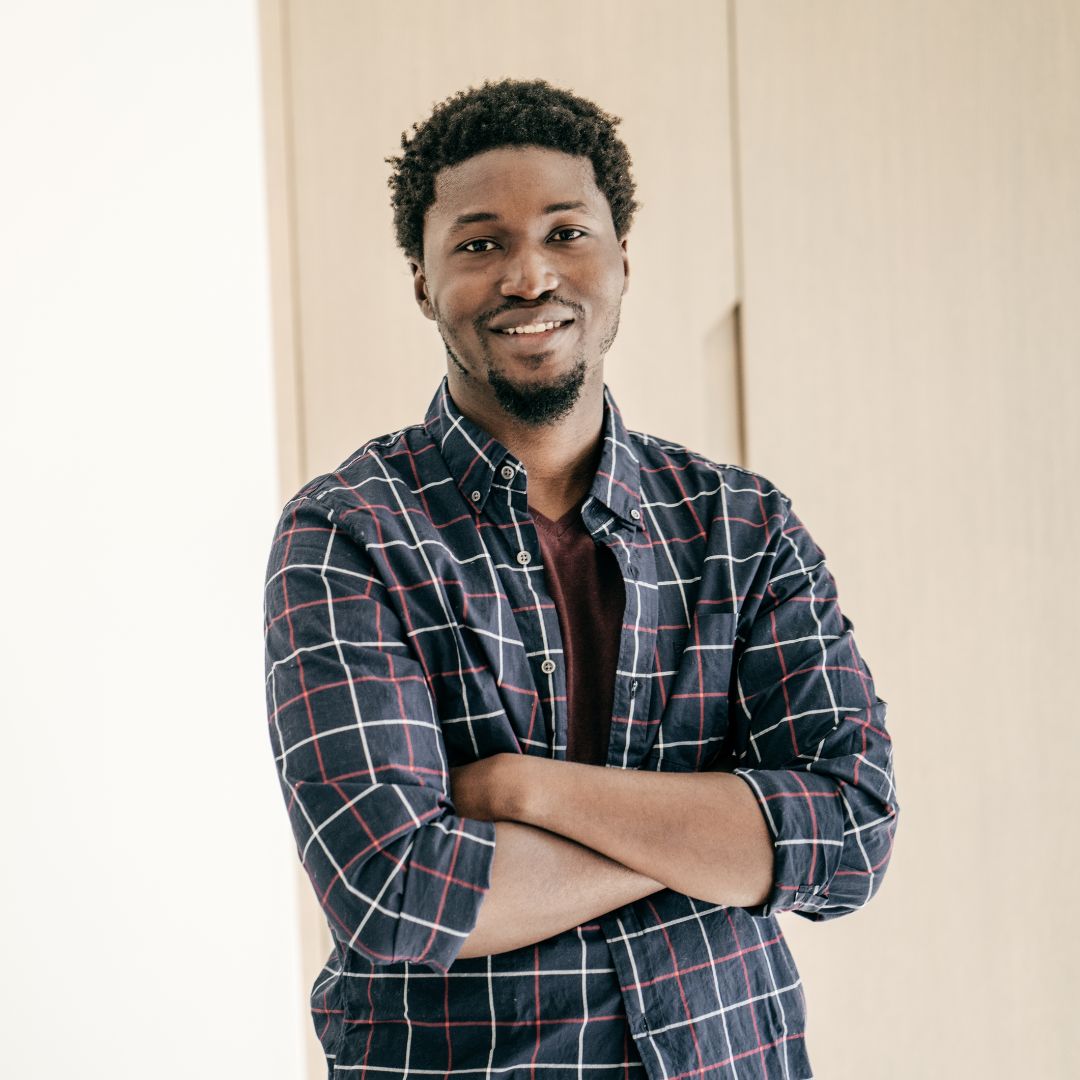 About the Author
James is your friendly neighborhood content writer here at the Green Living Blog. With a passion for all things sustainable, he's your go-to guru for everything eco-friendly. Armed with a treasure trove of wisdom about sustainable living, recycling, and environmentally conscious practices, James is on a mission. He's here to make sure you not only protect your family but also keep Mother Earth smiling. 😊🌎 When he's not busy sharing eco-friendly insights, James can often be found teaching his cat that compost bins make the purr-fect hideaway. 🐱♻️ Join James on his quest to uncover the secrets of defeating wasteful habits while leaving the lightest footprint on our precious planet's ecosystem.