Trying to pick the perfect hardwood flooring? Even if you've decided on the easy-care, long-lasting life, and eco-friendliness of bamboo hardwood flooring, you still need to pick a color and surface style. When bamboo flooring first arrived on the scene in the US in the 1990's, the only color the flooring was being sold in was it's natural hue – a blonde wood color.
Bamboo flooring today offers as many colors and surface styles as any other form of hardwood flooring. With so many options, it can be hard to choose. Use this guide to understand the different effects of light versus dark hardwood flooring to help you through the decision-making process.

Dust and Dirt
How do you know when to clean your floors? Do you have a regular cleaning schedule you stick by, or do you wait until you start seeing the dust and dirt accumulating? The fact is, your floors are going to get dusty, and the color of those floors may either hide or highlight things like:
Dust bunnies
Footprints
Pet hair
Scratches
Dents
Stains
Unless you plan on cleaning your floors all day, every day, you're going to have some detritus from daily living on their surface.
Light-Colored Floors:
The lighter the floor, the better it is at hiding household dust. That's because most dust is light-colored by nature. Those light-colored dust bunnies blend into the flooring and it becomes less visible. Unless you have a dark-furred pet, light-colored flooring hides pet fur better as well. Unless it's a tumbling tumbleweed of pet fur, it won't be highly visible.
When it comes to those small scratches and scuffs, light flooring is more forgiving as well. The wood underneath the stain is light-colored, so it hides nicks and gouges better. But fail to install your floors properly and cupping and gaps will be very much on display.
Dark-Colored Floors: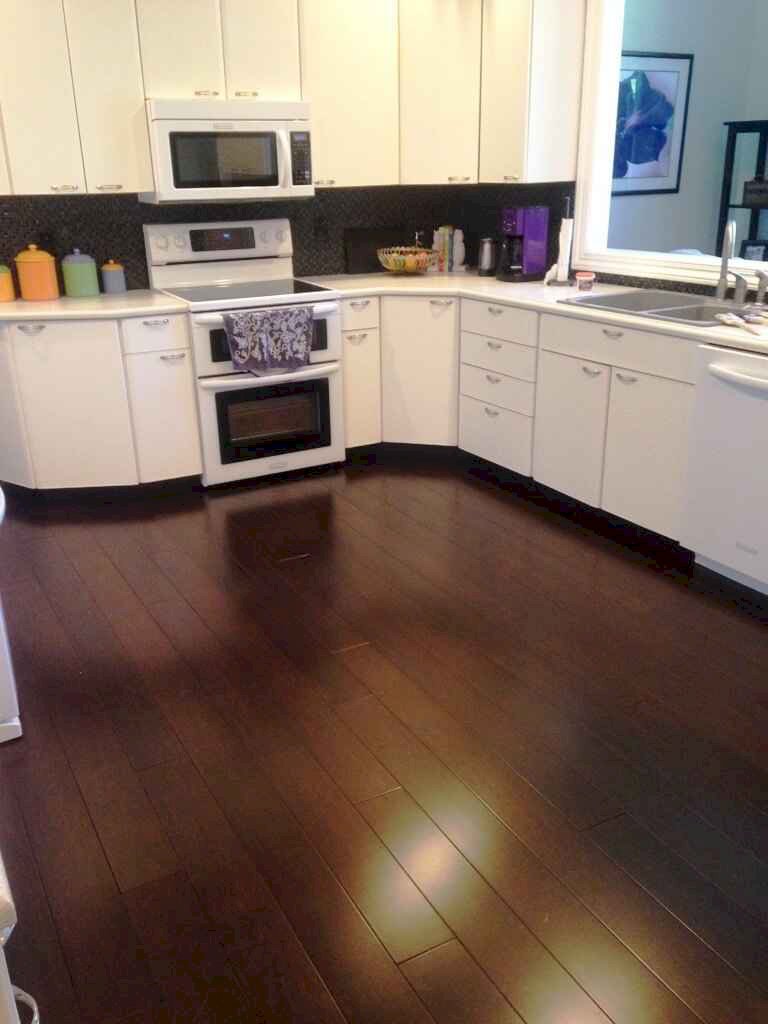 Unless your household dust is in the form of coal dust or soot, those dark floors are going to provide a contrasting backdrop to your dust. Yes, your dust will be on display in all its glory if you don't sweep your dark floors regularly. And unless you have a dark black or brown pet, it will also showcase your collection of pet fur as well.
For most dark-colored bamboo floors, the stain only penetrates the top layer, meaning there is often bamboo that is a more natural/blonde color underneath the surface. This means that deeper scratches, nicks, and gouges may expose the light wood underneath, making them more visible.
On the other hand, dark flooring is more forgiving to installation errors. Gaps and cupping may be more difficult to notice, but it's best to ensure you prevent these flooring issues beforehand. You can do so easily by following your bamboo flooring manufacturer's installation instructions.
Effect on Room Size
Another consideration that factors into the floor darkness or lightness decision is the size and scale of the room the flooring will be installed in. Is this a small cozy den or an open-concept living and dining area? How high are the ceilings? These factors will help you determine the scale of the room.
Light-Colored Floors:
If you have a small room, or even a medium-sized room with low ceilings, light flooring will open up the room and make it look more spacious.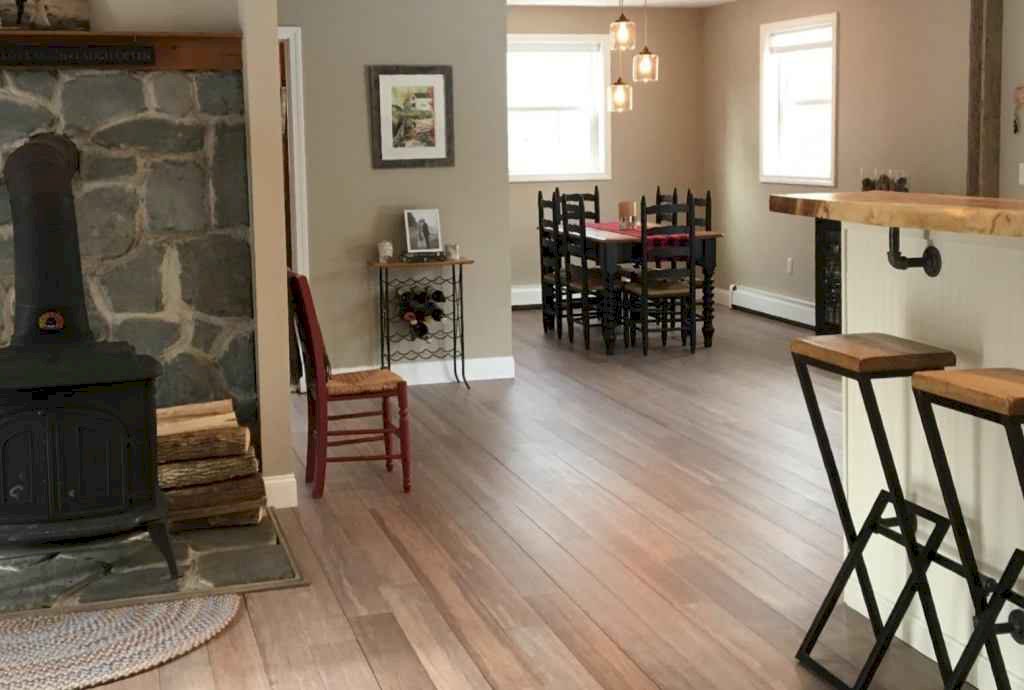 Want the room to look even larger? Use light-colored wood flooring and install the planks on a diagonal or parallel to the longest wall. The wood floor pattern you pick is almost as important as color when it comes to making a small space look big.
Light floors in a bedroom, small kitchen, or a living room with a low ceiling provide a feeling of spaciousness. Pair your light flooring with light-colored walls to increase this effect.

Dark-Colored Floors:
Sometimes an open concept area feels a bit more like an empty stadium and less like a large living area. This is especially true when the large space is combined with high ceilings. Dark floors turn cavernous rooms into cozy living spaces.  Dark flooring gives a room a sense of warmth and intimacy.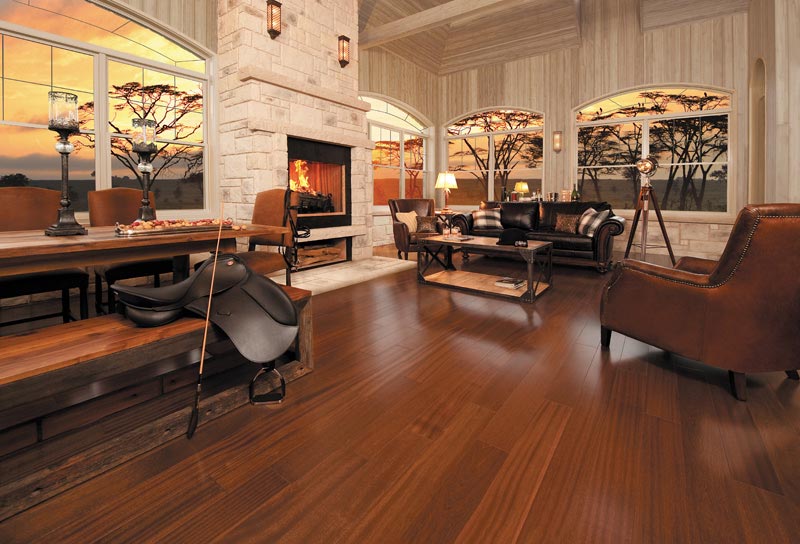 Don't install dark flooring in a small man cave unless you want the space to resemble an actual cave. Just as dark slacks make everyone look slimmer, dark flooring makes every room appear smaller too.
Use light-colored walls to offset dark floors to give a room balance.
Interior Design Aesthetic
What is your decorating style? Are you the mid-century modern type or do you prefer Scandinavian-style decor? Love the simplicity of Shaker or the ornateness of Queen Anne? The style of your house and your own personal decorating style should influence your choice of floor color. Not sure of your style? Refer back to our Shopper's Guide for an explanation of all major decorating styles!
Light-Colored Floors:
Designers don't often recommend using light flooring with light kitchen or bathroom cabinets. This overwhelmingly light style won't help you achieve the simple look you're imagining, and you'll have a monochromatic mess on your hands.
Contemporary and modern styles both look great with light-colored flooring. Because industrial, mid-Century Modern, and Scandinavian styles all use neutral palettes, light-colored floors are a perfect pick.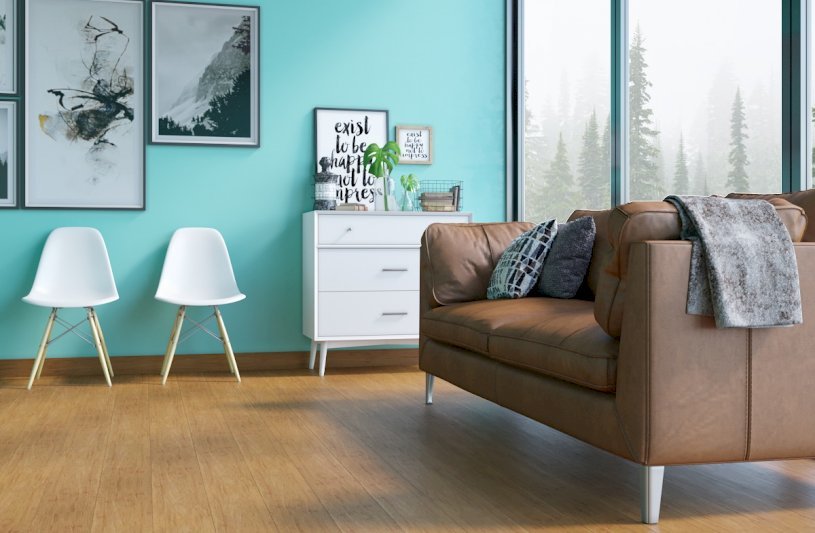 Coastal styles from East to West look great with beachy, breezy light and natural bamboo hardwood flooring.
Dark
-Colored Floors:
If your tastes tend to more traditional styles such as American Colonial, Revolutionary, or even French Country, opt for a darker wood flooring.
Asian styles and Indian styles, including those with British Colonial influences, are stunning with dark wood floors. For all of its use in traditional styling, dark wood flooring can provide a stunning contrast to white cabinetry and built-ins in a contemporary design.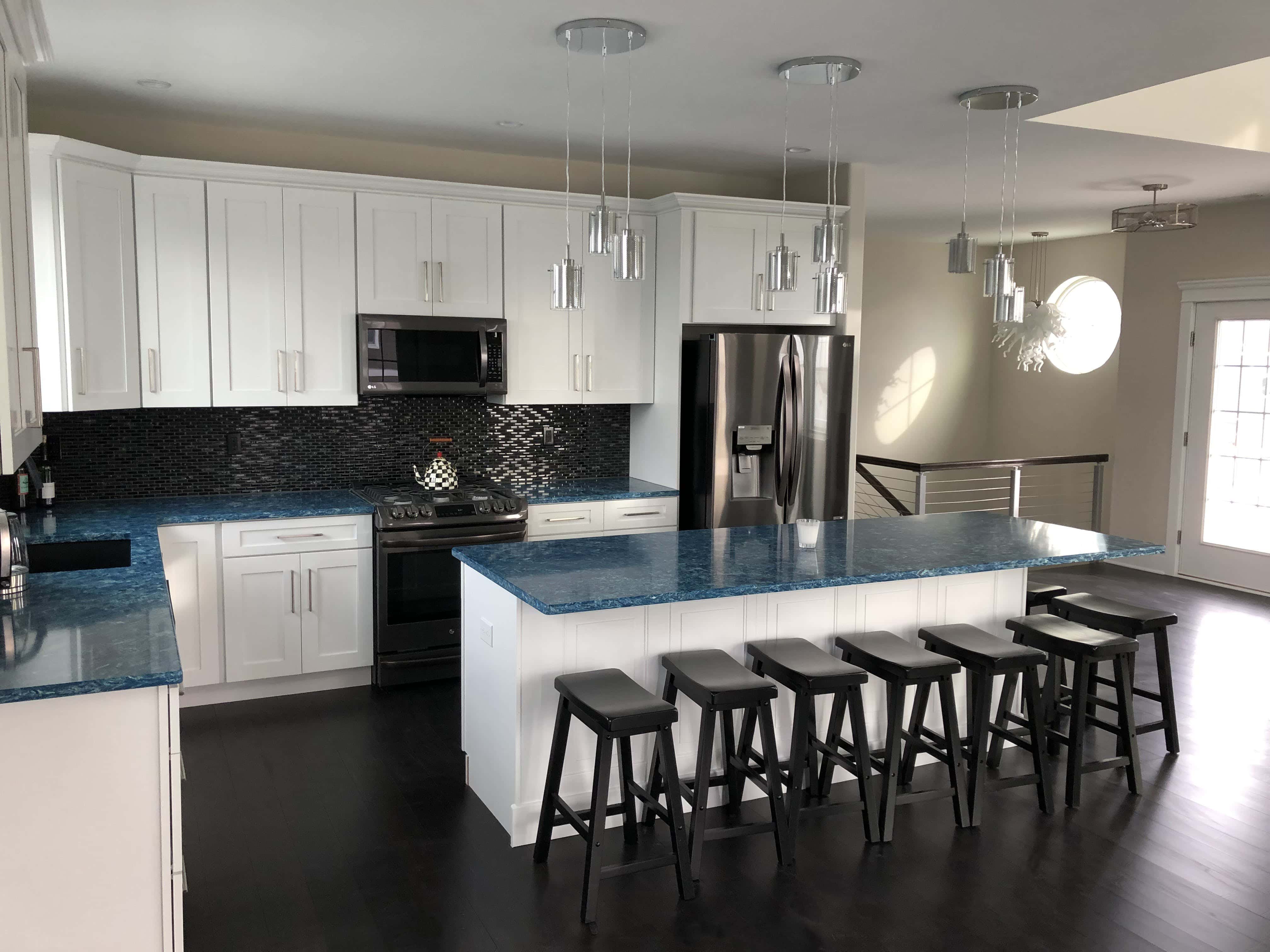 Speaking of cabinets, dark flooring works and plays well with a wider variety of cabinet colors than light color cabinetry. Just make sure that your wood furniture and your wood floors aren't stained the same color. Otherwise, you're back to the monochromatic mess where the eye can't tell where one spot ends and another begins.
Fading from Sunlight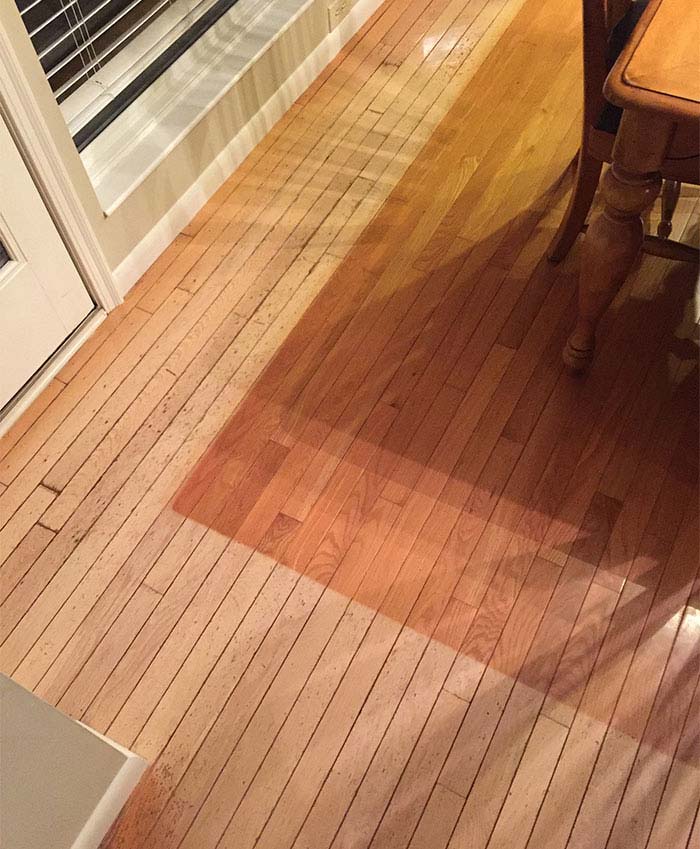 Another consideration is the amount of light in the room and the sources of light in the room. There is a difference between natural and artificial lighting, and the distinction isn't lost on bamboo and hardwood flooring. Direct/constant sunlight can fade almost any product in your home, including furniture, carpets, paint, electronics, plastics, and more.
If you have strong natural light pouring into a room throughout most of the day, both light and dark floors can fade relatively quickly. Pay particular attention to the brand of flooring you purchase. You want light flooring that is treated to prevent damage from ultraviolet light. shop for flooring that is treated to resist damage from ultraviolet light. For example, the Ambient AccuSeal Ultra® Bamboo flooring treatment utilizes UV-cured materials for added layers of protection. The result is a stable product that can stand up to what most typical home flooring endures.
As an additional measure, it's good to use window coverings to reduce the amount of ultraviolet light coming into the room. Moving rugs and furniture around the room periodically can also help keep you from experiencing fading like that pictured here.
PROs and CONs of Light & Dark Flooring
Confused as all get out? Let's boil down the pros and cons of light flooring.
To summarize, here is what we've covered so far:
PROS (Light):
Hides dust, footprints, stains, and most pet fur.
Can make a room look larger and more spacious.
Coordinates with many decorating styles.
CONs (Light):
Doesn't go well with all cabinetry colors.
Reflects ultraviolet light, making rooms appear brighter.

Okay, so you know about light flooring. Now let's recap what we covered when it comes to dark flooring. Here are the pros and cons:
PROs (Dark):
Provides a chic and sophisticated look that complements many styles of décor.
Can more easily hide installation errors like gaps between planks.
Doesn't absorb ultraviolet light so it doesn't fade like light floors.
Matches most cabinetry stains and styles.
CONs (Dark):
Shows dust, footprints, and light-colored pet fur.
Can make rooms look smaller.

What About the Sheen?
Not Martin or Charlie! We're talking about the flooring finish. In addition to picking light or dark-colored flooring, you've got to decide on which finish you want. Sheen refers to the luster of the finish. With modern flooring, you can pick from either high-gloss or satin/matte/flat – the latter goes by multiple names. The same color flooring will look different with a different sheen.
High-Gloss

High-gloss floors are bright and shiny. But even light-colored high-gloss floors show dust, footprints, and pet fur of all colors. That's because their brilliant polish is a foil for everything on the floor that isn't so shiny. If you have an active family and pets, you probably want to skip the high-gloss flooring finishes and look at the alternatives.
Glossy floors aren't very forgiving when it comes to scratches, either. Even if the nick or scratch isn't deep, a scratch to the surface mars the gloss, and everybody sees it – even if they aren't looking.
Satin/Matte/Flat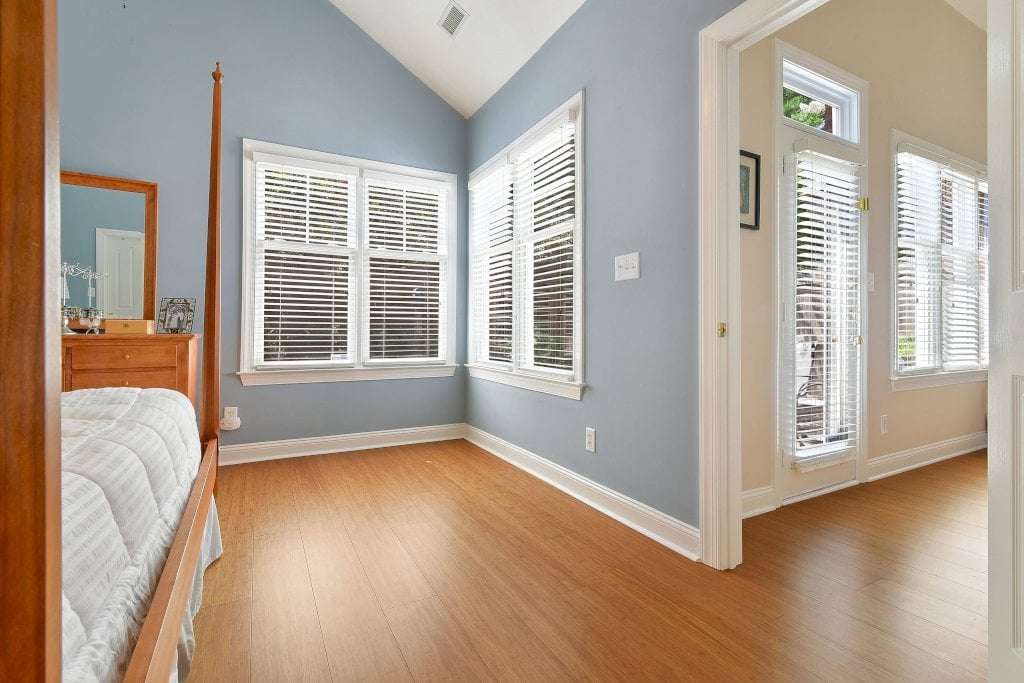 A stain or matte-finished hardwood floor is much more forgiving to daily living. The dust, footprints, and pet fur that show up so prominently on high glass floors are less noticeable. Because this debris isn't glossy, it doesn't contrast with the flat finish.
You still need to clean satin and matte finish floors regularly, but unlike high-gloss floors, you won't be doing it on a daily (or even hourly) basis.
Shallow nicks and scratches are still visible with a satin or matte finish, but they aren't as glaringly obvious as on a high gloss floor.
Surface Styles: Antiqued, Handscraped, & Distressed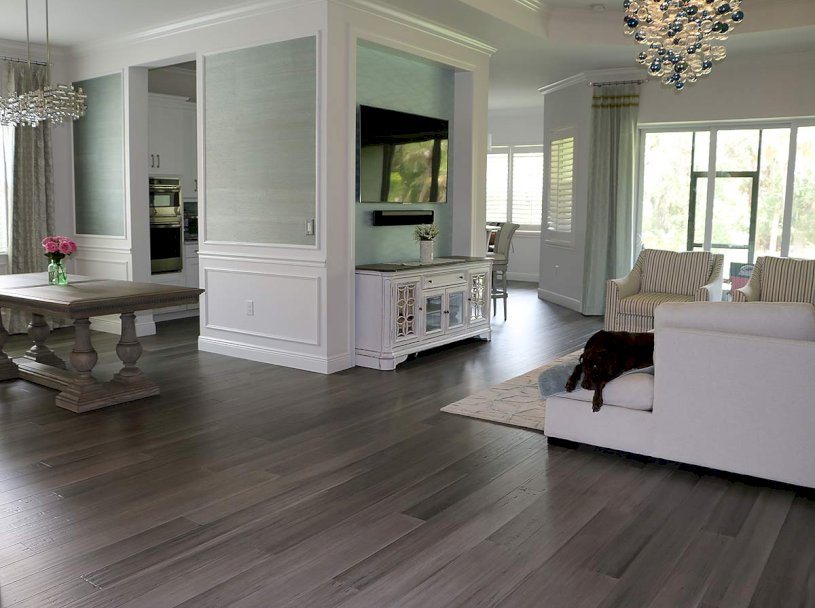 When it comes to hiding scrapes, dents, nicks, and scuffs nothing beats an antiqued or distressed finish. It's supposed to look old and slightly weathered by design, which enables a beautiful rustic charm! Seriously, if you're concerned about the damage to floors in a high-traffic area, the casual look of antique, distressed, or handscraped hardwood flooring is just what you need.
Distressing or handscraping makes the wood flooring look lightly and attractively worn. It emulates reclaimed wood and looks like it has a story to tell. Dark-colored distressed or handscraped flooring still shows dust, but it will camouflage those little scratches and scuffs. Light-colored handscraped or distressed flooring is the most forgiving of all, hiding most of your scuffs and dust.
What about Gray Flooring?
Wait a minute! Is gray flooring dark or light? And what about the mix of beige and gray called greige?
Gray flooring is now available in a stunning array of shades. These range from the lightest gray of Whitman Oak to the dark gray shades of Katella Ash. Gray floors literally strike a happy medium between light floors and dark floors. They hide dust as well as minimizing the appearance of scuffs and scratches. If you select a very light gray, it will have the properties of light-colored flooring. Go with a really dark gray, and it has the properties of dark flooring. Use a medium, neutral gray and get the best of both worlds!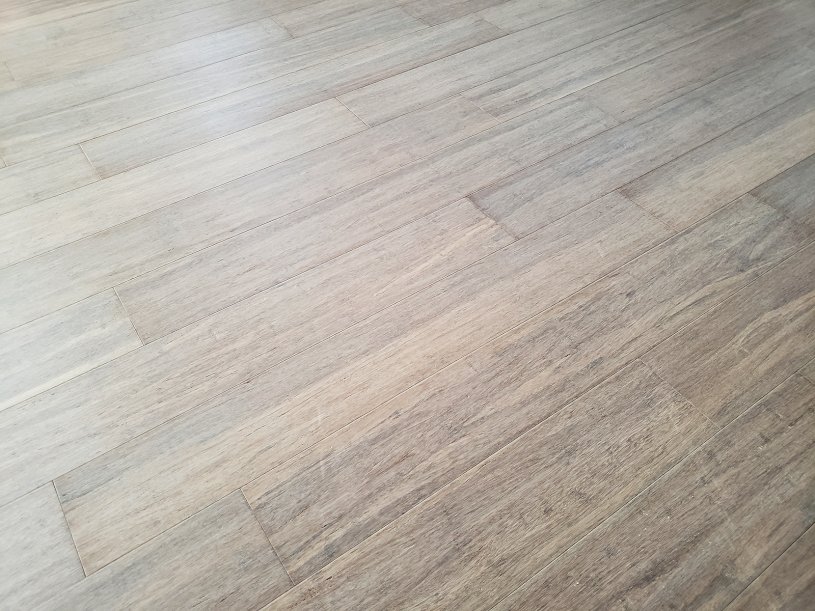 Samples Simplify the Decision
The best way to decide if a light or dark-colored floor is right for you is to sample the flooring before you make an investment. Having physical samples of the floors can allow you to see how lighting (fluorescent, artificial, or natural sunlight), dust, and other factors affect them. You'll also get a feel for how the color looks with your furniture, cabinets, and wall colors.
How do you do this?
You ask for samples!

Whether you shop online or in-person, your floor seller should be glad to offer free samples.
For example, Ambient sends up to 5 free samples, and additional samples are just $1.
So sample both light and dark flooring! And check out a little gray or greige while you are at it.
It's the sure way to decide if light or dark flooring is right for you and your rooms.
Last Updated: 10/19/2021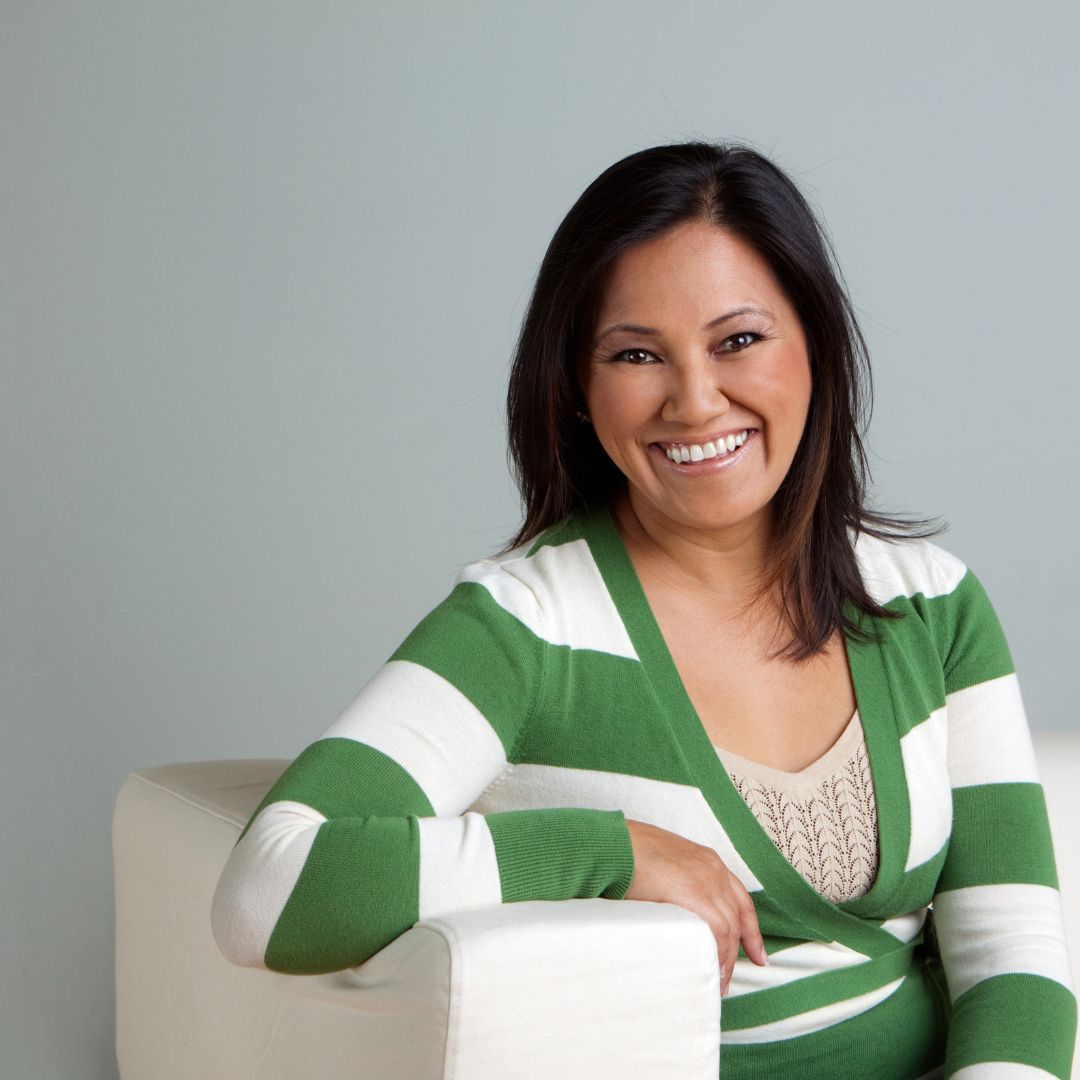 About the Author
Cheryl is our go-to guru for all things sustainable living. She's on a mission to make your family and our planet thrive! With a heart as big as her passion for sustainability, Cheryl brings you the freshest insights on eco-friendly building products and energy efficiency. 🌱💡
And hey, did you hear about the eco-friendly lightbulb that went to therapy? It finally found its inner "enlightenment"! 😄 Join Cheryl on this green journey, where she'll tackle your concerns with a smile and a sprinkle of eco-humor!