Remodeling a bathroom with limited space can become a complex process that requires paying special attention to measurements and spatial perception. When looking for small bathroom flooring ideas, remember that the color and texture of the flooring can impact your choice and create the illusion of a bigger space. 
In addition, you'll want to look for flooring that stands up to moisture and humidity. The following suggestions will help you explore a wide range of options that are suitable for any bathroom environment.
Eucalyptus Flooring Tops the List for Small Bathroom Flooring Ideas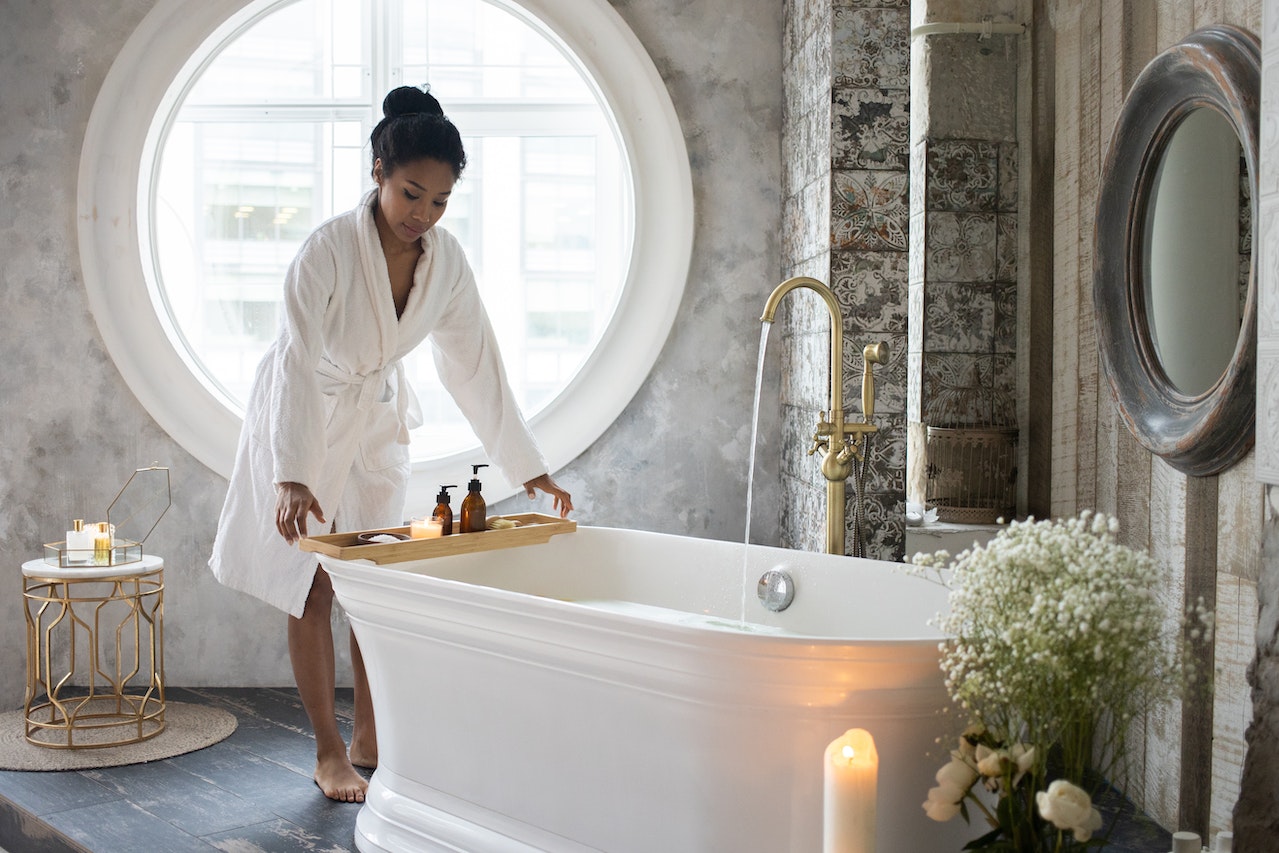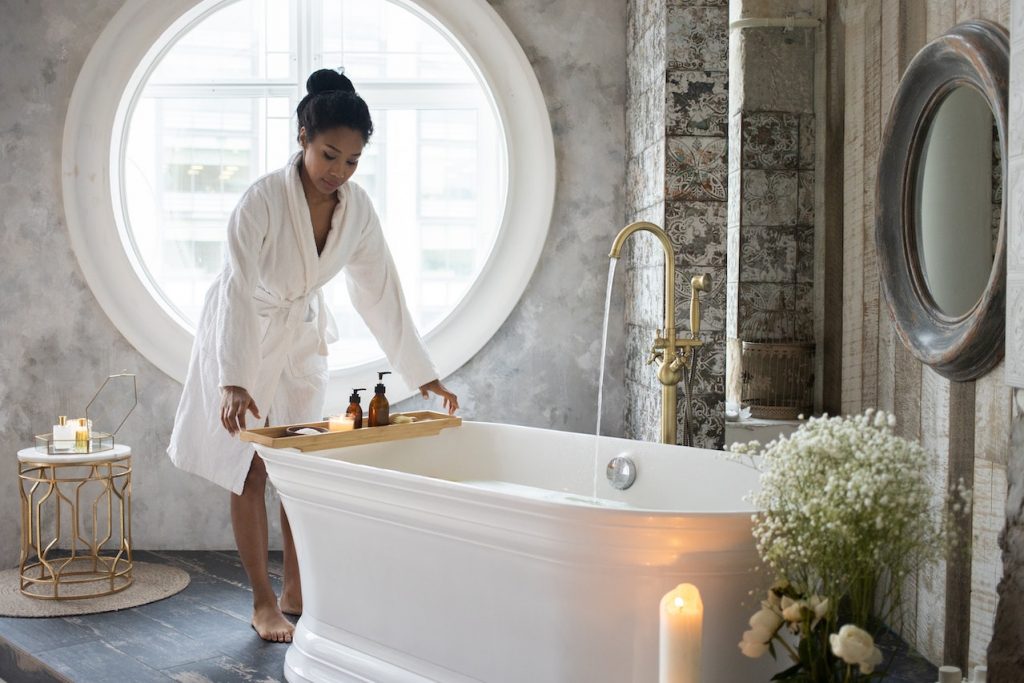 If you're interested in installing hardwood flooring in your small bathroom, the limited moisture resistance of certain types of wood might make you think twice. Fortunately, eucalyptus flooring offers a similar appearance and texture while minimizing the concern over moisture damage. 
Among the hardwood types in today's market, eucalyptus is one of the most resilient types of natural flooring. Since it comes from a natural source, it's also a good choice for non-toxic flooring. 
Did You Know? Eucalyptus trees grow in very humid climates that frequently receive heavy rainfall. This has helped them adapt to become more moisture-resistant than other types of wood commonly used for flooring.
Bamboo Is Suitable as Powder Room Flooring
When looking for durable flooring, homeowners often turn to bamboo because it is among the toughest types of hardwood flooring on the market. This makes it ideal for bathrooms that have plenty of foot traffic. It requires extra care, such as using bamboo-friendly cleaning agents. 
While bamboo flooring will look beautiful in any powder room, this is not one of the best small bathroom flooring ideas when moisture is a concern. If you're remodeling a bathroom with a shower or bathtub, a different option may be better. Bamboo is not waterproof, and you won't be able to refinish it.
Use Cork to Build an Environmentally Friendly Bathroom
If you want to create an eco-friendly bathroom, you can start your project with cork flooring. Since cork comes from a natural source, your flooring will be free from VOC (volatile organic compounds) and other hazardous substances. It's also resistant to mold and mildew growth, making it ideal for rooms with heavy humidity and moisture.
Although cork is moisture-resistant, it is not waterproof. While using it for guest powder room flooring is best, you can adapt it for use in full bathrooms. Topping it with a polyurethane coating will give it an extra layer of protection against water exposure.
Did You Know? Cork flooring comes from the bark of cork trees, but it's not necessary to harvest the entire tree. After losing its bark through this process, the tree will regrow the bark. This makes cork flooring a sustainable option.
Since it comes in wide, long rolls, it's easy to cut to the desired size. Overall, this is the perfect flooring for any DIY bathroom remodel.
The variety of choices is another reason vinyl is one of the more popular small bathroom flooring ideas. You'll find vinyl flooring in a variety of colors and designs. No matter what type of design you have in mind for the rest of the bathroom, you can find vinyl flooring to match.
Check this video for tips on choosing and installing your bathroom flooring:
Discover the Perks of Porcelain or Ceramic Tile Flooring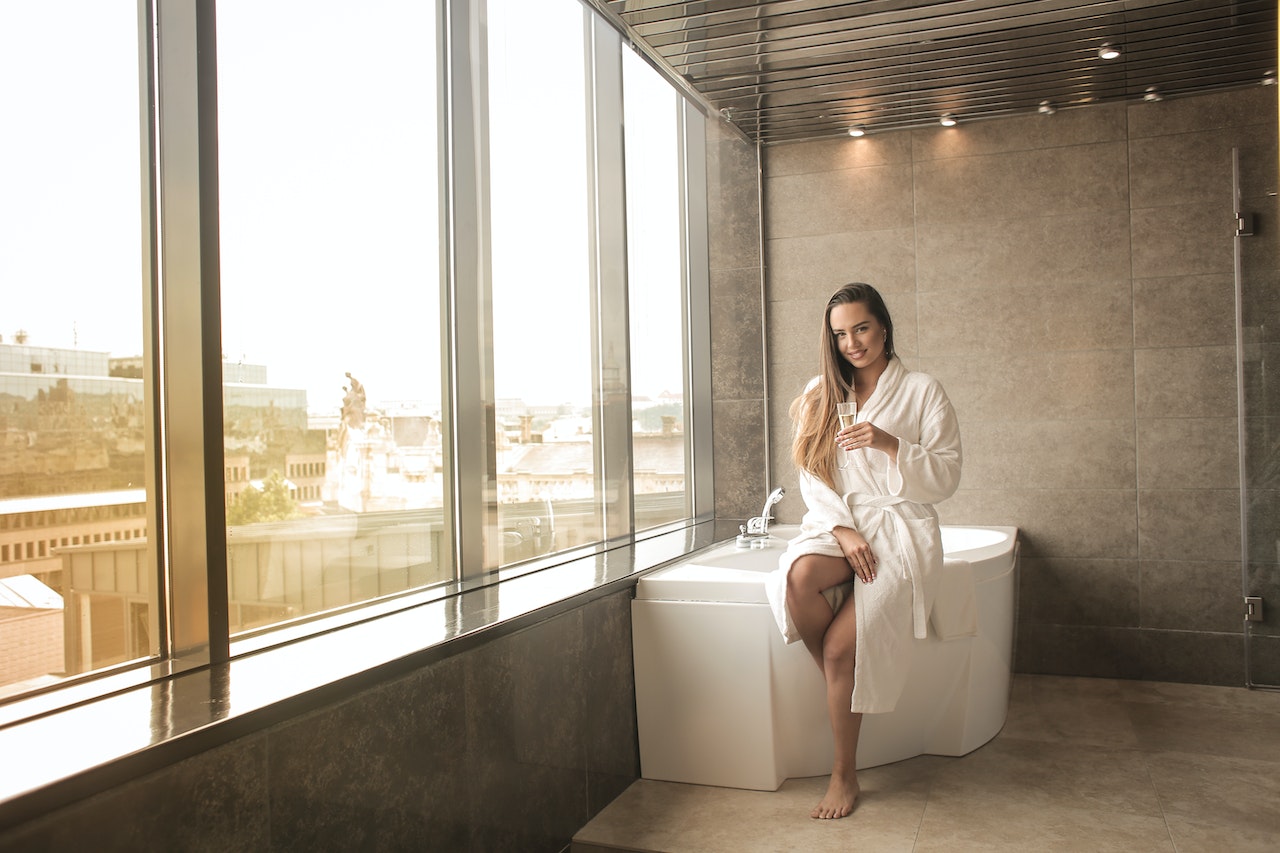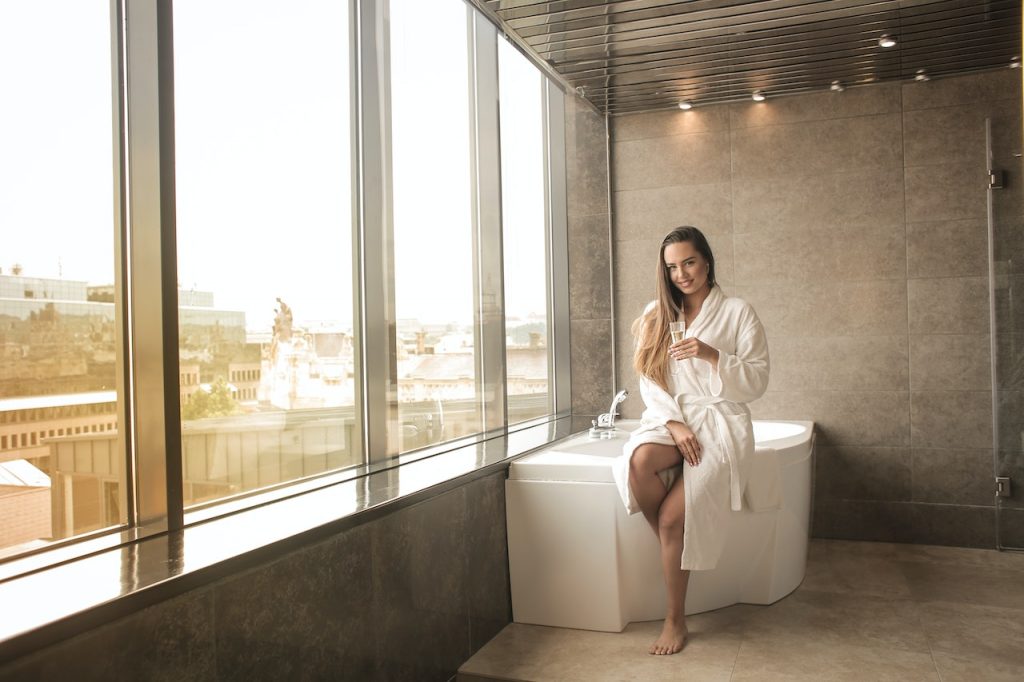 Another popular choice for bathroom flooring that's waterproof and durable is ceramic or porcelain tiling. When you're considering small bathroom flooring ideas that include tile, it's helpful to know that porcelain is a type of ceramic tile. Porcelain has a much lower moisture absorption rate than other types of ceramic, making it ideal for children's bathrooms or full bathrooms.
Other types of ceramic tile are best for powder room flooring, where moisture exposure will remain low. Overall, ceramic tiling is a good choice for small bathrooms since they are attractive, easy to maintain, and available in a variety of styles and colors. 
Popular trends in choosing a color for your bathroom floor ceramic tiles include:
Of course, you can choose any color that matches your design or suits your tastes.
Stained Concrete Promotes a Modern Look
If you have ever worked with concrete on another project, you know that this material is highly durable. It's also completely waterproof, which is why it's often considered one of the best small bathroom flooring ideas. Adding a sealant will enhance its durability.
Concrete can be slippery when exposed to moisture, but it's easy to add texture to concrete to address this issue. Install concrete as your powder room flooring for a unique and modern look your guests will admire.
In designing a stained concrete floor, you can also add dye to change the color of the concrete as it's poured. Once installed, you can enjoy a concrete floor for as long as you own your home.
Choose the Best Flooring for Your Bathroom
When choosing from these flooring types, consider the amount of wear and tear the flooring will suffer. For example, a powder room won't need to be as moisture-resistant as a full bathroom with a shower or bath. 
Picking the right flooring for each bathroom will allow you to explore a few different design ideas while ensuring your new flooring lasts for years.
About the Author

Sarah's love for home design and renovation runs as deep as her love for a good dad joke! 😄 She's been crafting content with the fantastic folks at Ambient Building Products for years, and when it comes to homes, this gal is the real deal.
From DIY adventures to pro collaborations, she's worn all the hats, and not just because she's a fan of stylish headgear. In her own abode, she's overseen her fair share of projects, making her a true home improvement aficionado.
But what really makes her heart skip a beat are those eco-friendly, energy-efficient upgrades that not only make your house look good but also feel good. Sarah's all about adding value to your home, one pun and one project at a time! 💚💡