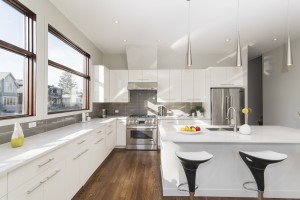 Your home's kitchen is more than just a place where you meal prep and do dishes. It's also where you relax with a cup of coffee, catch up with old friends, and help your kids with their homework after school.
If the way to a person's heart is through their stomach, your kitchen is the heart of your home. That's why it's so important that you want to spend time in your kitchen, not run away from it.
Unfortunately, even the most average of kitchen renovations can cost up to $12,000. But the good news is you don't need to completely remodel your space to get the same impact as a renovated kitchen.
Here are a few simple ways you can update your kitchen without tapping into your home's equity or shelling out a small chunk of your life's savings.
Install new hardwood floors
Using hardwoods like bamboo flooring in kitchens can make your kitchen feel brand new and even brighter than before. They also give your home a more modern look than the average tile.
Bamboo flooring is great for small kitchen redesigns because you can choose from a wide variety of finishes and colors including whites, blondes, creams, greys, browns, reds, dark browns, and chocolates. What's more, due to their hardness, these floors rarely if ever need refinishing when installed in a residential setting so long-term maintenance costs are more affordable than other floors like carpet, tile, and traditional hardwoods.
Paint your cabinets
You don't need to invest in a brand new set of cabinets when you want to give your kitchen a brand new look. You only need some sandpaper, primer, and some paint.
Begin by removing your cabinets from the wall and washing them down with some water and TSP cleaner. After you've cleaned your cabinets and set up your work area, start sanding your cabinets down.
Sanding is important to ensure the paint color sticks to the surface of the cabinets. You can use a vacuum and a cloth to clean up the dust after you're finished.
If you have laminate cabinets, be sure to use a bonding primer so the paint will stick to the laminate. You also want to sand a little between your primer coat and your paint coat to ensure the paint sticks.
Use acrylic latex paint when you're painting your cabinets and make sure they're completely dry before you begin putting your cabinets back together. Some homeowners like to add a layer of water-based polyurethane to make cleaning the cabinets later on even easier.
Install new hardware
Hardware is like the jewelry of your kitchen. By replacing the knobs, drawer pulls, and hardware, you add a personal touch to a pre-furnished home.
You can either choose hardware that matches the screw type of your existing hardware or you can drill new holes into your cabinets to fit the new knobs. There are thousands of different types of knobs and handles for you to choose from and you can always change them again later if they're just not working for you.
Create a backsplash with peel-and-stick tiles
You don't need to be a renter to use peel-and-stick tiles to create a backsplash in your kitchen. What makes these tiles so great is that they can be removed easily so you can change up your kitchen style without worrying about a mess.
Peel-and-stick tiles also come in a wide variety of designs from mosaic to subway tile, so you can experiment and have fun without setting your backsplash in stone.
Install some stylish shelves
One of the biggest kitchen trends right now is open shelving. Luckily, installing shelves is relatively easy to do. Just find a shelf that you like, locate the studs in your wall, and get to hanging.
You can also find shelves for your kitchen that don't require any hardware to hang. Certain floating shelves can be hung with just adhesive so you can get the shelves you want without drilling any holes.
Interested in installing bamboo flooring?
Bamboo wood flooring is one of the best choices for hardwood floor installations. In fact, solid strand bamboo flooring is up to three times harder than oak flooring.
If you're looking to design your kitchen or living room and you're ready to install new bamboo floors, Ambient Bamboo Flooring is the place for you. To learn more about our different types of bamboo flooring such as strand woven eucalyptus, contact Ambient Bamboo Flooring today.
Last update of the article: 11/20/2020