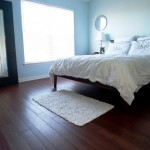 The popularity of bamboo floors continues to rise as more and more homeowners search for greener alternatives to traditional hardwood floors. One of the biggest benefits of bamboo is its ability to regenerate so quickly. This is because bamboo is grass and not hardwood. The bamboo plant can regenerate in as little as 5 years. Compare that to hardwood trees that can take over 30 years to grow before being harvested. Bamboo is simply some of the best flooring and a logical choice for homeowners who want the warmth and beauty of hardwood but don't want to add to the destruction of the world's rainforests.
Besides its eco-friendliness, bamboo has many other advantages over other flooring materials.
Bamboo is Widely Available
Before the green movement really took off, it was often hard to find eco-friendly building materials. But that has all changed and bamboo is now widely available at big box stores and also all across the internet.
A Unique Beauty
The natural striations in the bamboo stalks give the floors a unique beauty that is attractive in any room. Bamboo is also not a fad, it is a timeless material, so you know your floors will look just as attractive in 15 years as they do the day you install them.
Bamboo is Versatile
Aesthetically speaking, bamboo is a very versatile material as it comes in myriad shades and grains. This advantage is twofold: Regardless of your existing room's furnishing and décor, you are bound to find a shade of bamboo that compliments it beautifully. Secondly, because there is such a large selection of bamboo planks, you can install it in your entire house and have different looks throughout.
Bamboo Flooring is Durable
is very durable so you can feel good about installing it in any area of your home, even those areas with high traffic. Strand woven bamboo has a Janka hardness rating almost 3 times harder than oak – now that's durable! Bamboo floors are so strong and durable most manufacturers offer at least a 25-year warranty.
Bamboo is Affordable
Compared to traditional hardwood floors, bamboo is very affordable so it's a great choice for those who want to live green but need to do so on a budget.  Typically, you can get premium lengths and widths (wide planks) in bamboo flooring vs $5-$10 per square foot for wood floors.
Bamboo Flooring is Easy to Install
Speaking of being on a budget, you can save an awful lot of money by installing your floors yourself. Bamboo is so easy to install, especially using the floating floor method, and most homeowners would be able to install floors in a room of their home over a weekend.
Bamboo is Moisture Resistant
As long as you don't leave a puddle on your floor for more than 20 hours, spills will not harm your bamboo floors like they will hardwood floors, which makes bamboo a superior flooring choice for kitchens and powder rooms.
Bamboo Flooring is Allergen and Bug Resistant, Too
Fiber-based bamboo floors are not only easier to clean but are resistant to bug infestations and do not trap allergens as hardwood floors do.
In our opinion, and those of countless others, bamboo flooring is simply the best flooring option on the market today. But don't take our word for it, find out for yourself.
If you have to resist any questions, please contact us!