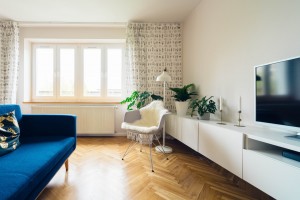 It's one thing to choose new flooring for your own home, and another to choose flooring for your rental property. Rental properties endure more wear and tear, and many tenants don't take care of their floors the way you might take care of your own.
The goal of your rental property is to help you make money. That means the cost of your new flooring materials needs to be justified. So how can you determine which type of flooring would be the most affordable and durable for your property?
In this handy-dandy guide, we'll go over the different types of flooring that can work best for your property.
Carpet flooring
Many rental properties use carpet flooring in their apartments. Carpeting is soft and relatively easy to clean. It's recommended to vacuum carpeting at least twice a week and professionally steam once a year.
However, carpet flooring isn't the most sustainable. Not only is carpet largely made from synthetic fibers, which can be harmful to the environment, but it's also fairly easy to stain.
What's more, carpet flooring can hold onto a lot of dust, dander, and debris. Because of this, many rental property owners choose to replace their carpeting whenever a tenant moves out. Over time, this can get pricey, and the cost of a once-affordable carpet may not be so affordable in the long run.
Hardwood flooring
Hardwood flooring, like carpet flooring, is a family favorite. It's prevalent among younger homeowners and with good reason.
Hardwood floors are more eco-friendly than carpeting because hardwood flooring can be refinished and can last up to 50 years. They also don't hold onto dirt, dander, and debris the same way that carpeting does.
It's recommended to vacuum hardwood floors at least once a week. But if you want a cleaner surface to live on, of course, you can sweep or vacuum multiple times per week.
Hardwood floors are more durable than carpet flooring because, while their surface can be nicked or scratched, they can be refinished when their surface begins to look too damaged. Liquid won't stain the floors either as long as it's cleaned quickly.
However, hardwood floors do have their drawbacks when it comes to installing them in your rental property. Some tenants may cause more damage to your hardwoods than others, and you can only refinish your hardwood floors so many times.
Additionally, some tenants may not be aware of the specific rules of taking care of hardwoods, such as never mopping the floors because it can cause water damage. Despite these drawbacks, hardwood floors are often the preferred flooring of many rental property owners over carpet flooring.
Bamboo flooring
If rental property owners prefer hardwoods, bamboo flooring takes the cake. Bamboo flooring has all the ease of maintenance of hardwood floors but with more durability. Strand woven bamboo flooring is up to three times stronger than oak flooring, making it less likely to get nicked or scratched.
Bamboo flooring is also far more eco-friendly than hardwood floors. Hardwoods may be greener than synthetic fibers, but the trees can take up to 60 years to mature.
Bamboo is natural vegetation that only takes five years to mature, making it a highly renewable resource for many different materials that wood traditionally used, such as flooring and paper.
And finally, bamboo flooring comes in a wide variety of colors so that you can get all the styles of different hardwood floors with three times the durability and five times friendlier to the environment.
That said, if you're still trying to decide whether or not to install carpet flooring, hardwood flooring, or bamboo flooring, consider installing bamboo flooring. This durable, affordable option is more likely to last you several tenants than carpet flooring would ever be able to.
Interested in installing bamboo flooring in your rental property?
When choosing hardwood flooring and eco-friendly materials for your apartment building or other property, installing bamboo flooring is the way to go. Unlike carpet flooring and compared to hardwood floors, strand-woven bamboo floors can be refinished up to four times.
If you're interested in installing bamboo flooring on your property, Ambient Bamboo Flooring has the installers for you. To learn more about our different bamboo flooring types, such as strand woven eucalyptus, contact Ambient Bamboo Flooring today.
If you have to resist any questions, please contact us!
---
---
Categories: Flooring