Do you have an extra bedroom in your home that you want to prepare for out-of-town visitors? This is your chance to indulge your creative ideas. 
If you're having trouble coming up with guest bedroom ideas, you can jumpstart your sense of style by looking online. Here are a few suggestions to help you create a relaxing and interesting place for your future houseguests.
Create a Lounge Area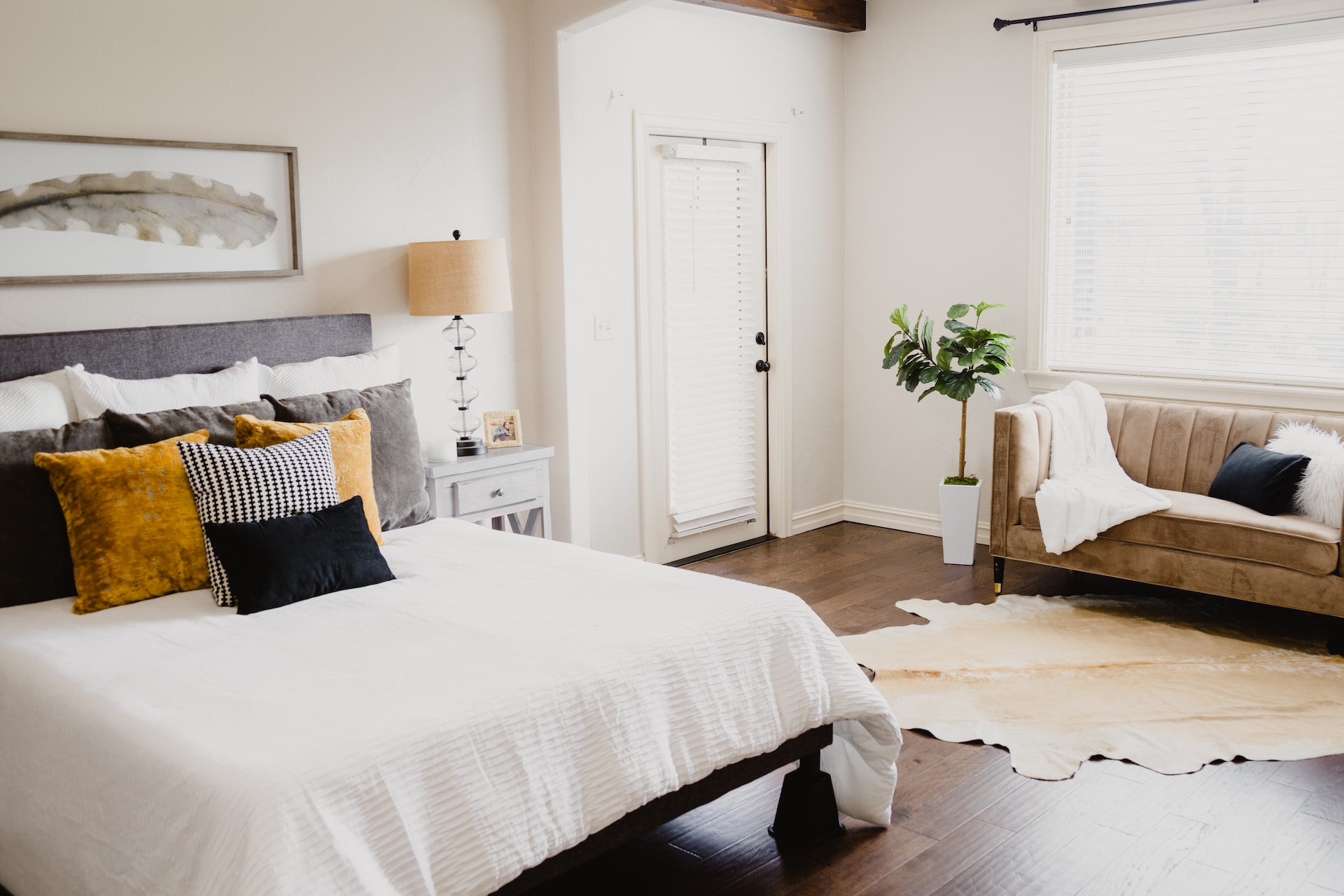 When it comes to guest bedroom ideas, think outside the box. Instead of focusing on creating a room design just for sleeping, add a reader's nook or a lounge area. This doesn't have to take up a big part of the bedroom. Dedicate a small corner to this part of the design. A small lounging area can really enhance your guest room design.
Start simple. Add a chair or loveseat. Look for inexpensive end tables you can assemble yourself or buy a coffee table from a secondhand store. A small floor lamp may be all you need to finish off the corner nook.
Add a Splash of Color to the Walls
Simply painting the walls can leave the spare sleeping area with a sparse, cold feel. Your guests may not feel relaxed or welcome in this type of environment. This is why wall design is such an important consideration when looking for guest bedroom ideas. If you find a paint color that you really like, use it on two of the four walls. 
Some paint colors that promote relaxation include:
Blue or violet

White or cream

Green

Tan or light brown

Gray
Choose a complimentary wallpaper for the opposing walls. You can find wallpaper designs to match these relaxing color schemes.
You can also hang paintings from your favorite artists on the walls to warm up the atmosphere. As you add ambient lighting in the guest bedroom, consider using wall-mounted lights to highlight the artwork in the room. 
Pro Tip: Use LED bulbs as a part of your guest room design for a cooler glow and lower energy costs.
Use Throw Rugs to Add Warmth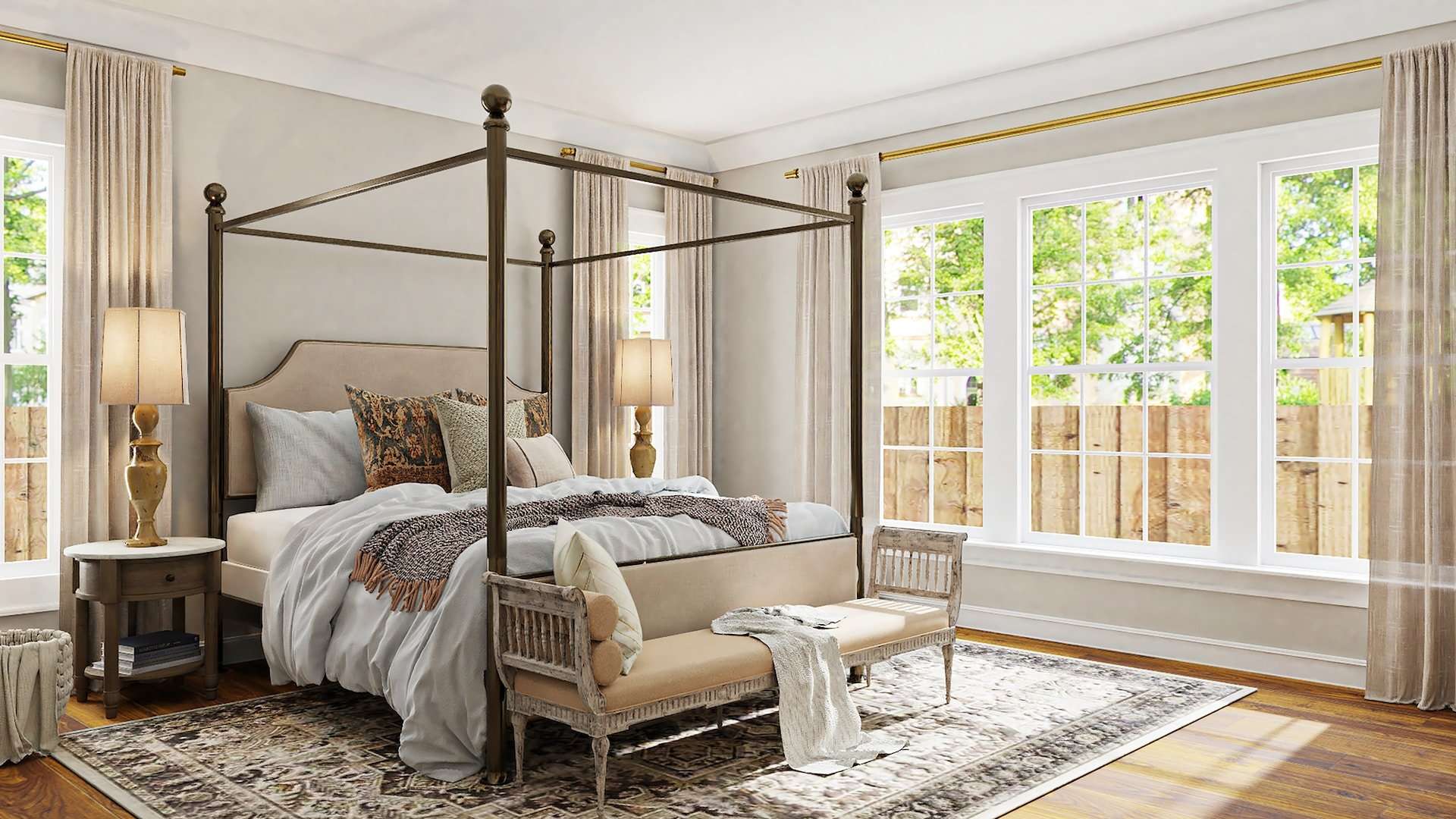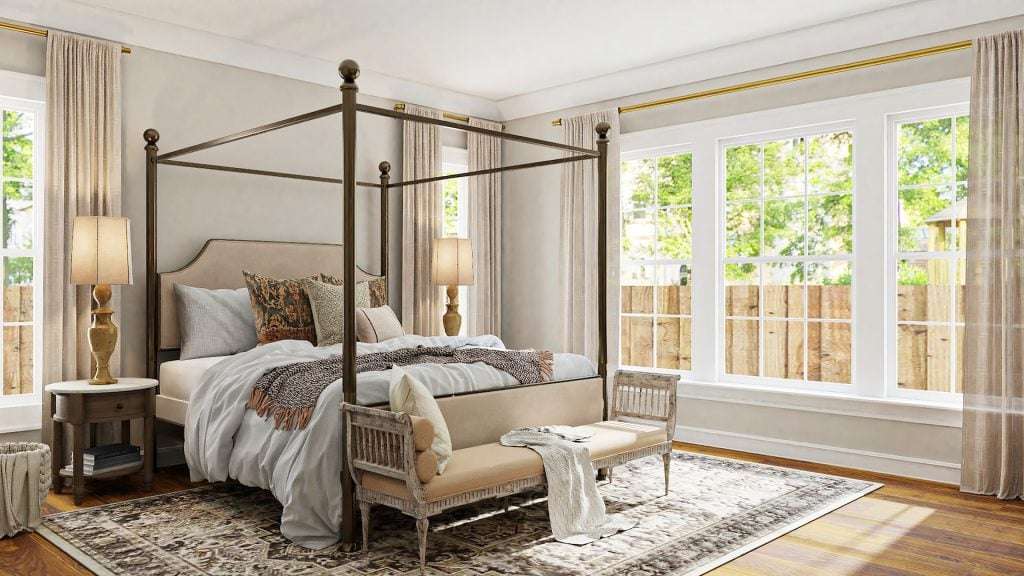 While cleaning vinyl plank flooring is simple and straightforward, the floor's surface can feel chilly against a houseguest's feet. Solve this problem by looking for throw rugs that match the rest of your guest bedroom ideas. Lay down rugs in the reader's nook, along the side of the bed, and in front of the dressing table.
Did You Know: Keeping throw rugs clean is easy. Most rugs can go into your washing machine. Hang them or tumble dry, according to the manufacturer's instructions.
Mirrors Eliminate a Number of Problems
In many cases, coming up with guest bedroom ideas includes finding ways to make the best use of a confined space. If you're dealing with a small spare bedroom, hang a mirror or two to add the feeling of a larger living space. If you hang a mirror across from a window, the mirror will reflect the light and give the room a brighter feel.
If you want to add bedroom plants, including mirrors in your guest room design will give them the extra sunlight they need to thrive. While some houseplants may not need much sunlight, others do require consistent access to natural light. 
Pro Tip: Ask your florist or landscaper about houseplants that don't require much sunlight.
Luxury Is the Key to Every Cozy Guest Bedroom Design
While it will certainly help to look at the latest design trends in creating a welcoming guest bedroom, it's more important to consider comfort. The bedding should be as soft and comfortable as possible. Start with a new mattress that's just firm enough to provide good support but soft enough to promote deep relaxation. 
Add soft, plush pillows. You can also include decorative pillows that match your other guest bedroom ideas, but the sleeping pillows should promote restfulness. Similarly, the sheets, blankets, and comforter should all feel soft. Spend a night in the room after it's finished to ensure your guests will sleep well.
Want to create the comfort of a 4-star hotel? Here are a few more tips:
A Bookshelf Goes Well With All Guest Bedroom Ideas
Keep in mind that your guest may want to avoid feeling intrusive or bothersome. If the guest bedroom feels like their own space, your guests will have a place where they can enjoy privacy or solitude. Adding a small bookcase with a few novels and magazines will provide solitary entertainment.
Even if you want to include an entertainment center with your guest bedroom ideas, a small bookcase provides an alternate source of entertainment. Guests who are night owls may want something to read rather than disturbing others with a movie or T.V. show.
Tying It All Together
Using the guest bedroom ideas suggested here can help you develop a unique design style your guests will surely enjoy. Whether the room needs a coat of paint or you're considering adding furniture, these elements can introduce a fresh look to the space and give it new life. 
You can introduce one element at a time or combine various elements into a complete redesign for your extra space. There are no wrong answers here, so experiment and find the right look for your home!
About the Author

Sarah's love for home design and renovation runs as deep as her love for a good dad joke! 😄 She's been crafting content with the fantastic folks at Ambient Building Products for years, and when it comes to homes, this gal is the real deal.
From DIY adventures to pro collaborations, she's worn all the hats, and not just because she's a fan of stylish headgear. In her own abode, she's overseen her fair share of projects, making her a true home improvement aficionado.
But what really makes her heart skip a beat are those eco-friendly, energy-efficient upgrades that not only make your house look good but also feel good. Sarah's all about adding value to your home, one pun and one project at a time! 💚💡