Bamboo flooring is a wonderful investment for your home. With its eco-friendly benefits and the fact that it's designed to last a lifetime, homeowners can't go wrong installing it in every room in the home. This includes kitchens, laundry rooms, and bathrooms. Plus, pet owners' good news is that bamboo flooring is relatively impervious to pet urine as long as the mess is cleaned up within 20 hours.
Whether you have brand new kittens or puppies, or a senior dog with a little trouble making it outside when it's time to go, your bamboo floor can withstand pet messes. We've got the skinny on how best to clean up after your pet.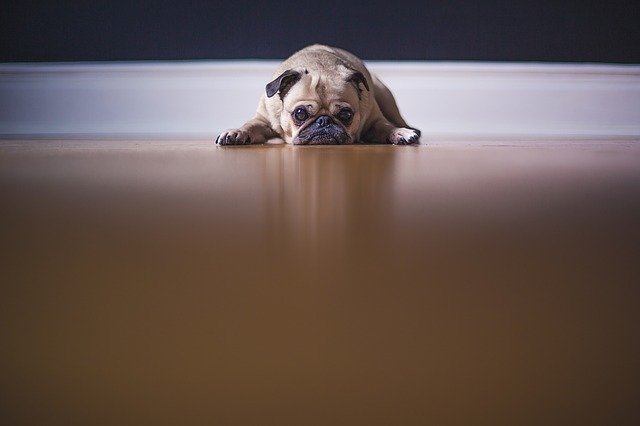 How To Clean Up Pet Urine From Bamboo Flooring
1. Start with prevention.
If you are the parent of kittens or puppies that aren't quite house trained, first consider purchasing an activity pen and using disposable training pads.
2. Clean up spills quickly.
One of the most important steps for cleaning up pet urine from bamboo flooring is to attend to the mess as quickly as possible. While this isn't always possible, especially if your pets stay in the house while you work outside of the house, it's still important to clean up as soon as you can.
3. Blot stains, don't scrub.
Remove any solid waste from the area using a paper towel. Next, with a dry paper towel, gently blot the area where urine is located. Don't rub the area, as this will push the urine deeper into the bamboo. Once the paper towel is wet, switch to a new, clean paper towel and repeat the process until all urine is soaked up.
If the urine has seeped in between the planks, this can cause expansion of the wood, so make an extra effort to dry out these crevices using tissues and a vacuum cleaner with a narrow suction adapter. Additionally, you can quickly run a blow dryer over the area to further dry up the urine and prevent the wood from soaking it up.
3. Use the right cleaning materials.
To clean up pet urine, follow the manufacturer's instructions for cleaning bamboo flooring. Avoid traditional household chemicals and cleaning agents. Unapproved cleaning products could damage or stain the floor. Therefore, it's best sometimes to use a damp sponge or washcloth and gently wipe over the area.
4. First clean the area
Urine has a smell, especially if it has tried or been sitting for a long time. If your pets have frequent accidents, that can lead to an odor problem. It's also important to deodorize so that your pets no longer smell the urine and won't think it's OK to keep going on the floor.  Some cleaning products have a light scent (like a green apple), such as Bam-Brite Bamboo Floor Cleaner, and these work great to clean the floor while reducing odors at the same time.
Once you clean up the pet urine, deodorize the area with white vinegar. Create a solution using a 1/4 cup of white vinegar and mixing it with one quart of water.  It is a natural odor remover that's safe for bamboo floors so long as you don't over-do it! (Avoid using it for regular maintenance, as the acidity in the vinegar can affect the finish luster over time).
5. Deodorize the area
To deodorize the area, use a sponge or washcloth and dampen it with the vinegar solution. Place the sponge or cloth on the urine area for a few minutes. After a few minutes, blot the area gently. Rinse out the sponge and repeat the process one more time. Wipe the area dry with paper towels.
Want to test out our cleaning method before you buy bamboo flooring? Contact us for a free bamboo flooring sample!