We are just getting started in 2020 and it's exciting to not only be stepping into a new year but also a new decade. One thing that hasn't changed is home decorating and remodeling are still the rage.
If you're in the decorating mood and want to stay with the latest trends, take a look at what's grabbing everyone's attention.
This year, wood or wood-looking floors are at the top of the list. Environmentally responsible flooring is also right up there at the top, as many people want to do their part for mother nature. Now for color: the warmer tones are setting the pace, and blonde-colored flooring is taking over! Blonde flooring is light and beautiful, and it goes with practically every kind of decor. It's also a space enhancer as it immediately opens up any room, making it look larger and brighter.
Blonde Bamboo Flooring is Turning Heads in 2020
There is one superstar flooring choice that covers all the design bases in 2020 – Ambient Bamboo Flooring's Strand Natural Wide Plank flooring. Blonde is the natural color of bamboo, and it provides a soothing, stylish, and exotic look that no other flooring can. Due to its versatility and durability, it can be used in any room in the house and give your home a lifetime of beauty. And if you ever want to refinish your floor 15-20 years down the road, the natural blond color flooring will still have that perfect blonde color throughout the whole plank because it's not stained. This flooring choice has all the durable benefits of strand woven bamboo flooring, and it is available in the extra-wide, more modern width of 5-5/8 inches.
Designer and architect, Elora Hardy, says "Bamboo is so versatile—it can be the star, the defining feature of a space, the wow…" 
Got questions about Natural Wide Plank Bamboo Flooring? We've got the answers.
Is Natural Wide Plank Bamboo Flooring Eco-Friendly?
All bamboo flooring supplied by Ambient is among the most eco-friendly flooring options in the industry. Bamboo is the construction material of the future! And since it is grass and not technically a wood, it offers many eco-friendly features that typical hardwoods cannot. For example, because it is a grass, it is renewable over and over again from the same root system. Bamboo grows at an incredibly fast pace and will reach full maturity in five years, whereas hardwoods can take 60 years to mature. That's a pretty significant difference! Also, the harvesting methods for bamboo have very little effect on the environment, unlike the harvesting of hardwoods.
If that's not enough, did you know that bamboo consumes carbon dioxide much faster than hardwood trees do?
It also produces more oxygen, supplying the earth with clean and breathable air. Another eco-friendly characteristic of bamboo is that it is grown in a very clean and eco-friendly way. This means no added fertilizers, irrigation, or pesticides, thus leaving a very small environmental footprint compared to hardwoods.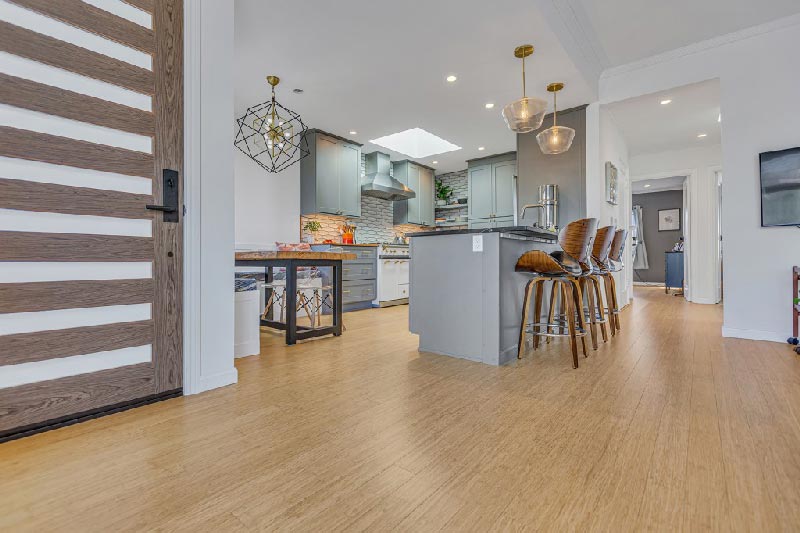 Natural Bamboo Flooring from Ambient Bamboo Floors
Is Natural Wide Plank Bamboo Flooring Durable?
This one's easy: YES! Ambient's wide plank floors have all the durability benefits of strand woven bamboo flooring. As a matter of fact, it is one of the strongest and most durable flooring materials available. As a raw material, bamboo is incredibly strong and durable. The proof is in its sky-high rating on the Janke Hardness Scale.
To make Ambient's bamboo flooring even stronger, it is put through the strand woven process of separating the bamboo into strands, interweaving them together for cross-structural stability, and compressing them under extreme pressure and heat to create an extremely dense and strong flooring plank (see How bamboo flooring is made). What happens when we use the strand woven manufacturing process on already-hard natural bamboo plants? The result is a bamboo flooring plank that has a tensile strength similar to steel. Not to mention, it's three times harder than most hardwoods!
Want to receive a sample of our Natural (Blonde) Wide Plank Bamboo Flooring? Click on the box below to have a free sample sent to your home. If you'd like to talk to one of our flooring professionals, call (866) 710-7070. We are ready to help.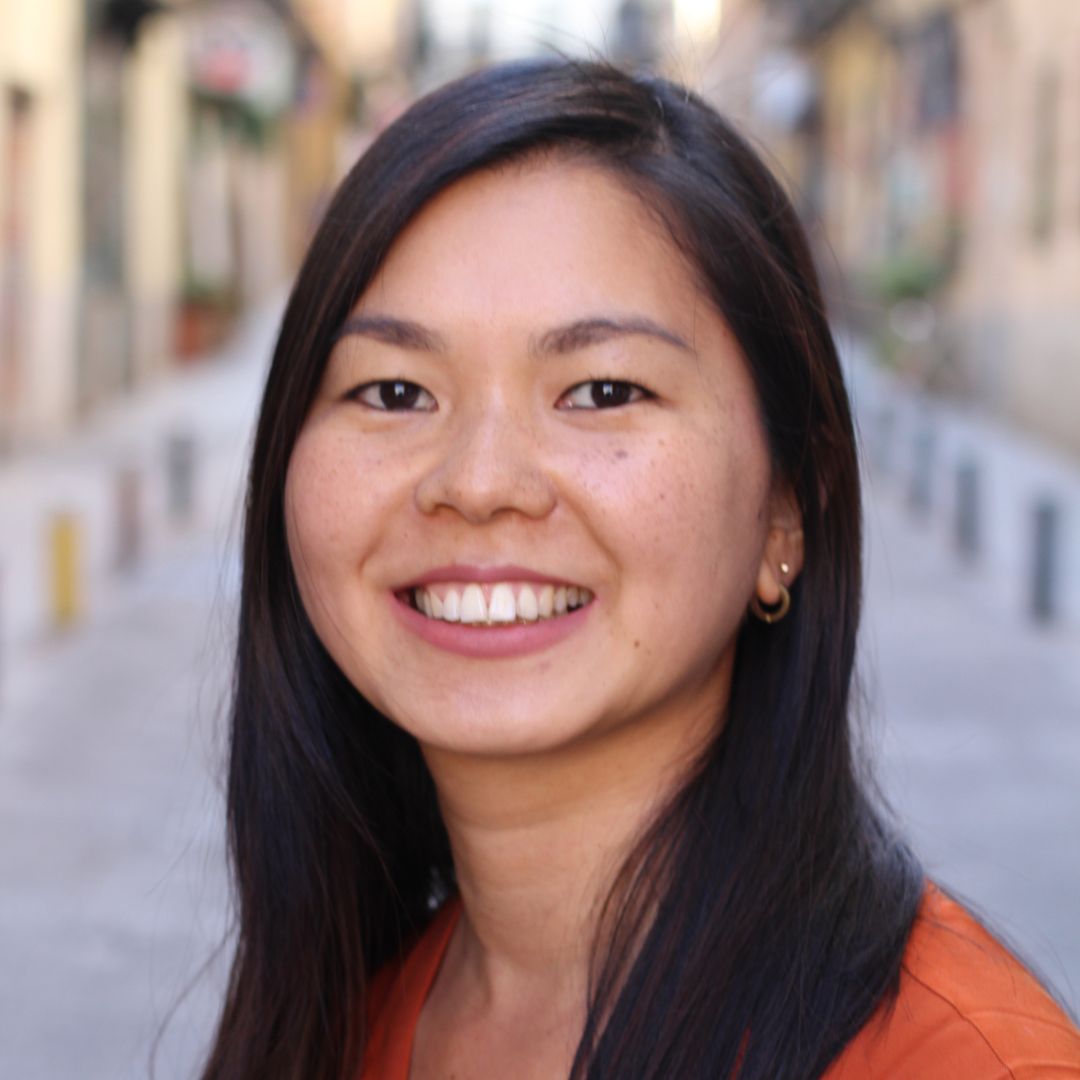 About the Author
Meet Jo Lynn! 🌿🧹 With more than a decade of eco-cleanliness expertise under her belt, Jo Lynn is on a mission to turn spaces into healthier, greener sanctuaries. Her journey into sustainable home maintenance started with a deep love for the environment and a determination to whip up non-toxic solutions that actually work.
Whether it's a cozy home or a bustling office, Jo Lynn knows how to keep spaces spotless without compromising your health or our planet's well-being. Plus, rumor has it, her cleaning jokes are so good, even the dust bunnies can't help but chuckle! 😄