Whether you are just starting in the short-term rental market or are a seasoned pro, designing the perfect vacation rental is important to scoring those all-important positive reviews that lead to new bookings and repeat business.
Short-term rentals have different design needs than the house you live in every day.
Here's what you need to know about short-term rentals and designing spaces that appeal to travelers, whether you're:
➟ Converting a second home into a vacation rental,
➟ Updating an existing short-term rental,
➟ Getting ready for your first listing.
Airbnb Changed How People Stay
Airbnb turned the travel industry on its head. Once upon a time, travel planning included sleuthing out the best rates for hotel or motel rooms. Then came sites like Trivago or Hotel.com that could aggregate listings across many hospitality brand websites. But, in 2007, a couple of roommates living in San Francisco were having a hard time paying the rent on their apartment.
They inflated an airbed and welcomed travelers to crash at their place for a fee. The guys hosted their first guests in October 2007. In 2008, they launched the Airbed & Breakfast website in time to get 80 bookings for the Democratic National Convention. By 2009, that airbed changed to Airbnb to reflect the availability of more than just a room or an airbed.
The New Stay
Now people book rooms or suites in someone's home and entire apartments and houses for vacation and business travel.
Vacationers love marketplaces like Airbnb and VRBO because it allows them to get more experience for less money. Most accommodations include some kitchen or food prep area, so there's less money spent on dining out. Multiple families or groups rent larger homes and spread the cost, reducing the price per person.
Short-term rentals often offer more space, more privacy, and a quieter setting. Business travelers love the extra space to spread out and with high-speed internet available; remote workers can literally work anywhere.

The New Host
Suddenly short-term rentals went from impersonal transactions with corporations to personal transactions with individual owners. Your short-term rental is as much as business at the large hotel down the street.
To be successful you've got to understand your market and then create a space that meets the market. So, designing the perfect rental doesn't start with looking at furniture and fixtures: it starts at looking at the market you will serve.
Promising Trends for Vacation Rentals
AirDNA tracks over 10 million short-term rentals in 120,000 global markets. They predict average occupancy rates of 58.9% in 2022 and a 33% increase in demand in urban areas.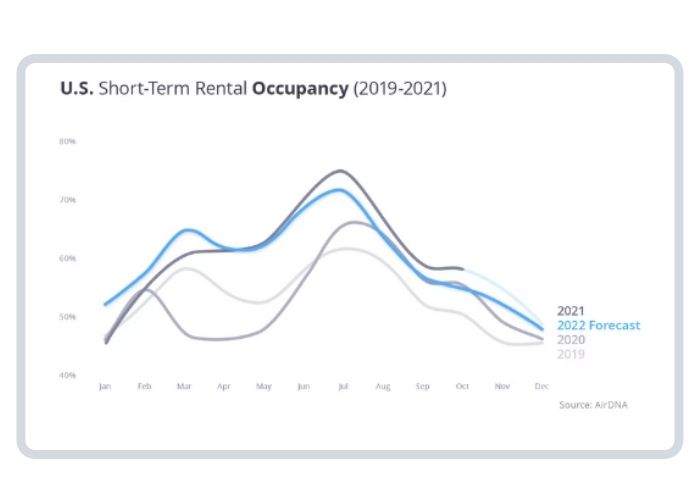 Peak demand times are spread out over a longer period, and more and more people will jump into the game. The good news? You can still make money if you position your property properly and design for the market you want to serve.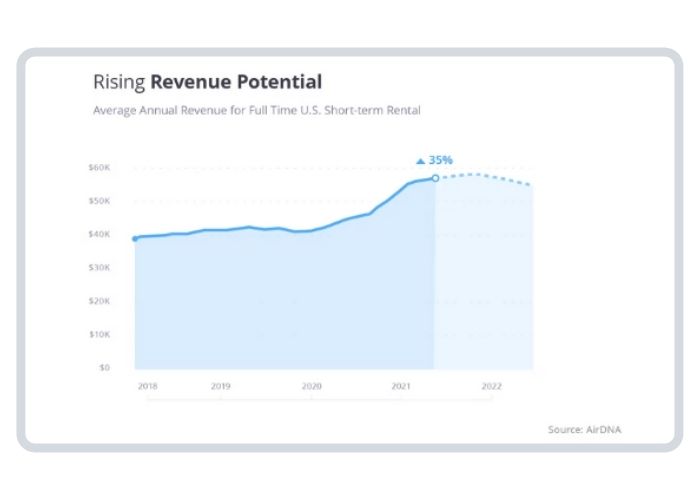 The average short-term rental generated $56,000 in revenue in 2021: that's a sharp increase compared to before the pandemic. And it's expected to hold. People are booking earlier and earlier – an average of 60 days in advance. So, now is the time to get your rental ready.
Identify Your Market for a Vacation Rental
Is your rental a coastal cottage, a mountain cabin, or an urban loft? Each type of property attracts a different traveler.
Larger spaces are popular with families and groups. Smaller spaces, especially one-bedroom homes and apartments attract couples – including honeymooners.
Your design should incorporate the features and amenities that match your market.
Honeymooners/Couples
Do you have space for a hot tub? Rentals with a hot tub have higher occupancy rates and generate more revenue than similar properties without a hot tub. This is true for rentals in cold climates as well as rentals that are targeting couples and honeymooners.
A fireplace increases rental rates in every area and in destination cities and rural areas, they improve occupancy rates as well. Only include a functioning fireplace in your listing. Nothing is more disappointing than arriving with expectations of curling up by the fire only to discover it's a fireplace filled with candles. However, that is a great way to get a really bad review.
Families
Airbnb is most popular with the 24- to 34-year-old demographic: they make up 36% of all Airbnb customers. The second largest group are those aged 35 to 44 – making up another 23% of the customer base. Those are the prime ages for people with children. So, it is no wonder families are turning to short-term rentals for their vacations. Having a home-away-from-home just makes traveling easier with kids, especially younger ones. If you have a multi-bedroom apartment or home, you may want to target families.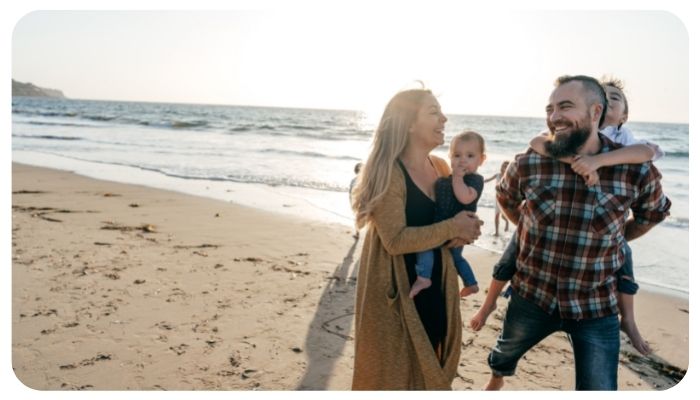 What do families want?
Families want large eating areas, separate sleeping spaces for adults and children, and activities both can enjoy.
Stock your rental with board games that appeal to all ages. Don't decorate with breakable bric-a-brac and if you must include fragile items, make sure they are up high. Safely seen, but difficult to knock over and destroy.
Provide plenty of towels and supply the kitchen and bathroom with cleaning supplies. Believe it or not, most short-term rental guests like to clean up as they go.
And speaking of cleaning up, families look for rentals with a washer and dryer. While you might not get much more in the way of the daily rental for laundry facilities, you will get more bookings.
Business Travelers
Even with the COVID-19 virus still circulating, businesspeople are hitting the airways and roads again and they are looking for a place to stay. In addition, the gig economy has freelancers working in different cities just for a change of pace. If you have a one-bedroom apartment in a city center, you have the perfect combination for a short-term rental that appeals to business travelers.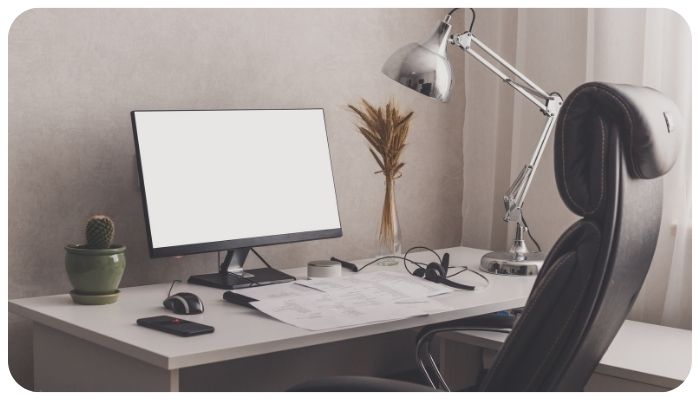 These guests want the amenities that make working from the road effortless. It goes without saying that reliable internet service and Wi-Fi are a must, but that's just the beginning.
They need a dedicated work area and task lighting. Provide a desk, printer, comfortable chair, and great light. Plenty of electrical outlets, some fitted with USB ports for charging is also appreciated.
A comfortable couch and big-screen television are perfect for unwinding after a long day of meetings. You may also consider including an exercise bike, rowing machine, or another piece of fitness equipment if you have the space.
You don't need a large kitchen, but a small well-appointed kitchen with a microwave, refrigerator, coffee pot, and oven are appreciated by business travelers. If you have counter space, a toaster oven is better than a toaster for the business traveler.
Use Space Effectively in Your Vacation Rental
Small apartments, studios, and tiny homes make perfect short-term rentals. They are just the size for a couple or business traveler. But designing for small spaces does present a challenge. You've got to make the most of every inch you have.
Hanging It Up
Hooks are a great way to use space that usually goes to waste. Put hooks on the back of the bathroom door to hold robes, clothes, and towels. Hooks by the entry doors provide a handy place to hang keys and umbrellas.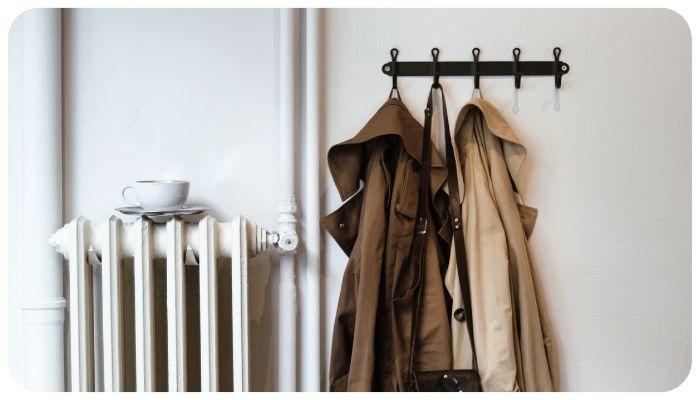 In the kitchen hooks under the upper cabinets provide the perfect spot for coffee mugs, freeing up valuable cabinet space. Hooks can hold skillets, pots, pans, graters, spatulas, and a variety of other kitchen gadgets. If you can hang it, you don't need to store it in a cabinet.
Less is Much More
A minimalist approach to interior décor makes small spaces look large. It also gives the feel of high-end design. You don't need to use industrial-style furnishings to achieve a minimalist look, you can do it with a mix of old and new. Just keep furnishings to a minimum and make sure each piece makes a style statement. Mixing a few vintage pieces with a few modern pieces creates an inviting vibe and you should be afraid to repurpose objects.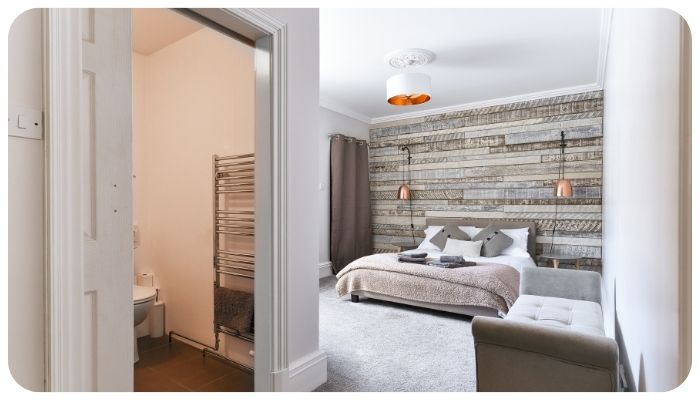 Use neutral tones for the larger pieces of furniture and save splashes of color for throw pillows and rugs. A few large pieces of art are better than many small pieces and they photograph better for your listings too!
Closets Aren't for Clutter Either
Clear out your closets before you invite the first guest in. Make sure you provide ample hangers for guests as well as extra sheets and towels. Closets aren't the place to store unused furniture or seasonal decorations. If it isn't an amenity, it doesn't belong in the closet. So, that ironing board and iron are okay in the bedroom closet but forget storing that artificial Christmas tree or fake fern.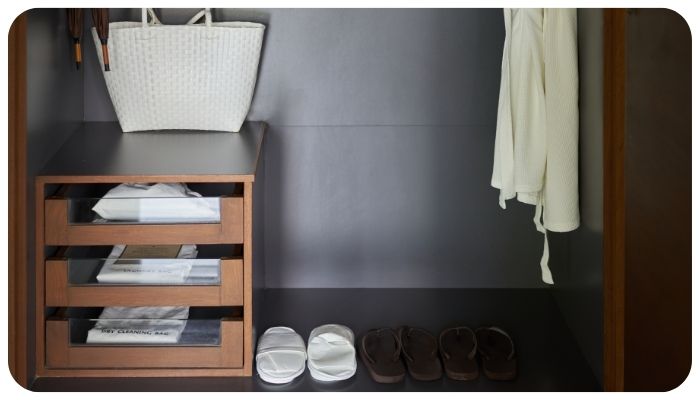 However, a closet can be a great place to create a mini laundry room. Stackable washer and dryer units or small capacity washers and dryers may fit into a hallway, bathroom, or bedroom closet. You don't need an entire room for laundry if you've got the right sized closet with access to water and sewer.
Use the Outdoors Wisely
If your rental has a small balcony, patio, or porch, convert this area into an extra living area. With the addition of all-season chairs and a table, you've got an area perfect for a morning cup of coffee or an evening glass of wine. This is especially important if your rental doesn't have a dedicated dining space.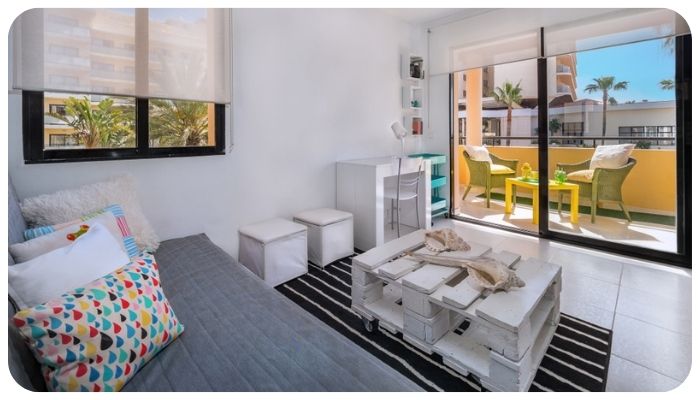 To create a cohesive look, carry your design from the inside to the outside. Use complementary colors and textures. Paint chairs colorful, fun colors and include a piece of funky art. Unless your housekeeper is a gardener, you don't want to put live plants in this area. Nothing is sadder than a dead plant and nothing looks cheaper than a fake plant. Use statuary and other art to decorate your outdoor spaces.
Match the Décor to the Location
Have you ever stayed at a mountain cabin that's decorated for the beach? I have. It's very odd. Don't do that to your guests.
Match your décor to the location and don't be afraid to incorporate local art. For example, a South Shore Line poster is perfect for a Lake Michigan, Chicago, or South Bend bathroom but would be totally out of place in a beach cottage on the Outer Banks.
Likewise, don't use bears, eagles, tartans, snow skis, and other mountain-themed décor in your beach house. Keep the shells on the beach and the bears in the mountains.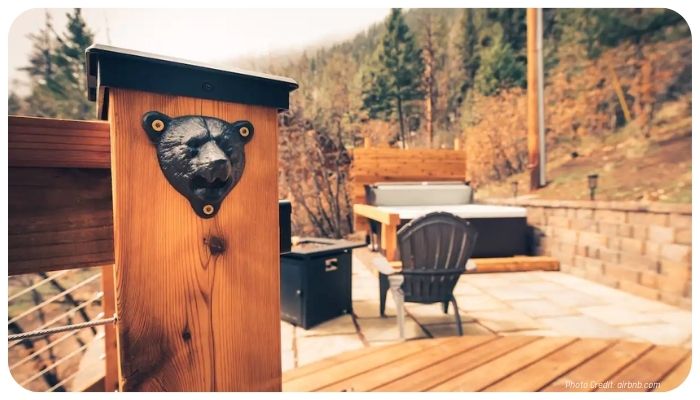 Pull in items that are synonymous with the location. For example, if you are in the apple country of New York or Washington, use apple accents in the kitchen. Louisiana is famous for its Creole and Cajun cuisine as well as jazz music, so use food or music-themed art.
Create an Experience
No matter where your vacation rental is located, turn a stay into an experience. Do you have an oven, mixing bowls, and measuring cups? Buy a pizza stone and pizza cutter. Then place pizza dough recipes in the kitchen and advertise that you've got everything for a fun make-it-yourself pizza night.
Are you close to the lake or beach? Provide a picnic hamper, beach towels, and an umbrella for shade along with lightweight beach chairs.
In the high desert? Accent the space with cacti, earth tones, and boho-style décor.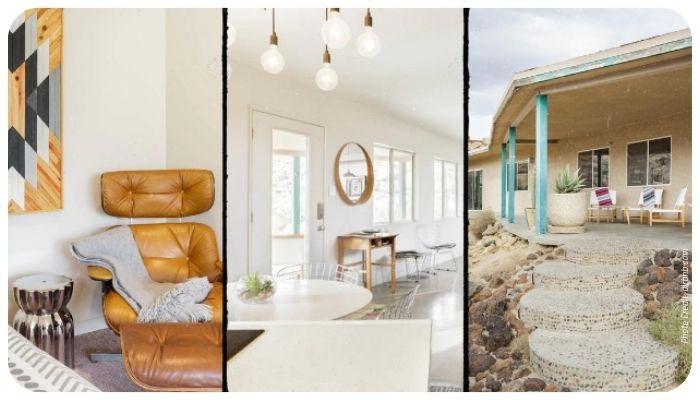 In the mountains? Stock your rental with illustrated books on the local plants, wildflowers, birds, and trees. Encourage guests to go on safari and see how many of the local flora and fauna they can identify.
Does your rental have a stunning view of the city lights? A bistro table, two chairs, and an ice bucket on the balcony invite visitors to enjoy city sights from the comfort of your rental.
If your rental is in a historic district, create a walking tour that includes points of interest in the neighborhood.
Keep Your Vacation Rental Green
Designing the perfect vacation rental shouldn't be hard on the planet. Where possible, go green. These days, green materials are easier than ever to find. Bamboo is in everything from sheets and towels to beverages and bikes. Bamboo grows incredibly fast so it's highly renewable – and it's durable too. Bamboo flooring or eucalyptus flooring creates beautiful spaces and stands up to the abuse that a vacation rental must endure.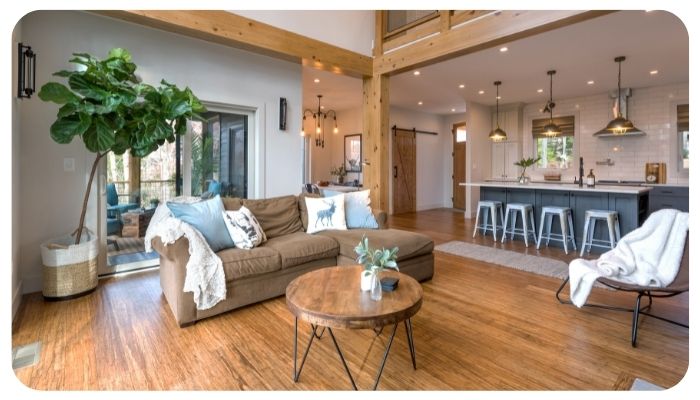 Pick high-efficiency appliances and check the Energy Star and SEER ratings on your heating and air conditioning.  Install reusable filters on the furnace and air handling unit to keep the air clean and used filters out of the landfill.
LED lights provide the perfect light for business travelers, are cool, and sip energy sparingly. Use them wherever possible.
---
Remember, designing the perfect vacation rental requires matching the space to the market you want to serve and then outfitting the space to meet the needs of specific travelers.
Use space wisely and create an experience your guests will not only adore, but recommend to friends and family for their vacations as well.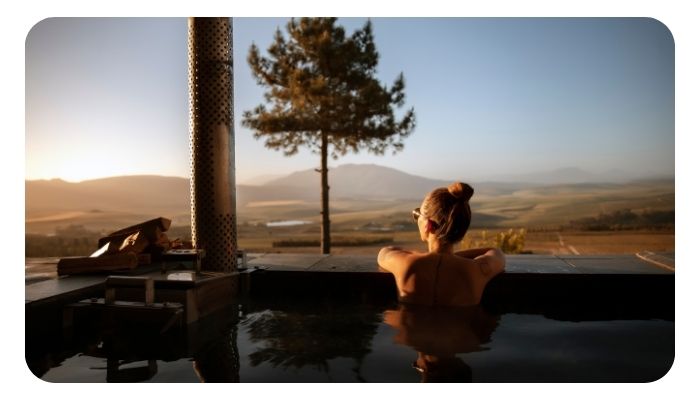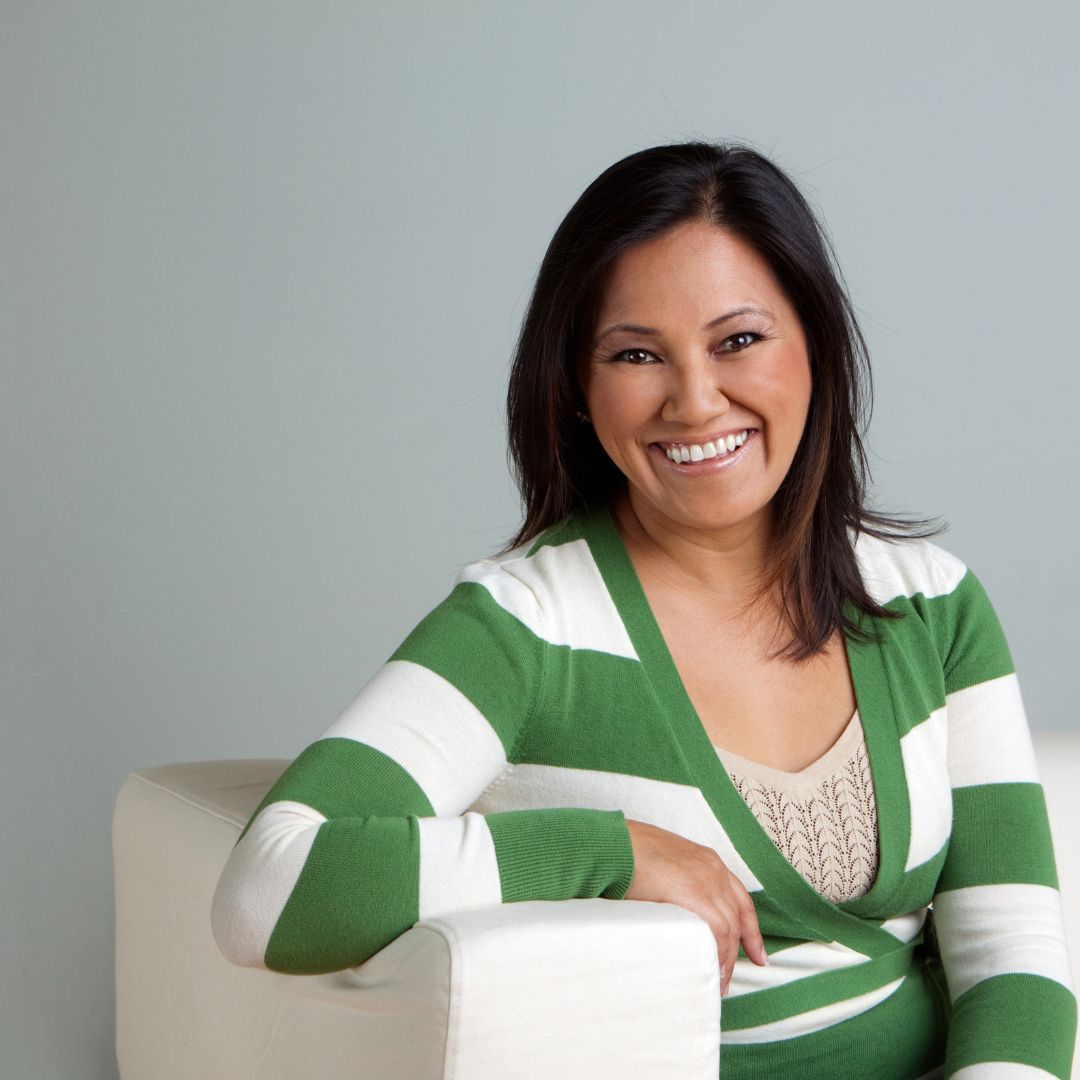 About the Author
Cheryl is our go-to guru for all things sustainable living. She's on a mission to make your family and our planet thrive! With a heart as big as her passion for sustainability, Cheryl brings you the freshest insights on eco-friendly building products and energy efficiency. 🌱💡
And hey, did you hear about the eco-friendly lightbulb that went to therapy? It finally found its inner "enlightenment"! 😄 Join Cheryl on this green journey, where she'll tackle your concerns with a smile and a sprinkle of eco-humor!