If you're looking for affordable flooring options, you've most likely come across linoleum and vinyl. These two materials are comparable in affordability, and they share certain traits that allow them to be installed in kitchens or other potentially wet places.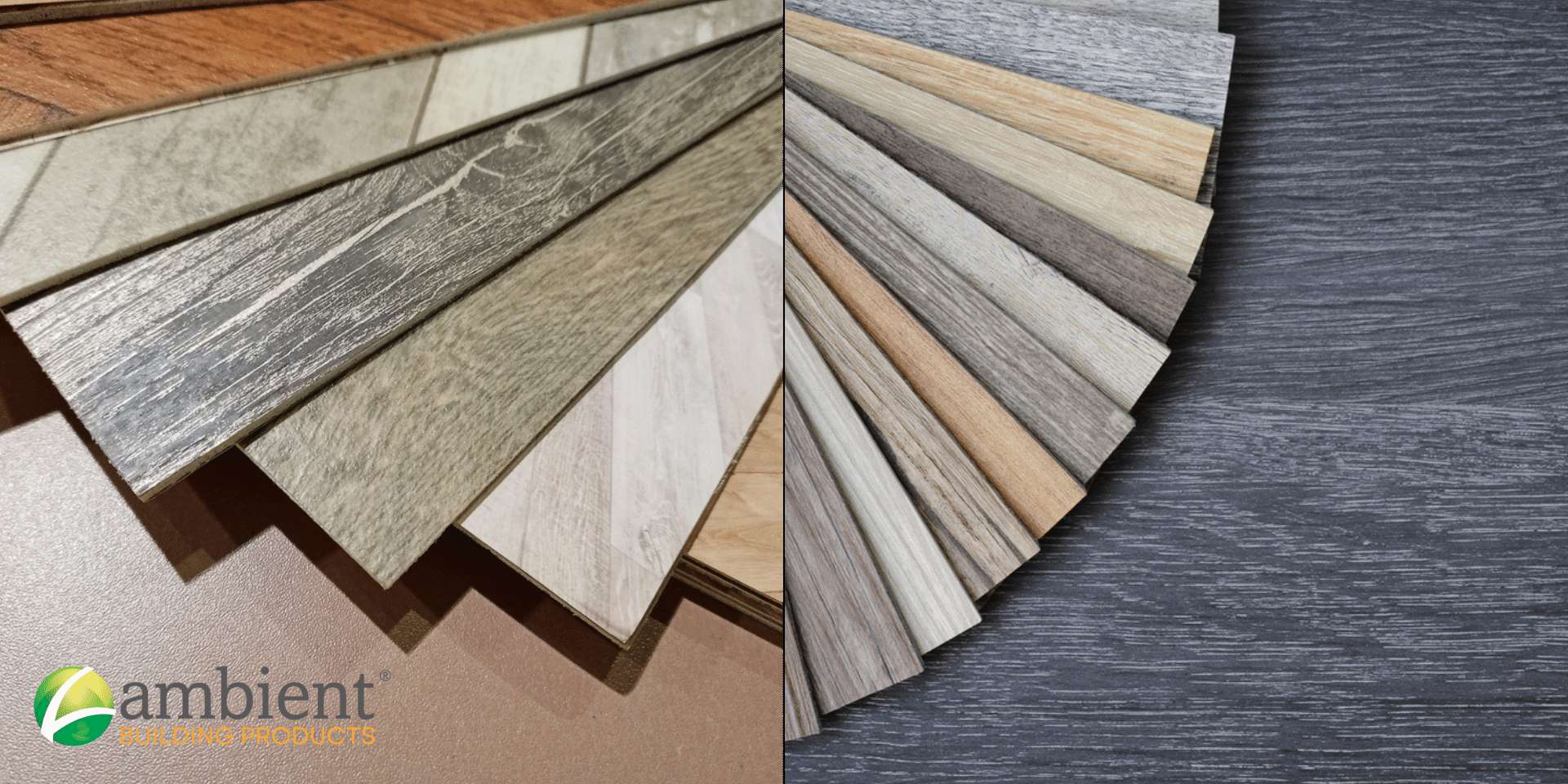 The two are sold in a few different versions: sheets, planks, and tiles. Thus, if you were hoping for a simple answer when choosing between linoleum vs vinyl, there is a lot to consider. While the deliberation may not be so clear cut, we are here to help!
This article will address the key differences between linoleum and vinyl. When it's all said and done, you will be better equipped to make the best choice for your home.
What is Linoleum vs Vinyl?
Before delving into the nitty gritty, it is important to understand what these materials are. This understanding will give way to differentiating points between the two: appearance, applications, durability, sustainability, and more.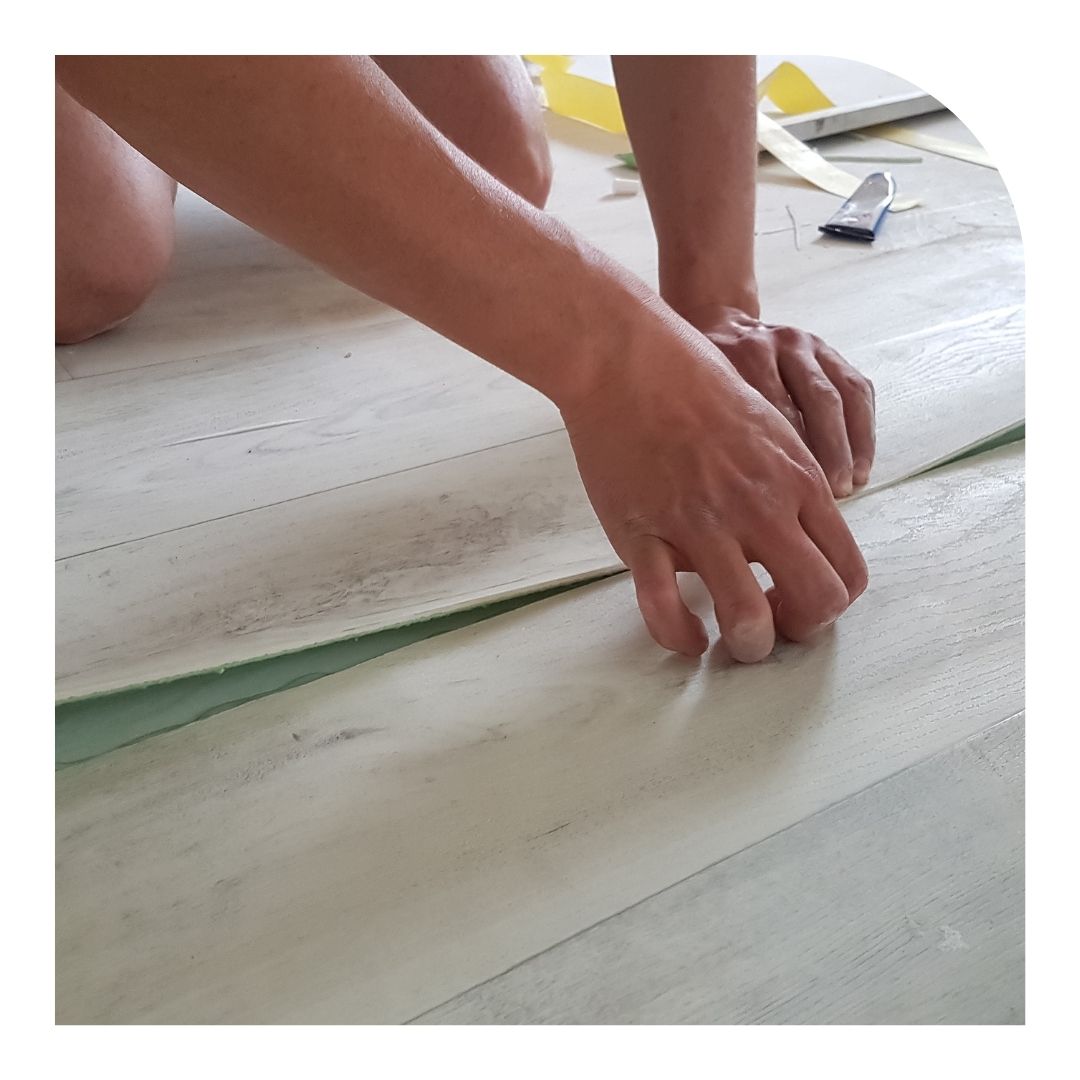 First developed in the 1800s, linoleum is an entirely naturalistic compound. It exhibits the rigid, tough qualities of plastic, and it looks like a cross between rubber and tile. Rather than synthesized, it is derived from linseed oil, wood fillers, and resins. Modern linoleum contains a slightly modified mix of substances, but it remains organic. Powdered wood and limestone are two of such additions.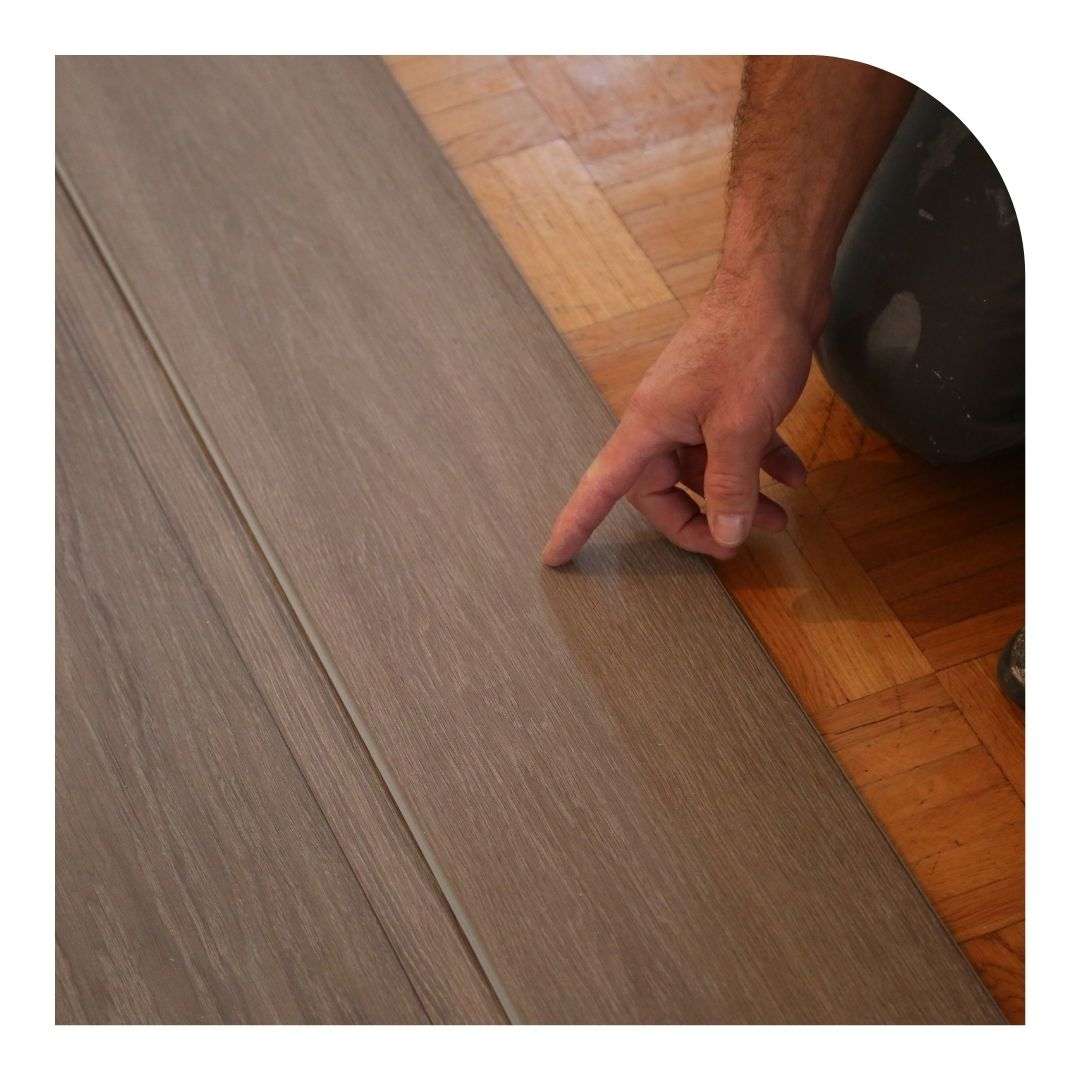 Vinyl, by comparison, is a largely inorganic material. Its primary ingredient is polyvinyl chloride (PVC) – a synthetic compound. The manufacturing process is known to consume high volumes of petroleum.
Additionally, it gains durability from a polyurethane finish; however, this contributes to the overall synthetic nature of vinyl. In general, it is not an incredibly eco-friendly or energy-efficient product.
Sustainability aside (more on that later) there are intrinsic benefits to vinyl over linoleum – and vice versa!
Appearance
The conversation comparing the appearances of vinyl and linoleum revolves around two words: embedded or embossed.
The patterns exhibited by linoleum floors are embedded – meaning they permeate the entire substance. No need to worry about fading or chipping away at the color! Due to the integrity, however, linoleum floors are primarily sold in solid colors.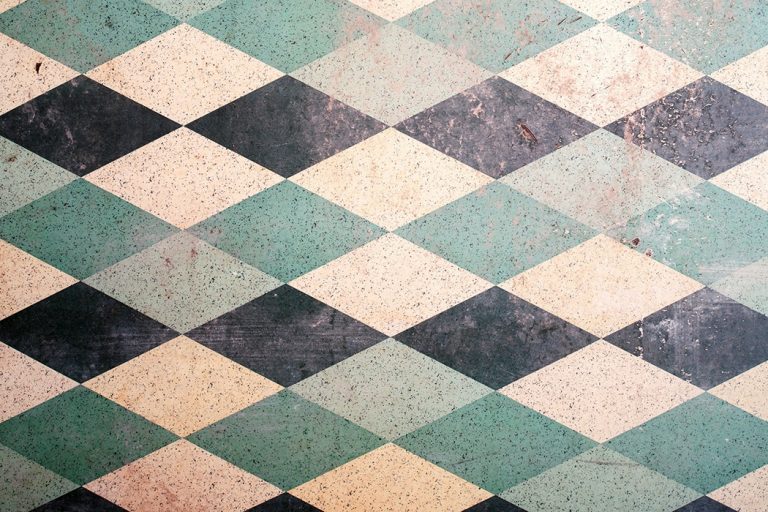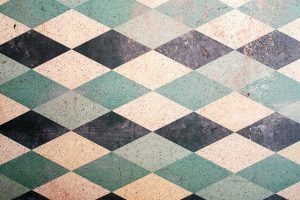 Historically, linoleum has been capable of featuring various designs: plaid, geometric, or mosaic patterns to name a few. Despite this, its derived from linseed oil, wood fillers, and resins due to its organic nature. Manufacturers typically stick to natural pigments that coincide with the compositional elements of linoleum. Thus, the colors exhibited tend to have a more muted tones.
In comparison, vinyl has an essentially infinite variety of colors and styles. This is due to the embossed nature of its appearance. Embossed floors are those whose patterns are printed onto them rather than manufactured into them. Vinyl floors are comprised of various layers, and color is one of them!
Using printed patterns gives vinyl an aesthetic edge beyond the available color palette. One of the most popular styles of vinyl flooring is wood-look vinyl. The embossed pattern allows the floor to exhibit stylistic finishes beyond the color itself. Wood-look is only the beginning: vinyl is capable of mimicking virtually any type of floor on the market. Additionally, they can even be printed with images. Looking to spice up the floor without a messy or complicated decal? Vinyl is perfect for you.
We've all seen shirts, socks, and everything else under the sun printed with pets' faces. While pieces of apparel are adorable, we wouldn't recommend printing your pup's face on the floor. Recommendations aside – it's entirely possible! That's what counts.
Durability
Despite their versatility in appearance, the durability of vinyl floors has been a common criticism. Due to the embossed nature, the pattern can be chipped, scuffed, and worn. Refinishing is often encouraged my vinyl manufacturers; however, be careful as aggressive or excessive sanding can eliminate the embossed imaging.
"Only 90's kids will remember…" Linoleum was once a popular flooring in schools – if you're of age to be seeking out a sustainable flooring blog, then you've probably walked on one. Additionally, these floors were common in kitchens. In some places, linoleum floors are still popular for these types of installations.

School and kitchen installations have, however, gravitated towards vinyl in recent years. This shift was brought about due to a handful of key differences in durability between linoleum and vinyl.
The polyurethane coating used to finish vinyl floors is incredibly durable – beyond the capabilities of natural compounds. In fact, the refinishing process of vinyl is more about this layer than the emboss itself. Scratches can be buffed out and re-coated without ever reaching the imaged layer of the floors.
Furthermore, vinyl floors have been popularized in high-traffic or damp environments due to their durability. You can deliberate all day over whether the variety of patterns outweighs the potential to lose the color altogether. Outside of dramatic impact, the finish on vinyl floors is nearly impenetrable. Not only that, but these floors are waterproof compared to the water-resistant nature of linoleum.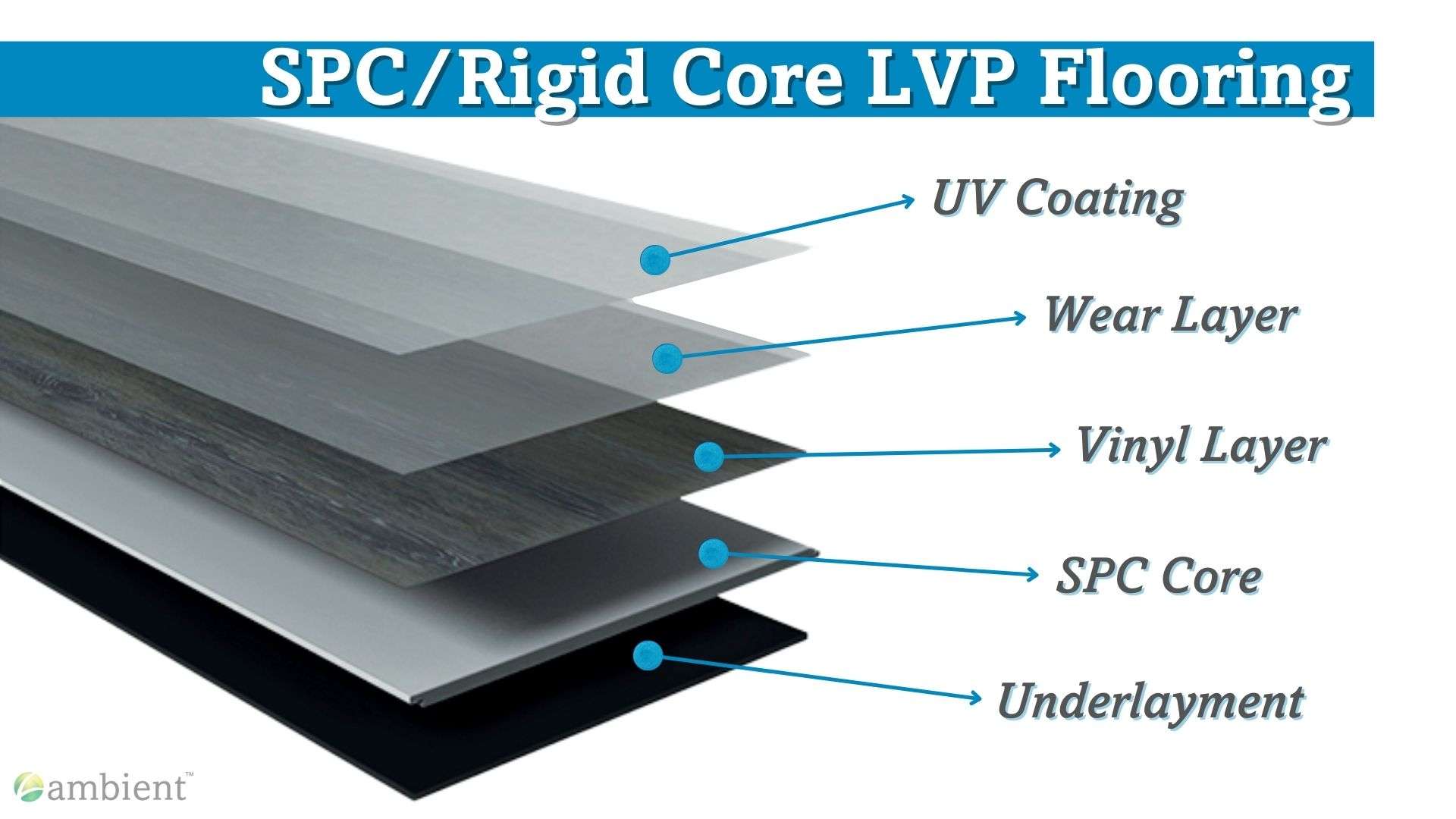 Recent developments in floor have led to rigid-core prototypes such as stone polymer composite (SPC) vinyl floors. These floors are less likely to expand or react to excessive moisture due to their rigidity. Thus, they are warranted for installation below-grade. In contrast, linoleum floors will curl when exposed to water for too long. Therefore, linoleum is not recommended for installation in basements and other below-grade areas.
Durability is a complicated question when considering linoleum vs vinyl. Vinyl is perhaps a higher risk in terms of preserving the color or print of the material itself. It tends to make up for these factors with its tough surface and rigid structure. Of course, the success of these features depends on how the floor is installed.
Applications of Linoleum & Vinyl
The three primary application of linoleum and vinyl are sheets, planks, and tiles. These are more or less common depending on the material: linoleum is commonly installed in sheets, whereas vinyl typically comes as planks. Vinyl plank – modernized as luxury vinyl plank (LVP) – has become such a common phrase that it is mistakenly used to refer to vinyl floor altogether. Even by me? Couldn't be…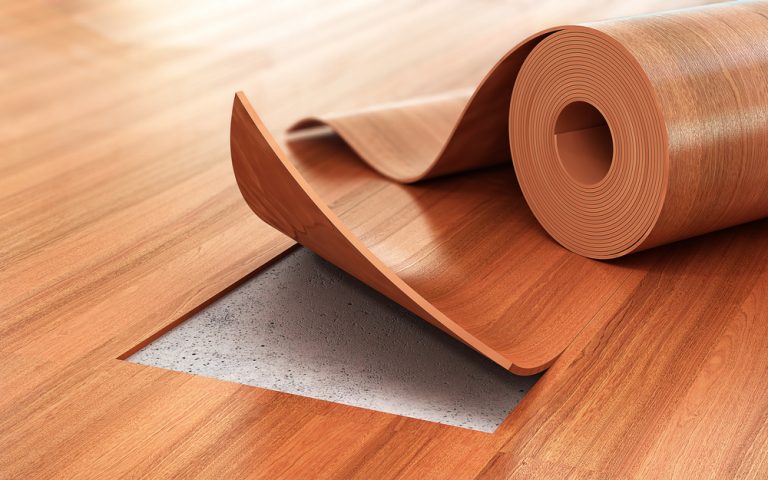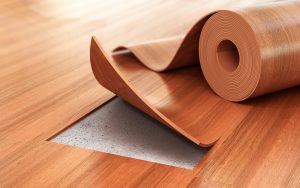 Sheet flooring is a singular piece that is installed across an entire room. Its association with linoleum perhaps builds a helpful mental image of how it "curls" after water damage.
Additionally, this installation is used for linoleum because of the properties of the material itself. Linoleum is inflexible and difficult to cut. It will also show instability and imperfections if installed on a subfloor that isn't level.
This is a challenge for DIY installers, and it should likely be left to professionals who are familiar with the material. It is often best to lay linoleum in one run once the room has been prepared properly. Sheet vinyl is hardly any better – while easier to trim, it is finicky to fit precisely.
Vinyl plank, by comparison, is much easier on the installation end. Newer models of vinyl SPC flooring come with convenient click-lock mechanisms that slide right into each other. This makes it a dream come true for homeowners looking to save some money and handle the installation themselves.
Linoleum and vinyl tiles are universally easy to install. Many of these products come with peel-and-stick adhesives that are quick and easy to use. It is a minimal mess, minimal fuss sort of installation perfect for DIY projects.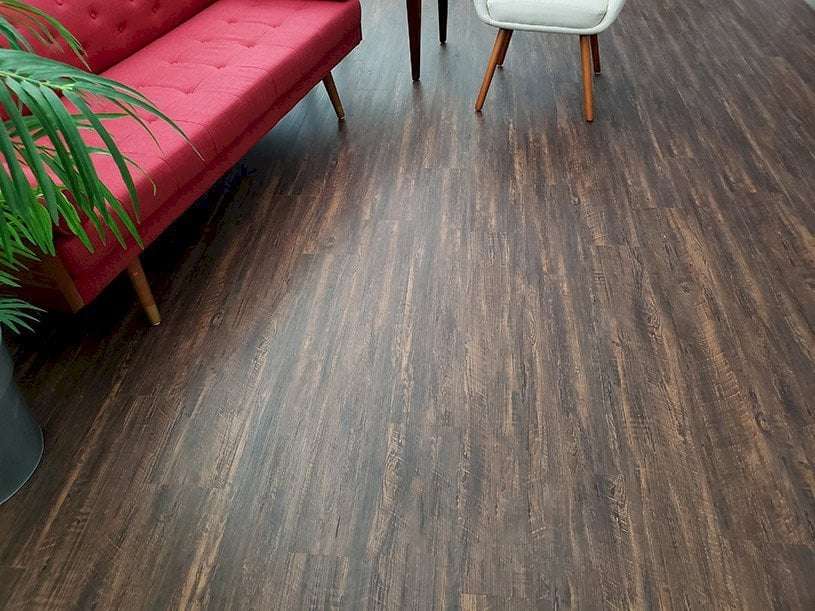 When considering linoleum vs vinyl, installation is one of the more clear-cut answers. Both are possible, but vinyl has a strong advantage in terms of flexibility: both as a material and for installation.
Sustainability
While we have made a strong case for vinyl on account of its customizable appearance and easy installation, there are drawbacks. Largely, this comes in the form of sustainability.
As a synthetic material, PVC – and vinyl broadly – is comprised of inorganic compounds. This means that it is non-recyclable nor efficiently biodegradable. Again, the manufacturing process of vinyl is not the most efficient when it comes to energy consumption.
---
VOCs in Flooring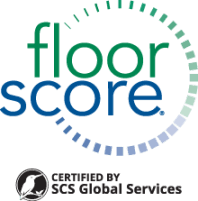 Another environmental concern associated with vinyl is its polyurethane finish. While this is creates much of the appeal for vinyl based on its resistance to water and foot traffic, it emits chemicals that are dangerous in large quantities. Through a process known as off-gassing, polyurethane finishes can emit volatile organic compounds (VOCs) such as urea formaldehyde that are highly toxic after intense exposure. Formaldehyde appears even in natural compounds, so the presence is tightly regulated to the point of "trace amounts."
While it is impossible to entirely rid the material of VOCs, there are standards to ensure safety. These environmental and health standards ensure that the volume of off-gassing is non-toxic for indoor use. Finding vinyl flooring that passes these indoor air quality tests (e.g. CARB Phase II), however, is as simple as choosing a reputable flooring manufacturer. Floors that are safe for your home or business will be easy to spot; just look for the Floorscore certification badge on the manufacturer's website and product pages!
---
Although it may be lacking in design and durability, linoleum does not commonly experience such problems. As an organic compound, it is recyclable and biodegradable. It does typically contain high volumes of VOCs or other dangerous additives. Linoleum floors can also last up to 40 years if maintained properly. In this sense, the virtue of sustainability can come in the form of longevity.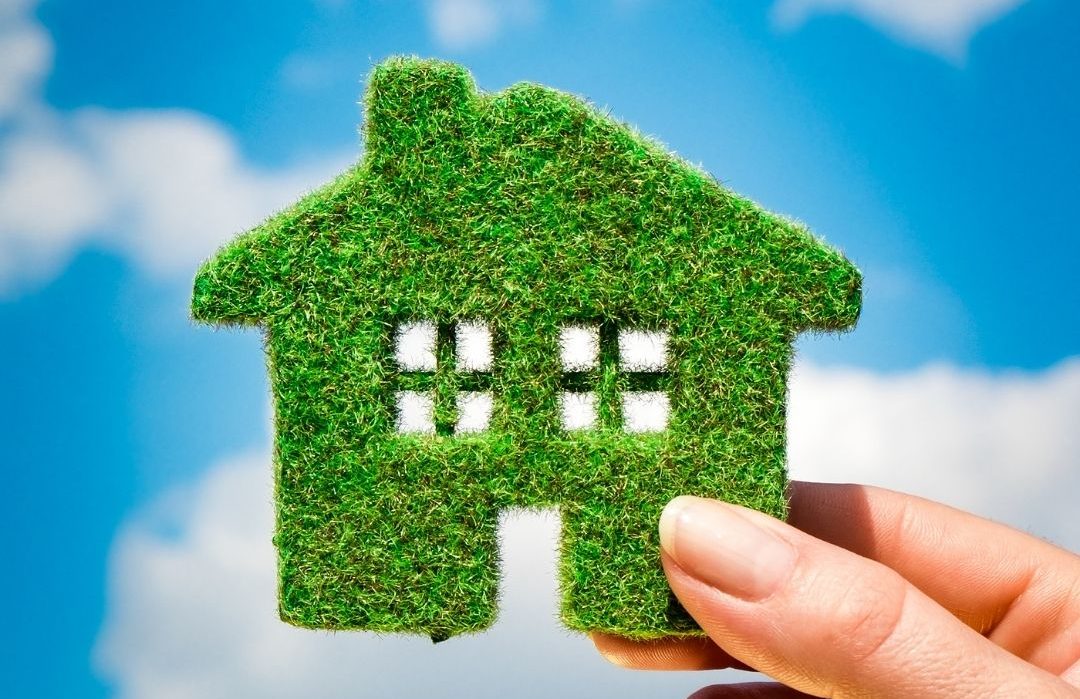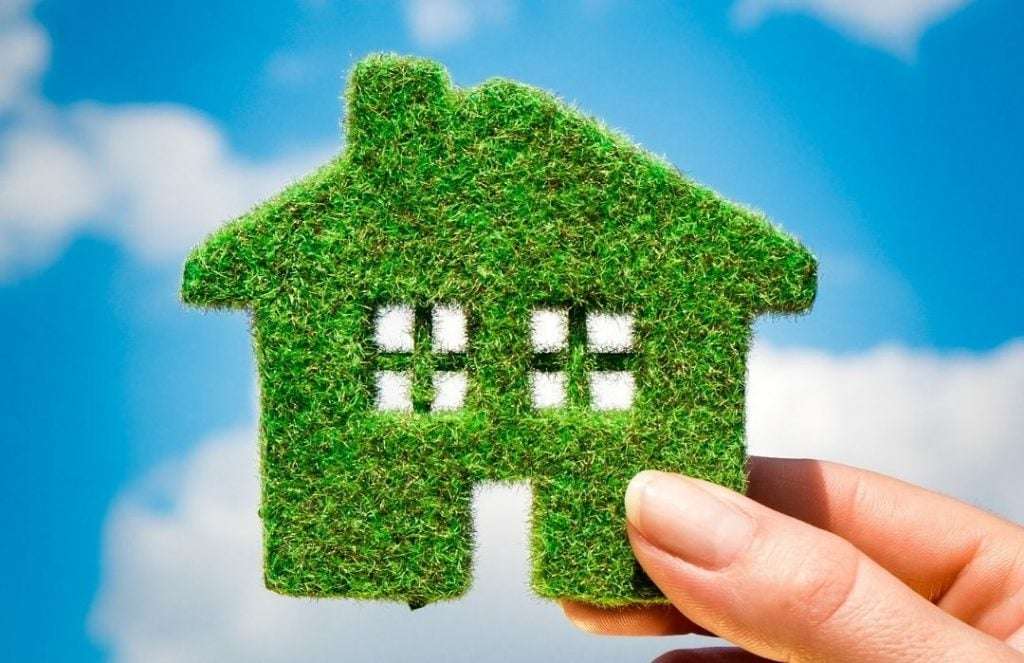 So Which is Best: Linoleum vs. Vinyl?
Inevitably, much of this consideration boils down to personal preference. While both are affordable materials, vinyl is incredible for renovations on a tight budget. If you're operating on a tight budget, maybe sustainability isn't your highest concern. Fully organic living can be an expensive undertaking, after all.
Many designers may have said that linoleum is out of style; however, it has made a resurgence in recent years. Whether you like the simplicity of design or sustainable features, linoleum is a quality consideration for flooring.
Need to know where to start your shopping? Check out Ambient's sustainable bamboo and luxury vinyl plank flooring and grab some free floor samples today!