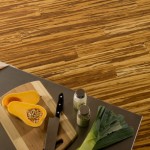 Bamboo flooring has become extremely popular in recent years because it's affordable, durable, attractive, grown, and harvested in an environmentally-responsible manner, and it comes in a wide variety of color and grain options.
In order to decide on which bamboo flooring option is best, take a look at the different varieties of grains, textures, and installation types.
Bamboo Grain Types
There are three different grain types of bamboo: horizontal, vertical, and strand-woven. Each has its own look and characteristics, and deciding on which to go with is generally based on the overall look the homeowner desires and how durable you need your floor to be.
Horizontal bamboo describes bamboo strips that are installed next to each other facing a horizontal direction. Laying the strips this way shows off the random patterns, knuckles, and growth rings of the stalk.
Vertical bamboo refers to strips that are placed next to each other in a vertical direction. This type of installation gives the finished floor a clean, uniform look.
And finally, strand-woven bamboo describes planks that are made from the remaining strands of the bamboo stalk that have been trimmed away from the long bamboo fillets. These strands get compressed together, and the finishing result is gorgeous bamboo planks that have a look more similar to traditional wood floors, but about 3 times harder (bamboo flooring is more durable and tougher than hardwood flooring).
Types of Bamboo Installation
Before even considering the grain type, a buyer should really start by selecting an installation type first, because certain installation types cost more than others, so this will impact your overall budget.
Nail or Glue Down Install
Similar to installing a hardwood floor, a pneumatic nailer will be required in order to get the nails flush. There is no one uniform way to nail down or glue down the bamboo planks, as much depends on the type of sub-flooring that is present. Unless you are very experienced with installing this type of flooring, it's best to seek professional help.
Floating Floor Install: Tongue & Groove

The nice thing about floating floors is that they can be installed over almost any type of regular flooring, saving time and energy from having to rip up the current floor. Before installing a floating floor, a protective underlayment (Do I need underlayment for bamboo flooring?) must be placed between the old floor and the new one. With this type of installation, the planks are adhered to each other instead of being glued down to a subfloor, making it a pretty simple job for a DIYer.
Floating Floor Install: Glueless-Click Lock

This is by far the easiest and least messy of all the flooring installation choices. The bamboo planks simply click together like a gorgeous puzzle. When finished, the floor will look no different from other installation jobs and all of the planks will snuggly stay in place.
Color Types
When it comes time to select your flooring's color, you will have a few options: stained, direct print, natural, and carbonized. Find out more about carbonized bamboo flooring. Each option is very natural as far as finished color and durability.  Meanwhile, there are many bamboo surface finishes available also.
Natural
Natural bamboo is just that, natural. It has not been stained nor have any colorants been added to it. It appears as a very light blonde color and tends to go with a variety of decors.
Carbonized
Carbonized bamboo should really be called 'caramelized bamboo' because that's exactly what happens to the bamboo. In this process, the bamboo is boiled for a long period of time and the sugars within the plant caramelize. How long the bamboo boils determines the depth of color. This results in the most popular color of bamboo flooring, as it complements many other colors and looks great with most cabinets and furniture.
Tiger
Tiger bamboo is striking and made by combining strips of natural bamboo and carbonized bamboo, giving the finished product a "tiger stripe" or marbled effect.
Stained
Stained bamboo is treated with a wood stain and can come in a variety of shades from light to dark, making it easy to match every décor.
Direct Print
If you'd like the look of a hardwood such as cherry, maple, or oak but want the many benefits of bamboo, you can have it direct printed on. This process prints the specific wood pattern onto the planks before they are sealed and pressurized.
Types of Surface Textures
There are three main texture types available with bamboo flooring.
Smooth
Smooth bamboo flooring is manufactured by machine with several layers of sealant added to the finished product. This type of surface texture, or rather lack of texture, is the easiest to clean and recommended for people who suffer from allergies.
Hand Scraped
Hand-scraped bamboo flooring is, well, scraped by hand in order to give the floor an aged or antique look. Although very beautiful, this finish is more costly because of the manual labor involved. If you have the budget, though, it's very worth it.
Brushed
Brushed is quite similar to the hand-scraped process, although the end product is not as wavy-looking.
Only you can determine the best bamboo flooring for your home, so take into consideration things like your budget, maintenance, and durability and you'll select the right one. If you still have questions, call one of Ambient's bamboo flooring professionals at 866-710-7070 today!
If you would like to have a free bamboo flooring sample sent to your, simply click on the box below.