Apartment living is becoming increasingly popular, and not just among the younger generation; even baby boomers are foregoing their sprawling mansions and adopting luxury apartment living lifestyles. And why wouldn't they?
Today, high-end rentals include not only luxurious and spacious accommodations, but also a wealth of extra amenities such as large communal areas, green spaces, restaurants, concierge services, and even movie theaters.
We'll look at some recent luxury apartment developments and why they are often the ideal housing choice for millennials through to baby boomers. But our main focus will be why so many developers of these superbly designed spaces choose to furnish them with bamboo flooring.
Loft conversions in Boston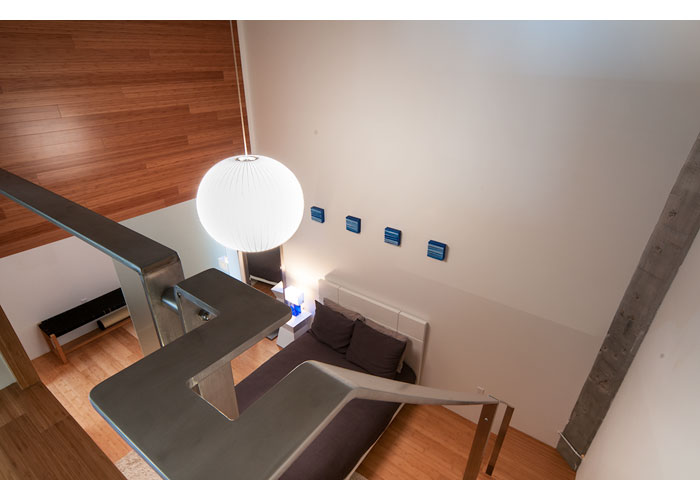 Let's start with an example. The above photo was shared with us by the Managing Partner of Paragon, a property managing company based in Boston. This is part of a luxury loft conversion where every room is furnished with high-end bamboo flooring. In fact, as an extra touch, even the wall panels are made from bamboo.
Durability is of utmost importance in rental properties because they face considerable wear and tear and, oftentimes, high turnover. Bamboo flooring is available in today's market and is well suited for high traffic. The upkeep costs of a traditional hardwood floor, such as oak, are considerably higher because each new tenant expects their new apartment to look pristine when they move in. To maintain it's stylish appearance through multiple tenancies, frequent refinishing of conventional hardwood flooring is required. This is not the case with bamboo flooring; it hardly (if ever) needs refinishing in a residential setting.
Bamboo flooring is three times harder than oak, so it is far less susceptible to wear and dents caused by heavy furniture, children, and pets. A strand woven bamboo floor will keep its good looks throughout the tenancy and will require virtually no maintenance, apart from a routine cleaning when new tenants move in. Add that the cost of bamboo flooring is usually more affordable than it's wood counterparts and you have a very popular floor with builders. Here is another picture from Paragon; a loft with a beautiful bamboo floor.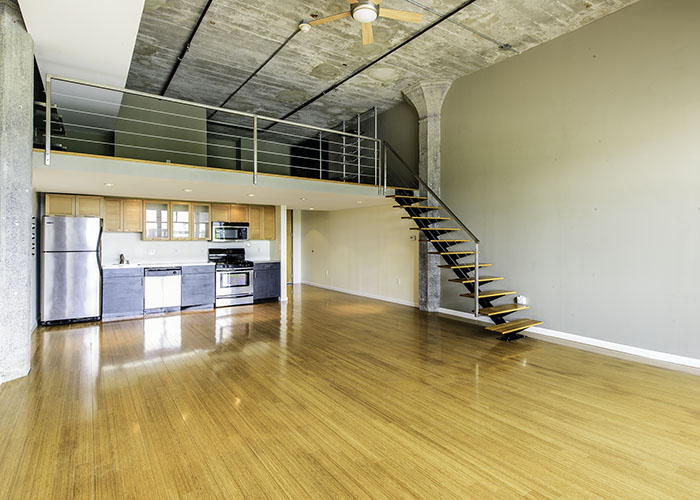 Bamboo flooring in top-end high rise developments
The use of bamboo in high rise developments isn't new. Bamboo first became popular with high-end builders some years ago, but it also attracted some criticism as those early bamboo floors were prone to shrinkage. However, now that much-improved bamboo flooring made from strand woven bamboo is available, shrinkage is no longer an issue. Strand woven bamboo flooring is highly stable, and it has superior performance and resilience.
Here is a development in Downtown Brooklyn known as 66 Rockwell. The 42 story development includes one- and two-bedroom apartments and tenants have access to some 10,000 square feet of shared amenity space that includes a rooftop sundeck, a Zen garden, a library, a health club, and even a poker room.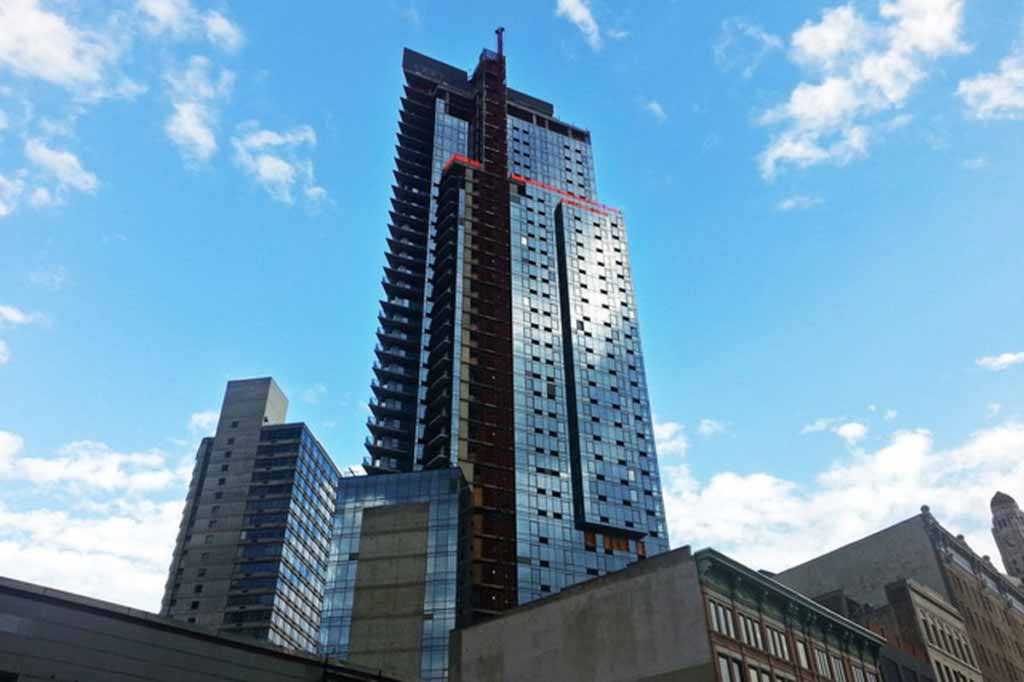 Every room in this luxury development boasts a beautiful bamboo floor. Of course, the design world is a big follower of fashion, and bamboo flooring is undoubtedly fashionable. This is one of the reasons the architects selected it. But bamboo floors are far more than a fashion statement that will soon be replaced by another latest trend. Unlike other trends, bamboo flooring is here to stay, due to its toughness and because it is eco-friendly, beautiful, and stylish.
Bamboo flooring is built to last. In the 42-story, 66 Rockwell development, the hard-wearing strand is woven bamboo flooring in each of the apartments will, with normal maintenance, retain its good looks. It will also continue to stand up to the heavy foot traffic and possible neglect from the very many tenants who will walk and live on it.
The move to rental apartment living
In the introduction, we mentioned the increased popularity of apartment living across the generations. Let's look at this demographic in more detail.
Baby boomers bought when a property was an affordable investment and in plentiful supply. Today, many of these empty nesters are selling their large mansions to live in luxurious rental properties –  properties with all the amenities that are near eating, shopping, and recreation facilities.
Generation X is less likely to buy a property than you might think. In a recent survey, over a third of respondents stated a preference to rent.
Millennials move into homeownership much later than either of the other two generations. Nearly half would rather spend their money on travel and other lifestyle enhancements than on buying a home, Renting is the preferred option for them, offering greater flexibility and choice.
Apartments Outfitted with Bamboo Flooring
One result of this is a booming investment property market. According to Forbes, many metropolitan areas in North America are experiencing unprecedented levels of investment property sales. Here is a small sample of them:
West Loop Luxury Apartments is a new development in Chicago's West Loop. Once an industrial manufacturing area, West Loop is now a trendy part of Chicago. The development includes five luxury rental apartments with bamboo floors throughout.
The Palisades of Towson offers an "ultra-luxurious lifestyle" and includes a range of studio, one-, and two-bedroom apartments for rent.  Each apartment is luxuriously equipped and decorated with strand-woven bamboo flooring.
Instrata Brooklyn Heights in Clinton Street, Brooklyn is a refurbishment project based on the historic 75 Clinton Street, built originally in 1910. With some of the highest quality New York rentals, the apartments use bamboo flooring throughout.
The Apartments at CityCenter in Washington DC include 57 bespoke apartments ranging from studios to penthouses, and every apartment provides bamboo flooring throughout.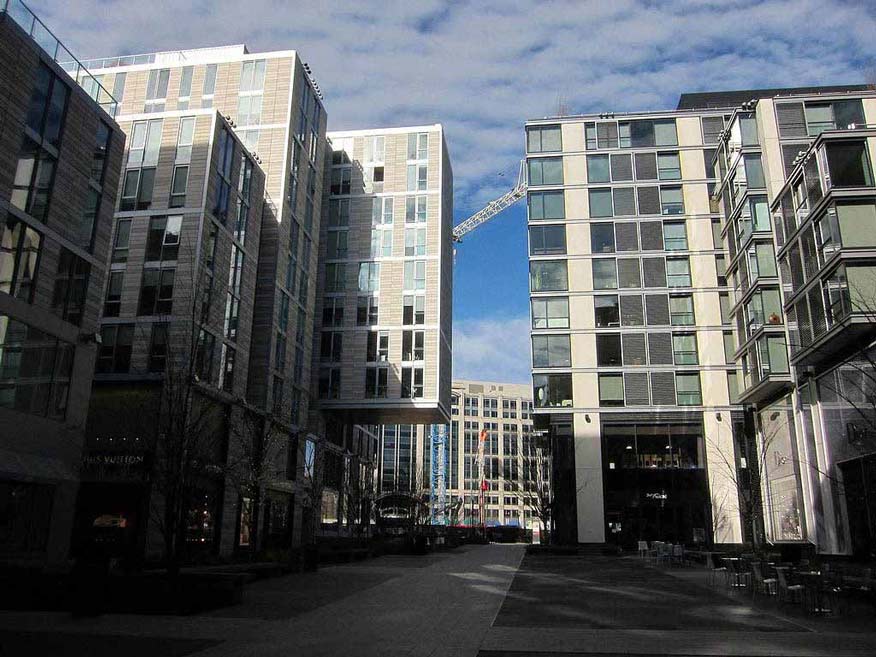 Porterlofts 156  offers a wide variety of loft spaces with a range of styles marketed as investment properties. The building is a converted warehouse with many preserved features matched with new constructions, and a significant feature of these conversions is their bamboo floors.
NoMad High Rise in New York offers 800 luxury apartments over 36 floors, all of which include quality bamboo floors. The rental is pet-friendly, which is, of course, yet another advantage of having bamboo floors; they are resistant to pet stains.
It's the same story all over the world; From New York to Sydney to Singapore, top-end property developers love bamboo flooring.
Co-living and the millennials
Another important consequence of the changing housing demographic is the rising popularity of co-living, which is further fuelling the boom in luxury apartment construction. As we pointed out earlier, one generation that is finding apartment-living their preferred lifestyle choice is the millennials. If you are a millennial yourself, you will probably already know what we are about to say. But if you are a Baby Boomer or part of Generation X, then you might wonder what is so different about the generation that was born between 1981 and 1996.
The millennials have come of age and are making a massive impact on the world. There are now more millennials globally than there are baby boomers, and in the US, millennials are on course to overtake baby boomers in 2019. Every generation is uniquely individual, and the millennials are no exception:
They have higher student debt than previous generations
They suffered more than most during the Great Recession
They are far less likely to own their own home.
While part of the reason for reduced homeownership is financial, the other part is their personal choice. Today, many millennials choose not to purchase a home, even if they can afford to do so.
Millennial renters
Millennial renters have a different view of their home than previous generations. As long as amenities are close at hand, they are happy to sacrifice space in their personal unit, opting for apartment buildings that provide co-living and co-working spaces where they can socialize. As a result, many modern luxury apartment building developments emphasize healthy sustainable living, wellness, and community. This video explains a little more about the generation and why they are so different from previous ones.
What is co-living?
While co-living may not be the choice of other generations, with the possible exception of the elderly, many millennials embrace this alternative lifestyle. For them, co-living is the new way to live, work, and have fun, particularly in cities. Co-living is a worldwide phenomenon and provides young people with a shared sustainable living space where the community is a major focus. It is also affordable.
For each individual, co-living means being part of a community sharing spaces and events while having your own private apartment. Across the world, developers are creating purpose-built luxury, co-living developments. A typical example is the 500-apartment Old Oak development in London, pictured below. Each member of the Old Oak community rents a private studio apartment, which includes access to many shared spaces, all the necessary amenities close by, and frequent community events.
And, you surely guessed it, bamboo floors are featured throughout. An added benefit is that the millennial generation, as a whole, is very concerned about the environment. For them, bamboo flooring is the perfect choice because of its sustainability in the world.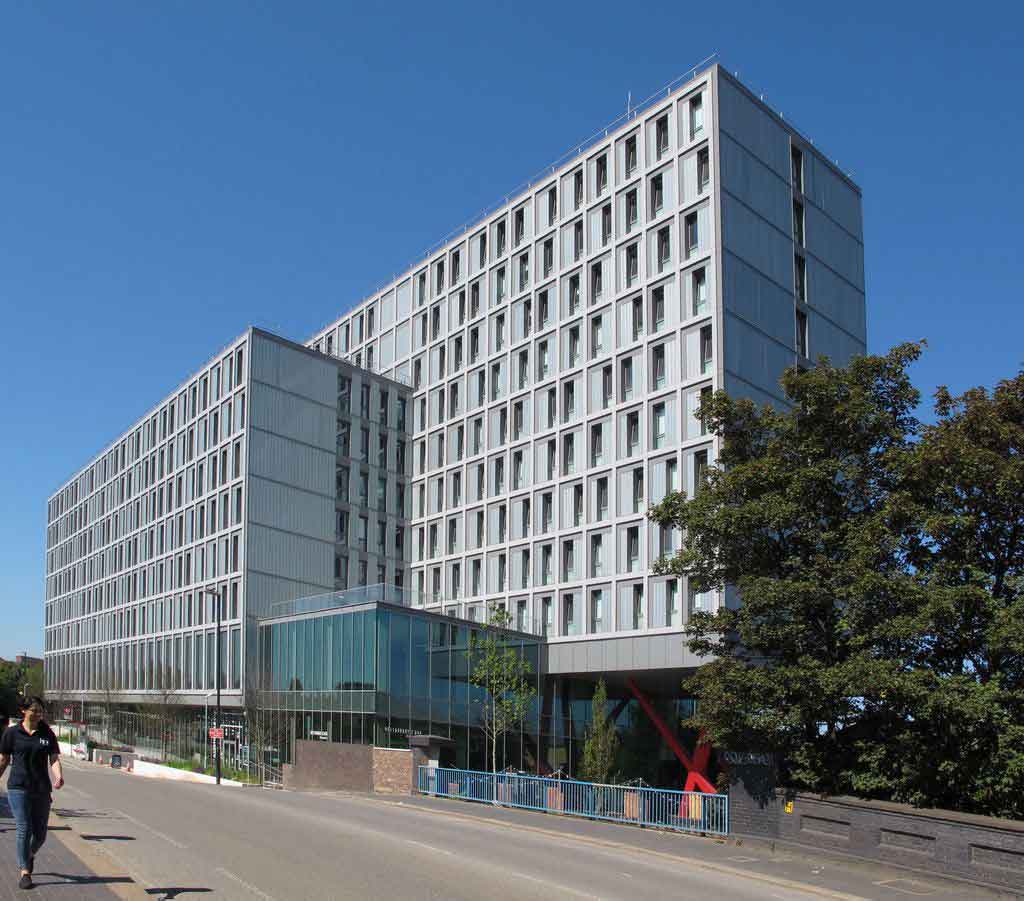 Conclusion on Bamboo Flooring
We hope you now see why bamboo flooring Is tops In luxury apartment construction. If you want to find out more information about this wonderful product, check out our Essential Guide to Bamboo Flooring!  To summarize:
Bamboo is stronger than conventional hardwood floors, being three times harder than oak
Bamboo does not need refinishing between rental changeovers
Bamboo is favored by designers because of its stylish and versatile looks
Strand woven bamboo doesn't shrink, even when installed on concrete floors
Bamboo is a cost-effective choice, cheaper than hardwoods, and requires very little maintenance
Bamboo is the eco-friendly flooring choice
Have you come across new luxury apartments featuring bamboo? Let us know, and please send us some photos.
Last update of the article: 11/23/2020.