If you are buying rather than building your home, then the flooring decisions surrounding cabinets may be at the mercy of the original homebuilders. In all likelihood, your pre-existing cabinetry was installed on top of or around the flooring in your kitchen. Perhaps you are considering replacing your kitchen floor or installing a new cabinet or countertop: no matter what the cause, the complicated intersection of floor and cabinets can cause a lot of worry for homeowners.
Different installers have different recommendations, but it is possible to install cabinets on top of most types of flooring. Floors that are attached to the subfloor – either nailed or glued down – are capable of bearing the weight of a cabinet. Many newer lines of flooring, such as modern hardwoods and luxury vinyl plank, come with click-lock mechanisms for easy installation; however, these floating floors cannot be installed under cabinets. Bamboo floors are subject to the nuances of cabinet installation because of its versatility: they can be glued, nailed, or floated.
There are many things to consider about installing cabinets on top of various flooring beyond this surface-level answer. In this article, we'll tackle some of the nuances so that you can make an informed decision about where and how to install your new cabinets or floors.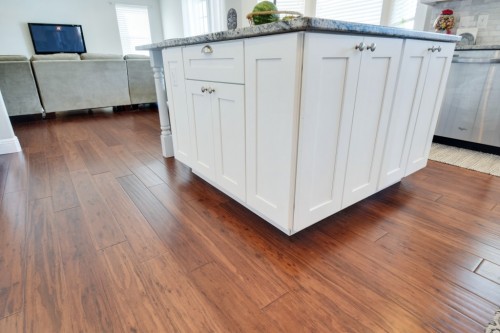 Can I Install Bamboo Flooring Under My Kitchen Cabinets and Island?
Bamboo floors are beautiful and strong. Installing them in a kitchen renovation is a trend that's not going away any time soon due to strand woven bamboo's durability. If you are new to bamboo flooring, check out the Bamboo Flooring 101: A Beginner's Guide to Bamboo Floors to learn everything there is to know about this beautiful flooring option.
Still, people wonder about the practicality of putting bamboo in the kitchen. The most common concern is water resistance. In a post about the water-resistance of bamboo flooring, we explored that concern. We showed that, yes, bamboo flooring works great in kitchens since strand woven bamboo flooring provides 20-hour spill protection, and small water droplets evaporate.
When it comes to cabinetry, the short answer is YES for a nailed down or glued down floor and NO for a floating floor. Bamboo is durable, easy to clean, water-resistant, and complements a wide range of décor styles. So, the real question is about installation. Here are the straight goods on installing bamboo kitchen floors.
The Ins and Outs of Your Floor Structure
Most flooring installations are comprised of three layers:
Subfloor
Underlayment
Bamboo floor
The subfloor is often a structural layer of plywood, but it can also be concrete or other materials. It covers the floor joists and forms the foundation for the other layers. The underlayment sits on top of the subfloor and underneath the bamboo floor.
The typical underlayment for nail down installations is 15 lb asphalt-saturated felt paper or red rosin paper. They help reduce wood-on-wood squeaking.
For floating installations, you'll want to use a 3-in-1 vapor barrier underlayment, which is used to help muffle sound, protect against moisture, and improve comfort.
When To Install The Flooring Under Cabinets
Nail Down Or Glue Down Installations
In most nail down and glue down installations, professional flooring installers advise putting down the whole floor before adding islands and cabinets.
Why?
It helps ensure countertops will be at the proper height.
Changing the configuration of cabinetry in the future won't require a new floor.
Islands and cabinets are protected from inadvertent damage during floor installation.
Creates a clean, continuous look
No need for additional molding where islands and cabinets meet the floor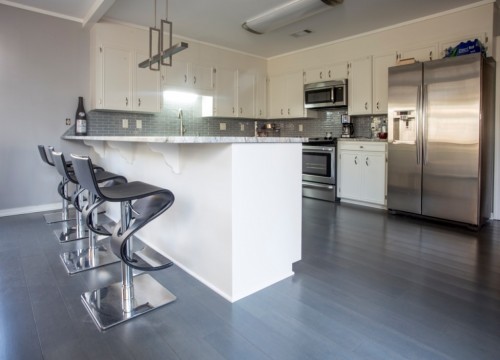 Is This True for all Types of Cabinetry?
Island countertops are a great and trendy way to create a more dynamic kitchen – whether that is cultivating a conversational space or expanding some much needed counter space for food prep. Many homes may not come with one installed, and it can be a headache to match with the flooring installation around your pre-existing cabinets. Furthermore, it would be unfortunate to carve out a hole in the center of your floor only to have the cabinet removed later.
Great news: even island cabinets can be installed over hardwood flooring – bamboo included! There are various types of island counters out there, and there are different recommendations depending upon what you decide.
Some islands come with legs rather than a block base. In general, fewer points of constant contact with the floor is better when possible. These types of islands put the lowest stress on the floor, and they do not require complex installation. They are often lighter than a more solid piece of cabinetry, so they can be an amiable solution when installing a new island cabinet over pre-existing flooring.
This does not mean that the traditional block base cabinets are unviable! They simply require more effort to install and require a bit more caution than the alternative. Even portable islands and island tables require preventative measures to keep the floors beneath them healthy. Whenever possible, it's important to attach felt furniture pads or another affective barrier between the base of the cabinet and the floor itself. Minor movements are inevitable, and you wouldn't want to scratch or gouge your floor!
Overall, it is safe to place any type of cabinet over top of nailed or glued floors. But we said professionals only recommend this in most cases. What's the exception? Floating floors.
When NOT To Install the Flooring Under Cabinets
Sometimes called "click-lock" floors, floating floors aren't nailed or otherwise secured to the subfloor.
As a result, natural expansion and contraction of the bamboo will cause the floor to move. The movement isn't significant enough for you to notice through daily use. Still, if anything heavy and immobile — like islands and cabinets — is on top of it, its range of movement is restricted. Over time, this can cause the planks to separate from each other.
Floating Floors are Installed After the Cabinets
To avoid that unwelcome outcome, install lower cabinetry, islands, and other permanent fixtures BEFORE laying the floating floor. Proper installation of floating floors involves leaving expansion gaps where the floor meets permanent structures, including walls.
Remember, before installing your bamboo flooring, you must acclimate it first for at least 72 hours in the room in which it will be installed. Also, floating wood floors require stable interior humidity — which means you'll want to maintain stable humidity that doesn't fluctuate more than 20% throughout the year (you can open your windows for the day, not a problem).
To compensate for any normal climate variations (e.g., rainy seasons, snowy winters, or waterfront locations), be sure to have internal climate control to manage humidity levels. The typical fluctuation of interior humidity will also dictate how long runs should be across the widths and down planks' lengths. Download our Flooring Installation Instructions for more detail.
More Truths About Bamboo in the Kitchen
There's a lot more to using bamboo floors in the kitchen beyond how they affect the installation of islands and cabinets.
To increase your enjoyment of bamboo floors in the kitchen and reduce maintenance, many people place a slip-proof mat at the sink. Using fun and stylish mats under pet dishes can also minimize the need for quick clean-ups.
Bamboo floors stay warmer underfoot compared to tile.
Bamboo is durable against the frequent and heavy foot traffic common to kitchens.
You're freed from cleaning grout, which is a necessity with tiled kitchen floors.
Bamboo floors are an eco-friendly choice because of bamboo's natural rapid growth to maturity.
Bamboo can be refinished multiple times, although, in a residential setting, strand woven bamboo will likely never need to be refinished. This makes it an excellent long-term investment in your home.
So, are you ready to have a bamboo floor in your kitchen?
Versatility Awaits
The biggest limitation to using bamboo floors in the kitchen is your imagination. But with so many examples of beautiful kitchens with islands, you'll be inspired in no time!
And, when you're ready, we are too.
Not only do we have hundreds of flooring options. We do our best to stock moldings and trim pieces plus common installation supplies at competitive prices.
There is no need for you or your installer to spend time searching for materials. When you're an Ambient customer, your floor, moldings, and installation supplies arrive in one shipment so that you can get your project underway without delay.
Is a bamboo kitchen floor in your future? We've served more than 10,000 satisfied customers and are ready to serve you too. Call (866) 710-7070 today to get started.