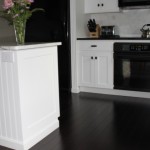 Bamboo is one of the most popular flooring options on the market today, and for a good reason. It's a green, sustainable material with the same warmth and beauty as hardwood costs less and can last as long as hardwood with proper care and maintenance.
There are various bamboo flooring types out there with varying installation difficulty, but floating bamboo flooring is fairly easy to install by a weekend DIYer.
What are Floating Bamboo Floors?
Floating floors are ones that can be installed directly on top of an existing floor without having to nail them down or glue them down, so there is no need for demolition or floor removal before installation. Floating floors can be laid over hardwood floors, vinyl, ceramic tiles, concrete, and pretty much anything as long as the surface is even.
For floating installations, the easiest product to use is to click lock engineered bamboo flooring. It usually requires a 3-in-1 underlayment to be laid down first; then the flooring is clicked into place on top of that pad (You might be wondering, "Do I need underlayment for bamboo flooring?"). Also, a small gap is left between the floating floors and the walls to allow for expansion, and these gaps can be easily covered and hidden at the end of the installation with moldings like shoe molding, quarter round, or baseboards.
DIY Saves You Money
Besides the satisfaction that you installed the floor yourself and can claim the boasting rights that come with that, installing your own bamboo flooring means not having to hire professionals to do the job, thus saving you money, sometimes a lot of money. Depending on how many square feet of flooring you plan to put in, you could save anywhere from a few hundred dollars to thousands of dollars.
Tips on Do-It-Yourself Floating Bamboo Flooring Installation
ONE – Ensure the floor or subfloor you are installing over is in good condition and free from any dirt or other debris. The idea here is you want a nice, clean, and smooth surface. Also, be sure to remove any baseboards or other perimeter trim before starting.
TWO – If installing over concrete flooring, you'll first want to lay down a moisture barrier on the concrete's surface and make sure to overlap and tape down the seams. This moisture barrier should then be covered with the foam padding of your choice. Or, if you want an all-in-one solution, check out a vapor and sound barrier underlayment. If installing over other flooring materials besides concrete or crawl space, you can skip the moisture barrier. Still, then you will probably get more footfall noise since most underlayment pads have the added benefit of absorbing sound.
THREE – Once you start laying down your planks one at a time, make sure to use 1/4 to 1/2 inch spacers where the planks meet the walls. This step is crucial since all hardwood floors expand and contract through the seasons – they shrink when humidity levels drop and expand when humidity levels rise (it's not that noticeable to the eye since it happens very gradually).
FOUR – Once the floor is down, install baseboards around the room's perimeter to hide the expansion gaps.
Check out Ambient's Natural Click Lock Glueless Floating Strand Woven Bamboo Flooring!
Installing Bamboo is Easier than Most Other Flooring Options
Besides bamboo, hardwood and carpeting are the two other most popular flooring choices for homeowners, but installing these materials is not easy.
Installing carpeting requires special tools that you most likely will have to rent (adding cost) and are unfamiliar with. Laying the carpet isn't as easy as it looks, and if you start the project and end up screwing up somewhere, your warranty most likely won't be honored.
Just because hardwood and bamboo look very similar, don't be fooled. Installing hardwood takes real skill and experience. Although some of the DIY shows on cable channels make it look like something you could tackle, you might also get in over your head if you decide to nail down or glue down the flooring.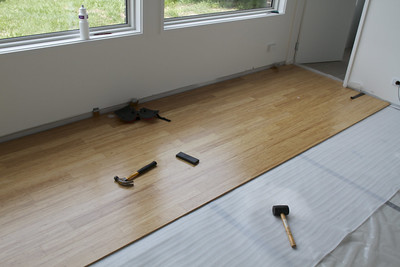 Like installing carpeting, laying hardwood requires more than a little muscle and a rubber mallet; there are concrete tools that you probably have never used before and will most likely have to rent. Pneumatic nail guns (click here for nail down installations) can be tricky to get the hang of it. You can't source a high-quality gun. If you nail down using the wrong gun or cleat sizes, you can permanently damage the flooring. Glue down installations are costly, time-consuming, very messy, and not for the faint of heart.
Also, hardwood floors are some of the most finicky floors and very much need to be acclimated correctly to your home. Many rookies don't let the wood acclimate enough, and this causes gaps and squeaking.
If you're looking for flooring that is beautiful, inexpensive, will last for years, and can be installed by you over the course of a weekend or two, look no further than bamboo.
If you would like to learn more about our different bamboo flooring types, including strand woven eucalyptus flooring and engineered bamboo, contact Ambient Bamboo Flooring today by calling 866-710-7070.
To receive a free sample of Ambient's beautiful bamboo flooring, click on the box below.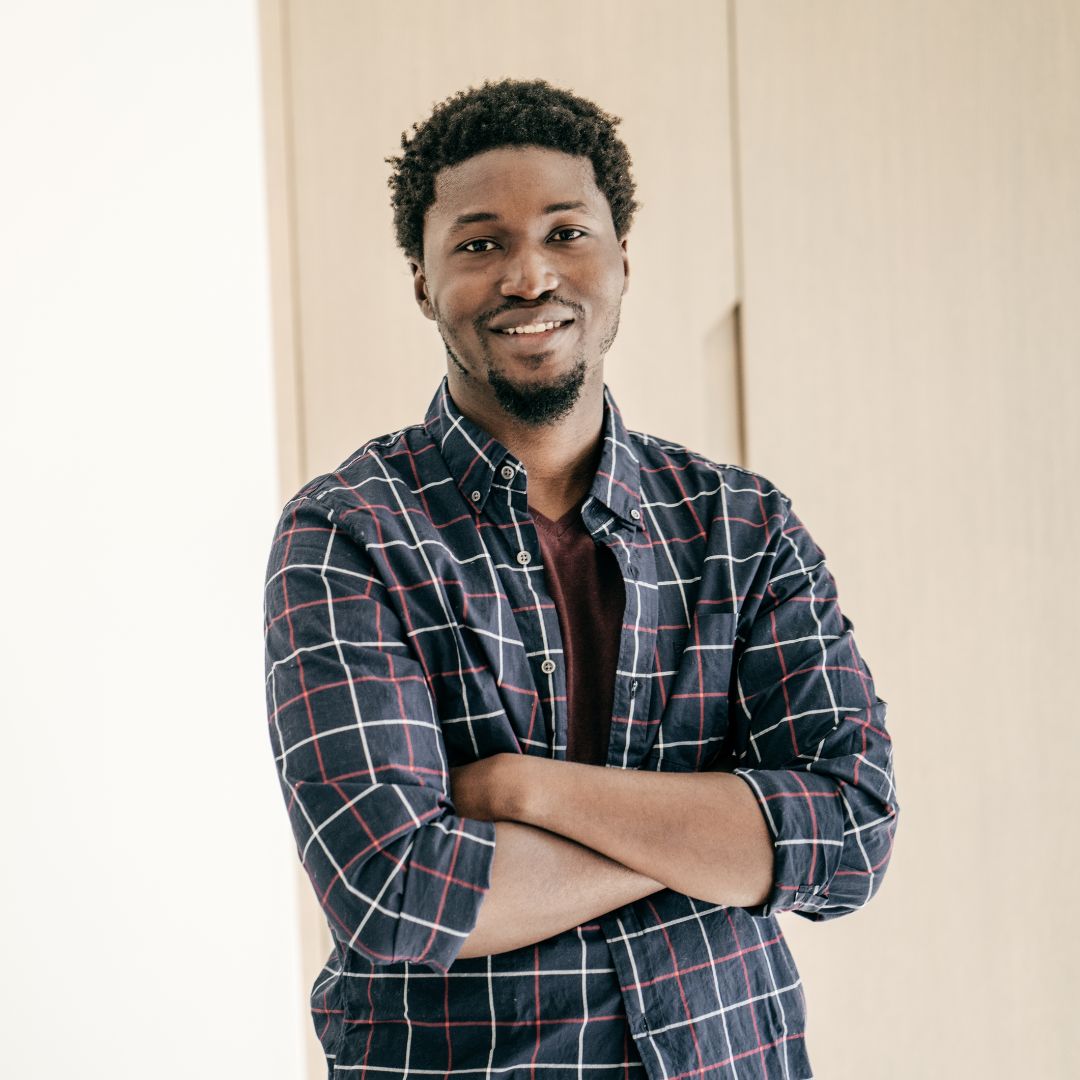 About the Author
James is your friendly neighborhood content writer here at the Green Living Blog. With a passion for all things sustainable, he's your go-to guru for everything eco-friendly. Armed with a treasure trove of wisdom about sustainable living, recycling, and environmentally conscious practices, James is on a mission. He's here to make sure you not only protect your family but also keep Mother Earth smiling. 😊🌎 When he's not busy sharing eco-friendly insights, James can often be found teaching his cat that compost bins make the purr-fect hideaway. 🐱♻️ Join James on his quest to uncover the secrets of defeating wasteful habits while leaving the lightest footprint on our precious planet's ecosystem.