Some of the questions that we get most often around here concern bamboo and basements. People want to know if they can install bamboo flooring in basements, if this will pose any problems, and how to complete a successful installation.
So in this blog post, we wanted to answer all of your burning questions about using bamboo in basements, perhaps even some that you didn't know you had.
What are the main problems with installing any type of floor in a basement?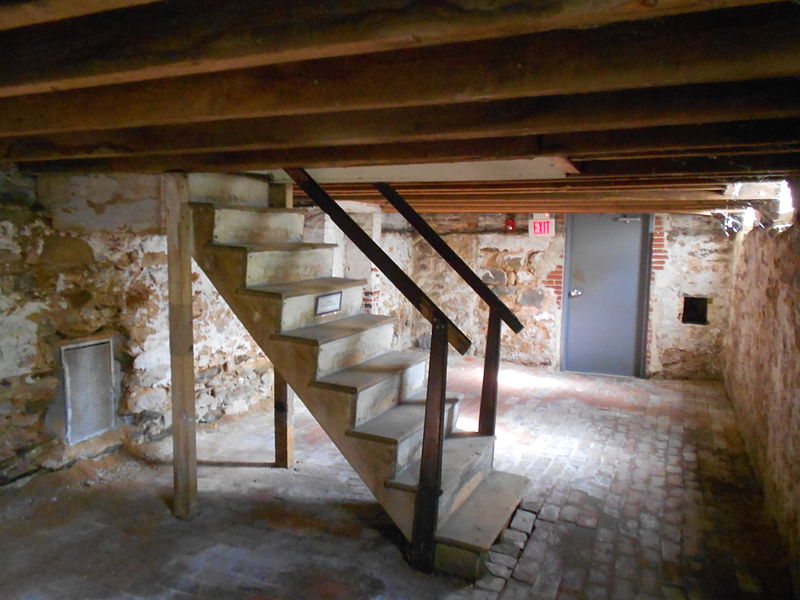 Basements often have higher humidity levels that than the other rooms in your house for a number of reasons, including moisture seepage from the soil, the location of water heaters and washing machines, and a lack of open windows.
This added humidity can create a moist environment in your basement, which can cause all sorts of problems for the average floor, from warping to staining to mold.
This means that you should try to control humidity levels in your basement, by doing things like opening your windows, cleaning up any spilt water asap, and using a dehumidifier.
So, can I put a bamboo floor in my basement?
First of all, yes – you can definitely install bamboo floors in your basement. It's a fantastic flooring material to use all over your house, but it's especially good for rooms that are below ground because of its increased resistance to both moisture and humidity.
Even when the humidity levels rise in your basement, your bamboo floors will be able to expand and contract without getting damaged, so long as they were properly installed, and so long as they have room to expand (this is why you should always leave expansion gaps at the perimeter of the installation!).
So bamboo won't suffer any ill-effects from being installed in a basement?

It is important to note that bamboo is a natural, organic material, and therefore isn't impervious to water damage. In the case of much more serious or prolonged water damage (i.e. floods, leaks from water heaters or washing machines) your bamboo floor will be in danger of being destroyed. But, just to be clear, this is also true of most other floors that could have chosen.
We recommend using engineered bamboo floors in basements as they're incredibly stable, can be easily installed over concrete, and negates the problems of high moisture levels. However, solid and strand-woven bamboo floors would also work, but they require more stable humidity settings.
What's wrong with other types of flooring?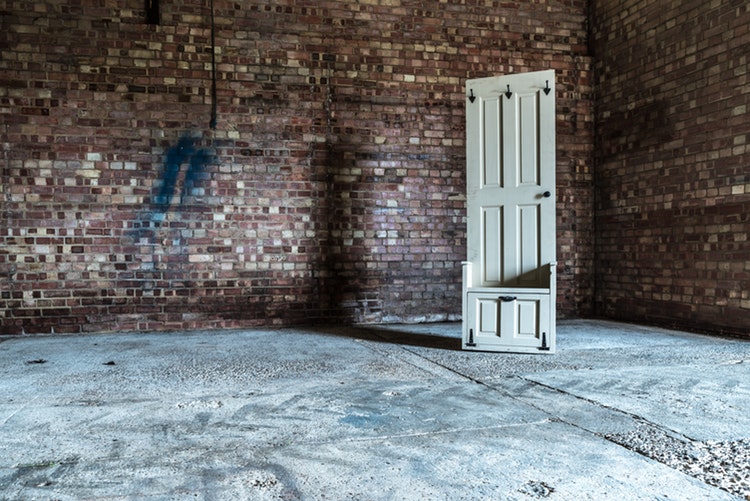 Well, there are a lot of unique challenges in a basement that are not readily met by other types of flooring. Let's take a look at the other flooring types and how they hold up.
1. Hardwood Floors
Basements are often prone to moisture problems, with moisture seeping up from the soil through concrete slabs. This would cause solid hardwoods to warp, thus they're not recommended for use in the basement
On the other hand, bamboo is made from grass grown in a humid climate and has a much lower liquid absorption rate than hardwoods. Therefore it is more suited to moisture-prone rooms. Although bamboo is more resistant to moisture than hardwoods, all concrete slabs must be sealed in a basement when you're installing bamboo hardwoods.
2. Concrete
As concrete is an artificial material, it is less prone to moisture- or water-related problems, but it's not altogether immune. This means that you can still experience damp in the basement with concrete floors.
There is also the matter of concrete flooring being less suited to everyday home use, meaning that you might not use your basement as often as you would like for recreational purposes.
What makes concrete less suitable? It can often be cold underfoot, meaning that shoes are required, and it's hard to customize to your décor, meaning that you'll have to style your basement around a gray floor.
3. Carpet
Many homeowners will choose to put down carpet on top of concrete to make it more suitable for regular use, which makes sense as it will be warm (or at least neutral) on bare feet and you're able to choose the style/color that will best suit your décor.
The big problem is that carpets can trap moisture easily, leading to mildew and mold; not something that you want to step on with bare feet.
If you want something soft to walk on, a better bet would be machine-washable rugs; but these would still have persistent problems over time and would wear out far before they would in areas with less moisture.
4. Stone Tiling
This is a popular choice because it combines the style options of carpets/hardwoods with the moisture resistance of concrete, but it still has the problem of being cold to the touch.
Also, it can be an expensive choice for your flooring. Worse still, the more-affordable faux stones are considered too soft for use in basements.
5. Ceramic and Vinyl Tiling
These have largely the same benefits and drawbacks as stone tiling – albeit with some more colorful design options – but you need to make sure that your subfloor is dry enough for this flooring to be installed.
Why do you recommend engineered bamboo floors?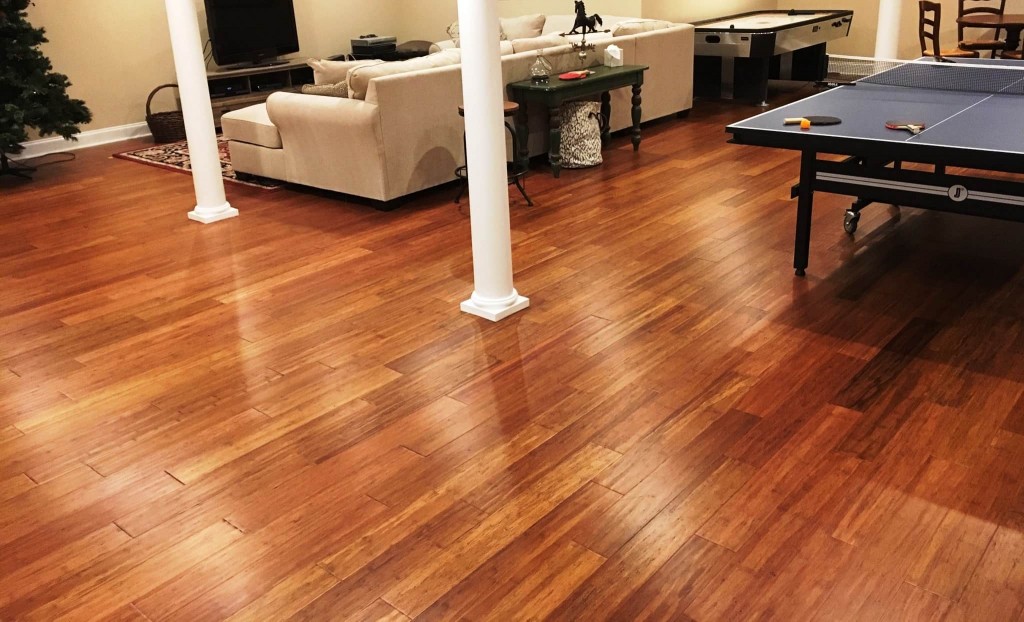 We've already told you that hard-wearing engineered strand bamboo floors are our top pick for basement installations, but we haven't explained why in great detail. Let's fix that.
Engineered floating strand bamboo floors are the best choice for flooring in basements because:
they're easy to replace if your water heater leaks or you have another common basement water issue
they're resistant to moisture and humidity
they're more dimensionally stable than solid floors
they're easy to install over concrete
they come in a wide range of colors and styles that will suit any decor
Can you go into more detail?
Engineered strand floating bamboo floors, which are made using a fiberboard or multi-ply base and a real solid wear layer of strand woven bamboo, have wax layering on the click design all the way around the plank which helps prevent water from getting below the planks and growing mold.
They also employ the strength of strand-woven bamboo, which is one of the hardest wood materials in the world according to the Janka Hardness scale, and high-density fiberboard (HDF) or multi-ply eucalyptus plywood cores. Basically, in a fight between engineered bamboo floor and Batman, Batman would lose. ;o)
The best part, if you're looking for a floor that has brawn and beauty, is that engineered bamboo floors can be customized using various finishes and textures to suit any design scheme.
What about refinishing the engineered bamboo floors?
You may have heard – incorrectly – that one drawback to engineered floors is that they can't be refinished if they start to wear with age. Luckily, some of the best bamboo flooring companies have solved that problem by creating a thick wear layer that can be sanded down and refinished two times.
Furthermore, with strand woven bamboo that's probably two more than you'll need in your lifetime. So, now you can rest easy with the knowledge that engineered bamboo floors will be great for your home (and especially your basement) and you can refinish them if they do start to wear.
Another benefit is that, if you've installed you engineered bamboo flooring using the click-lock method, you can easily remove and replace individual planks that may have been damaged without needing to refinish the entire floor. This is particularly useful in the case of localized occupational flooding, i.e. an overloaded washing machine from a 70s sitcom.

What about solid and strand- woven bamboo floors?
We recommend using engineered bamboo floors because of their additional moisture resistance (thanks to that all-important seal), but you can also use solid and strand-woven bamboo floors, if you prefer to.
Both types of flooring are able to withstand moisture and humidity much better than hardwoods and can be installed in basements without any problems. Solid bamboo floors, however, must be glued down in basements, using an adhesive with a vapor barrier.
How do I install bamboo floor over concrete?
The good news is that its super easy to install a bamboo floor over concrete, even for DIY-ers. All you have to do is choose your method – there are pros and cons to both – and follow some simple instructions. See how easy it was for the people in the video below to do?
Gluing the bamboo floor down
In this method, you'll be using a specially-designed trowel to apply an adhesive with a moisture barrier to the concrete floor before laying the planks down. The type of adhesive you need depends on how much moisture your concrete floor releases, so you'll need to test for that beforehand – don't worry, there's a section about that below.
Much like scrapbooking or collage, all you need to do is place the bamboo planks on top of the glue and leave it to dry. Just make sure that you clean up any glue spills asap as it can ruin the finish on your beautiful bamboo floors.
Once installed, just consult the manufacturer's instructions to check how long it will be before you can use your basement again.
Pros and Cons
As with everything, there are both pros and cons to this method and they may determine how you choose to install your basement's bamboo floor.
PROS
The adhesive will help to soundproof your basement: It's not quite to the extent that you could host a rave there without complaints from next door (unless your neighbors are super cool), but you might be able to use it for band practice or watching movies in surround sound.
The glue will allow the bamboo flooring planks to expand/contract naturally: This means less chance of problems arising from humidity.
CONS
This has the potential to get messy fast: If you've never glued down a whole floor before, you might underestimate what is involved and if you aren't careful, you could end up stuck to the floor!
Using the floating method
You'll probably agree that the phrase "We all float down here" is much comforting when applied to bamboo floors, rather than the clown from the IT movies. If you don't, then you're probably Pennywise.
The floating method of installing bamboo floors is actually really easy, because the planks will fit together like puzzle pieces. All you have to do is lay down a moisture barrier underlayment and then lay the flooring planks directly on top clicking each plank into place.
Pros and Cons
Now let's take a look at the advantages and disadvantages of this method, so you can see if it's the right choice for you.
PROS
It's super easy to do as a novice: This means that you'll save money on installation.
CONS
There's a limit to the distance that bamboo flooring installed using this method can reach: This means that if you have a bigger room to cover, you won't be able to use the floating installation method unless you can install a transition molding to break up the long runs. The recommended maximum runs for an engineered bamboo floor laid in a basement are 25 feet across the widths of the planks and 45 feet down the lengths of the planks.
What you need to do before installing bamboo flooring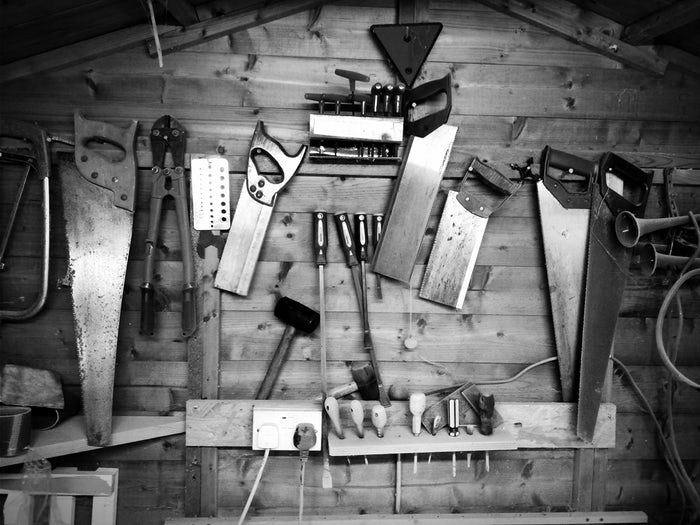 When purchasing bamboo flooring, as with any big purchase for your home, there are some things that you'll need to do to ensure that the product you're buying is the right one for you. This ensures that you don't end up with a big bill and a wasted product.
What should you do?
1. Test your basement floor for moisture levels
The first thing you should do before installing bamboo (or any hardwood) floors in your basement is check the current moisture levels over a period of 72 hours. This will help you determine if you need do anything (i.e. putting in place a vapor barrier) before installing your beautiful bamboo floors on top of concrete.
These tests are pretty easy to complete, as you can see in the video below, and it doesn't cost a lot either.
2. Acclimate your bamboo floor to the room
Once you've done the moisture test, you'll have found out how long you need to acclimatize the bamboo flooring to the basement before installation.
It's a crucial process that you shouldn't skip, because it will help to ensure that the bamboo floors won't buckle or bow due to humidity in the years to come.
The method is simple. All you do is clear and clean the basement ready for installation, close all outside windows and doors, and unwrap the planks from their plastic wrapping. Then leave the planks for the period of time noted in your test results – a minimum of 72 hours – before installing.
3. Check the warranty
The bamboo flooring that you buy should definitely come with a good warranty, which will tell you how long the flooring is expected to last. It will also contain stipulations on how the floor must be installed, cared for, and otherwise treated.
This means that if something goes wrong with the flooring while under warranty, you'll be able to get your money back or have another floor installed for free, unless you did something to cause the damage.
Sometimes manufacturers will warn against installing their floors in a basement and if so, you should definitely not install them there.
Well, hopefully, that answered all of your questions about installing a beautiful bamboo floor in your basement, but if you have any other questions, ask away in the comments and hopefully we can answer them in another blog post soon.
Also, let us know if you've installed a bamboo floor in your basement and if you have any tips for everyone else.
---
---
Categories: Flooring