Does bamboo flooring scratch easily? This is one of the most commonly asked questions we get asked at Ambient Bamboo Floors.
The first order of business is to set reasonable expectations; there is no flooring material (or other material, really) on earth that is 100 percent scratch-proof; diamond floors, anyone? If you use something sharp enough and apply enough force, everything can be scratched.
Scratches that leave permanent dents versus micro-surface scratches
Two types of scratches can happen to hardwood and bamboo flooring.
Micro-surface scratches. These are light white scratches that occur when a very sharp edge is dragged across the flooring surface. Common causes include grit or rocks caught under a vacuum cleaner, sharp toys, and furniture legs that don't have casters under them. These micro scratches are not as visible on light-colored floors as they are on dark-colored floors. They commonly occur on prefinished hardwood and bamboo floors with a polyurethane finish and are usually not permanent. In fact, these scratches will usually buff out and disappear over time just from the friction created by walking on them.
Additionally, several kits are available on the market to minimize them, like WearMax Scratch Remover, Tibet Almond Stick (made for furniture scratches but works on floors), Olde English, and others. Some folks have even claimed that rubbing a broken walnut or applying a dab of mineral oil can alleviate these scratches. Dog claws are not usually sharp enough to cause these types of scratches, which is why pet owners love Ambient strand bamboo floors!
Permanent dents from scratching. This is where strand woven bamboo flooring earns its reputation as the toughest hardwood on the market. Due to its density and hardness, it takes a lot of force to dent a strand woven bamboo floor permanently. Not to say it can't be done, but pet claws and high heels generally do not cause dents in strand bamboo flooring. This is a major reason why families with active children and pets choose strand woven bamboo flooring. Also, large furniture like pianos and pool tables can be placed on strand woven bamboo with no repercussions. Meanwhile, traditional hardwoods and floors like LVP and LVT can be easily dented permanently by pet claws and the like.
What causes scratches on wood floors?
Scratches on wood floors can come from many sources. One of the most common is the buildup of everyday sand, dust, and dirt from normal traffic that most floors encounter daily. The dirtier a floor is, the more likely it will pick up some small scratches that can add up over time. That's why, with any floor, it is a good idea to keep your floor swept and cleaned to keep it free of debris.
Additional Causes
Other causes for scratches on your wood floor include pets, children, high heels, and furniture. Because dogs, kids, and trendy shoes will often dent and scratch hardwoods, it's best to use felt pads or casters under furniture or placing some thick towel or blanket underneath a piece of furniture before moving it across bamboo, hardwood, or any other type of floor. Also, always use hardwood-flooring approved chair mats under rolling office chairs, regardless of what floor you choose.  Be careful to select a mat with a breathable bottom layer, as some plastic mats trap moisture on bamboo flooring and cause permanent damage.
Remember that both hardwoods and bamboo flooring can have standing water problems for long periods of time, so all spills should be cleaned up fairly quickly. Ambient bamboo flooring has a 24-hour window before spills need to be wiped up. After that, damage can occur. It's also a good idea to only use a lightly damp mop (not soaking wet!) when mopping hardwoods and bamboo flooring.
And if you're wondering, "Can I steam mop bamboo flooring?" the answer is no. Stick with a Swiffer-type cleaning tool, or use a lightly damp mop.
What is the best type of scratch-resistant bamboo flooring?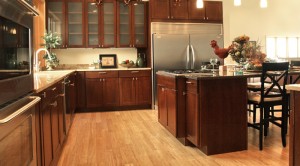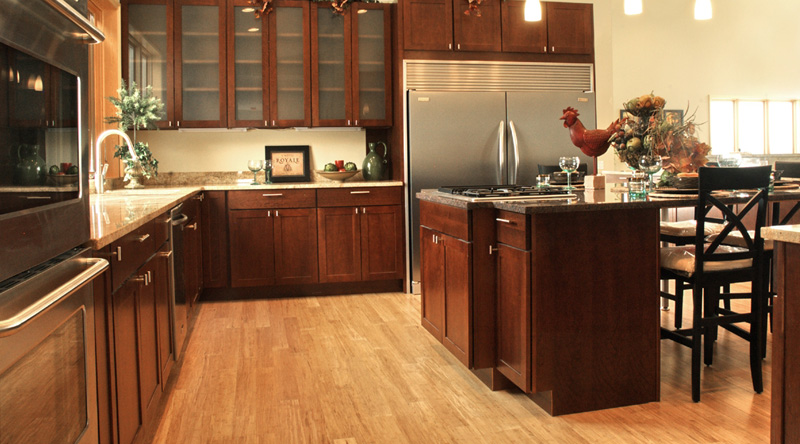 A quality bamboo flooring is substantially harder than hardwood flooring and subsequently has a greater scratch-resistance. And if you choose a strand-woven bamboo floor, you'll get an even tougher product under your feet.
The strand-woven process incorporates a heating method and extreme pressure to compress and bond the bamboo and interlocks the grass fibers into tightly woven material resulting in two to three times (2-3X) the strength of any other form of hardwood.
It is undoubtedly the hardest and most resistant type of bamboo flooring and is perfect for the high-traffic areas in your home.
Strand-woven bamboo flooring is undeniably the perfect choice for the high-traffic areas in your home where your pets and children will be. And even though strand-woven is more expensive than some other floor types, bamboo flooring costs significantly less than most hardwood flooring in the market.
Eventually, your floor might get scratched (see our help article How To Repair Bamboo Flooring Scratches?). Even though bamboo is highly scratch-resistant, almost any material can get scratched. If that happens, don't worry… you can fix or replace bamboo planks! Refinishing bamboo floors is also an option. Some of the thicker bamboo planks can undergo sanding and refinishing multiple times. There are products on the market that will help fix or conceal a scratched bamboo flooring plank.
The Many Benefits of Bamboo Flooring
High-quality strand woven bamboo flooring is extremely durable. It's about 2-3 times more dent-resistant than traditional hardwoods and other flooring types like vinyl or laminate. It's also scratch-resistant! As you may already know, bamboo flooring is much more durable than other hardwood floorings.
While a cheaper and lower quality bamboo flooring might be prone to denting and permanent scratch marks, strand woven bamboo is super-durable and resistant to denting. A high-quality strand woven bamboo floor with a quality finish is a far superior flooring option than an inexpensive and cheaply made flooring material prone to scratches and dents.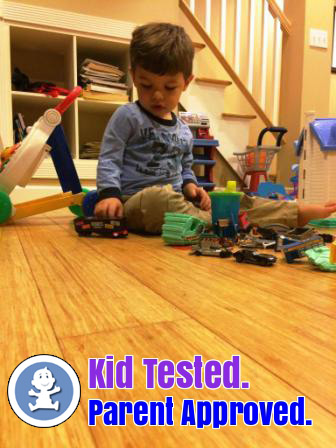 If you're still on the fence about how scratch-resistant bamboo flooring is, request some samples from us! Then, try scratching it with a key or a screwdriver. Hit it with a hammer, or even dunk it in water. In other words, see for yourself how strong and durable our bamboo flooring is. Ordering samples will also give you a chance to touch and see up close how beautiful bamboo flooring actually is. In addition to scratch-resistance, bamboo flooring offers many other big advantages.
Key Benefits:
Eco-friendly
Stylish and versatile
Affordable
Easy to install
Low maintenance
Moisture resistant
Allergen resistant
At Ambient, we pre-finish our bamboo floors with our very own AccuSeal® Finish System. This is a super-tough 10-coat, UV-cured acrylic urethane bamboo floor finish with aluminum oxide. The finished system features scratch-resistant and integrated layering that is manufactured under the most stringent guidelines.
If you are researching flooring options, a good indicator of a flooring product's quality is its warranty. An example might be a 25-year structural warranty with a 10-year surface wear warranty. Ambient offers a lifetime structural and finish warranty on all of its strand bamboo floors.
Bamboo Floors from Ambient
Bamboo flooring is a beautiful and exotically different flooring material. It comes in a wide variety of stains, patterns, lengths, and widths. Ambient has been shipping the highest quality bamboo floors around the globe since 2005. We have become one of the most recommended suppliers in the industry.
For more information, please speak with one of our expert bamboo floor professionals today at (866) 710-7070.

---
---
Categories: Floor Protection, Flooring, Home Improvement