Concrete is as solid as a subfloor gets – but is it a solid base for bamboo flooring? The answer is yes: you can install bamboo flooring over concrete. Many concrete subfloors are below grade, so engineered bamboo floors are most often installed over concrete.
There are two basic methods for installing over concrete: the floating method and the glue-down method. Tongue and groove bamboo floors must be glued directly to the subfloor. Many engineered bamboo floors are equipped with a click-lock system for easy installation via the floating method, but they can be glued as well.
Bamboo flooring is celebrated for its durability which is what warrants it for installation in basements, commercial spaces, and other places with concrete subfloors. These environments, however, are often exposed to excessive moisture. Too much moisture can damage any floor, and it's important to prepare the subfloor properly before installing bamboo flooring over concrete.
We'll explore the challenges of installing bamboo flooring over concrete and the viable installation methods in greater detail below!
ALWAYS TEST THE CONCRETE FOR MOISTURE FIRST
The slab you're installing over must be aged for at least 60 days. Always perform an approved slab moisture test before beginning work to ensure that the slab is not overly wet. If floating a floor over a slab, you must use a quality 3 in 1 underlayment, which will serve as a vapor barrier. If gluing down, most adhesives that contain a vapor barrier can handle up to 15 lbs of moisture per square foot being emitted by the slab. However, if your tests determine the moisture emission is higher than that, you may need to choose an adhesive with unlimited moisture protection.
BAMBOO OVER CONCRETE – THE TWO MAIN INSTALLATION METHODS
The Glue-Down Method
The glue-down method can be used for solid or engineered bamboo flooring. The most important factor is to use an approved urethane wood floor adhesive with vapor barrier and the trowel used specifically for that adhesive. In this method, you will adhere to the bamboo flooring directly to the concrete slab. Moisture control will come from the adhesive you use, which acts as a sound reducer to boot. If you think your slab is overly wet, you will want to use a calcium chloride test to check the moisture emissions. Most vapor barrier adhesives have an upper moisture limit, so you'll want an adhesive rated for the amount of moisture being emitted by your slab. Trowel the adhesive directly onto the concrete floor, working in sections, and lay the bamboo planks directly on top. Make sure you have a tube of Bostik Adhesive Remover Wipes handy to clean up glue spills ASAP because letting the glue cure on top of the flooring planks will damage the finish! Follow the manufacturer's instructions to find the correct dry time and when the floor can be walked on.
The Floating Method
The floating method is most commonly used with engineered or click lock bamboo flooring. This type of flooring clicks together like a puzzle and is quite easy to install. Unlike the glue-down method, this installation requires you to lay down a moisture barrier first (3 in 1 Vapor & Sound Barrier), then install the floating floors directly on top. Note that using solid bamboo locking flooring may limit your flooring runs to 15 feet if you live in an area with unstable humidity and you don't have humidifiers or dehumidifiers, which means you may have to install t-moldings at breakpoints. If you use engineered bamboo flooring, your runs can extend up to 25 feet without at-molding.
Pros and Cons of Each Installation Method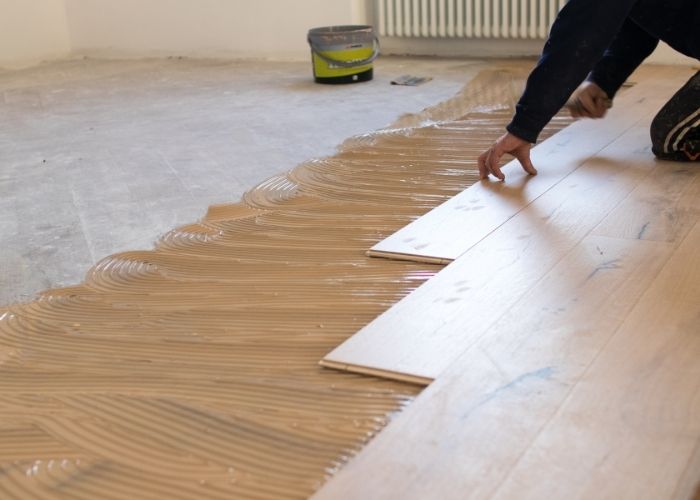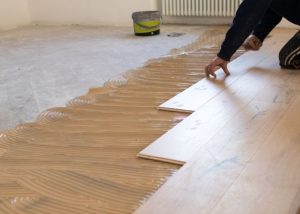 The glue-down method is quite messier, but the glue elasticity allows the flooring planks to expand and contract naturally. The floating floor method is straightforward for DIYers and is not messy, but there are limits to the "runs" (successive distance) of flooring you can have. With solid click lock options, the limit is 15 feet, and with engineered click lock options, the limit is 25 feet. Both are equally suited for installing bamboo flooring over concrete.
INSTALLING BAMBOO FLOORING OVER CONCRETE
Make Sure You Use the Right Glue and Tools
As discussed in the first paragraph above, choose an adhesive with a moisture limit that is compatible with the amount of moisture being let off by your concrete. When installing bamboo flooring over concrete, this seals the concrete and protects your floor from moisture. The next most important tool is your trowel. You want a trowel that has been designed to work with your adhesive. If you're not sure, check the label on the flooring glue bucket, or call your flooring manufacturer. It is crucial to maintain the correct spread rate on the slab, so moisture isn't allowed to seep through and cup your floors.
Preparing Concrete Subfloor For Bamboo Flooring
Before installing bamboo flooring over concrete, be sure to fill any holes or cracks in the concrete slab with a concrete leveling compound applied with a trowel. Once this compound is completely dry, sweep your floor well to remove any remaining dirt and debris.
Clean Your Slab, Make it Level
Your concrete slab may be cured, but that doesn't necessarily mean it's clean. So before you do anything else, please give it a thorough sweeping or vacuuming to get up any dust and debris. Depending on how dirty your slab is, you may have to give it a good scrub with soap and water. If you need to scrub it, give it another 24 hours to dry before installation. Most importantly, your slab must be level before installation, whether through the use of a self-leveling compound or from grinding down bumps.
Determine Your Starting Point
Don't start spreading the glue all over your floor until you determine the best starting point about any step-downs where stair nosings may be needed and other site-specific considerations related to moldings and flooring plank direction. If you're gluing down the floor and decide to take a break longer than 6 hours or continue the next day, remember not to leave glue too far out under the last plank. Because when you come back to start gluing planks the next day, if the glue is too far out from the bottom of the plank, you won't be able to slide the next plank in to continue your installation! And keep in mind that wood and planks are *usually* laid parallel to the longest run in the installation.
Starting Spreading the Adhesive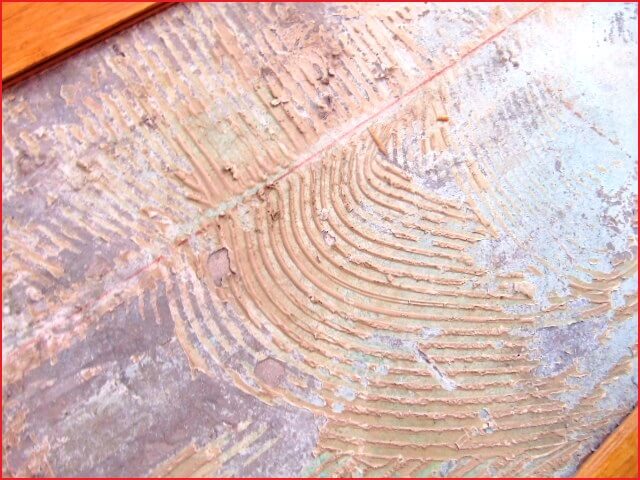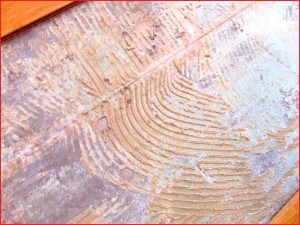 It's important to mention right off the bat that most adhesives dry in less than a few hours, so you never want to apply more than you'll be able to cover in that time. That doesn't mean you should skimp on the adhesive because you shouldn't. It simply means only covering small sections of the floor at a time but using a liberal amount of glue in each section. Furthermore, using the correct V Notch Trowel is crucial to ensure the proper spread rate and coverage on the slab. Once you've spread some glue in your starting point, go ahead and scrape the top of it with the notched side of your trowel. This creates grooves in the glue and helps your planks grab hold. Make sure to use adhesive remover towels to wipe up the glue off the top of the planks *as you're laying the flooring*, so none of the adhesives gets on top of your planks. If the glue dries on top of your planks, it will ruin the finish.
Use Spacers
It's essential to use spacers when gluing down a floor because, without them, each row you lay down will push up against the first row, and then your first row gets squeezed up tight against the wall. If you were laying down your floor over a plywood sub-floor, you could nail the first row in place. But since you can't, you must use spacers every six inches along the planks to ensure the first row will stay in place.
Mind Your Expansion Gap
After you're done laying your first row, and you've come to your last plank, you'll want to measure the distance between your last plank and the wall and then subtract 1/4 – 1/2 of an inch for the expansion gap. Saw this piece off your last plank and then lay it down.
Create Random Seams
Perhaps you've noticed other wood floors have used a random pattern when it comes to the seams. Bamboo and eucalyptus (read why you should consider eucalyptus flooring) floors look more natural this way. To achieve this look, you'll want to start your second row by placing a longboard beside a short one and vice versa. Once you've finished this second row, use 3M/Scotchguard #2080 for Delicate Surfaces tape and tape across the seam between your first and second row to hold them in place while your adhesive dries. You'll repeat this process throughout the room, making sure to use those adhesive towels to wipe excess glue that has squeezed between the boards. Once all of your boards are down, taped, and wiped, allow the adhesive to dry for 6 hours.
Allow drying for 6-10 Hours.
Once your floor is arid, you can nail your baseboard to the bottom of your walls to cover those expansion gaps. You did make sure to cut for those gaps, right? Once that's done, the only thing left to do is show off your new floors and take all of the credit.
The Most Crucial Step of Installing Bamboo Over Concrete
Congratulate yourself on a job well done! DIY home improvement projects are no joke. They can be exhausting – especially when you don't have pre-existing knowledge of installation techniques. There's no shame if you hired a professional to help out too.
Maybe you installed bamboo or eucalyptus flooring over concrete to convert your basement into a new mancave. Maybe you're sprucing up your business and moving on from industrial interiors. Whatever your reason for installing new bamboo floors, be sure to kick back and relax. If you followed these steps, then relaxation should be easy. No need to worry about shifting or warping – your bamboo floors are staying put.
---
Last Updated: 4/13/2022