You've spent hours pouring over internet sites, visiting stores, and comparing samples. Now it is finally time to move forward with installing the bamboo flooring of your dreams.
Nothing impacts the life of your flooring like the installation process. Mess this up and it doesn't matter how well your flooring is made, it won't last. Picking the right installer and properly preparing for the installation is crucial to your happiness with the final product. You don't want to mess this up.
So, once the flooring is selected, here's how to prepare for your bamboo flooring installation.
Pick Your Installer with Care
Commit the same time and effort in selecting your installer as you invested in picking out the flooring. Careful professional installation results in a bamboo floor that lasts for ages. Isn't that your goal?

Where to Look
Where oh where is my floor installer, oh where oh where can they be? You may feel like you are looking for the little dog in the children's song but conducting a careful search and finding the right installer is worth all the puppies, rainbows, and unicorns in the world. Seriously.

Personal Recommendations
Ask around. Do you love those new bamboo floors in the neighbor's house? Then ask them who they hired to do the installation! Did a co-worker share their new floor horror story? Find out who did the installation so you know to avoid that contractor.
Online Reviews
Look online for reviews. Most contractor websites like Angi solicit user reviews. Local-focused social media like NextDoor are also great places to find recommendations on flooring installers.
Professional Associations
Believe it or not, there are professional organizations for people that install hardwood and bamboo flooring. So, check the professional associations for members in your area. The National Wood Flooring Association (NWFA) has a program that recognizes hardwood and bamboo flooring installers that pass stringent skills and competency tests and commit to continuing education. You can search for a hardwood flooring installer by entering your ZIP code and selecting the type of service you need at the NWFA's find a contractor website.

Compare Flooring Installation Quotes
When you get three or more quotes, you'll find they vary widely. That's why it is crucial to make an apples-to-apples comparison. Some installers give a base price and then add on with "extras" while others don't see those "extras" as extra at all and include them as part of their service.
So, see what's included in each quote. You may find the prices differ because they are including quite different services.  These additional services may include everything from how they handle baseboards and door moldings to who is responsible to prepare the flooring for the acclimation process.

Moving Furniture
Is the bamboo floor installer responsible for moving the furniture or are you responsible for moving the furniture? If furniture moving isn't included in the quote and you aren't physically able to move furniture or don't want to move furniture, then you need to factor in the cost of hiring movers.

Moving Appliances
Are those new bamboo floors going in your kitchen or laundry room? Well, appliances are going to need to vacate the room and it's important to know who will do the moving. Does the quote include disconnecting and reconnecting your gas oven or dryer? Some installers may include disconnecting and reconnecting electrical appliances but exclude gas appliances.
It's better to know in advance if you'll be responsible for this task and the cost of hiring another person to do it.

Doors
Is the installer laying the new flooring down over the existing flooring? If the floor height changes and this impacts the smooth function of doors, who is responsible? Does the quote include trimming doors?
How does the installer handle door molding? Will door trim be removed and then trimmed to fit new flooring? Will they just try to fit the flooring under the existing door trim? These are the little details that make a big contribution to the appearance of the finished product.  Are you responsible for this task or is this labor included in the quote?

Baseboards
Who is responsible for removing the baseboards?  Will they be removed at all? If you have quarter-round trim on the floors, will this be replaced with new trim, or will the old trim be used? You need to know the answers to these questions to be able to fairly evaluate a quote.
These examples are just a few of the areas that can cause installer quotes to vary widely. Hopefully, they will spark some thought and discussion with each installer that provides you with a quote. You want to have a good working relationship with your installer.  And that begins with knowing exactly what they will do as part of the installation process and what you will need to do.
Read the Flooring Installation Guide
Sure, you are hiring a professional for that bamboo floor installation. But it's important that you understand the installation process from the perspective of the flooring manufacturer. After all, this is the company that warrants the product. Get the install process wrong and you'll find that warranty may be null and void.

In addition, a good bamboo flooring company will provide helpful information regarding preparation for installation as well as detailed instructions on how the floors should be installed.
For example, the installation guide will cover the process for inspecting the planks for defects and what you should do in case a defective plank is found. Handling defects varies from company to company, so it pays to know in advance what to do if you come across issues like this.
In addition, the guide will verify the appropriate subfloor for your specific type of bamboo flooring and the installation method that will be used. Some bamboo flooring can be installed using more than one method.
You'll also find installation instructions important to maintaining your warranty. For example, the manufacturer may require that all cut planks be installed at the edges and against perimeter molding as the warranty doesn't cover the finish on the cut edge of a plank.
Prepare the Subfloor
Your flooring installation quote may include subfloor preparation. If subfloor prep isn't included, you are responsible for making sure the subfloor is ready for the bamboo floor installation. Ambient provides detailed instructions for preparing a subfloor for bamboo floor installation.
The goal is to create a stable foundation that is dry, clean, and flat. If your subfloor has bad odors (like pet urine), consider an enzymatic subfloor primer and odor eliminator like OdorGhost. If moisture is a problem or you want additional noise or thermal insulation, you may need to install an underlayment or a vapor barrier adhesive.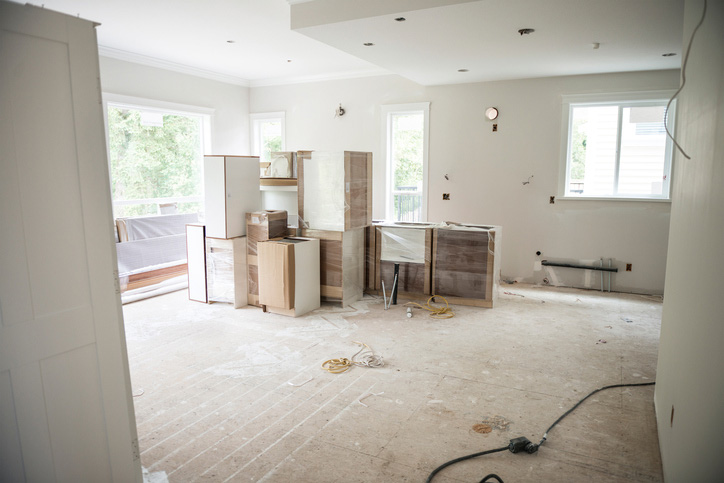 Ensure the Subfloor is Dry
Concrete and wood subfloors must be dry before flooring installation can proceed. Concrete must be cured for at least 60 days. The moisture emission from the concrete can't exceed 3 pounds per square foot.
Wood subfloors can't have more than 12% moisture.
Stop Squeaks
If your subfloor squeaks like a mouse before the bamboo flooring goes down, it's going to squeak afterward as well. No one wants squeaky floors.
So, carefully check the wood subfloor for squeaks by methodically walking through each room. Make sure there is a nail or screw at least every 8" over the joist to stop squeaking before it starts. While you are at it, check the condition of the subfloor as well. Replace any rotten boards or boards that are past their prime.
Level the Floor
The subfloor must be level before the bamboo flooring is installed. If the flooring contractor is not responsible for the subfloor, you'll need to ensure it is level in advance.
Take a large contractor's level and check the floor in several areas. If you find high or low spots those must be addressed before the flooring can be installed.
Low spots can be filled with an epoxy compound or self-leveling concrete. These will need to cure for at least 24 hours and then be sanded level with the rest of the subfloor.
Plywood or oriented strand subfloors must be checked for raised nail heads or screws.
Clean Up
Vacuum or sweep the subfloor to remove any dust and debris. Give the flooring installer a clean surface to begin work.
Acclimate the Flooring

The contract with the installer will specify who is responsible for acclimating the flooring before installation.
Plan on the acclimation taking no less than 3 days (72 hours) and up to 10 days. Most bamboo flooring can be acclimated in 72 hours. However, if you are installing the floors in a very dry or very humid environment, you should wait a full 10 days.
If you are responsible for acclimating the flooring, be sure to follow the manufacturer's recommendations and any special instructions by the installer.
Ideally, flooring is acclimated in the room in which it will be installed. So, place the flooring boxes in each room your project will take place. Make sure the boxes are open in the way the manufacturer instructs, so the bamboo flooring is exposed to the normal humidity levels and air temperature for the house. Crosshatch the flooring boxes to get maximum airflow.
If your subfloor is concrete, do not acclimate your new bamboo floors directly on the subfloor. Place a moisture barrier over the concrete and then stack the flooring boxes over the moisture barrier.
Getting Ready for Flooring Installation Day
The big day is finally around the corner! Here's what you'll want to do before the installers arrive. You may even want to start this process the day before. This is especially true if you are responsible for moving appliances and furniture. In addition to those big items, don't forget these other tasks.

Remove Window Coverings
Take down any draperies and curtains. Anything that comes close to the floor is only going to get in the way. And anything in the room can be dirtied by sawdust, adhesive, or any other installation material. You really want to follow the "better safe than sorry" adage here.

Relocate Pets
Having work done on the house is stressful for all pets. Strange people doing strange things and creating strange odors is enough to create anxiety in even the calmest cat, dog, or parrot. Make arrangements for them to take a field trip to a friend or family member's home or a boarding facility. If this isn't possible, create a safe and secure environment with everything they need in a room as far away as possible from the action.

Move Breakables
Don't cry over broken heirloom lamps or other decorative items. Move them yourself to a safe location. If you need to store artwork, place lint-free linen cloths or blankets between the pieces to protect them. If an item has great sentimental value, isn't replaceable, and will cause you great mental anguish if it is damaged, move it yourself. Don't tempt the Fates.

Empty Shelves
If the flooring crew is moving the bookcase, entertainment center, or armoire make their job easier. Go ahead and remove books and other items from the shelves. The faster the furniture moves, the sooner the crew can get to work on your floors.

Set the Thermostat
Your flooring has been acclimating for the last few days or maybe even a week or more. If the installer has specified an ambient temperature for installation, go ahead and set the thermostat. It takes time for room temperature to adjust.
Take a Deep Breath
Any home improvement project upsets the family routine. Big projects, like new bamboo flooring, tend to be more disruptive.

So, plan ahead and make reservations at your favorite restaurant or indulge in your favorite take-out. Pick a comfy spot outside of the installation zone, grab your favorite beverage, and find a book or  podcast and relax.
…and remind yourself: A few days of disruption are well worth the lifetime of enjoyment you'll get from those gorgeous new bamboo floors.