Last Updated: 8/31/21
---
Most dense hardwood floors are resistant to permanent denting, and strand woven bamboo flooring, and eucalyptus floors are at the top of that list. They are much harder than laminates and vinyl floors, and they are considerably more scratch-resistant, dent-resistant, and durable than hardwoods. However, no material on earth is scratch-proof, so in reality, every surface will show scratches when hit with something sharp enough (except maybe diamonds). To learn more about bamboo and eucalyptus flooring's extreme hardness, check out bamboo flooring and the Janka Hardness Scale.
Can I repair scratches on the Bamboo wood flooring?
Of course! If you find a scratch on your bamboo or hardwood floor, there are several options to remedy the situation. You can repair bamboo flooring as easily as any other type of hardwood flooring.
Minor Surface/Finish Scratches
Smaller surface scratches (white "micro" scratches) can appear on the surface of all hardwood and bamboo flooring finishes. Most prefinished hardwoods come with anti-scratch layering in their topcoats designed to protect your floor from being damaged. These tough topcoats are usually found on bamboo floors with a polyurethane finish and prefinished hardwood and are typically resistant to permanent scratches.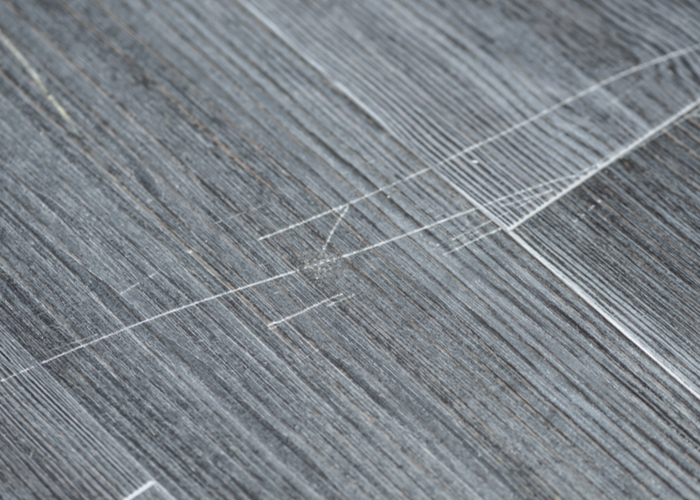 Most surface scratches are usually caused by something fairly sharp and not from pets or shoes. Most white micro-scratches buff out by themselves over time just from the friction that occurs when people repeatedly walk on floors, but some deeper surface scratches take longer to buff out and are more obvious.
What products do I use to fix the micro-surface scratches?
If you're experiencing surface scratching and want to attempt some quick home remedies, try rubbing a walnut (the actual nut, not the shell) on the scratch. Pecans, almonds, and Brazil nuts also work (crack them in half first). Try it – the results will surprise you! If those don't work, try placing the toe of your rubber-soled shoe on the surface scratch and then swivel while applying some weight; this sometimes works to minimize the scratch too.
If those home remedies don't work, you have the option to use a scratch removal product. Here are some products on the market specifically designed to help minimize hardwood floor scratches:
WearMax Scratch Concealer for Hardwood Flooring – You can purchase this from several online retailers like Amazon along with some brick-and-mortar stores like Walmart and CVS.
Wood Floor Repair Markers – These are available at Bed Bath & Beyond, most big box stores, and many online retailers.
Tibet Almond Stick Scratch Remover (made for furniture scratches, but it works on floors) – Purchase from Amazon, Ace Hardware, Walmart, etc.
Old English Scratch Cover – Purchase from Amazon, Walmart, Lowe's Hardware, etc.
Deeper Grooves and Gashes
First, it's best to avoid deep grooves and gashes on your wood floor by following certain precautionary recommendations. If you are moving heavy furniture such as pianos, pool tables, couches, desks, tables, or even chairs, it's a good idea to use furniture pads under the heavy stuff's legs. Taking these precautions will avoid getting those deep and unsightly marks on your pretty floor. If you forget to use the felt pads and find that you have accidentally gouged your wood floor, you can try to fix it yourself with a floor repair kit. Timbermate or Picobello floor repair kits are two brands we recommend. Some people have also found success with Mohawk Fillsticks.
Three options for dealing with scratches on bamboo and hardwood floors
If you've tried to fix a scratch but find it still looks deep and noticeable, you have three options: Repair, Replace, or Refinish.
Repair
Depending on how bad the gash or gouge is, there's a good chance a flooring pro can repair it. They would probably use a specific flooring putty to fill the gash or gouge. They would then refinish just that particular section with a fresh new coat of floor finish or urethane. You can check with your floor installer to make sure they can do this for you.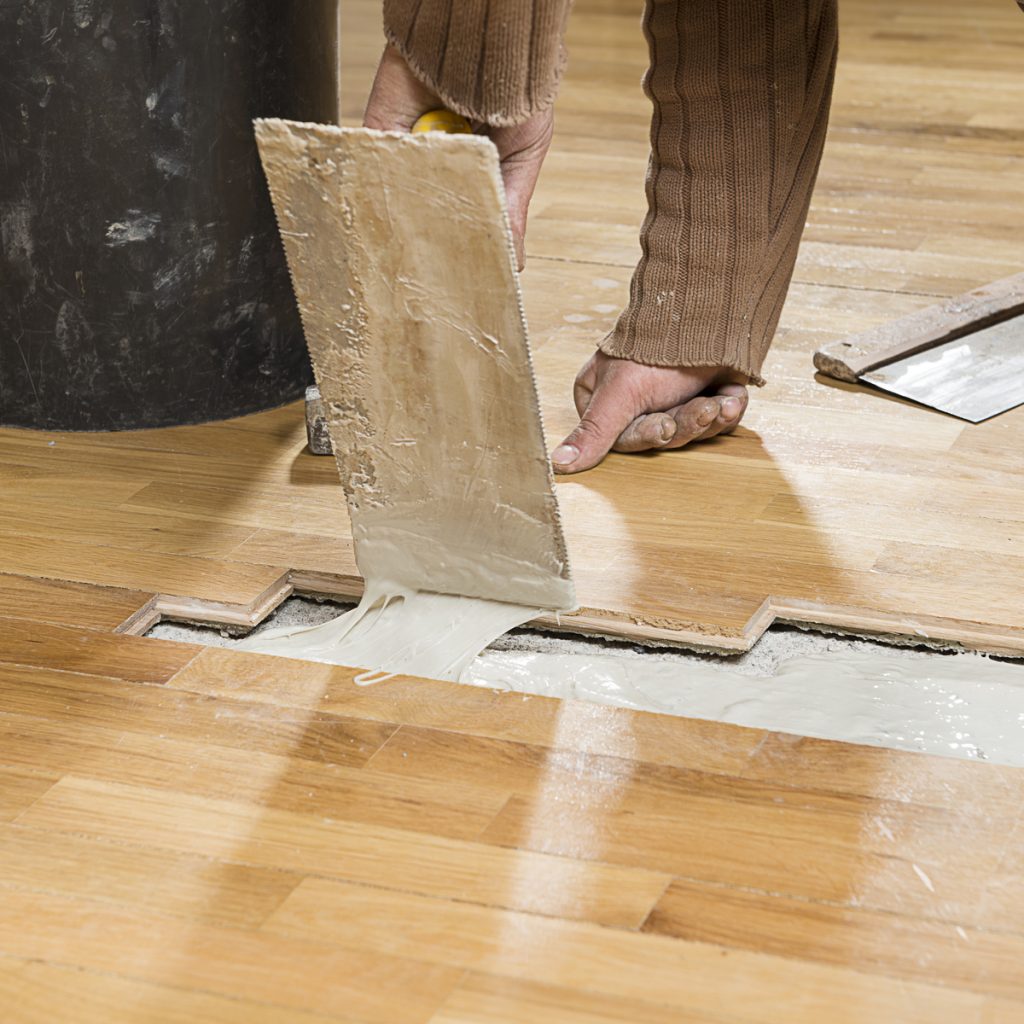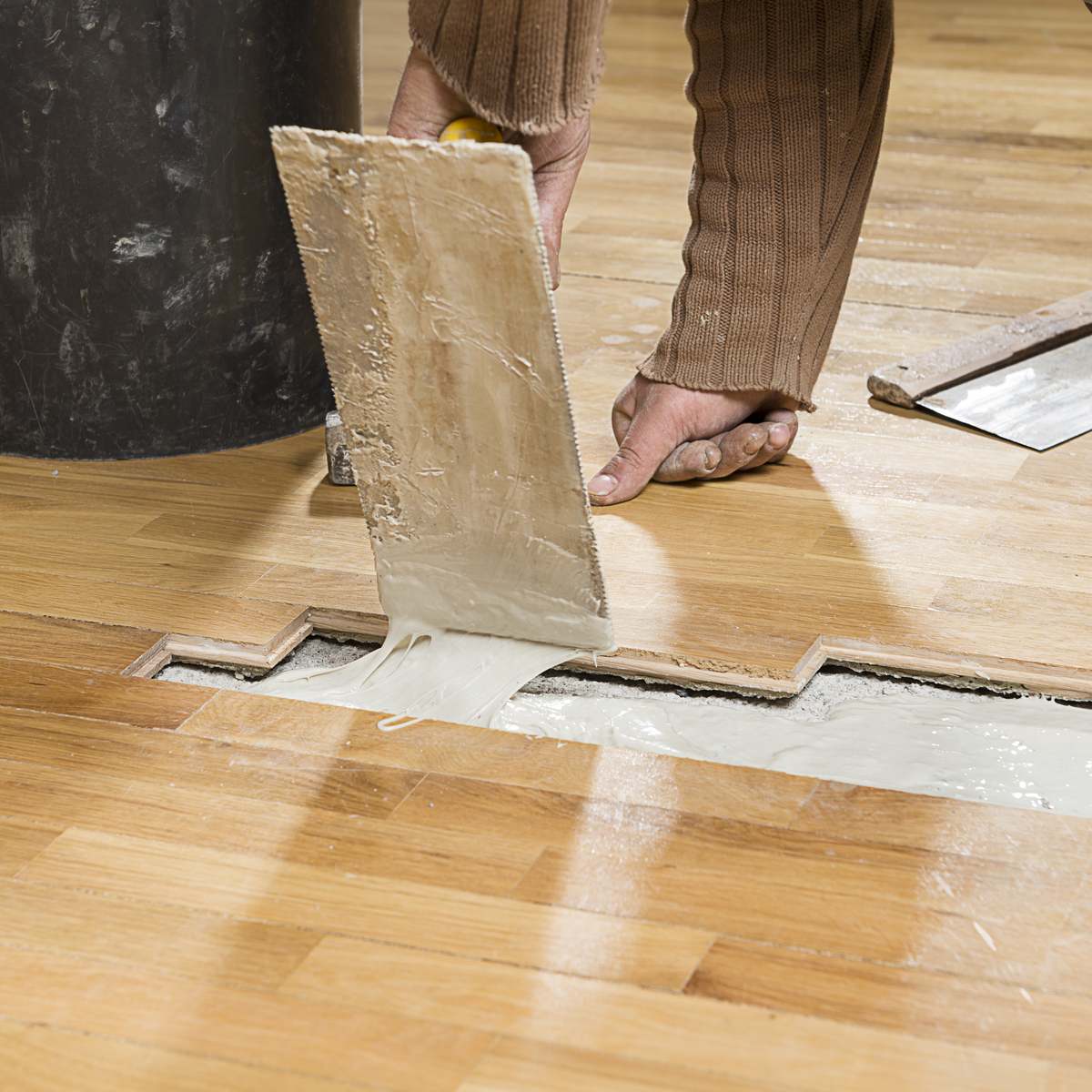 Replace
This can be a tedious task if you want to replace a bamboo or eucalyptus flooring board yourself. And depending on where the damaged board is located, it can be almost impossible. However, cutting out and replacing a flooring plank can be accomplished by an experienced carpenter, installer, and even a homeowner with a 'can-do' attitude, as long as they're equipped with the appropriate tools (some carpentry and remodeling experience doesn't hurt either). Unless you are extremely comfortable with your carpentry skills, we suggest you get a professional to replace your damaged bamboo or eucalyptus flooring board.
Refinish
Unhappy with the scratches, gouges, gashes, or dents in your bamboo and eucalyptus floors? Replacing the boards isn't your only option. Luckily,  you can have them refinished. (Learn how to refinish bamboo flooring.) Refinishing your floors first involves sanding them down enough to remove the blemishes. Next, you'll sand them with fine-grit sandpaper until they are smooth and without any flaws. Finally, apply a new protective seal coating, which will make your bamboo or eucalyptus floor look brand new. We recommend using a polyurethane finish, and we have had successful results with the Lenmar brand.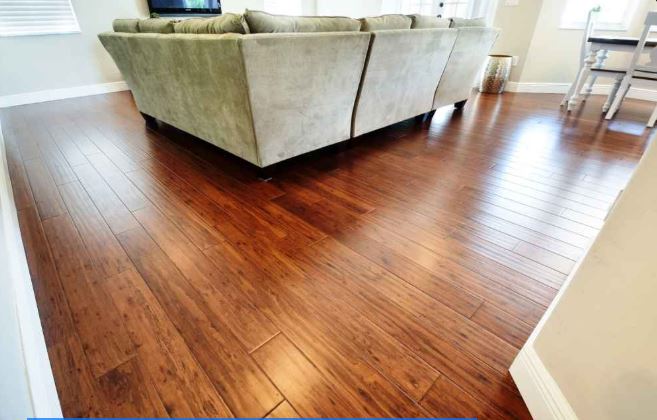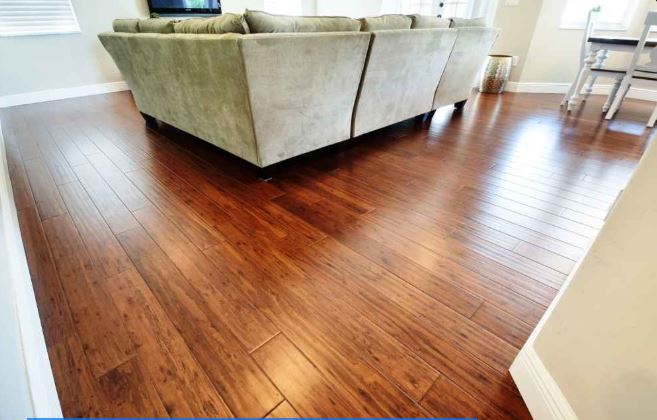 So, are you considering buying bamboo or eucalyptus flooring for your home or workspace? If you're hesitant because you think it might scratch, put your mind at ease. Ambient strand-woven bamboo and eucalyptus flooring are the top-of-the-line flooring choices. Why? Because they have an extremely durable scratch-resistance and a uniquely stylish and exotic look you won't find in other flooring. And if your bamboo flooring does happen to scratch, now you know you have plenty of options to remedy it effectively. Call one of our flooring expert professionals today at (866) 710-7070. You'll be glad you did!

---
---
Categories: Floor Protection