Unfortunately, there is no flooring material (or other material, really) on earth that is 100% scratch-proof; diamond floors, anyone? Bamboo is the toughest hardwood out there, but it is scratch-resistant rather than impenetrable. These floors are scarcely affected by common scrapes and impact, but they can be gouged or dented under heavy duress. I'm sorry to all of the at-home bowlers out there, but you'll have to stay in your lanes!
Pet claws do not damage strand woven bamboo flooring and it is much harder to dent than conventional hardwoods. However, it is not impervious to light surface scratches when something really sharp is dragged across the surface. Do not fear, there are several hardwood floor repair kits on the market you can use to repair bamboo.
If you use something sharp enough and apply enough force, everything can be scratched. Luckily, industry standards have developed the Janka Scale to compare the genuine toughness of various wood materials. You will find that strand woven bamboo ranks highest – even against tough teak and rosewood.
Are you considering a home improvement project but feel unsure which new floor is right for your lifestyle? Look no further: bamboo is versatile in style, but its signature toughness holds firm across all products!
Scratches that leave permanent dents versus micro-surface scratches
Two types of scratches can happen to hardwood and bamboo flooring.
Micro-surface scratches are light white scratches that occur when a very sharp edge is dragged across the flooring surface. Common causes include grit or rocks caught under a vacuum cleaner, sharp toys, and furniture legs that don't have casters under them. These micro scratches are not as visible on light-colored floors as they are on dark-colored floors. They commonly occur on prefinished floors with a polyurethane finish and are usually not permanent. In fact, these scratches will usually buff out and disappear over time just from the friction created by walking on them.
If you need, several kits are available on the market to minimize them. Some folks have even claimed that rubbing a broken walnut or applying a dab of mineral oil can alleviate these scratches. Dog claws are not usually sharp enough to cause these types of scratches, which is why pet owners love Ambient® floors!
Permanent dents from scratching are quite rare. This is where strand woven flooring earns its reputation as the toughest hardwood on the market. Due to its density and hardness, it takes a lot of force to dent strand woven bamboo permanently. Not to say it can't be done, but pet claws and high heels generally do not cause dents on this flooring: this is a major reason why families with active children and pets choose it for renovations. Also, large furniture like pianos and pool tables can be placed on strand woven bamboo with no repercussions. Meanwhile, traditional hardwoods and floors like LVP and LVT can be easily dented permanently by pet claws and the like.
What are the main causes of scratches on bamboo floors?
Scratches on wood floors can come from many sources. One of the most common is the buildup of everyday sand, dust, and dirt from normal traffic that most floors encounter daily. The dirtier a floor is, the more likely it will pick up some small scratches that can add up over time. That's why, with any floor, it is a good idea to keep your floor swept and cleaned to keep it free of debris.
Other causes for scratches on your wood floor include pets, children, high heels, and furniture. Since dogs, kids, and trendy shoes will often dent and scratch hardwoods, it's best to use felt pads or casters under furniture or placing some thick towel or blanket underneath a piece of furniture before moving it across bamboo, hardwood, or any other type of floor. Also, always use hardwood-flooring approved chair mats under rolling office chairs, regardless of what floor you choose.  Be careful to select a mat with a breathable bottom layer, as some plastic mats can trap moisture on floors and cause permanent damage.
Remember that both hardwoods and bamboo alike can have standing water problems for long periods of time, so all spills should be cleaned up fairly quickly. Ambient® flooring has a 24-hour window before spills need to be wiped up. After that, damage can occur. It's also a good idea to only use a lightly damp mop (not soaking wet!) when cleaning spills, leaks, and other oopsies And if you're wondering, "Can I steam mop bamboo flooring?" The answer is no. Stick with a Swiffer-type cleaning tool, or use a lightly damp mop.
What is the best type of scratch-resistant bamboo?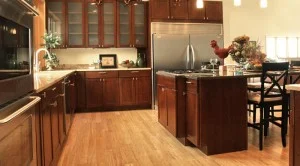 Quality bamboo is substantially harder than hardwood flooring and subsequently has a greater scratch-resistance. If you go with strand-woven, then you'll get an even tougher product under your feet.
The strand-woven process incorporates a heating method and extreme pressure to compress and bond the bamboo and interlocks the grass fibers into tightly woven material resulting in two to three times (2-3X) the strength of any other form of hardwood.
Strand-woven flooring is undeniably the perfect choice for the high-traffic areas in your home where your pets and children will be. And even though strand-woven is more expensive than some other floor types, bamboo costs significantly less than most hardwood flooring in the market.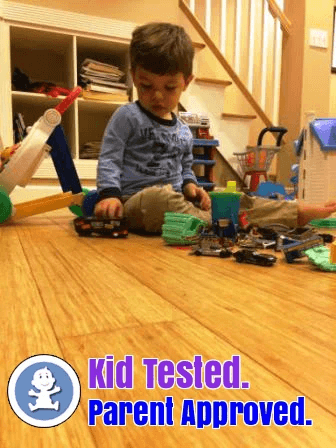 Can I repair scratches in bamboo flooring?
Of course! If you find a scratch on your wood floor, there are several options to remedy the situation. You can repair bamboo as easily as any other type of hardwood flooring.
Minor Surface/Finish Scratches
Smaller surface scratches (white "micro" scratches) can appear on the surface of all wood flooring finishes. Most traditional wood flooring, as well as bamboo, comes with anti-scratch layering in their topcoats designed to protect your floor from being damaged. These tough topcoats are typically resistant to permanent scratches, though they may show small micro scratches for short periods until friction from walking dulls them or removes them completely.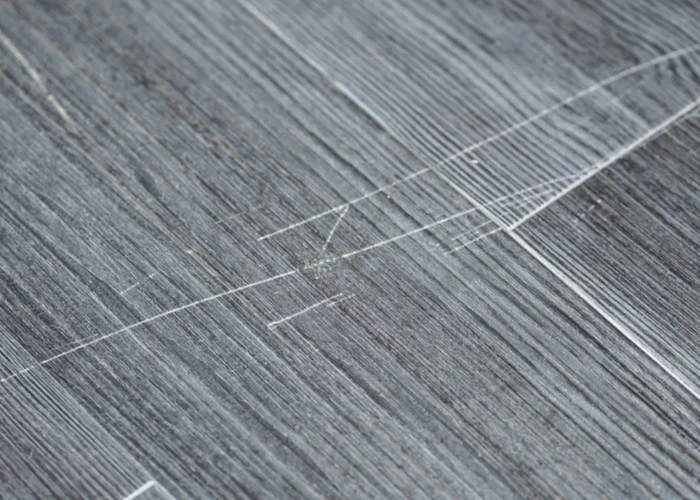 Most surface scratches are caused by something fairly sharp and not from pets or shoes. Most white micro-scratches buff out by themselves over time just from the friction that occurs when people repeatedly walk on floors, but some deeper surface scratches take longer to buff out and are more obvious.
If you're experiencing surface scratching and want to attempt some quick home remedies, try rubbing a walnut (the actual nut, not the shell) on the scratch. Pecans, almonds, and Brazil nuts also work (crack them in half first). Try it – the results will surprise you! If those don't work, try placing the toe of your rubber-soled shoe on the surface scratch and then swivel while applying some weight; this sometimes works to minimize the scratch too.
If those home remedies don't work, you have the option to use a scratch removal product.
What products do I use to fix the micro-surface scratches?
Here are some products you can buy at most local hardware or flooring stores, specifically designed to help minimize hardwood floor scratches:
WearMax Scratch Concealer for Hardwood Flooring
Wood Floor Repair Markers
Tibet Almond Stick Scratch Remover (made for furniture scratches, but it works on floors) .
Old English Scratch Cover
These products are great for small, superficial damages, but scratches in wood floors can run much deeper. In the event of grooves and gashes, there are alternative solutions that you can try. In this case, a repair kit is designed to combat these more problematic scratches.
Deeper Grooves and Gashes
First, it's best to fully avoid getting deep grooves and gashes on your wood floor by following certain precautionary recommendations. If you are moving heavy furniture such as pianos, pool tables, couches, desks, tables, or even chairs, it's a good idea to use furniture pads under the furniture's legs. If you forget to use the felt pads and find that you have accidentally gouged your wood floor, you can try to fix it yourself with a floor repair kit. Timbermate or Picobello floor repair kits are two brands we recommend. Some people have also found success with Mohawk Fillsticks.
As a disclaimer: it's important to understand that these products are not magic. Some damages cannot be fixed with such simple strategies. Bamboo, as a material, is as tough as they come. If you have already identified scratches, you may have a larger problem at hand. The preventative steps listed above are helpful to avoid these damages. Once deep scratches have already taken hold, there are a few things you can do to deal with them.
Dealing with scratches on wood floors
If you've tried to fix a scratch but find it still looks deep and noticeable, you have three options: repair, replace, or refinish.
Repair
Depending on how bad the gash or gouge is, there's a good chance a flooring pro can repair it. Flooring putty can be a great way to fill gouges and deep scratches in wood floors. This is used to fill the damaged portion, but there are further steps to make the repair look natural.
You want the putty to be compatible with your floor – same goes for the new finish. In some instances, it may be necessary to sand the finish down to buff out the scratches. After this, you can repair the finish by applying a new coat. We'll delve deeper into refinishing shortly.
Many of these repairs can be undertaken by homeowners with handy skills; however, consultation is always important. It can be important to get a professional opinion even if you intend to repair the floor yourself.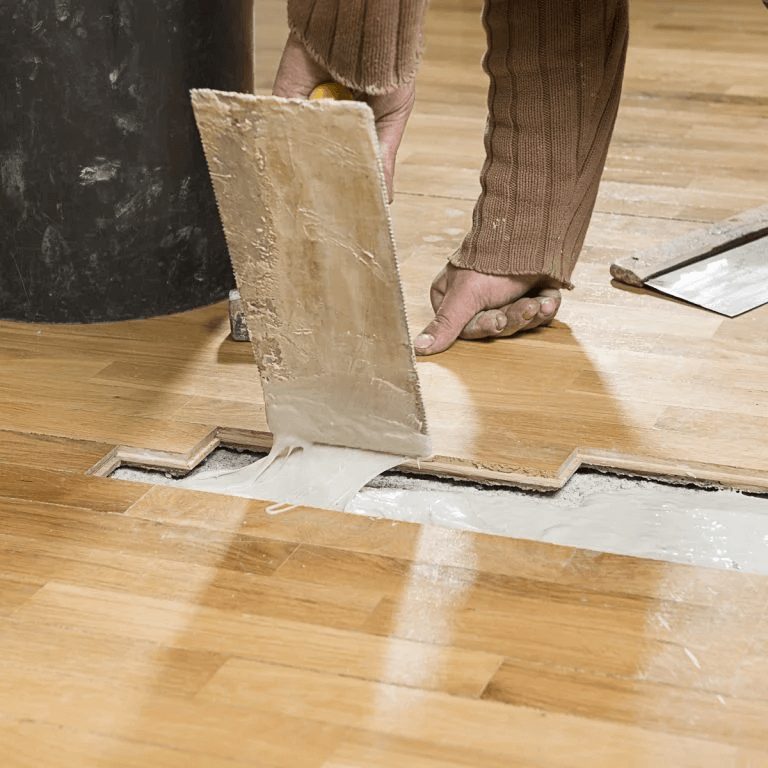 Replace
This can be a tedious task if you want to replace a bamboo or eucalyptus flooring board yourself. And depending on where the damaged board is located, it can be almost impossible. However, cutting out and replacing a flooring plank can be accomplished by an experienced carpenter, installer, and even a homeowner with a 'can-do' attitude, as long as they're equipped with the appropriate tools (some carpentry and remodeling experience doesn't hurt either). Unless you are extremely comfortable with your carpentry skills, we suggest you get a professional to replace your damaged floor board.
Refinish
Unhappy with the scratches, gouges, gashes, or dents in your floors? Replacing the boards isn't your only option. Luckily, you can have them refinished.
Refinishing your floors first involves sanding them down enough to remove the blemishes. Next, you'll sand them with fine-grit sandpaper until they are smooth and without any flaws. Finally, apply a new protective seal coating, which will make your floor look brand new. We recommend using a polyurethane finish.
Be careful: you can severely discolor floors if you sand them improperly. Even if you are up to the tall task of self-refinishing, you need to be gentle. Otherwise, you might have a bigger problem beyond your initial repairs. In the case of discoloration or other damages, the only option may be to replace the boards themselves.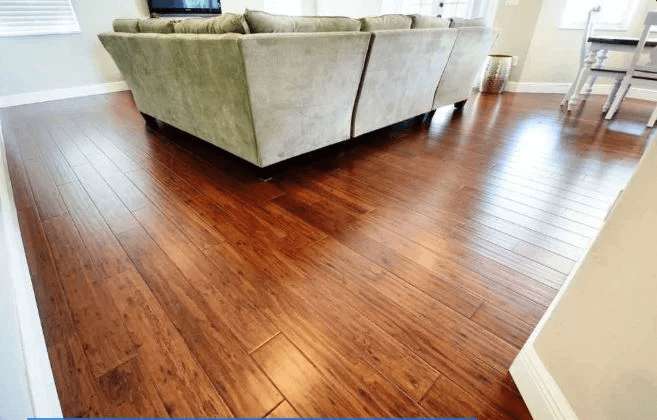 So, are you considering buying Ambient® flooring for your home or workspace? If you're hesitant because you think it might scratch, put your mind at ease. Our collection of sustainable floors are all top-of-the-line flooring choices. Why? Because they have an extremely durable scratch-resistance and a uniquely stylish and exotic look you won't find in other flooring. And if your flooring does happen to scratch, now you know you have plenty of options to remedy it effectively. Call one of our flooring expert professionals today at (866) 710-7070. You'll be glad you did!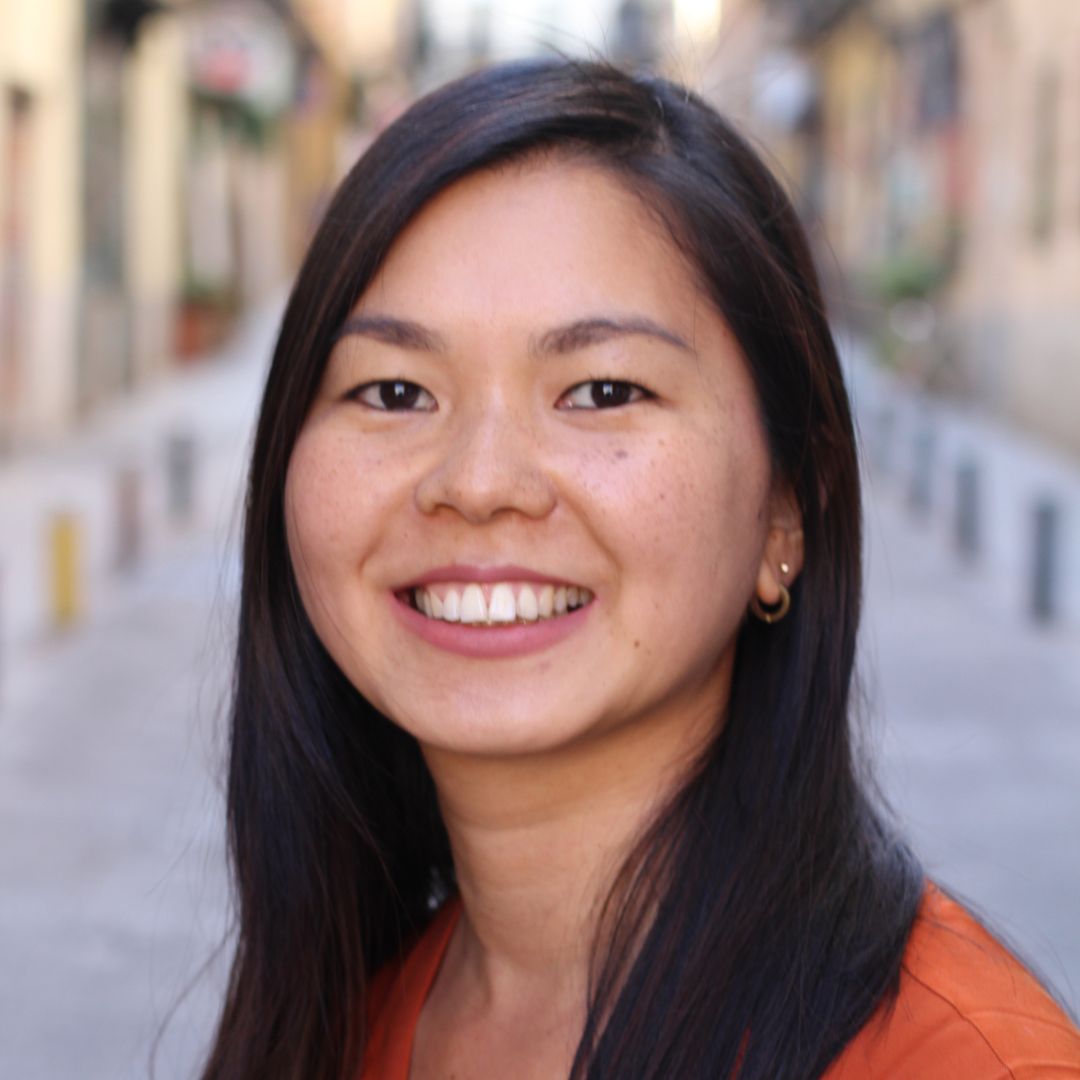 About the Author
Meet Jo Lynn! 🌿🧹 With more than a decade of eco-cleanliness expertise under her belt, Jo Lynn is on a mission to turn spaces into healthier, greener sanctuaries. Her journey into sustainable home maintenance started with a deep love for the environment and a determination to whip up non-toxic solutions that actually work.
Whether it's a cozy home or a bustling office, Jo Lynn knows how to keep spaces spotless without compromising your health or our planet's well-being. Plus, rumor has it, her cleaning jokes are so good, even the dust bunnies can't help but chuckle! 😄