You might be planning to remodel a large part of your home, or you might just want to update your existing staircase, but in any case, there are more ways to freshen up the look of your stairs than you may realize. 
If you're ready to install a new staircase or refurbish the current stairway in your home, browsing a few modern ideas can help. Some ideas detailed below include the following:
Floating stairs

Sculptured staircases

Loft ladders

Spiral staircases
These are just a small handful of ideas, and even if you consider one of them for your project, there are countless design options and combinations to select from and customize to suit your tastes.
Floating Treads Create a Popular Modern Staircase Design
The concept of floating treads was popular in the 1960s and 1970s, but its popularity petered out over the past few decades. That is until recently, when more recent interior design trends brought the look back, updating it with a more modern appearance. 
The treads are completely suspended by wires and lined by a glass railing topped with white oak. While you can use any type of wood for the treads, that same white oak works best in dark homes or living spaces without much natural light. The cascaded treads themselves leave room for storage or entertaining areas beneath the stairway. 
Did You Know? Railing cables must have a breaking strength of over 1,000 pounds, which makes them perfect for suspending staircases in any home.
Save Space with a Loft Ladder
A modern staircase design that not looks attractive but helps conserve space in a smaller home is the loft ladder. As its name implies, it is a design idea that is a fair bit removed from a traditional staircase, so consider updating the lighting of your interior design to enhance safety for those using and around the ladder. 
You can install canned lighting, for instance, to highlight the ladder and prevent slips and trips, and a welded steel frame coated with a high gloss black paint will provide a solid support system for the steps. Instead of installing traditional steps, you can also consider alternating steps, made of either alder wood or oak, on either side of the ladder.
A Modern Staircase Design That Adds More Support to Floating Treads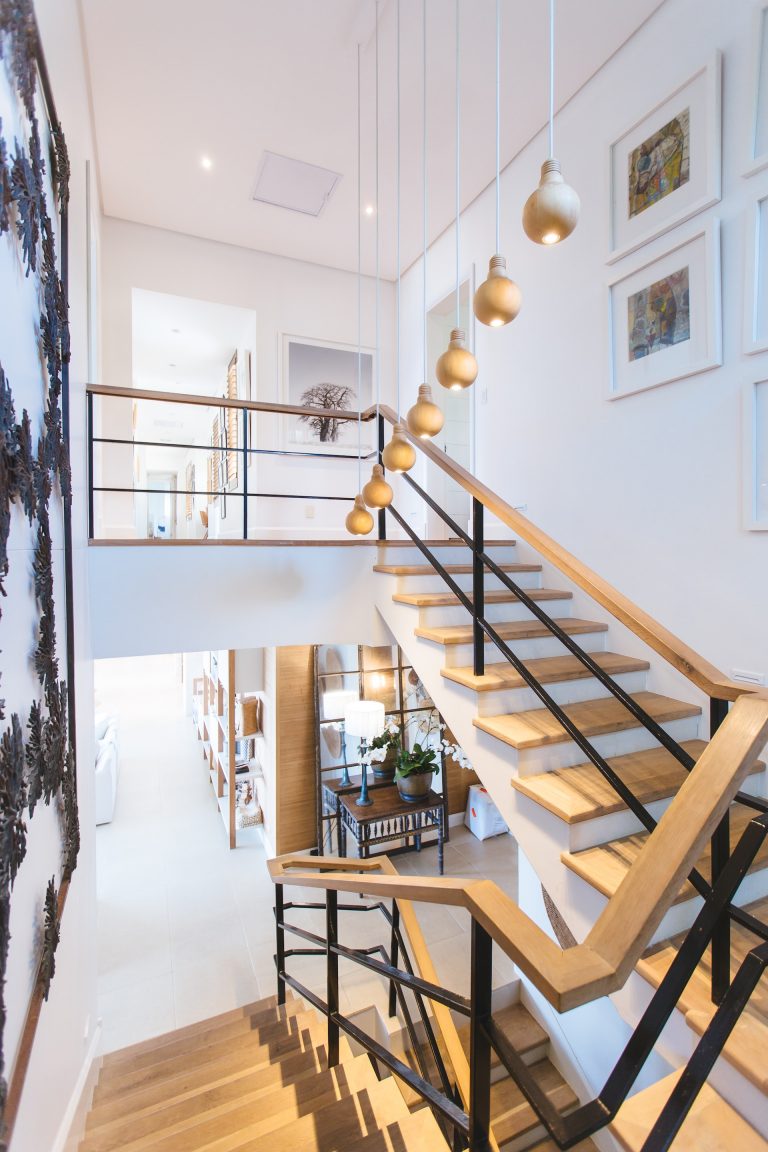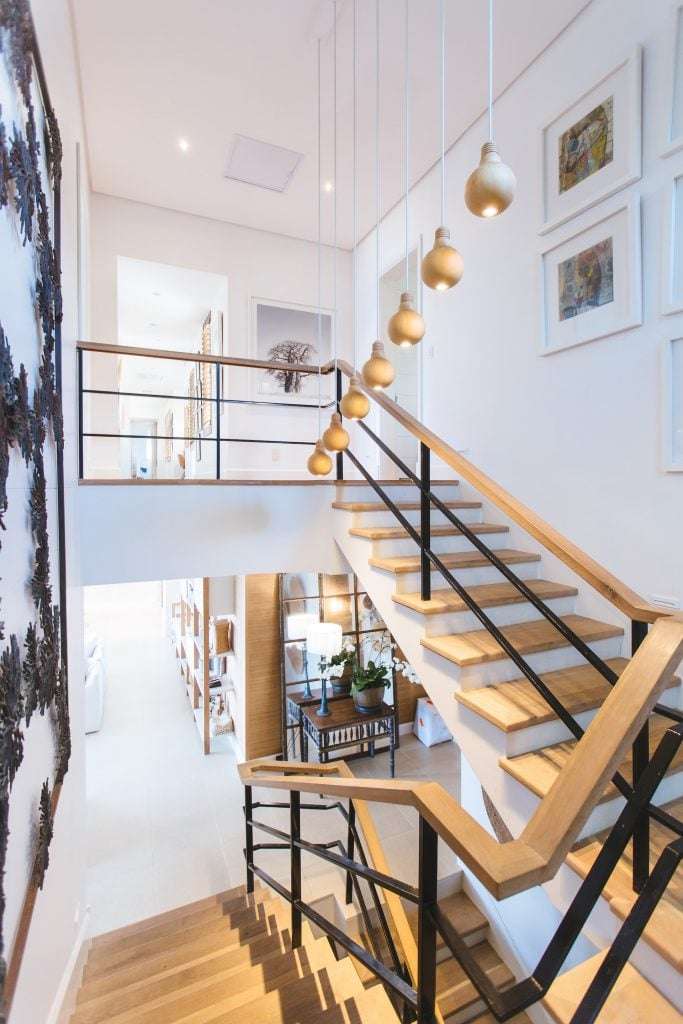 If you like the concept of floating treads but feel uncertain about relying on wire cables for support, try out some staircase design ideas that include sculptured designs. A support beam, painted to match your walls or other aspects of your home's decor, will run along the bottom of the suspended treads, and metal spindles, topped by a wood beam that matches the treads, will form the basis for the railing.
You can choose any shape for the railing: Keep things straight with right angles, give the staircase a more elegant look with a curved shape, or order and install spindles with intricate designs or shapes. 
If you're looking for more sustainable design tips, try recycling the treads from antique desks or tables. 
Dress Up an Existing Staircase to Create a More Eco-Friendly Design
Even if you already have a modern staircase design that you like, you can update its look with a fresh coat of paint or by applying a new finish to your wood treads. You can also spring for a less permanent change. If your stairway gets plenty of natural light, hang a self-sustaining indoor garden from the railing. 
Alternatively, hang decor from the railings, place sculptures on a landing, or hang paintings on the wall lining the stairs for an interesting new look. If you're looking for even more ways to dress up your stairway, have a look at these ideas:
Pro Tip: When updating your staircase, make sure to look for paints and finishes that are free of volatile organic compounds.
Spirals Are Back! Older Staircase Design Ideas Are Making Their Comebacks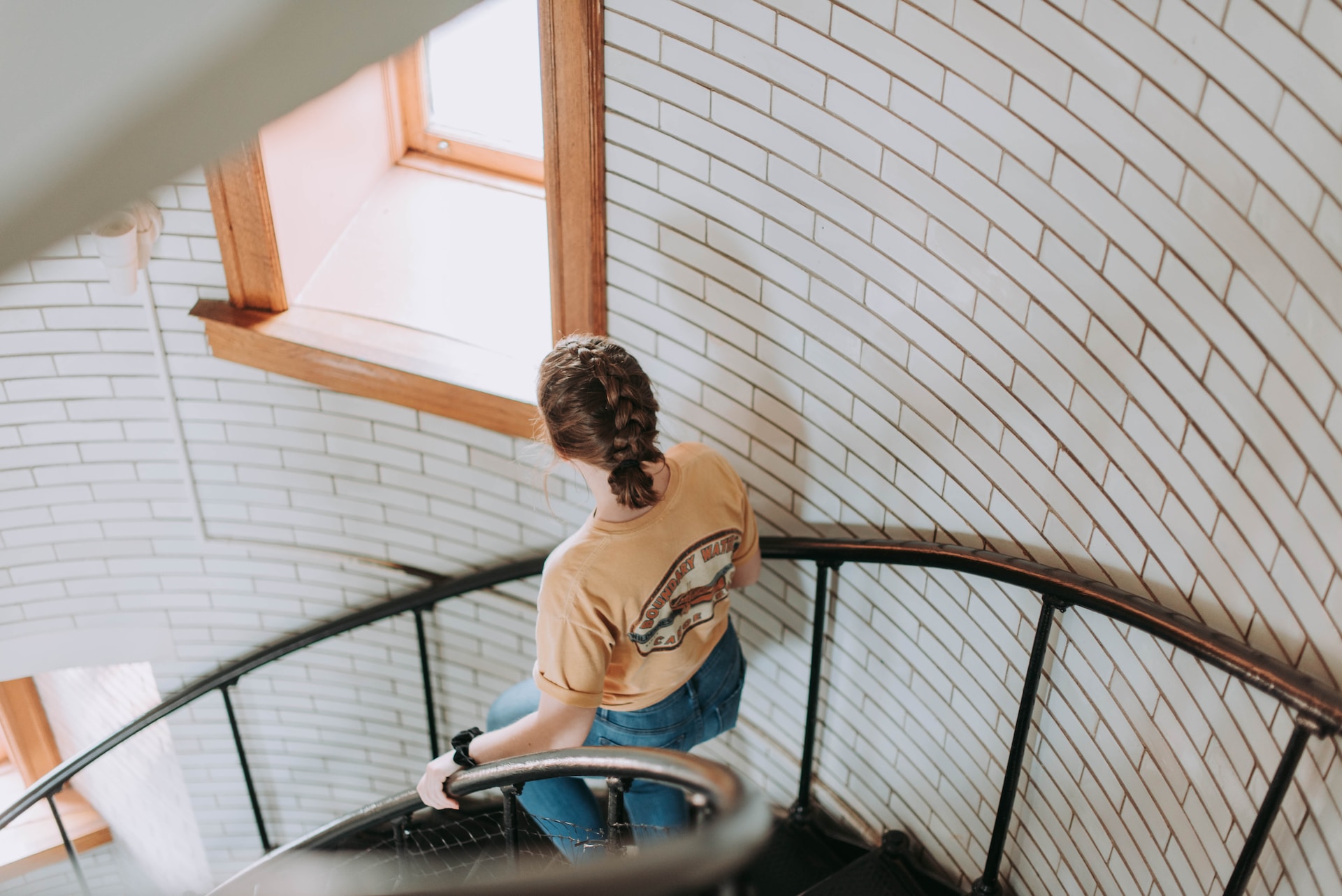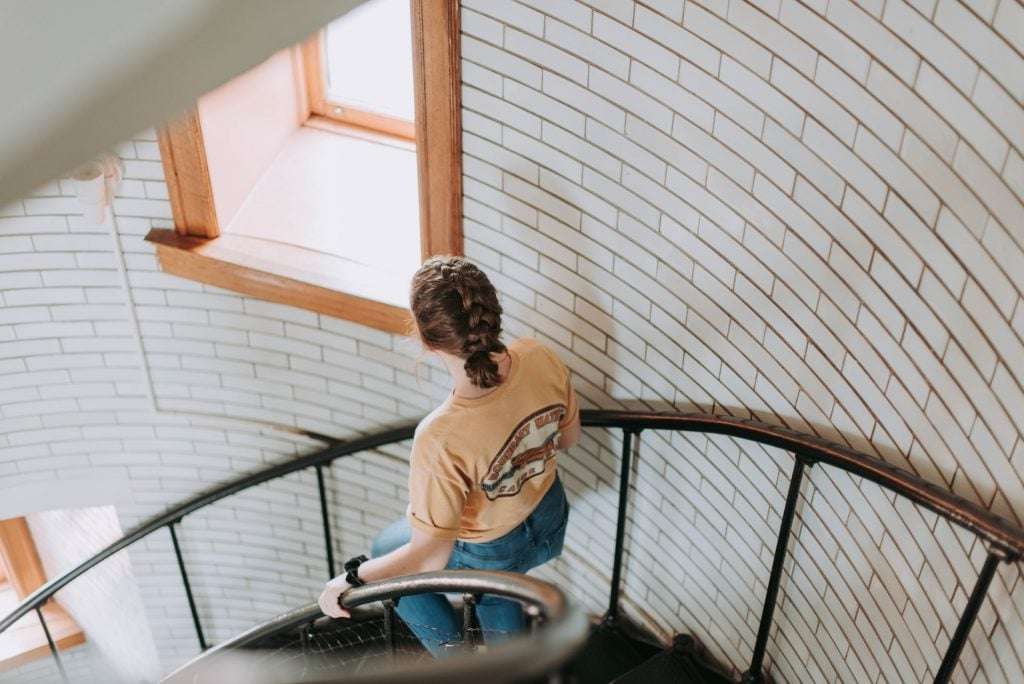 Another classic concept that's returning through the influences of modern staircase design influences is the spiral staircase, which is not only another terrific space saver but also offers plenty of versatility. One popular option is to affix the treads to a center spine that extends from the base up to the next floor or an attic. 
For support, layered cabled rods connect to a welded steel frame to form the railing, and though any strong, hard wood can form the treads for this winding staircase, a lighter color is often preferable. 
Use a Design that Keeps Your Walls Intact
You don't have to go with a minimalist look to maintain a modern staircase design. There are still plenty of staircase designs for today's homes that you can incorporate into yours. Stain your stairs with a darker color for a bolder look and paint the surrounding walls a light cream color, or choose ivory for the walls.
You can still remove a small section of the wall if you choose. Remove the wall that lines the steps from the first floor up to the next landing, and replace it with a liner that's composed of glass panels and topped with a wood railing that matches your stairs. The glass will help keep your stairway looking brighter.
Carpeting Can Change the Look of Any Staircase
Another idea to update your new or existing staircase is to line the steps with carpeting that either matches the rest of your home's design or contrasts the colors of the walls. In any case, new carpeting will help you reduce creaks and squeaks on old staircases as well.
Mix Things Up for a Unique Look
You might find something appealing about several different staircase design ideas, and that's okay. Look for ways to incorporate features from a few different designs to create something unique. You might find that your own creative ideas will give you something you'll love even more. Don't be afraid to experiment!
About the Author

Sarah's love for home design and renovation runs as deep as her love for a good dad joke! 😄 She's been crafting content with the fantastic folks at Ambient Building Products for years, and when it comes to homes, this gal is the real deal.
From DIY adventures to pro collaborations, she's worn all the hats, and not just because she's a fan of stylish headgear. In her own abode, she's overseen her fair share of projects, making her a true home improvement aficionado.
But what really makes her heart skip a beat are those eco-friendly, energy-efficient upgrades that not only make your house look good but also feel good. Sarah's all about adding value to your home, one pun and one project at a time! 💚💡