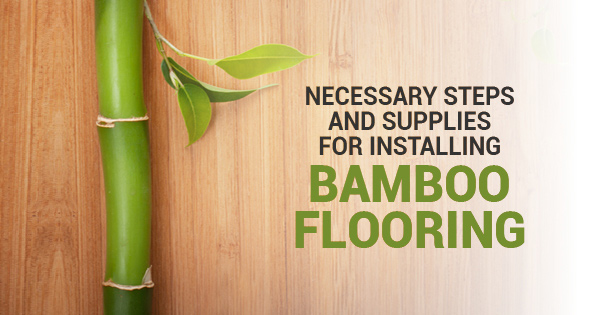 Installing Bamboo
In a 2018 flooring industry outlook survey, more than 70% of survey respondents — including manufacturers, retailers, distributors, and contractors — expect sales growth of at least 3% in 2018. Additionally, 8% of those respondents believe sales will grow significantly.
One area that is expected to see an uptick in interest is bamboo flooring. Bamboo flooring isn't all that common in U.S. homes currently, but it's actually one of the best flooring options out there. Bamboo flooring is much stronger than traditional hardwood floors, it looks great, and has plenty of other advantages.
If you're looking to try your hand at it in your home, here are some of the tools and supplies that you will need:
Table saw

Mitre saw

Oscillating saw — to cut door frames as needed

Chalk line

Rubber mallet

Tapping block — either a square piece of wood or hard rubber

40 tooth minimum Carbide saw blade — the higher tooth counts are great for a smoother cut

Tape measure

Carpenter's square

23 gauge micro pin nailer — for finishing rows or working around islands

3M/Scotchguard 2080 tape — only tape approved for bamboo finishings, other tapes may cause the finish to peel.
When installing your own bamboo flooring, there are some things to keep in mind. Below is a shortlist of tips when gluing down a floor, however it is not a complete guide. You can find even more information for your home renovation project in our
If gluing down, start at an outside wall and spread as much adhesive that can be covered by flooring in 30 to 60 minutes. It's best to spread the adhesive with a trowel at a 45-degree angle.

When the first section is finished, spread more adhesive and lay bamboo flooring section by section until the floor is complete.

Remove any adhesive that touches the flooring surface right away using quality adhesive remover towels.

Apply 3M tape perpendicularly to the seam of adjoining rows to prevent the rows from spreading apart as they dry.

Roll each section of flooring with a 100-pound roller.

Place weighing on the floor until adhesive cures enough to hold the boards in place. NOTE: do not place furniture, appliances, or heavy items on the floor until 24 hours after installation
If you're ready to begin installing bamboo flooring and want to work with quality bamboo flooring manufacturers, give Ambient Bamboo Flooring a call today!
Last update of the article: 11/17/2020