Shipping high quality bamboo floors around the globe since 2005
Ambient® formed in 2005 as one of the first companies in the world to specialize in strand woven bamboo flooring, which has an unparalleled reputation for hardness, eco-friendliness, and affordability. Ambient was also one of the first companies in the world to popularize sending flooring samples through the mail, allowing homeowners to see and feel flooring products from the comfort of their own homes - which continues to this day!
Since those innovative early years we have earned a well-merited reputation for the quality of our products and the integrity of our people, so it's no surprise that Ambient is the preferred brand of the world's leading architects, builders and designers (homeowners like us quite a bit too!). Since our early days we've expanded our product lines to offer more than just flooring, and we're glad you found us! If you've wondering where to buy bamboo flooring or other reliable bamboo products, then look no further.
Screenshot of our website in 2005 courtesy of The Wayback Machine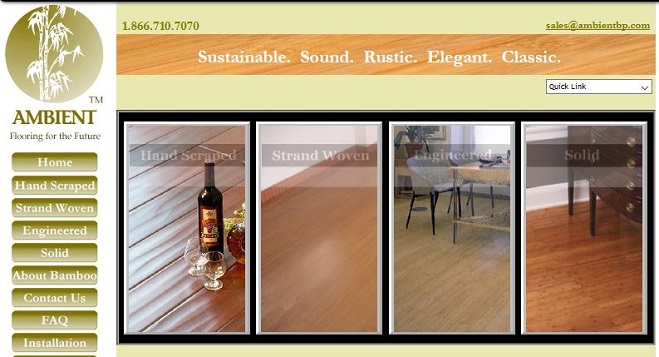 We offer a multitude of colors and finishes at affordable prices that are safe for you and your family, with personal and professional service to boot. We carry a wide selection of floors for all tastes, budgets and styles, and our floors have been installed around the world. All of Ambient's floors are Lacey Act compliant, which ensures that they are legally sourced with an eye towards the environment. Additionally, all of our floors meet the CARB Phase II indoor air standard, which is the strictest in the world.